With Loris Karius' move to Liverpool now confirmed, we get an expert view on the German goalkeeper.
Karius' signing was confirmed on Tuesday afternoon, acquiring the Number 1 shirt at Anfield.
Previously linked with moves for Timo Horn and Marc-Andre ter Stegen, Liverpool's interest in Karius was somewhat unexpected, with the 22-year-old relatively unknown to many supporters.
We spoke to a pair of experts in Alex Chaffer, Bundesliga reporter for Sky Sports and Deutsche Welle, and Mainz season-ticket holder Conor Garratt to get an insight into the Reds' new shot-stopper.
What can you tell us about Karius as a player? What are his strengths and weaknesses?
Alex: "Germany's golden age of goalkeepers goes beyond Manuel Neuer and Marc-Andre ter Stegen, with Loris Karius a prime example of Bundesliga talent that is exceedingly underrated outside of Germany.
"Karius is a commanding figure, not just with his 6'2" height, but also in his voice and his speed off his line. I was able to hear the 22-year old shout for a ball from the stands when Mainz played Cologne in the season just gone – a game in which Karius showed off bleach blonde hair.
"The 22-year old has solid reflexes, is strong in the air and can handle penalties – he saved four out of seven in the Bundesliga last season. His positioning can often let him down in situations, but he has speed to make up for that."
Conor: "Karius was recently voted by Bundesliga players as the second best goalkeeper of the season behind Manuel Neuer in the sport magazine Kicker, which says a lot about what you need to know. He's very talented, which is a fact fans of the Bundesliga and Mainz in particular have known for quite a while, but this season has seen him become one of the league's most consistent goalkeepers and he's a huge part of the reason Mainz qualified for the Europa League group stages for the first time in the club's history.
"His best attributes are his shot-stopping – Karius makes spectacular stops look routine and probably pulled off the best save of the season in the Bundesliga from an almost impossible-to-miss Borussia Monchengladbach chance – and the command of his area; from crosses and corners, you always have the feeling he'll come out on top.
"He drills his defence well, too – Mainz haven't exactly had a settled back four, with Karius' two central defenders usually coming from a combination of five frequently chosen players, yet his communication in that aspect has never looked suspect. Perhaps the only main criticism is that his distribution is fairly poor, but this is something that can be trained and worked on."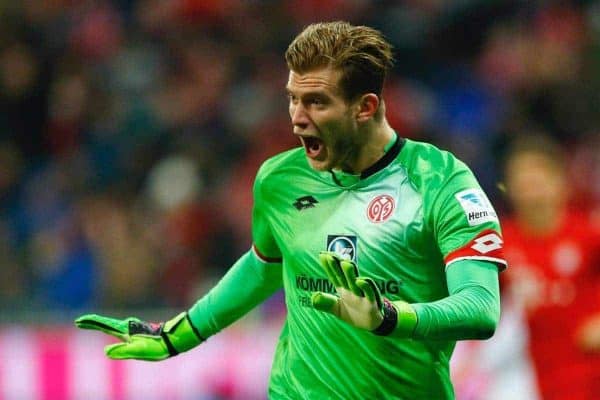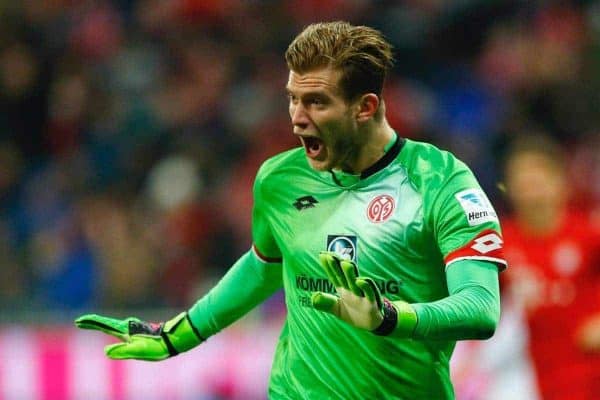 Which goalkeeper would you compare him to? Will he be the next Manuel Neuer…?
Alex: "I would not compare him to Manuel Neuer as, despite his speed and ability with the ball at his feet, I would not describe him as a sweeper-keeper – but he could develop into one.
"I would compare him to Joe Hart, or Bernd Leno at this stage in his career."
Conor: "While Karius isn't exactly uncomfortable with the ball at his feet, and often does break up opposition attacks himself, he's no more of a sweeper-keeper than most modern goalkeepers so it's hard to compare him to the likes of Manuel Neuer. That's obviously not a criticism – there are lots of different styles!
"In terms of Premier League goalkeepers, he's very much similar to Jack Butland, who's almost exactly the same age, has a similar level of experience to Karius and has a similar playing style, with distribution as the main point of criticism."
And how do Mainz supporters see him? Is he likely to be a fans' favourite at Anfield?
Alex: "Karius had a solid relationship with fans, but it was clear that he joined the club in order to gain first-team play regularly and further his career. He said himself that it was almost a step back in joining the club.
"He has also said that it would have to be something 'really, really good' to make him move from Mainz – Liverpool it is, then."
Conor: "He was definitely a fan favourite at Mainz! Before every game when he came to warm up, fans would sing his name for a good few minutes, as well as pretty much every time he made a handy save; he was invited to lead chants with the Ultras after a home game a couple of times, and people definitely thought they could rely on him.
"Off the pitch, I think most people thought of him as a pretty cool guy; people seemed really excited to meet him, and I once saw a clip where a TV channel asked 'Which Mainz player has the most swag?' (that's an acceptable line of questioning in Germany) and pretty much everyone referred to Karius and his incredible Instagram game. You also saw quite a lot of Karius jerseys around the place on matchdays, which is absolutely incredible for a goalkeeper."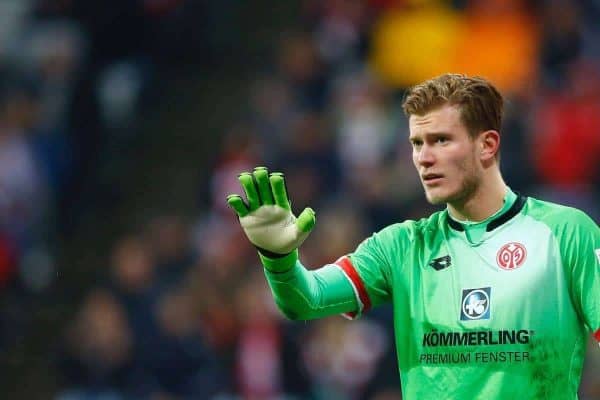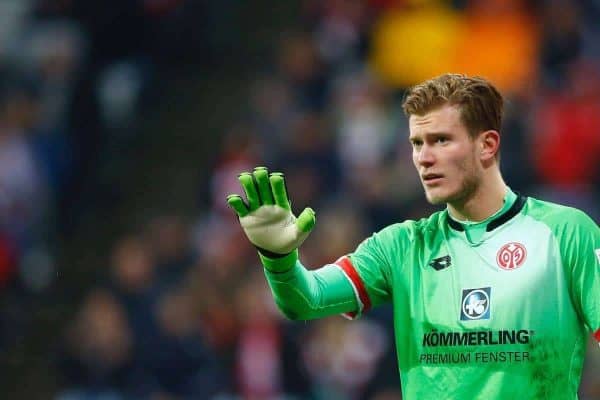 He's already spent time in England with Man City, though only as a youth player, but do you feel like Karius has the mentality to succeed in his second spell on our shores?
Alex: "Karius certainly has the right mentality to succeed now in England. In joining Mainz he accomplished what he needed to do to further his career.
"Nobody knew him when he was at Manchester City, despite the club's growing name, but in playing regularly at a 'smaller' club, he has been able to grow his name and earn a move to Liverpool. That, in itself, shows his strong mindset."
Conor: "He absolutely has the right mentality to succeed in the Premier League; if you look at the majority of Bundesliga imports to the Premier League in recent years, there's clearly a fair amount of common ground between the two leagues as most players seem to adapt quite well; just look at Firmino this season, I guess!
"Having already spent time in England, Karius should settle in quite well; the culture shock should be lessened, and his English is really, really good, so communicating shouldn't become a problem. Of course, there might be some sort of transition phase as he gets used to life in Liverpool, but eventually he should be seen as a successful signing."
He's made 96 senior appearances for Mainz already at 22, so is he ready to step into the role of No. 1 in the Premier League?
Alex: "Karius is ready to start in the Premier League. He had nine clean sheets last season and 11 the season before that, so his consistency over the last two years is there. He can compete with Simon Mignolet, for sure."
Conor: "Definitely. Going back to him being voted the second best goalkeeper in the Bundesliga this season, Karius clearly has bags of talent and the consistency to prove that on a regular basis.
"Goalkeeping is one of the Bundesliga's strong points – most sides have a competent shot-stopper between the sticks – and so, thanks to that, and his relative experience for his age, Karius really should be able to replace Mignolet, or a fair few other Premier League first choice keepers, straight off the bat."
Alex Chaffer writes for DW Sports, Sky Sports and FourFourTwo, and can be found on Twitter here, while you can get hold of Conor on Twitter here.