Liverpool midfielder Luis Alberto, currently on loan at Deportivo de La Coruna, is hoping to return to Merseyside for next season.
Alberto signed for the Reds in a deal worth almost £7 million in 2013, but after a season in a bit-part role under Brendan Rodgers, he has spent the last two campaigns out on loan.
Following a muted spell with Malaga in 2014/15, Alberto has hit form with Deportivo this season, and has scored six goals and laid on seven assists in 28 appearances in La Liga.
Deportivo are believed to be pushing to make the deal permanent, but speaking to IBTimes this month, the 23-year-old underlined his ambition to come back to Liverpool, as he looks to work under Jurgen Klopp.
"I spoke a bit with Klopp, but during the whole season I have been in contact with his staff to see how I am and to follow my evolution," he explained.
"Since the arrival of Klopp, the feeling has been positive, they have been in contact with me through one of his assistants and all we have spoken about has been positive.
"It is obvious that having Klopp as a manager is an extra motivation to return to Liverpool.
"When I was there I could see that he has changed everything, the atmosphere and the club. You can feel it.
"Everything I heard about him was good. He is transforming Liverpool.
"Of course I am very excited to work under him, trying to improve and stay in the squad to becoming into an important player for Liverpool."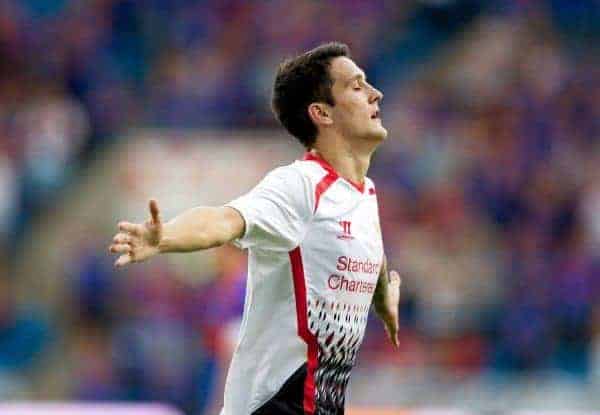 Deportivo have steered clear of relegation from La Liga this season, but are far from the lofty heights on Klopp's Liverpool.
With the Reds in with a chance of securing Champions League qualification with a win over Sevilla in next week's Europa League final, Alberto says he would be looking forward to the "challenge" at Liverpool, saying he is a more "mature" player than in 2014.
"Liverpool paid £7 million for me when I was nobody. That was a big effort," he continued.
"It was a gamble and I have to thank them not only with words but with my football.
"I feel a little bit in debt with them for giving me the opportunity to play in a historic club.
"The chance to play for a club like Liverpool is not presented to you very often.
"My experience there was nice, I played with great players and we were almost champions of the Premier League. And playing for Liverpool is a challenge.
"I passed from playing in the second division to be in one of the biggest clubs in the world.

"Maybe I should have gone on loan to another Premier League club or somewhere else in Spain to play more, instead of having to fight for a place with those beasts. I was very young.
"I would have liked to play more, but I knew it was going to be complicated when I went to there.
"Now I'm more prepared. Time to suffer is over and I have matured.
"This season has helped me to play regularly in the top flight and it is going to help me to play at the highest level in the future."
Whether Alberto could slot into Klopp's high-intensity attacking unit is questionable, but the midfielder certainly has the technical ability required to shine at the top level.
Not given the chance to impress under Rodgers in 2013/14, Alberto is clearly hoping for another crack at it with a new manager.