Playmaker Philippe Coutinho admits it is time for Liverpool to stop "hitting the post" in big games and get the job done.
The Brazil international has experienced more than his fair share of disappointment during just over three years at Anfield, ranging from their Premier League title near-miss of 2014, League Cup and FA Cup semi-final exits in 2015 to the Capital One Cup final penalty shoot-out defeat in February.
But less than three months after that Wembley heartbreak against Manchester City, in which Coutinho scored a late equaliser to take it into extra time, the Reds have another shot at silverware in the Europa League against defending champions Sevilla.
Liverpool's joint top scorer this season believes it is now time to take the final step and secure a first trophy in four years and a first in Europe since the dramatic Champions League victory in Istanbul in 2005.
"The expression we use in Brazil is 'We hit the post' on quite a few occasions recently so it will be really important for us to finally achieve something and win something with Liverpool," said the 23-year-old.
"That will be special for everyone across the club and the whole of the squad."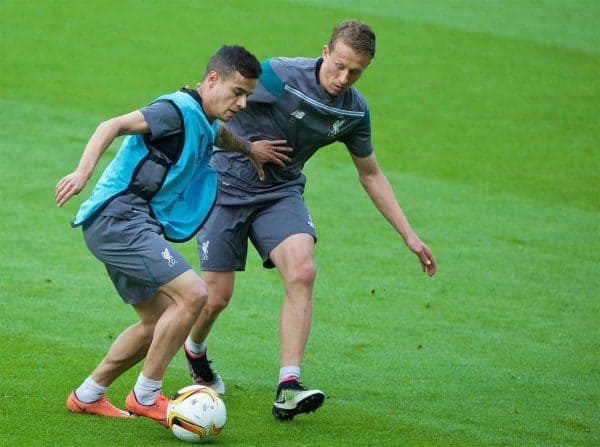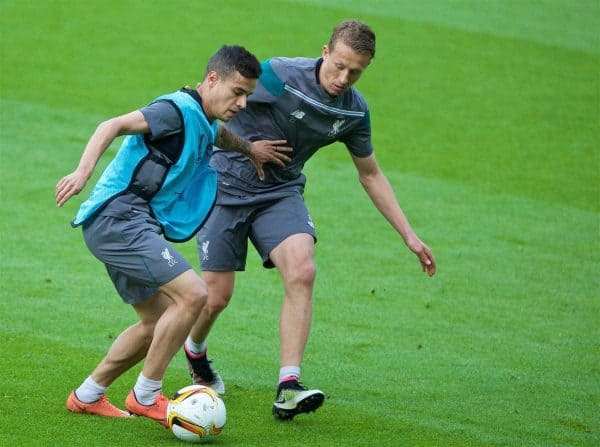 Victory in Basle on Wednesday would also secure a route back into the Champions League, Liverpool's only chance of European football next season after finishing eighth in the Premier League.
The Reds have featured in Europe's elite club competition just once in the last six seasons and while a return is significant to the club's status Coutinho said it is a side issue to the main aim.
"Personally for me winning the trophy is the most important fact," he added.
"The positive consequence of winning the trophy is getting a Champions League spot but the squad are focused on the trophy.
"As I said before we hit the post on a few occasions so it is really important we win the Europa League.
"Jurgen Klopp is experienced in European competitions. He is a great manager and has made a few changes since he came in, the biggest one being to change the mentality and making the players believe they can actually achieve something.
"Then step by step towards the end of the season Liverpool have improved performances and now are close to winning something.
"It has been just six months and it is the second final we are playing in so it is a great opportunity.
"The changes he has implemented has had a big part in that."
Coutinho is the club's joint leading scorer this season with Daniel Sturridge on 12 goals, with eight of those coming against Manchester United, Manchester City (two separate occasions), Chelsea (twice), Tottenham, Borussia Dortmund and Everton.
But he denies it is just him who takes the lead against the big clubs.
"It is a responsibility shared by all the attacking players, it is not just my responsibility," he said.
"Whoever plays up front will have that responsibility to score goals and help Liverpool win the trophy.
"Recently we have seen all the attacking players doing well scoring and creating chances so any of the attacking players can score to help us win the trophy."
Coutinho's goal at Old Trafford in their Europa League quarter-final second leg was not only brilliant but perfectly-timed on the stroke of half-time to effectively kill off the hosts' hopes of a comeback.
Throughout the interval the away fans, who affectionately refer to the Brazilian as 'O Magico' (literally translated as The Magic), sang Coutinho's name.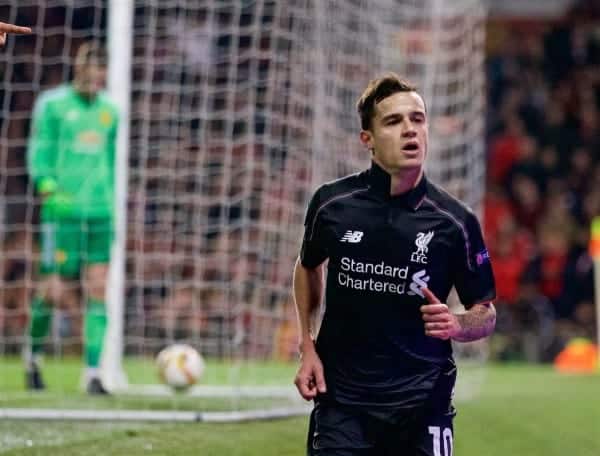 It was a humbling moment for the unassuming forward.
"I didn't see it but my wife, who goes to every game, was there and told me after the game they had sung my name during half-time," he added.
"It is an honour – not only that but any time anyone says my name or I see a kid with my name on the back of his shirt.
"I've always dreamt of being a football player and now when I see this kind of thing it makes me feel humble."