The Copa America Centenario gets underway on Friday night / the early hours of Saturday morning. We take a look at five players for Liverpool fans to keep an eye on during the tournament.
South America's biggest football competition takes place in the United States, in the 100th year since its inception, with 16 nations battling for glory over the next three weeks.
There is a vast array of talent on show, from Lionel Messi, Sergio Aguero and Javier Mascherano for Argentina, to former Reds talisman Luis Suarez for Uruguay.
Philippe Coutinho is the one current Liverpool representative in the competition, and the 23-year-old will be a key player for Brazil, in the absence of Neymar.
It promises to be an entertaining few weeks, and there are some top players for Liverpool to watch strutting their stuff on the international stage.
Here are five who stand out:
Gonzalo Higuain (Argentina)

In what may, admittedly, turn into one of the more tenuous transfer rumours of the summer so far, Gonzalo Higuain has been linked with a big-money move to Anfield.
The 28-year-old enjoyed a sensational season in Serie A with Napoli, breaking the goalscoring record for a single season with 36 goals in 35 appearances.
He is undeniably one of the finest strikers in world football at the moment, along with Suarez, Aguero and Robert Lewandowski, and he is the epitome of someone at the peak of their powers.
Higuain will lead the line for favourites Argentina, in what is a frightening attacking unit, and Liverpool supporters will be able to see what all the fuss is about.
A move to the Reds does seem unlikely, but these next weeks may provide supporters with the opportunity to get giddy about him plying his trade in a Liverpool shirt.
Expect goals.
When does he play?
> Argentina v Chile, June 7, Santa Clara, CA, 3am (BST)/10pm (EDT)
> Argentina v Panama, June 11, Chicago, IL, 2:30am/9:30pm
> Argentina v Bolivia, June 15, Seattle, WA, 3am/10pm
Javier Hernandez (Mexico)

Despite his Man United past, Javier Hernandez is another who has been tipped for a move to Liverpool in recent times.
The Mexico striker fits the bill when it comes to what Jurgen Klopp looks for in a player, with his speed, movement and work-rate making him a real handful.
'Chicharito' has 44 goals in 82 caps for his country, and if he scores more than two in America this month, he will break Jared Borgetti's national record of 46.
Hernandez is very much the key man for Mexico and he will be desperate to build on an excellent campaign for Bayer Leverkusen, where he found the net 26 times.
Mexico take on Uruguay, Jamaica and Venezuela in their group and the former United man will fancy his chances of inspiring his side to the quarter-finals.
While a move to Liverpool seems unlikely, Copa America provides the club with another chance to scout the speedy 28-year-old.
When does he play?
> Mexico v Uruguay, June 6, Glendale, AZ, 12am (BST)/8pm (EDT)
> Mexico v Jamaica, June 10, Pasadena, CA, 3am/10pm
> Mexico v Venezuela, June 14, Houston, TX, 1am/8pm
Lucas Moura (Brazil)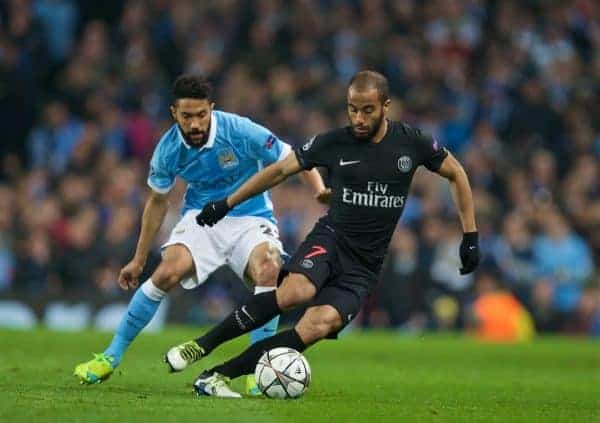 In terms of careers not progressing at the pace many predicted, Lucas Moura has to be right up there.
The Paris Saint-Germain forward was tipped for super-stardom when he moved to France in the summer of 2012, but inconsistency has plagued his game.
The 23-year-old is a fantastic talent, however, and past rumours have linked him with a career-resurrecting move to Liverpool.
Despite struggling to hold down a regular place in Brazil's first-choice starting lineup, Neymar's non-attendance could provide him with a chance to flourish over the next three weeks.
Blessed with incredible pace and superb dribbling ability, the South American has the talent to become one of the world's finest players. He just needs to add substance to his game.
It would not be beyond the realms of possibility for Klopp to make a move for Lucas in the summer and a good tournament in America could further turn the German's head.
When does he play?
> Brazil v Ecuador, June 5, Pasadena, CA, 3am (BST)/10pm (EDT)
> Brazil v Haiti, June 9, Orlando, FL, 12.30am/7:30pm
> Brazil v Peru, June 13, Foxborough, MA, 1.30am/8:30pm
Christian Pulisic (USA)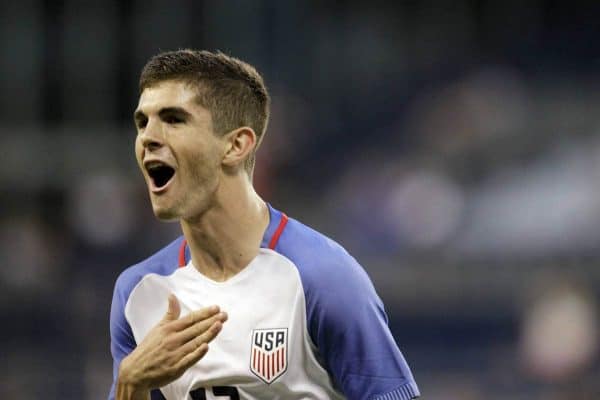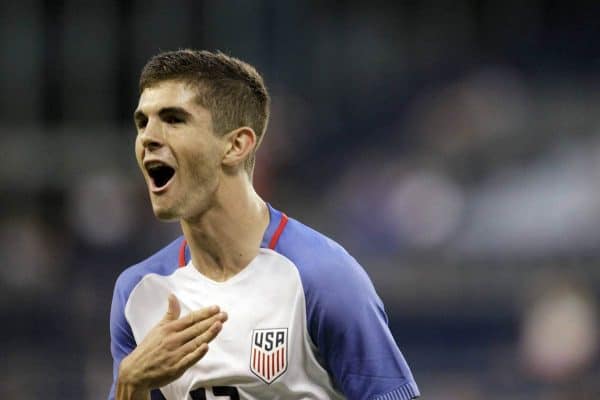 One of the most exciting young players at Copa America, Christian Pulisic is most certainly one to watch this summer.
At just 17 years of age, Pulisic has been making waves for a while now, and became USA's youngest ever goalscorer last week, scoring against Bolivia in a friendly.
He was a revelation in the Borussia Dortmund youth team, scoring 10 goals and assisting eight, in just 15 appearances, and he was part of BVB's first-team at the end of last season.
Liverpool showed reported interest in Pulisic earlier this year and he featured as a second-half substitute against the Reds in the Europa League quarter-final first-leg.
The teenager is very much USA's golden boy – many are tipping him for greatness – and the host nation will expect special things from him between now and the end of the month.
It will be intriguing to see how he fares – likely better than Freddy Adu turned out to be!
When does he play?
> USA v Colombia, June 4, Santa Clara, CA, 2.30am (BST)/9:30pm (EDT)
> USA v Costa Rica, June 8, Chicago, IL, 1am/8pm
> USA v Paraguay, June 12, Philadelphia, PA, 12am/7pm
Matias Kranevitter (Argentina)
There is such an abundance of talent in Argentina's squad that you never quite know who will start, but Matias Kraneitter certainly has a chance.
The Atletico Madrid defensive midfielder had limited playing time for the Champions League finalists in 2015/16, having initially re-joined former club River Plate on loan until December.
The 23-year-old may not be allowed to leave Atletico permanently in the summer, but he could tick a number of boxes, in terms of what Klopp is looking for.
An impressive reader of the game, Kranevitter is not dissimilar to Javier Mascherano in style, with the ex-Liverpool enforcer likely to start ahead of him in America.
There is a good chance that he will be given an opportunity to shine at some point, though, and the Reds may decide they like the look of him.
Reinforcements are needed in Liverpool's midfield this summer and Kranevitter is certainly one to keep an eye on.
When does he play?
> Argentina v Chile, June 7, Santa Clara, CA, 3am (BST)/10pm (EDT)
> Argentina v Panama, June 11, Chicago, IL, 2:30am/9:30pm
> Argentina v Bolivia, June 15, Seattle, WA, 3am/10pm