With an important summer in the transfer market awaiting Liverpool, where should bringing in a new striker be on Jurgen Klopp's priorities?
In the last two summers Liverpool have signed four forwards – Mario Balotelli, Rickie Lambert, Christian Benteke and Roberto Firmino. This summer though a new striker isn't required, even if two of those leave.
Back in February, Klopp claimed he was perfectly happy with the striking options he had at his disposal and that he didn't need to sign another one this summer.
"We have enough strikers – five with Roberto (Firmino) – but not too many wingers, just a few young ones with great potential," said the Reds boss, including Benteke in his thinking.
The manager is not one to play games in the media and it appears to be an honest enough answer, showing insight into his thinking this summer.
Of course, that hasn't prevented Liverpool from being linked with a number of world-class strikers in recent weeks, including Gonzalo Higuain and Edinson Cavani – even though there was very little substance with either 'link'.
With Liverpool's lack of European football next season, Klopp has further reasons not to require reinforcements up front now – even if/when Benteke leaves.
Less Games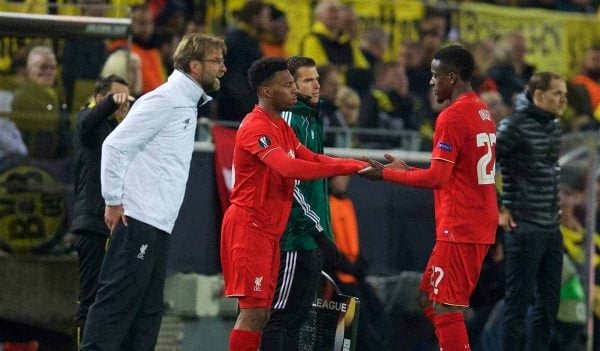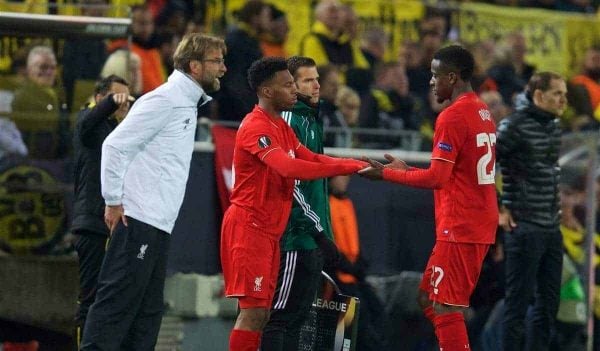 Klopp's first season at Anfield was non-stop, with the German invariably having to deal with two games a week.
Time on the training ground was very limited and he seemed to be spending more time in press conferences than on the training field at Melwood – much to his chagrin.
Next season will be very different, however, with no European football making an enormous difference to Liverpool's schedule.
There will just be the 38 Premier League games to focus on, as well as the two domestic cup competitions, which can be managed much more easily. A midweek game will be a rarity rather than the norm.
In that respect, it will be very similar to 2013/14 under Brendan Rodgers, when a large squad was not required. Then we played just 43 games, compared to 63 last time around.
Liverpool's starting XI picked itself for a large chunk of that season, with Rodgers only making the odd alteration here and there, especially after Christmas.
Bringing in another forward might sound good, but assuming Klopp doesn't suffer horrendously from injuries, where would that leave Daniel Sturridge, Divock Origi and Danny Ings?
There just wouldn't be enough matches to justify spending vast sums of money on a top class striker, when the current options are already good enough.
Quality already there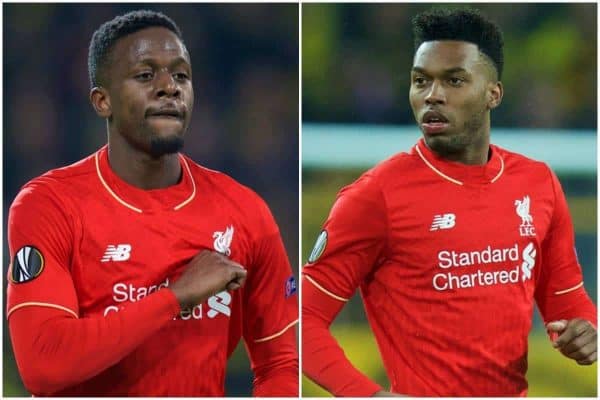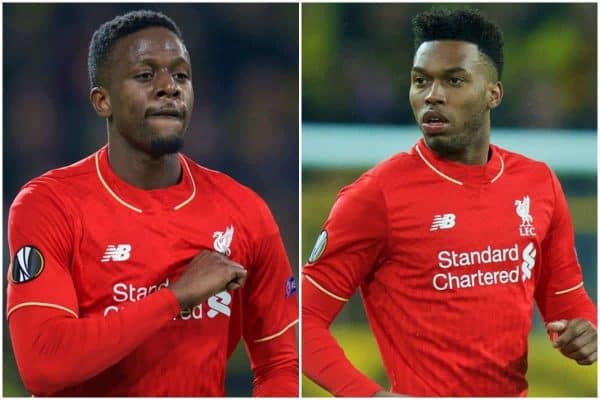 The trickiest part of this whole situation is Sturridge.
The 26-year-old is one of the best strikers in the Premier League when fit, but of course, there is always a niggling feeling that his next injury is just around the corner.
That could perhaps affect Klopp's planning a little, but Sturridge has now enjoyed an extended run without being injured, which will hopefully bode well for the future.
Should the England international suddenly pick up a serious injury at Euro 2016, or in pre-season, that would no doubt alter Klopp's thought process.
Away from Sturridge, there is plenty of depth, though.
Origi increasingly looked like a star in the making last season, and at just 21 years of age, he is only going to get better.
The Belgian actually usurped Sturridge as Liverpool's first-choice striker at times, which says enough about how highly the manager rates him.
Assuming Klopp sticks with his favoured 4-2-3-1 formation next season, it will be tough enough keeping Sturridge and Origi happy, let alone another high-profile striker.
Then there is Ings, who many supporters are predicting big things for in 2016/17.
The likeable Englishman appears to suit Klopp's style down to the ground, and while he may have been overhyped a tad during his long injury lay-off, he will prove to be an excellent squad player.
Roberto Firmino has also shown that he can thrive as a lone striker, which gives Klopp another option, should he need it.
Benteke's future lies away from Merseyside, while the returning Balotelli will be out of the door as quickly as possible.
More pressing matters

We as Liverpool fans understandably get giddy over the idea of a big-money, world-renowned striker joining the club, but it is nowhere near a priority currently.
There are other areas of the pitch of far more importance to strengthen, as Klopp tries to build a Liverpool squad capable of competing in the Premier League next season and beyond.
A new left-back is vital, not necessarily to replace Alberto Moreno, but to certainly compete with him.
Some guile in the centre of midfield is also more pressing than another forward, with the majority of the Reds' current middle men all reliable, but too similar in style.
A speedy winger should also be high up on Klopp's list, with the struggling Jordon Ibe the only player who falls into that category at the moment.
Someone of Schalke youngster Leroy Sane's ilk would be perfect – someone with the ability to beat players and with the pace to run in behind. It looks like Ian Ayre misheard when Klopp asked for Sane and now instead he's getting Mane instead…
The goalkeeping situation is now addressed at least, the centre-backs are ok if Mamadou Sakho receives no further ban.
By focussing on other areas in the market this summer, and keeping Philippe Coutinho at the club, the Liverpool squad will be far stronger.
Sturridge, Origi, Ings and Firmino is enough options up front, particularly if – as expected – Klopp adds another wide option to strengthen the overall attack.
A new forward? It's certainly not a priority, we need what we've been lacking elsewhere for several years.