El Hadji Diouf has been talking rubbish again. Aaron Cutler looks at one of Liverpool's most controversial players.
Sadio Mane last week became the third Sengalese international to join Liverpool Football Club. His signing has sparked great debate among a fanbase clearly torn over summer spending plans.
To some, the capture of a jet-heeled forward with Premier League pedigree whets the appetite. To others, our decision to again raid Southampton reeks of diminished ambition – one suspiciously clouded by an eye watering transfer fee.
Everyone it seems has an opinion on Mane, including a fellow countryman with a chip on both shoulders.
The irony in El-Hadji Diouf advising our new arrival should not be underestimated. A self-modelled bad boy, his carefully articulated image was perhaps his biggest achievement.
Make no mistake, the pantomime villain routine sustained Diouf, gifting him a profile his footballing ability alone could not.
He was rank average, signed as the ace card that would secure Liverpool their long-awaited title, dumped as a fraud; the only number 9 in the club's history to go an entire season without scoring.
Rather than fade into obscurity however this £10m flop, never one to shun the limelight, has seen fit to lament the club at every turn. Desperately grappling for some form of relevance, he lingers like a bad odour.
Since 2006 Diouf has waged war on both Steven Gerrard and Jamie Carragher, blaming them for creating a negative environment in which he could never succeed
Confronted with his own mediocrity, he has concocted this wild conspiracy to explain just how he went from African Footballer of the Year to a journeyman exiled to such footballing outposts as Bolton, Blackburn and Doncaster.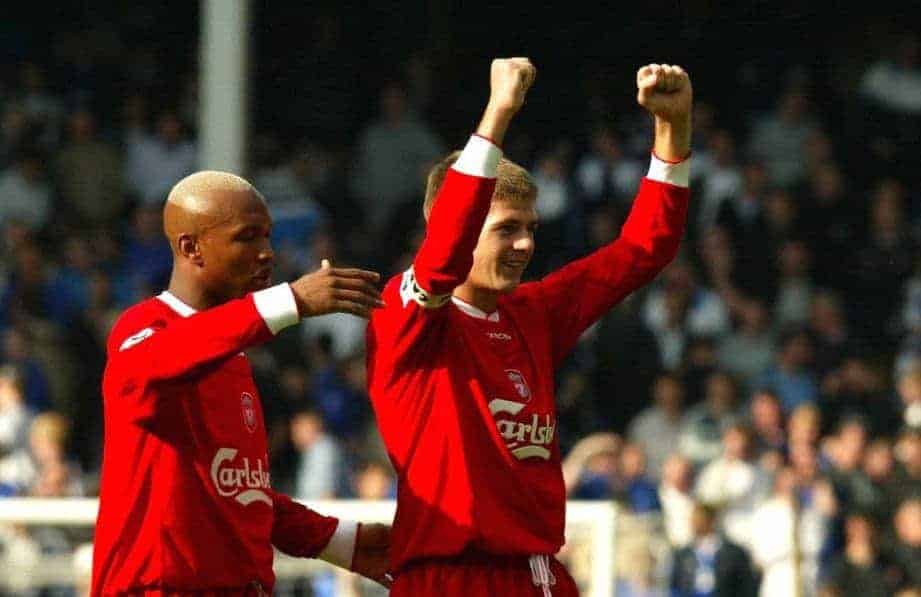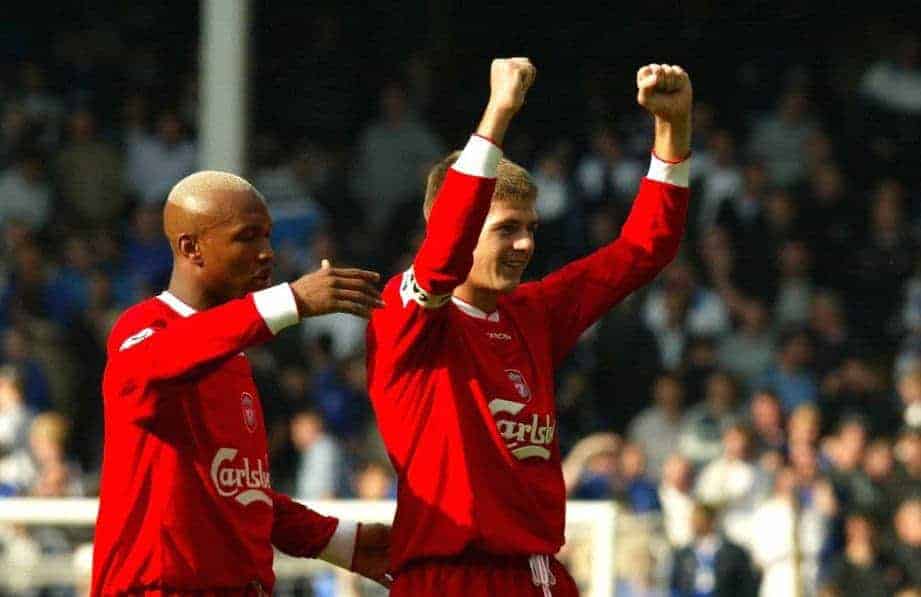 Speaking on Thursday, the outspoken Senegalese – who managed a pathetic 6 goals in 80 LFC appearences – said the following:
"Mane has to be worried about nothing. Today you don't have a bad mentality at Liverpool like Steven Gerrard or Jamie Carragher. You don't have a bad mentality any more, people to like only themselves."
Some would deem spitting at opposition fans and players evidence of a bad mentality. In certain quarters the taunting of a fellow professional, writhing in pain from a broken leg, is seen as unsavoury. Not to mention nightclub brawls, drink driving, driving without a license, going AWOL from pre-season tours and being accused of racism. Some charge sheet.
In February he again peered above the parapet, taking aim at that evil duo who just so happened to achieve more in a single season (2000/01) than he did his entire career. On Carragher, Diouf ranted with all the clarity of a blind drunk:
"The difference between Jamie and me is that I am a world-class player and he is a s**t, the type of s**t that writes a book and mentions me all the time. Me, in my book, he does not warrant one phrase: he's a f*****g loser."
The irony here of course is Diouf loves nothing more than to reference his great nemesis, knowing it will generate headlines and traction. Indeed the aforementioned quote is hardly a one off. In 2010 he channeled Angry Frank from the Harry and Paul cannon, contradicting himself in the process.
"If Liverpool had ten players like Carragher, they would never win anything. Carragher, for me, is nothing. He's like a make of ketchup or mustard to a normal person, not important. Carragher is just a guy who loves to talk but Carragher doesn't sell papers, Carragher doesn't sell shirts."
The same Carragher currently writing for one of the country's biggest selling newspapers.

This twisted logic is applied to Steven Gerrard also who, according to this giant of the game, is jealous of his success.
"What I have done in football, he did not. When I came to Liverpool, I came up with the status of boss and he lives there. I am respected in world football; the greatest football experts have appointed me among the seven best players in the World Cup, the top 100 players of the century. Everywhere I go out of my country, they worship me."
Yes, he is talking about the only player to score in the Champions League, UEFA, FA and League Cup Finals.
A player who has featured in six international tournaments, netting in three.
A player who has scooped PFA and Football Writers Player of the Year awards and been named in former's team of the season more than any other.
A player described by Zinedine Zidane no less as the best in the world.
A player who captained club and country.
A player who won every prize in English club football save for a league title, an omission Diouf – naturally – blames him for…
"When I arrived at Liverpool, seeing as I just did what I wanted, he thought that I did not respect the club. But he downright killed his team by slipping against Chelsea. If Liverpool has never won the Premier League, it's no accident. What goes around comes around."
Delusion is a dangerous thing kids.
Mane, along with any new recruit, would do well to reference Diouf's ill-fated spell on Merseyside. For his was an exercise in how not to represent the football club.
The glaring lack of goals and assists, compounded by endless controversies, make him perhaps the most hated player in our recent history.
Remarkably, in a bid to etch him from all of our memories, Liverpool have chosen not even to list him on the official website, a damning indictment.
Sadly however, like a Labour Party coup, he is unavoidable – offering more soundbites than our own Adam Lallana.
His Wikipedia page makes for great viewing, one presumably edited by Carragher himself. Upon it he is labelled a media whore and his country's answer to Katie Hopkins. Expect cameo appearences on This Morning soon.
Diouf will continue to rant and rave long into retirement. He has become a parody of himself; an outcast angry at a world he feels owes him something. Spitting mad, if you will.

Mane on the other hand has all the attributes to succeed where The Serial Killer failed. He is lightening quick, adding a much needed dimension to Jurgen Klopp's forward line.
Accustomed to the rough and tumble of English football he can be combative when called upon and, if not a consistent performer, is at least a consistent goal threat.
On that note it is somewhat fitting that he will challenge Lallana for a starting berth. The England international made that now well trodden path up the M6 two years ago and soon learned a lesson in heightened expectations.
Saints, a fantastic club with an enviable infrastructure and unlikely academy, are nevertheless spared the scrutiny reserved for the elite. This means players of Lallana and Mane's ilk can dazzle one week and live off such a performance for the remainder of that month.
At Anfield those high standards are demanded game-in, game-out and should your level drop be prepared for the wrath of both The Kop and media. Coasting will not be tolerated. Match of The Day highlights alone will neither inform nor distort opinion.
To Lallana's credit he has become a dependable figure under Klopp, albeit one with underwhelming numbers. If Mane can show similar consistency with end product, he will seize the shirt.
What we now have though is options aplenty. The temptation to blood Mane alongside Divock Origi and Daniel Sturridge against supposed cannon fodder will be tantalising.
A strong rearguard is of course imperative but Liverpool kicked-on in the second half of last season when the goals began to flow – forget not we plundered 100+ in 2013/14 and almost clinched the title. Ruthlessness obscures the biggest deficiencies.
Klopp's style of football necessitates high intensity, directness and pace, traits Mane brings in abundance. That he is a good fit matters more than whether he sets pulses racing.
Christian Benteke, Mario Balotelli and Andy Carroll are examples of big names – and good players – inhibited by a system and tactics alien to them. Klopp however has built his career on the power of the collective, with marquee signings few and far between.
Mane may not be the Gotze or Mkhitaryan many hankered after but then neither is he El Hadji Diouf. That's a good start.