Alberto Moreno once again did his best to show Jurgen Klopp he is not worth persevering with against Arsenal on Sunday, as the vultures continue to circle.
There can be little doubting who Liverpool's most under-fire, divisive player was heading into the new Premier League season.
Moreno has spent two years at Anfield marauding down the left flank, flying into reckless tackles and, ultimately, proving to be an erratic presence.
Calls for a new left-back have been deafening this summer, with supporters baffled by Klopp's apparent show of support for the 24-year-old.
Sunday's Premier League opener saw Moreno named in the starting lineup due to James Milner's injury, and so the Spaniard had a perfect opportunity to prove himself.
Instead, the waves of negativity coming his way have only intensified.
Emirates Meltdown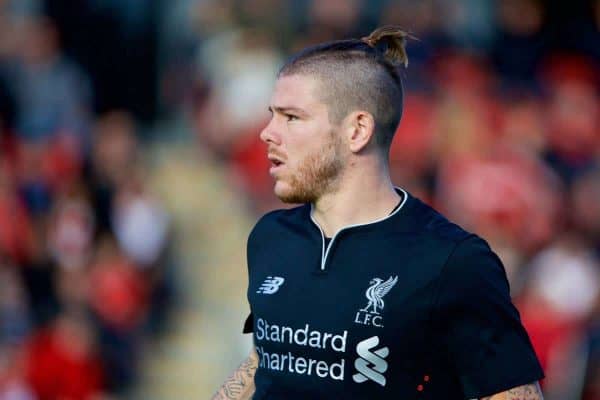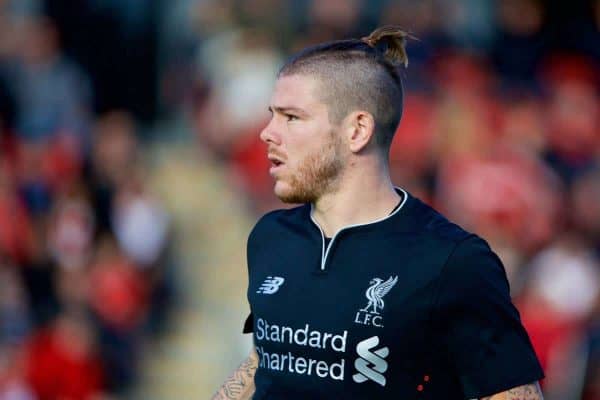 Has Moreno been overly victimised at times in a Liverpool shirt? Absolutely. But there can be no excuses for his poor first-half showing against the Gunners, which brought back depressing memories of the Europa League final.
His typically reckless lunge on Theo Walcott gave away a first-half penalty; there was simply no need to go to ground in such amateur fashion. The similarities to the two challenges away to Norwich City last season that also gave away a penalty show he isn't learning.
Decision making like that loses games.
A dreadful header straight into the path of Aaron Ramsey had earlier threatened to give Arsenal the lead, and while Moreno recovered and made the tackle, the chance should never have arisen in the first place.
Simple passes were played out of touch, with a pretty poor 76 percent pass completion rate over the 90 minutes. Walcott was made to look world class and the Tasmanian Devil would be described as calm and calculated in comparison.
Moreno also failed to offer much spark going forward, something his admirers always laud him for when the knives are out.
Moreno was giving his all, and always does, but it was an afternoon that once again showed he should be nowhere near the starting lineup at the moment.
"You might as well start a goal down with Moreno at left-back," claimed Gary Neville, during Sky Sports' coverage on Sunday, and it was hard to disagree.
In Defence Of Moreno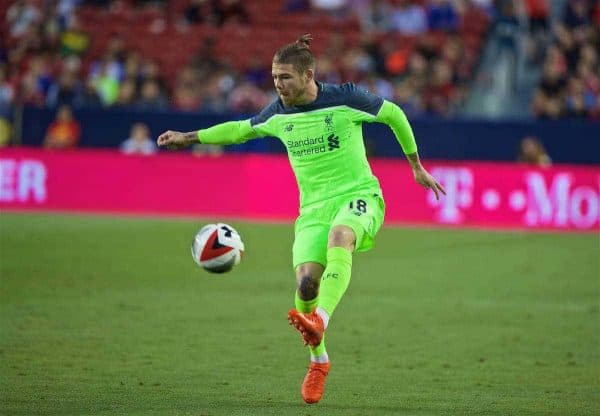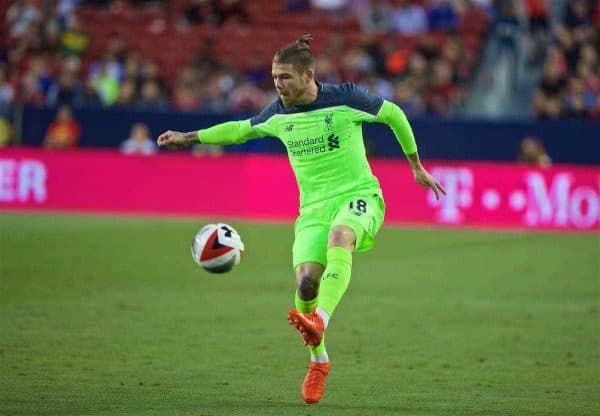 While a large chunk of the criticism that is coming Moreno's way is fully merited, he is still not as bad as some would have you believe.
It was unfair for people to lambast him for being "at fault" for Walcott's opener, with Adam Lallana's loss of possession in the middle of the park the fatal error.
Moreno may have looked horribly out of position, but his surge upfield may well have been on Klopp's orders, and Lallana's mistake made the left-back look culpable.
To abuse Moreno at that point was too easy—in the heat of the moment, I lost my rag with him too—and not at all justified.
There will be some who feel Moreno was still wrong to leave Walcott in acres of space, but how do we know the manager hadn't told him to spring forward like that?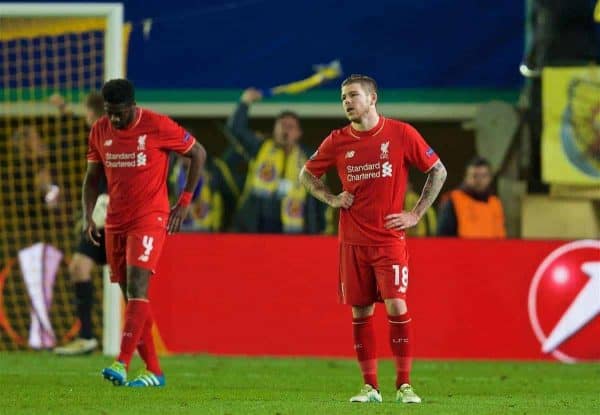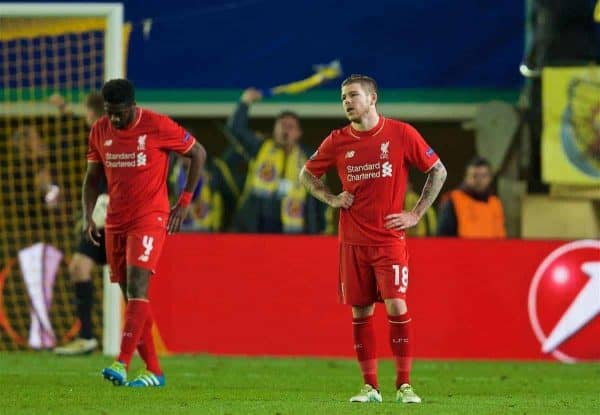 1st goal conceded vs #AFC:
1) Lallana lost pos.;
2) Attacking players can't drop;
3) Poor tracking from back-4 (1/3) pic.twitter.com/jfVc5916Jv

— Leroy | LFC Impulse (@LFCImpulse) August 15, 2016
In his first monthly column for This is Anfield, acclaimed football writer Jonathan Wilson echoed this sentiment following the game:
"It would be easy to blame Alberto Moreno, who's not exactly a stranger to costly errors, particularly given his carelessness in conceding the penalty a couple of minutes earlier, but it's the nature of Klopp's approach with overlapping full-backs that they can be caught up the pitch if the ball is lost in midfield.

"In that regard the greater fault probably lies with Lallana. That too, perhaps, is an issue of conviction: when the plan is for rapid transitions, it's imperative the ball isn't turned over like that."
The 24-year-old is clearly struggling, and has been for a while now, but it would be churlish to dismiss him as a terrible footballer. Again, I probably have, and it's unfair.
He can be a good outlet down the left, especially on the counter-attack, where his blistering pace and unselfish running can create space for his more illustrious team-mates. His linkup play is often good, and his fitness is very impressive.
The attacking side of Moreno's game does remain overrated, however, and he is not doing enough in that area to outweigh his consistent defensive lapses.
He is a likeable character and no doubt a popular member of the dressing room, and at 24, there is a fair argument to say that his best years are ahead of him.
Selling Moreno would be a mistake, but it is plain to see that having him as Liverpool's current first-choice left-back beggars belief.
Out of the Firing Line

Klopp is a wonderful manager and the best thing to happen to Liverpool in many years, but it does seem unfathomable that he hasn't yet signed a new left-back this summer.
The Ben Chilwell and Jonas Hector sagas have been and gone, with both staying at their respective clubs, but there are plenty of alternatives out there to rival Moreno.
Liverpool need a steady recruit in the mould of Nathaniel Clyne, who can come in and offer the stability and consistency that Moreno is failing to.
There was a point during the first half on Sunday when the Spaniard's mind looked absolutely pickled, and he needs to be taken out of the firing line.
He is hurting Liverpool far too regularly, and there is no real sign of that changing in the near future.

As stressed, selling him this soon would be needless, given his lingering potential, but he is not close to good enough currently.
We all take sides when it comes to Liverpool players, and both the overwrought criticism and rather bizarre defending of Moreno have been far too extreme of late.
Some have now reached what I like to call the Jordan Henderson stage, where they will never praise Moreno again, while others are too stubborn to admit he's not as good as they once thought.
As is the so often the case, there is some sort of middle ground, although those being critical are far more within their rights to feel correct as things stand.
Moreno's display against Arsenal was appalling, and he has been Liverpool's weak link for too long, making too many defensive errors to remember.
While he should be dropped, he is not Paul Konchesky or Aly Cissokho, not even close.
After reports on Monday night suggested Klopp won't be signing a left-back this summer, it's time to get off his back.