Liverpool midfielder Emre Can says he wants to become a leader within Jurgen Klopp's squad this season.
The 22-year-old only joined the Reds in 2014, but has grown into a key role in midfield, particularly following Klopp's arrival at the club in October.
Can has gone from strength to strength in his natural role, producing a series of dominant performances such as against Villarreal in the Europa league semi-finals in May.
This has led to calls from supporters to hand Can the club captaincy, with concerns over Jordan Henderson's suiting the role.
While this is unlikely at this stage, speaking this week the young German said "I want to be the one pushing the team on."
"The new midfield leader can be me, of course," he said.
"I have played a lot of games for Liverpool and know I am still young but I have to show it on the pitch now.
"I can say I am a leader but you have to show it. Of course we have other leaders like Hendo or [James] Milner.
"We all want to do it—I am like that. I want to be the one pushing the team on."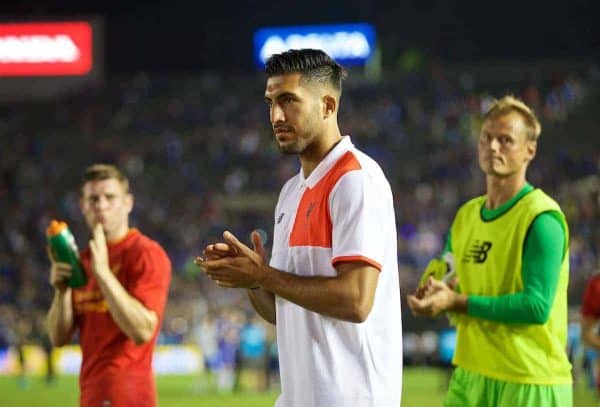 It can be argued that Can is the only player guaranteed a starting position in Klopp's midfield in 2016/17, with Henderson rivalled by the likes of Georginio Wijnaldum and Marko Grujic.
Despite his youth, he believes he has the experience to cope with this prominent role, highlighting him as a hugely confident player.
"I want to show that to everyone, I have played plenty of games," he continued.
"I have played in the semi of the Euros and I am confident enough to say I want to go for it, I want to push the team on.
"You feel great to play in big games like that, it's what you work for, so my confidence is high.
"We have a very good team and we will see next season what it is but that target has to be to win titles.
"If you play for Liverpool the target always has to be winning titles and it will be the same next season."
If the Reds are to challenge for titles this season, they have the right manager in place to ensure this is possible, and Can described Klopp as "one of the best in the world" for his development.
However, the Germany international stopped short at comparisons with former Liverpool captain Steven Gerrard, saying he needed to "be Emre Can."
An accomplished top-level midfielder with scope to develop into a world-class talent, Can is certainly suited to leading Liverpool into a successful future.
---
---