Following Liverpool's shambolic 2-0 loss to Burnley, we review how the media assessed a bitterly disappointing defeat for Jurgen Klopp's side.
The Reds wasted a huge chance to continue building a quick start to the new campaign with a desperately poor display at Turf Moor.
Sam Vokes' sharp turn and finish fired the home side ahead after just two minutes, and Andre Gray doubled the lead 35 minutes later, putting Burnley in complete control and leaving Liverpool with a mountain to climb.
There proved no way back for Klopp's side, who were punished for a dire performance void of creativity, fight and ability at both ends of the pitch, slumping to a woeful but deserved first loss of the season.
On a day the brightest thing about the Reds was the luminous green 'Toxic Thunder' kit worn, the watching media pulled no punches in their post-match assessments.

Reporters bemoaned how the same problems, namely Liverpool's inability to defend, individual errors and a lack of fight and consistency, proved the Reds' undoing yet again.
The Mirror's David Maddock highlighted the Reds' inconsistency:
Mistakes at the back are a common theme (and that's even without Alberto Moreno) and despite so much possession, they again passed the ball too ponderously in the first period, just as they did at the Emirates before half time last week. The Premier League is no place for inconsistency.
The Telegraph's Chris Bascombe felt Klopp's men were outfought:
Tactically and physically his [Sean Dyche's] side was superior to the visitors.

Klopp's pre-season vow to have a more finely tuned and athletic line-up was utterly undermined here. Not only did his side lack imagination despite dominating possession, it was the lack of intensity in the tackle that was most alarming. Every 50-50 went Burnley's way.
The Liverpool Echo's Neil Jones warned failure to improve defensively will hinder Liverpool's progress:
But if they don't find a way to plug the leaks, they will get nowhere. Since Klopp took over, only Aston Villa and West Ham have made more errors leading to goals – as defined by Opta – than Liverpool.
Well accustomed to Liverpool's Jekyll and Hyde nature, ESPN's David Usher labelled the defeat "predictable":
Saturday's abject 2-0 defeat at Burnley was so predictable from Liverpool, who have made a habit of following up their best performances with some of their worst.
Meanwhile,ESPN colleague Glenn Price thought Liverpool's slow start proved costly:
The Reds' start here was similar to that at the Emirates — slow, sloppy and self-destructive — and it cost them dearly. There was no much-improved second-half performance this time.
James Pearce of the Liverpool Echo summed it up:
This was a painful reality check after the dream start to the campaign at the Emirates. The infuriating inconsistency which dogged Liverpool's progress last season remains. New season, same old problems.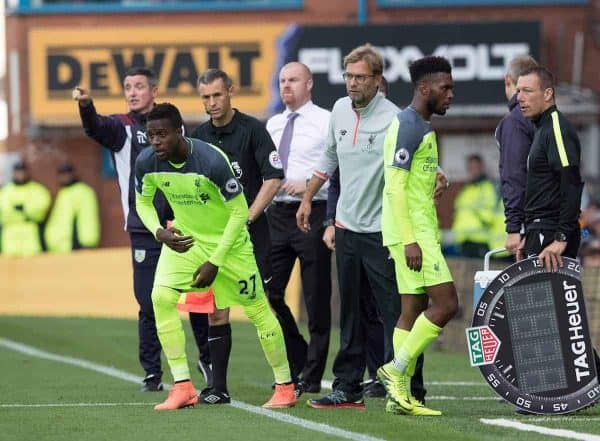 Criticism was aimed in Klopp's direction, with the Liverpool manager's team selection and deployment of certain players in unsuited roles heavily questioned on a day nothing went right for his side.
Bascombe focused on the use of Jordan Henderson in holding midfield and the captain's inability to play the role:
The penetration was lacking, however, with Klopp's use of Henderson as a quarter-back in urgent need of review. He does not have the range of pass for such a role. Opponents are content to let him have the ball. Nothing happens.
Pearce labelled Henderson's afternoon "miserable" and was also unimpressed by Gini Wijnaldum:
Captain Jordan Henderson endured a miserable afternoon in midfield and £25million summer signing Gini Wijnaldum fared no better alongside him.
Jones questioned Sturridge's role:
It wasn't solely down to Sturridge, who did some tidy things during his 65 minutes, but it was surprising to see the England man regularly coming off the play, picking the ball up 40 yards from goal and spreading play, rather than threatening the back of Burnley's very well-drilled defence.
Usher also criticised Klopp's use of his strikers:
Shunting Daniel Sturridge out to the right wing to allow Roberto Firmino to play centre forward was baffling and clearly did not work, as neither player produced anything. Withdrawing Sturridge and then immediately sending his replacement (Divock Origi) up front made Klopp's utilisation of his best goalscorer even more unfathomable.
Bascombe also felt Klopp's decision to play Sturridge wide rather than centrally backfired:
Liverpool were without Sadio Mane because of his shoulder injury, but the use of Daniel Sturridge from a wider role didn't suit the England man. He's far more effective centrally.
Price also labelled that decision "puzzling":
Didn't seem to know where he was playing in the early stages as he was popping up all over the park. Eventually it became clear that Klopp had moved him to the right wing, but he's no Sadio Mane and it was a puzzling selection by the manager.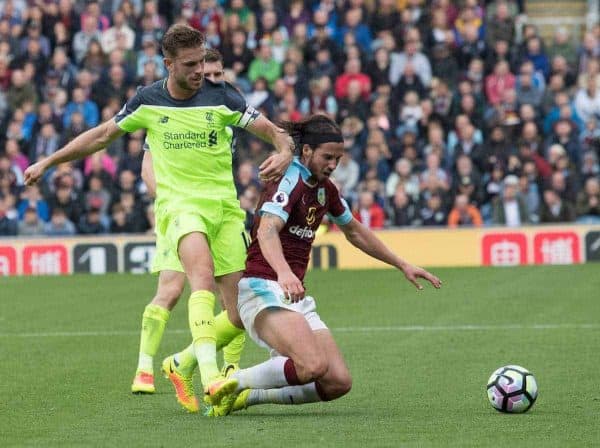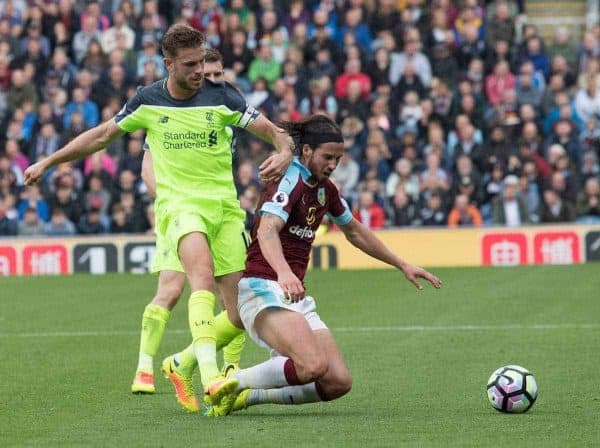 Numerous reporters attributed Liverpool's midfield imbalance, and lack of defensive protection as a result, as a key factor behind the Reds' undoing at Turf Moor.
Jones wrote:
But when possession was lost, there was nowhere near enough protection against the Burnley counter.

[…]

Liverpool want to be attacking, they want to ring the penalty area and get bodies forward, but they need to be quicker to recover out of possession.
Bascombe echoed:
For all the optimism following last weekend's win at The Emirates, the imbalance in the line-up is glaring. A midfield trio of Jordan Henderson, Georginio Wijnaldum and Adam Lallana offers no protective shield.
Goal's Melissa Reddy felt the Reds lacked creativity, as much as defensive awareness, especially in midfield:
Between both goals – too easily gifted – Liverpool owned the ball, but struggled to use it effectively. The midfield, overloaded with numbers, lacked nous and inspiration.
Similarly, there was much disappointment over Liverpool's toothless attacking play, with the Reds yet again unable to penetrate a stubborn, deep defensive unit.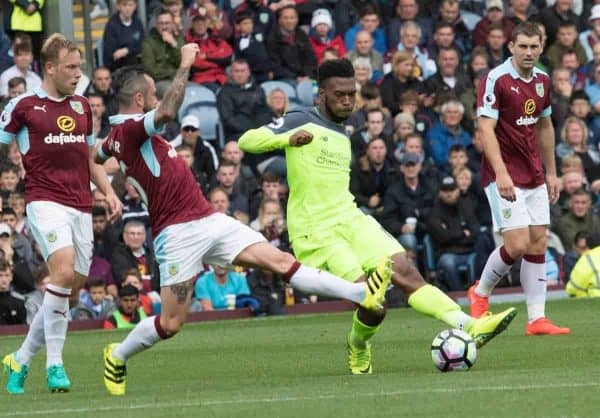 The Daily Mail's Dominic King wrote:
For all the passes, from side to side, they never looked like forcing their way back into the contest and Burnley, it has to be said, were comfortable, tackling, blocking and snuffing out danger whenever it loomed.
Pearce noted:
Where Liverpool were slick, creative and ruthless in the capital, against Burnley they were ponderous, predictable and toothless.

[…]

As Sturridge dropped deeper and deeper to get involved, there was no focal point in attack. Too often inviting balls were whipped into the penalty box with nobody bothering to attack them.
Reddy felt the Reds' lack of patience and poor decision making in the final third proved costly:
The Merseysiders planned to draw them out, but were not patient or surgical enough in their approach, leading to mistakes which Burnley were happy to exploit.

[…]

Their inability to trouble the hosts in turn troubled them, leading to poor decision-making and no penetration.
Usher bemoaned Liverpool's inability to break deep-sitting defences:
The two goals conceded were poor and it would be easy to therefore focus on a defence that has shipped five goals in their opening two games, but perhaps the biggest concern should be that when opponents defend deep and in numbers, Liverpool usually have no answer.
Reddy noted it's something that must change quickly:
Falling short against a stacked defence has been a familiar theme for Liverpool, but Klopp has to make sure it becomes a thing of the past – and quick.
Maddock questioned the desire of Liverpool's attack to compete against the tough home defence:
Not just Sturridge, but the whole of the Liverpool attacking unit just didn't seem up for this encounter and you wonder if it is because they simply didn't fancy the in-your-face attitude of Burnley and the passion of their supporters. It certainly looked that way, and if that's the case then it is going to be a long season for the Reds because there are many, many sides in this league who will be prepared to do the same.
Finally, Price felt the match showed just how much Klopp's side missed the injured Sadio Mane:
Somewhat surprisingly, Sturridge was a direct replacement for Mane on the right, although the nature of that position in Liverpool's system means he regularly interchanges with false No. 9 Roberto Firmino. While the England striker was regularly in the box, Liverpool certainly missed the constant width Mane provides, along with his direct runs at the full-back.