Returning positively to Premier League action after an international break has proven problematic for Liverpool in recent seasons, and is something that must be improved.
The Premier League is on its first pause of the season with the maiden international break of 2016/17 bringing domestic football to a standstill.
Such breaks always cause an untimely disruption to the rhythm of the season, and the time without the Reds immediately leaves you longing for the top-flight return.
But making that Premier League comeback, or more to the point, a winning one, has proven difficult for Liverpool recently, with the Reds regularly struggling upon their return.
Indeed, Liverpool's international break hangover has become an increasing issue as the record shows, and this needs immediate improvement to aid Jurgen Klopp's quest for a strong domestic campaign.
International Hangover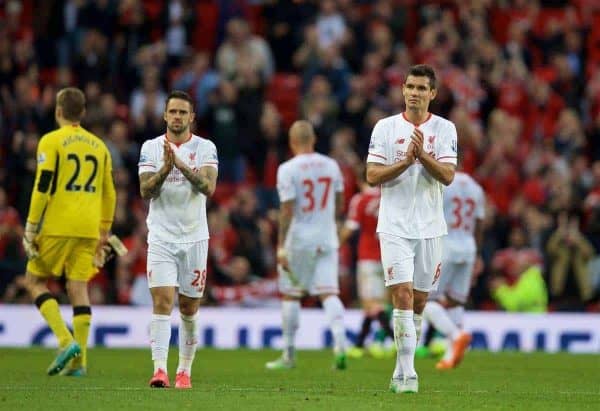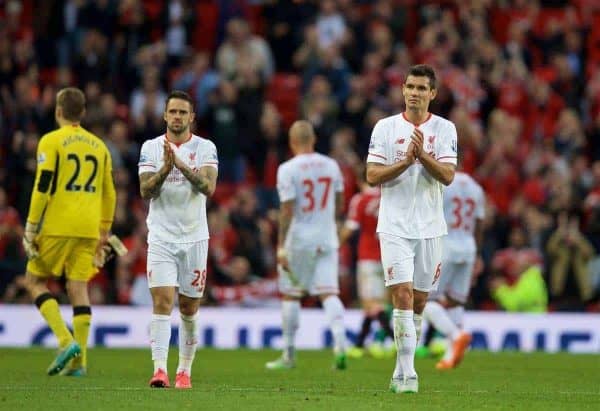 Juggling international breaks pose a challenge to all clubs, but it's one that Liverpool have yet to work out how to manage best.
This is reflected in the Reds' poor record in returning fixtures over the last three campaigns, which is the worst of the Premier League's traditional top six clubs.
As detailed below, Liverpool have won just 25% of games upon the restarts and have suffered defeat more often than they have tasted victory.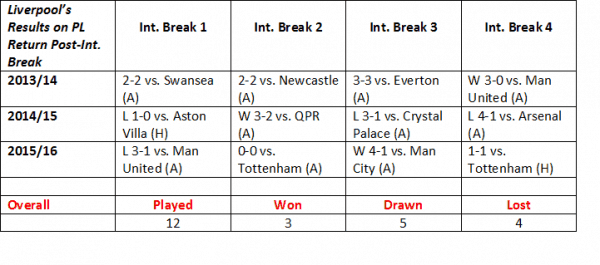 Though in 2013/14 the Reds emerged unbeaten after each break, they won only once – beating Man United 3-0 at Old Trafford.
Frustratingly this has become the norm (not the winning at Old Trafford part, sadly) with Liverpool averaging just one post-international win per-season in recent campaigns – coming through Steven Caulker's own-goal at QPR in 2014/15 and in the thrashing of Man City last year.
Interestingly, each victory has come away from Anfield, with Liverpool being dealt a remarkably unfortunate hand by the Premier League's fixture generator, enjoying a home match just twice on their return after the last 12 pauses.
Even so, collecting just 14 points from a possible 36 in that time – an average of just 4.6 per-season – is nowhere near good enough and crucially, worse than main rivals.
Comparisons & Contributing Factors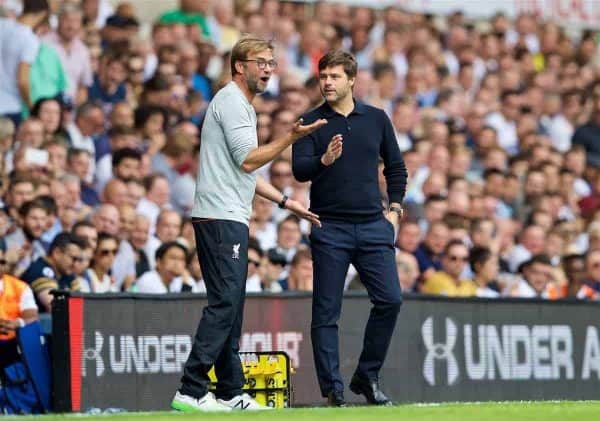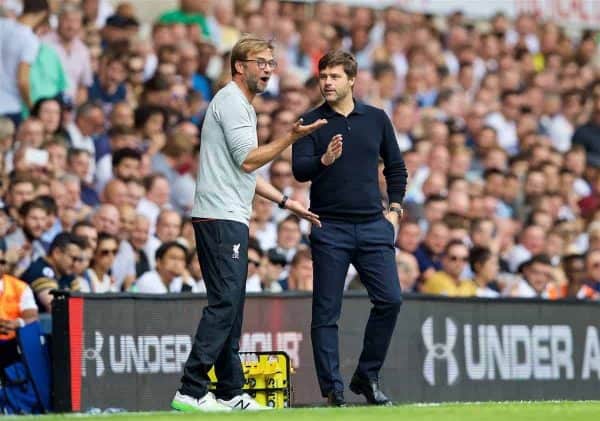 As noted, the internationals cause problems for all, but there can be no denying that Liverpool's competitors have found a better way of dealing with the disruptions.
Closest to Liverpool's lowly 14 point haul is Tottenham with 19 in the same time frame, but both sides trail the main pack by a distance – with the Reds boasting the worst post-international record of the six clubs in each of the last two seasons.


Chelsea lead the way, collecting a hugely impressive 30 points from 36 post-international activity taking maximums from all but two games, and the Blues are also one of three clubs along with Man United and Arsenal to win all four returning fixtures at least once in the last three years.
United sit three points behind with a strong 27 points, losing only once upon the restart, while Arsenal and City boast respectable totals of 26, gained through identical records with each winning a solid 8 of 12 games.
With those four clubs winning a huge 12-16 points more than Liverpool – and Spurs five more too – it shows how desperately the Reds' record needs improvement.
Right down to the fine details, potential reasons are aplenty behind the contrast – with the quality and depth of squads to deal with the interruptions – which it could be argued Liverpool lack – the number of internationals involved, the timing and whereabouts of games and opposition all playing a part.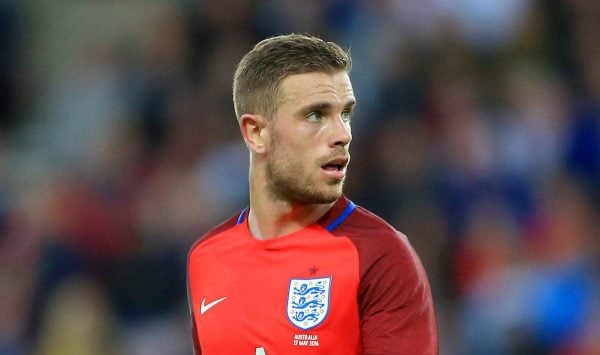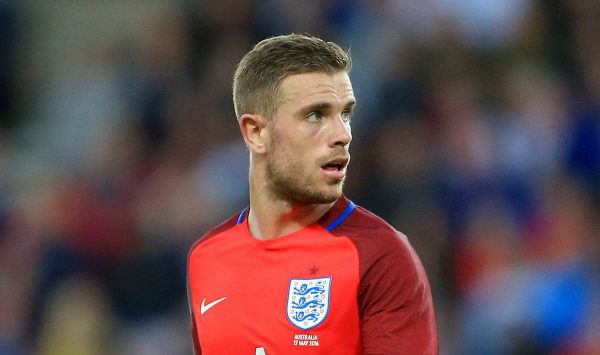 But very few teams – especially those traditionally more affected at the top end of the table – are at their best upon the return, with players coming home late, not in peak condition and often injured while having little training or preparation time.
While playing the fewest home games after breaks of the top six is unhelpful with the additional travel, Liverpool, who have 15 players away currently, are not particularly any more disadvantaged than rivals who all have high numbers of international players.
This again points towards the Reds lacking familiar grit, determination and fight to battle through such testing occasions to rise to the challenge when the going gets tough.
Liverpool's inability to grind out results when not at their best is a long-standing issue, highlighted with their post-international struggles, and for Klopp's team to battle for Champions League football, it's something that must pick up.
Time for Improvement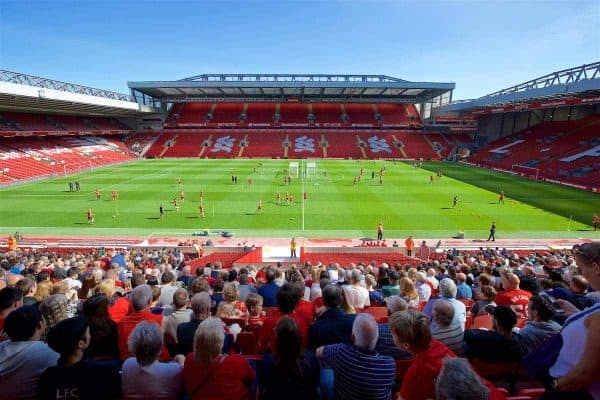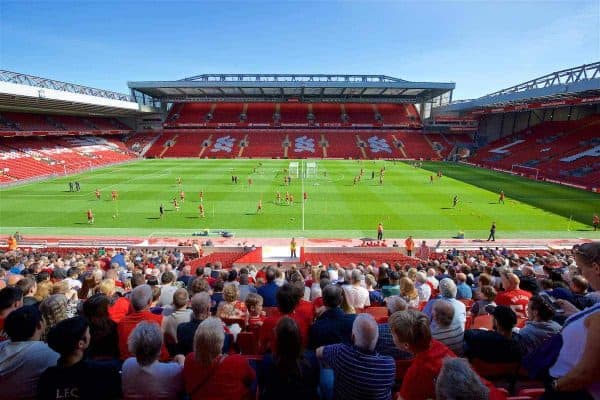 A number of aspects of Liverpool's on-pitch performance will need improving for a more rewarding campaign.
Turning a larger, and hopefully more hostile, Anfield into a fortress where three points are routinely won and beating 'lesser' sides – which the Reds have already come unstuck by – will be crucial.
But dealing better with international breaks and claiming more positive results this season is just as vital.
Klopp – who may need to become more shrewd in managing the Reds' international activity – has steadily started the process, emerging unbeaten from his three games so far.
But his side have an immediate opportunity to really spark an upturn in the rare luxury of a home clash when Leicester City arrive in L4 – with three points needed following the indifferent start that leaves the Reds five points behind City, United and Chelsea already.
The reigning champions pose a tough test but feeling the disruption themselves with 13 players away – including Danny Drinkwater, Jamie Vardy, Ryad Mahrez, Ahmed Musa and club-record signing, Islam Slimani – while goalkeeper Kasper Schmeichel races against time to be fit – Liverpool have a real chance.
Winning points when not at your best often prove the most vital and it's this sort of occasion, overcoming unforgiving circumstances at testing times, that needs to see Klopp's men produce.
Beginning that process against the champions would be the perfect start to sobering Liverpool's international break hangover.