Roberto Firmino's growing influence in Liverpool's attacking line suggests he could soon become Jurgen Klopp's most important player.
The Reds' bright start to the 2016/17 campaign has seen a number of players shine, with Adam Lallana, James Milner, Jordan Henderson, Sadio Mane and Joel Matip among those to impress in Klopp's new-look side.
Taking six wins from their first eight games in all competitions, losing just once, away to Burnley in August, Liverpool's form has been a collaborative effort under the German's banner.
Arguably, however, no player has been more central to the Reds' positive form than Firmino, with the Brazilian continuing his rise to prominence in his second season on Merseyside.
Increasingly integral to Klopp's Liverpool, Firmino is swiftly becoming the 49-year-old's most important player, belying his slow start just 12 months ago.
Off-Ball Work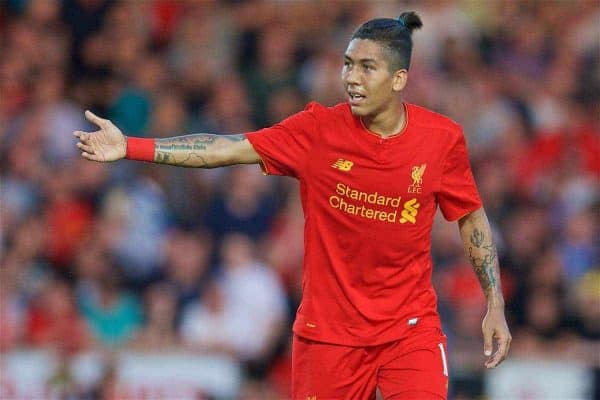 "I started out as a defender," Firmino revealed earlier in September. "I played as a full-back and then I moved into the centre. I played defence right the way through until the Under-18s."
This insight into his footballing upbringing goes some length to justifying Firmino's stance as something of a physical anomaly; standing at 5'11" and weighing 76kg, the Brazilian boasts a similar physique to Daniel Sturridge (6'2″, 76kg) but is lithe and nimble, like Lallana.
The transition from defender to attacker has clearly handed Firmino an advantage in his off-ball work, which he explained is reinforced by a relentless, innate energy.
"I've been quite hyperactive since I was a child, I don't like to stop," he added, later concluding that "nowadays that is the only way you can play football."
Fielded as a centre-forward by Klopp in four of his five Premier League appearances so far this season, this has proved pivotal.
Firmino averaged 1.8 successful tackles per 90 minutes in those outings, with only two strikers (360+ minutes) in Europe's top five (Premier League, La Liga, Bundesliga, Serie A and Ligue 1) tallying more—Alaves' Deyverson (2) and Chievo's Riccardo Meggiorini (1.8).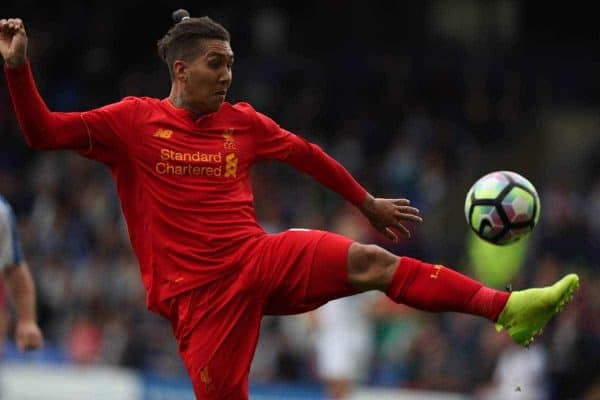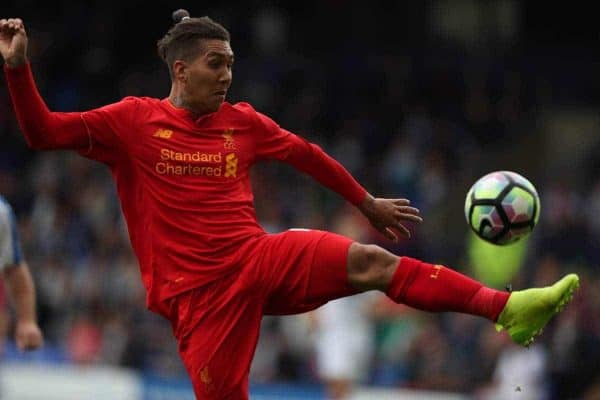 Of this season's regular centre-forwards, the 24-year-old is the Premier League's most statistically clinical tackler, and this should come as no surprise.
But it is the way in which Firmino anticipates opposition movements, closes down passing and suffocates space that is most impressive.
As the Reds penned City Hull into their half in last weekend's 5-1 victory at Anfield proved, this is a hugely effective way of ensuring dominance: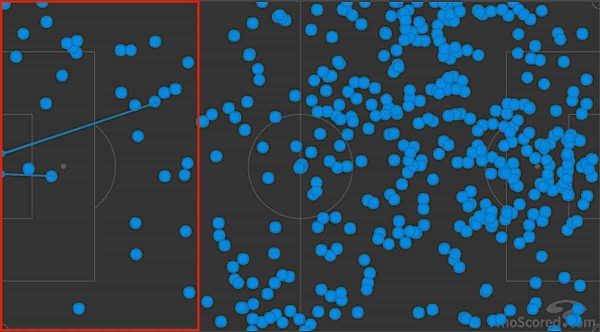 The Tigers made just 31 of their 429 touches in the Liverpool defensive third, and had just 25.8 percent of ball possession, with Firmino leading the press, forcing Hull back towards their own goal throughout.
"When I am on the pitch, that is it," Firmino explained of his work rate, "you have to go full on from the first minute."
Goals & Creativity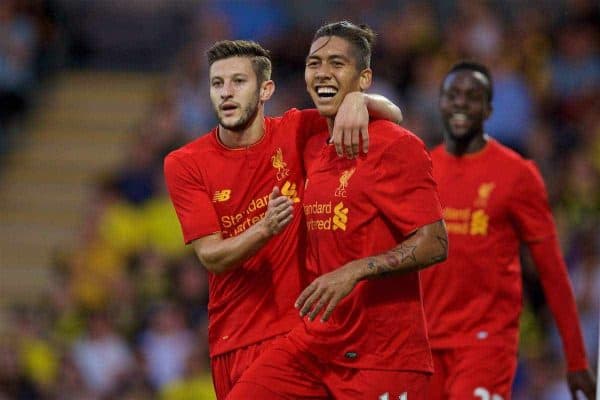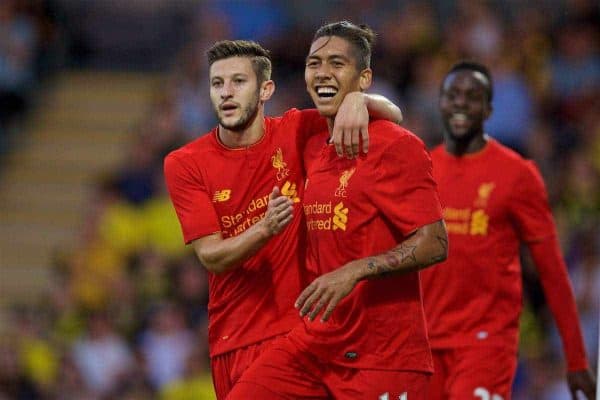 Of course, Firmino was primarily signed to add to Liverpool's attacking options, with Brendan Rodgers stating on the Brazilian's arrival that "he is really bright on the ball, has got wonderful technique and has got the ability to want to get forward and score a goal."
Klopp reinforced this months after his appointment, saying "he's a very offensive player."
While his off-ball work cannot and should not be understated, Firmino's output in front of goal is of similar importance, and an efficiency in the final third is key to his importance.
Last season, after failing to score or assist in seven muted appearances under Rodgers, Firmino tallied 11 goals and 11 assists in the following 42 appearances in all competitions, with the the majority of these coming when fielded as a centre-forward.
Firmino netted six goals and laid on a further five in 11 outings up front last season in a hugely impressive run of form.
Though he is yet to replicate this in 2016/17, with his three goals and one of his two assists all coming from the wing, his invention has proved just as influential up front—just less tangibly so.
This season, no other striker in Europe's top five leagues has created more chances than Firmino has when deployed up front (15), and this is without recognising his most important creative asset: his movement.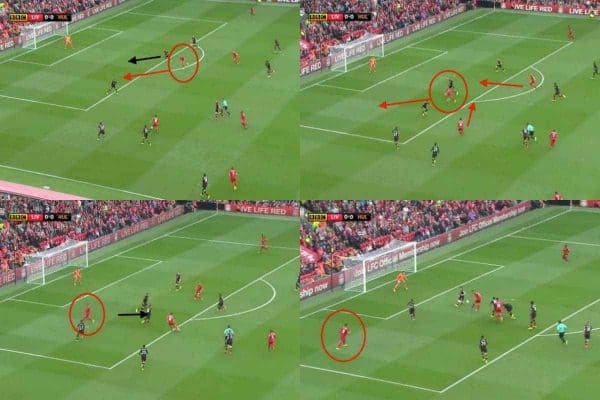 Lallana's opener at home to Hull showcased this perfectly, with Firmino's diagonal movement initially dragging Curtis Davies out of position, allowing Coutinho to drive into space to interchange with his midfield colleague, who hooked a shot into the bottom corner.
Firmino ended the move on the far side of the Hull penalty area, but while Coutinho's well-weighted pass saw him awarded the assist, his compatriot's movement was just as crucial.
"Liverpool didn't give you a chance to breathe," Davies said after the game, and much of this is due to Firmino.
Importance to Klopp's System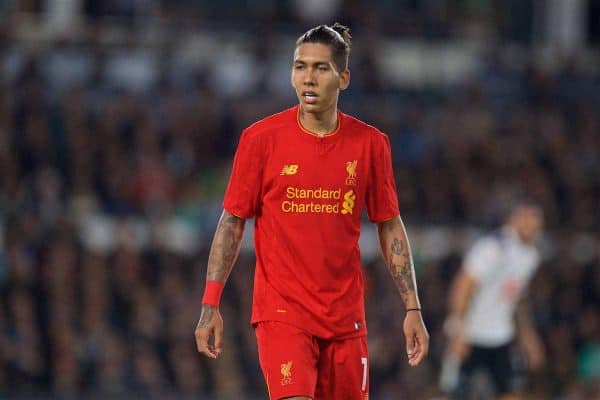 "No playmaker in the world can be as good as a good counter-pressing situation," Klopp told Jamie Carragher on Sky Sports' Monday Night Football this week.
In this mantra comes the essence of Klopp's approach to management: the team is the star, with all of its components responsible in both defence and attack.
However, while Klopp expects the likes of Coutinho, Lallana and Mane to contribute heavily to Liverpool's counter-pressing game—winning the ball back high up, flooding forward and crafting openings—it is Firmino whose duty is most expansive; and in this sense, he is most important.
"Roberto is in the centre because he has the physical ability to do it, because it's the most intense job," he explained, when asked why Firmino was often preferred up front, despite having both Sturridge and Divock Origi in his squad.
"He's involved on both sides, when we're a little bit deeper he's involved, so he always has a job to do."
Firmino combines a number of key roles, and the statistics—be that his tackling, his creativity or in that he has averaged more successful passes per 90 (51.3) than any other striker in Europe's top five leagues (360+ minutes)—prove that.
Whether this makes him "the Neymar of Liverpool," as he revealed he aspires to be earlier in September, is questionable at this stage, but as his influential performances continue, he is certainly following that trajectory.