After Liverpool battled their way to a hard-fought 2-1 victory against Chelsea on Friday night, we review how the watching media assessed a fantastic win for the Reds.
Jurgen Klopp's side continued their impressive start to the season earning a thoroughly deserved victory against Antonio Conte's Blues at Stamford Bridge.
Dejan Lovren put the Reds ahead after 17 minutes with a composed volley from Philippe Coutinho's superb cross, before Jordan Henderson spectacularly found the top corner of Thibaut Courtois' net with a 30-yard stunner to double the half-time lead.
In-form Diego Costa pulled one back for Conte's side just after the hour mark – volleying home from close-range – but the Reds produced a battling performance in the final 30 minutes to hold on for a hugely impressive three points.
It was another fantastic big away-day performance from the Reds, who recorded a thoroughly enjoyable second straight league win at the venue of Klopp's first Premier League success.
Here is how the media saw an excellent win.
Claiming a thoroughly deserved three points in another big encounter, reporters felt the result and collective performance showed Liverpool are becoming a team to be feared.

Joe.co.uk's Dion Fanning wrote:
What followed was an indication of their shared purpose, the collective will that Klopp considers essential and which will cause many to fear Liverpool as the season progresses.
The Liverpool's Echo's Kristian Walsh noted:
But something is happening at Liverpool. A team is being built, and it is reflecting what the manager wants it to do.

[…]

A big result for a big, serious football team – one that could make a big impact this season.
The BBC's Phil McNulty felt Liverpool showed they can compete with the best:
This latest win at Chelsea was Klopp and Liverpool putting down another marker that they are more than capable of competing with the best – and if they can put things right against the rest then their growing momentum will become even more ominous.
Producing an impressive team performance featuring another blistering attacking display, reporters praised the intensity and speed of Liverpool's play in and out of possession.
The Guardian's Dominic Fifield eulogised on Liverpool's offensive display:
Klopp's players have already developed that instinctive awareness of each other's intentions in possession, team-mates darting into space on the gallop to be found with incisive passes. Opponents are beaten as much by speed of thought, though the accuracy and pace of the passing still takes the breath away.
McNulty felt the Reds' pressure proved crucial to their offensive and defensive work:
It made little difference as Liverpool's prodigious work ethic, a staple of Klopp's style, pressured Chelsea into submission and gave them a constant goal threat as well as a defensive shield.

The Independent's Jack Pitt-Brooke praised the quality of Liverpool's pressing and ball retention:
What was obvious very quickly was that Liverpool are better at it. They pushed up and forced Chelsea back, they kept the ball with quality and there was very little for Chelsea to do but try to rush on the break.
Fanning praised Liverpool's ruthless exploitation of Chelsea:
Liverpool might have been more exciting last weekend against Leicester, but this victory and the ruthlessness with which those Chelsea vulnerabilities were exposed were even more encouraging.
Digging in during a tense second-half to hold on for victory, reporters commented on Liverpool's defensive resilience which made for a welcome change, while others bemoaned the Reds' game-management.
ESPN's David Usher wrote:
Everyone knows Liverpool can play and that scoring goals is not a problem, but defensively they're usually far from sound, so Jurgen Klopp will be pleased with the resilience shown by his team after Diego Costa had pulled one back for Chelsea. The Reds have often wilted under that kind of pressure, but this time they defended in numbers and came through without too much trouble in the end.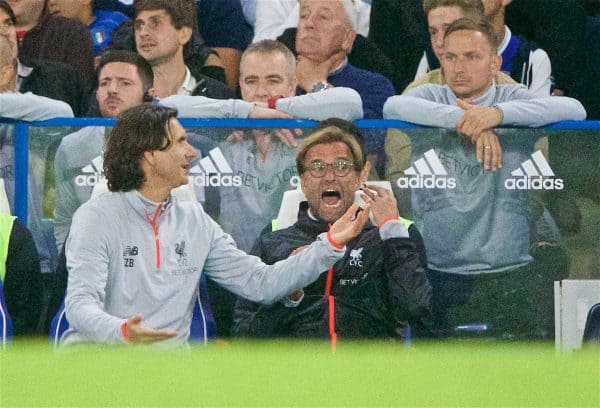 The Guardian's Amy Lawrence noted Liverpool's improving resilience which sealed an "impressive start" to the campaign:
Of course, even if they did dip, they did not cave in, which speaks of an improving resilience. They hung on here and can reflect on an impressive start from a tough run of fixtures.
The Echo's James Pearce felt the Reds "outfought" their opponents:
The Reds were first to everything as Chelsea were outclassed and outfought in all departments. There was a collective hunger and desire which the Londoners simply couldn't live with.
But Melissa Reddy for Goal commented on Liverpool's need to improve their game-management:
The Reds are unmatched going forward in the league under Klopp, but it is their game management and control which still needs some refining.
Usher was disappointed by the Reds' failure to kill the contest once and for all:
The way the goal was conceded will not have pleased the manager, but the most disappointing aspect of the performance was that Liverpool didn't make more of the opportunities they had to counter-attack, especially after half-time.
The Independent's Mark Critchley noted Liverpool's lack of midfield protection as a reason behind their defensive issues:
Jordan Henderson makes an admirable effort of shielding his defence, but neither he nor Georginio Wijanldum or Adam Lallana offer enough protection.
Meanwhile, Lawrence feels the Reds' ability to "fade" needs addressing:
The fade, the possibility to allow a team they have dominated back into the match, is something Klopp needs to address as Liverpool have conceded in the second half in their outings at Arsenal, Tottenham and Chelsea once their flexed muscles began to tire.
A courageous team performance that featured star displays right throughout the side, reporters offered their thoughts on who stood out on the night.

Usher heaped praise on Henderson's "captain's performance":
A real captain's performance, this. He's been playing well of late but this was comfortably his best display of the season. His passing was excellent, he made numerous vital interceptions and scored a phenomenal goal.
Pearce feels Henderson is now "blossoming" in his new position:
But now fully fit and blossoming in the new deeper role given to him by Klopp, that armband looks at home on his left arm. He led the way and others followed on a night when the Reds showcased their exciting progress under Klopp.
McNulty highlighted Milner as a star performer at left-back:
Meanwhile, the reliable James Milner illustrated once again why Klopp was not prepared to answer demands to rush into the market and buy a left-back.
The Express' Tony Banks thought Philippe Coutinho dominated the game:
Mane was a blur of movement for Liverpool, and Coutinho simply ran the match with his ability to spot a pass.
Pearce also felt Joel Matip shone at Stamford Bridge:
Defensively, Klopp's side were commanding with Joel Matip passing the biggest test of his Reds career.

A strangely subdued Costa was kept under wraps as time and time again the ice-cool former Schalke centre-back thwarted Chelsea's advances.

Walsh focussed on the building defensive partnership between Matip and Dejan Lovren:
There is a real partnership developing at the heart of defence, though Matip should not be too pleased with his defending for Costa's goal.

That will come in time, perhaps. They have the tools to suggest it can. As Chelsea pushed forward, the pair were superb.
Meanwhile, The Telegraph's Alastair Tweedale heaped praise on the collective display of Liverpool's midfield:
Klopp's midfield is sensational and here, even without the injured Roberto Firmino, they showed they are one of – if not the – best in the Premier League.
Interestingly, the Mirror's Darren Lewis thought the display proved Liverpool are better off with Roberto Firmino than Daniel Sturridge up front:
Others may disagree and it may seem a churlish point after such an impressive display but Sturridge appeared not to be on the same wavelength as his team-mates who were like a well-oiled machine.
Cementing an impressive start to the campaign, reporters called on Klopp's side to now show the consistency that has lacked.
Tweedale wrote:
Next up in the league are Hull and Swansea, two games Liverpool are equally capable of winning and messing up. Make sure it's the former.
ESPN's Miguel Delaney penned:
Liverpool need to find a way so that pressure is more prolonged, even if not quite as intense.It could be the difference between getting special results in isolation and making this a special season.
McNulty assessed:
This latest win at Chelsea was Klopp and Liverpool putting down another marker that they are more than capable of competing with the best – and if they can put things right against the rest then their growing momentum will become even more ominous.