Slowly establishing himself in a crucial role in the Liverpool midfield, Georginio Wijnaldum's subtle influence has progressed in the early season performances.
After a mixed start, the Reds' 4-1 victory over Leicester City – with the travelling champions dismantled at the new-look Anfield – looks to have stabilised their 2016/17 form.
Moving to a 4-3-3 system for the new campaign, Jurgen Klopp has seen a number of players take time to find their feet.
One key example is Wijnaldum, whose £25 million move to Merseyside came as a surprise to many supporters in July, with Klopp's interest seemingly out of the blue.
But as Liverpool have begun to gel after the first five games of the season, Wijnaldum's role has become clearer, and the Dutchman's nuanced displays are growing in their importance.
Initial Concerns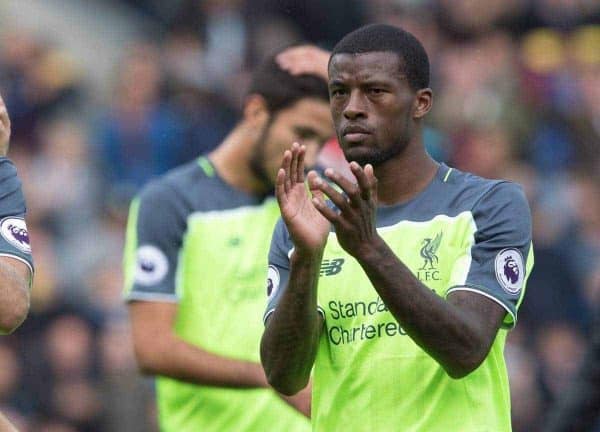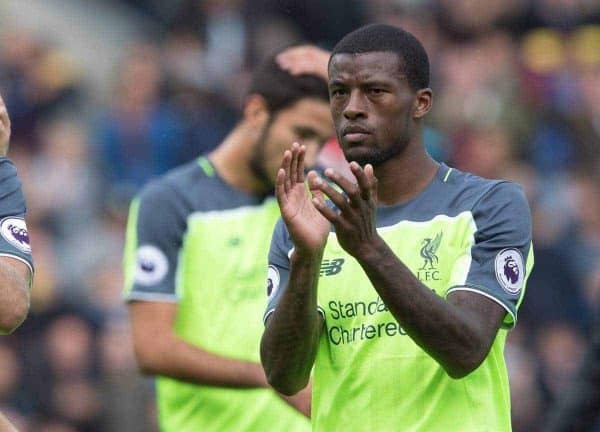 On Wijnaldum's big-money switch from Newcastle United this summer, widespread concerns were expressed over his suitability within Klopp's system.
This largely stemmed from the scattergun nature of Liverpool's pursuit for midfield reinforcements, with Piotr Zielinski, Mahmoud Dahoud and Mario Gotze all very different options.
Furthermore, these fears were exacerbated by the contentment of Magpies supporters on Wijnaldum's departure, primarily owing to his perceived lack of consistency between games at St. James' Park and elsewhere.
Wijnaldum scored 11 goals for Newcastle last season, but none of these came away from home, and this anonymity reared its head during Liverpool's 2-0 defeat away to Burnley in August.
Goals from Sam Vokes and Andre Gray consigned the Reds to their first, and only, loss of the season so far, with their inability to break down a stubborn Clarets defence proving frustrating.
No Liverpool player showered themselves in glory at Turf Moor that day, but Wijnaldum stood out as particularly poor, worryingly marginal in a confused role.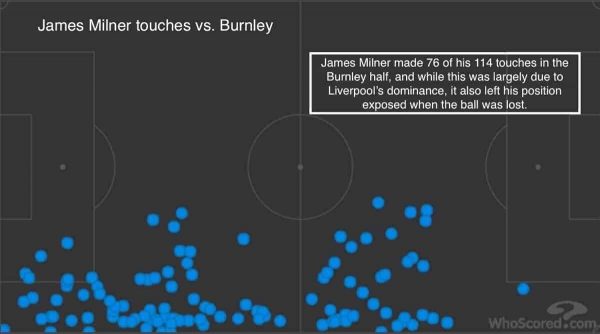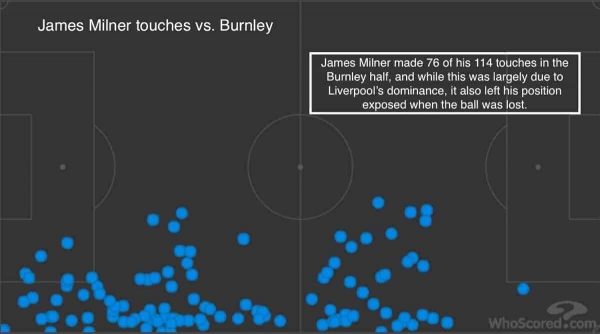 With James Milner still getting used to his duties as a left-back, making his first appearance of the season in Klopp's defensive line, the 30-year-old found himself too high up the field on a number of occasions.
This left Wijnaldum, deployed on the left-hand side of Klopp's three-man midfield, covering his vice-captain, nullifying his presence as a box-to-box midfielder.
He kept things tidy in possession, offered a constant outlet for his team-mates and even created three shooting opportunities in attack, but looked too far on the periphery to be a genuine influence.
Was this the Wijnaldum that Liverpool supporters were warned about just weeks earlier?
Finding His Feet in Midfield Role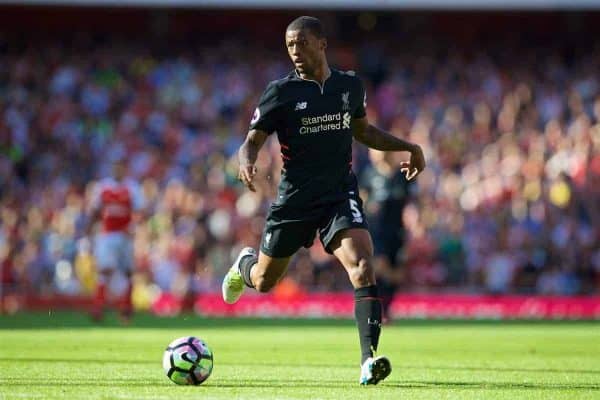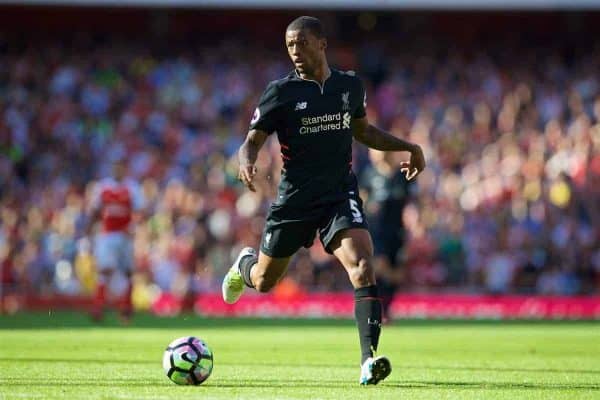 That Burnley disappointment aside, however, Wijnaldum has enjoyed a fruitful start to life on Merseyside, and this has only improved as the games have gone by.
A substitute against Burton Albion in the League Cup, the No. 5 returned to Klopp's starting lineup away to Tottenham Hotspur in the league, and looked to be improving in his use of the ball.
Interchanging with the likes of Adam Lallana and Jordan Henderson, Wijnaldum was given more opportunity to push forward as Milner produced a more measured display at left-back.
This saw Wijnaldum strike up more of an understanding with Lallana, of when to push up, when to drop back and when to overload in the final third.
More importantly, Klopp's midfield kept their shape much better against a challenging Spurs side.
After an international break that saw him score for the Netherlands in their 2-1 friendly defeat to Greece and play just over an hour in a 1-1 draw with Sweden, Wijnaldum picked up his form as Liverpool made their return to Anfield.
In the Reds' 4-1 mauling of Leicester City, Klopp's side were able to showcase their free-flowing, overwhelming attacking football, just as they did against Barcelona towards the end of pre-season and Arsenal on the opening day of the Premier League campaign.
With Liverpool on the front foot, Wijnaldum's role became more defined, and his duties alongside Lallana, Henderson and Klopp's attacking three became significantly clearer.
Key to Liverpool's Balance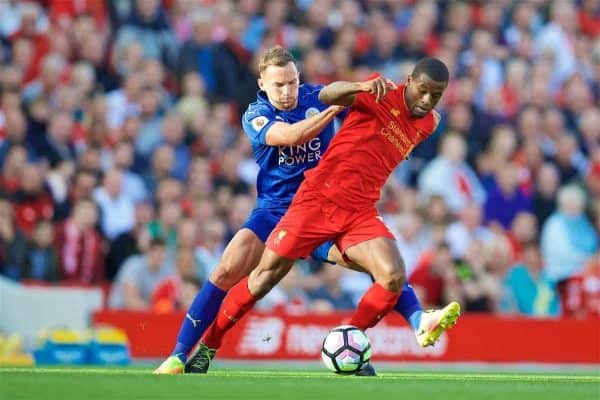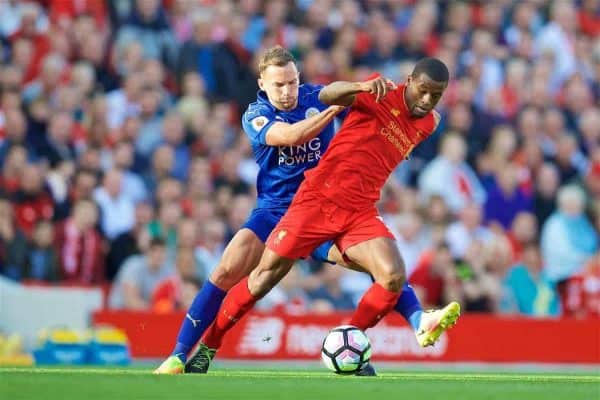 When Wijnaldum completed his move to Liverpool, it was largely assumed that he had been signed to bolster Klopp's attacking options.
With Newcastle and PSV Eindhoven before that, Wijnaldum was largely deployed as an attacking midfielder, and the player himself stressed in December that "if I can choose where I want to play, it is in the middle."
It was, therefore, not expected for Wijnaldum to take up the role of workhorse in the midfield, but this is how his start to life under Klopp has panned out.
Utilising Wijnaldum as the more reserved of his two box-to-box midfielders, with Lallana typically driving through the centre to combine with the likes Roberto Firmino and Sadio Mane, Klopp has tapped into the Dutchman's flexibility.
His ability to break up play with efficiency, provide a stable platform to build in possession and thread incisive balls through to his attacking colleagues are proving hugely valuable.
These qualities allow Henderson stability in defensive midfield, Milner the freedom to overlap and probe forward and Lallana the license to operate as a glorified attacker.
Most striking, however, is Wijnaldum's ability to combine this with an eagerness to drive into the penalty area whenever possible—shown as he laid on Lallana's goal in the 4-1 victory over Leicester: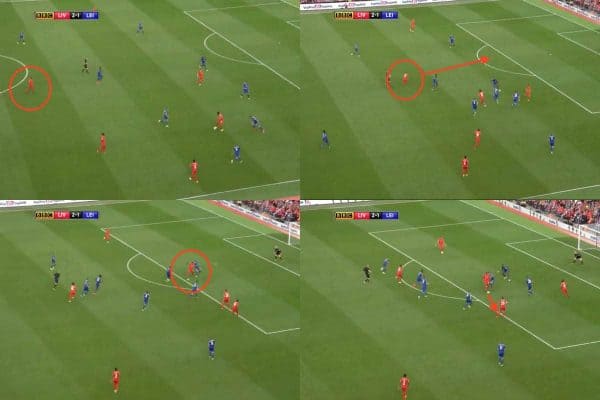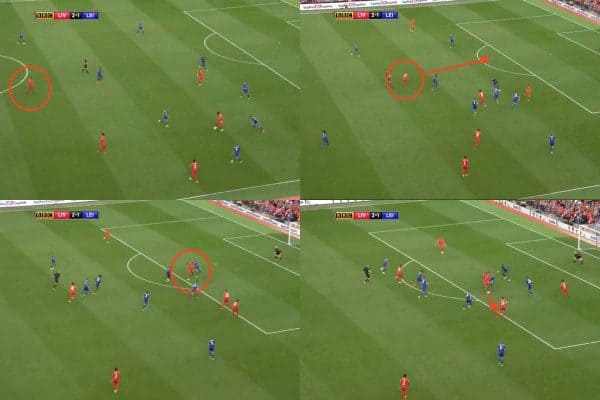 As soon as Daniel Sturridge received the ball from Nathaniel Clyne, Wijnaldum sprinted 40 yards from the centre circle to the box, ending up as the furthest player forward, waiting for his options to open up on the ball and setting up a powerful finish from Lallana.
This is an unquantifiable, yet invaluable, quality, but assessing Wijnaldum's statistics in the league so far suggest he is more influential than perceived.
He has registered two league assists, more than any other Liverpool player; 2.4 key passes per 90 minutes, the third-most in the squad; a passing accuracy of 85.2 percent, the fourth-highest, level with Lallana; and 1.6 tackles per 90, also level with Lallana.
Klopp recently described Lallana as "a very important player for the team, as a person and a player."
This is undoubtedly true, but it can certainly be argued that Wijnaldum is just as important as his counterpart.