It is a year since Brendan Rodgers was relieved of his duties at Liverpool, but his legacy should not be the subject of ridicule.
October 4, 2015 represented a day that had been on the cards for a while.
A rather insipid performance at Goodison Park had seen Liverpool scrape a 1-1 draw with Everton, and the writing was on the wall for Rodgers.
His job had become untenable by that point, and it was only right that owners FSG moved the Ulsterman on to pastures new.
Jurgen Klopp replaced him, transforming Liverpool in the last 12 months, and Rodgers is now remembered as something of a laughing stock in the eyes of many—that applies to both Reds supporters and rival fans.
Though it may be against the popular wave of opinion, the 43-year-old deserves to be respected for some of the feats he achieved on Merseyside.
Positives Outweighing Negatives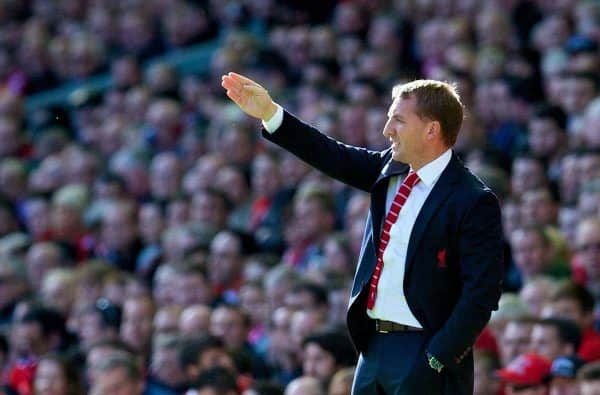 Rodgers undoubtedly made mistakes during his four years at Anfield, but his talent as a coach, in particular, should never be downplayed.
Some of the football he had Liverpool playing from minute one was very easy on the eye, even if a disastrous 3-0 defeat at West Bromwich Albion proved to be a dreadful first game in charge, in August 2012.
Rodgers advocated an attack-minded style of play, full of high-intensity and risk, and it is very easy to forget how entertaining it could be.
An excellent end to 2012/13, in which the Reds lost just one of their last 12 games, is often forgotten about, and it saw Rodgers starting to work his magic.
He had taken time to bed in, like almost any new manager, but having pulled off the brilliant signings of Philippe Coutinho and Daniel Sturridge in January 2013, Liverpool suddenly looked a real force.
Fifteen goals were scored in three games against Swansea City, Wigan Athletic and Newcastle United, without conceding, and the football was spellbinding.
Then, of course, there was 2013/14: the most unforgettable, beguiling but ultimately heartbreaking season in Liverpool history.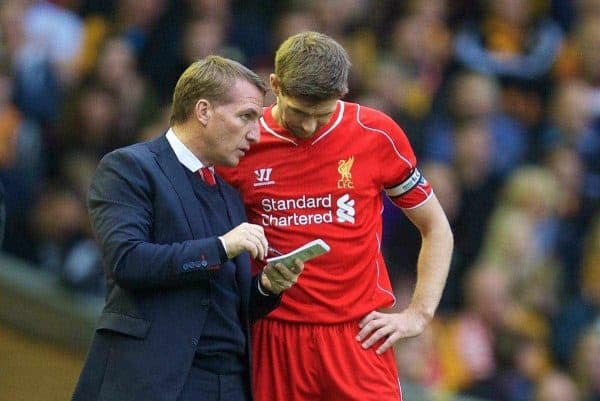 There will be those who childishly claim it was "solely down to Luis Suarez," and that Rodgers "did nothing towards it," but that is one of the most insulting arguments in football.
In that case, let's credit Rafa Benitez for nothing and say his success was all down to Steven Gerrard, shall we? And say Kenny Dalglish got lucky because he had John Barnes in his side in the late 1980s? It's ludicrous.
The world-class genius of Suarez was clearly the catalyst behind Liverpool almost winning the Premier League title, but Rodgers was undoubtedly key as well.
He did so much good that year: he used Gerrard as an influential deep-lying playmaker; he ensured Coutinho and Sturridge kicked on another gear; he developed Raheem Sterling into a stunning young talent; he believed in Jon Flanagan; he created a system that got the best out of Suarez and Sturridge. The list goes on.
It would be completely wrong to say that everything Rodgers did was a stroke of brilliance—defensively, Liverpool were awful, and Rodgers has never shone in that aspect of his management—but he still deserves huge credit.
He instilled a great belief and team spirit within the squad, and despite having huge egos such as Suarez, Sturridge and Gerrard to contend with, he made sure it wasn't an issue.
A cruel twist of fate robbed him of leading Liverpool to a league title, not his ineptitude, as some will have you believe.
Far From Perfect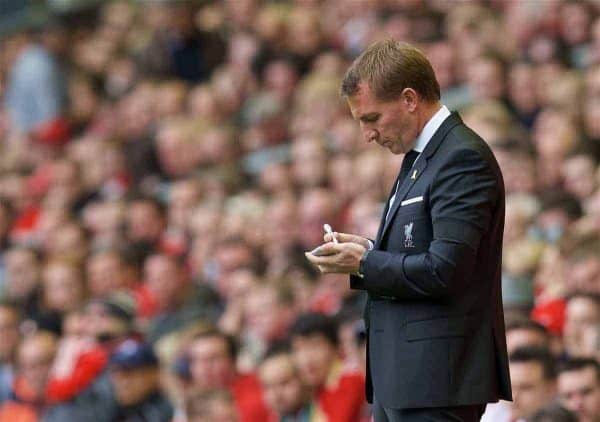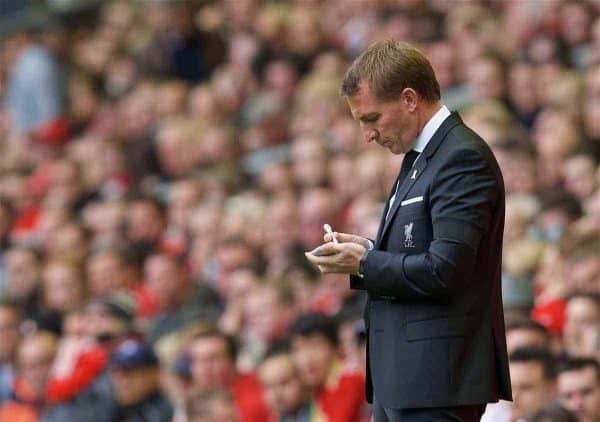 This may sound like one giant tribute to Rodgers, which is sure to get his many detractors' blood boiling. It really isn't, though—his tenure at Anfield was littered with errors.
Liverpool's potential to capitulate defensively at times was unacceptable, and there were occasions when Rodgers' decision-making was unfathomable.
There is no doubt that he believed a little too much in his own ability, and some of his press conferences would leave you cringing in horror.
Rodgers' much-publicised likeness to David Brent may be a little farfetched at times, but he was never a million miles away from saying, "I suppose I've created an atmosphere where I'm a friend first and a boss second. Probably an entertainer third."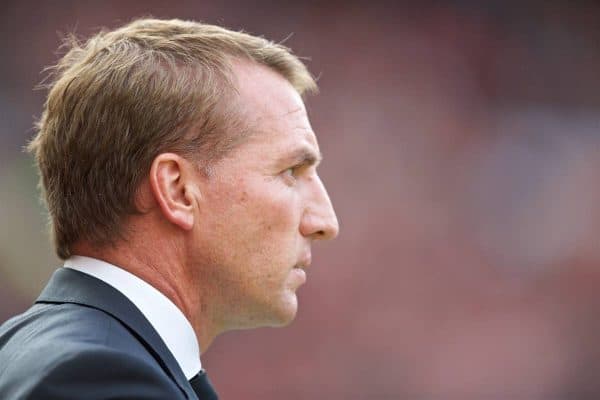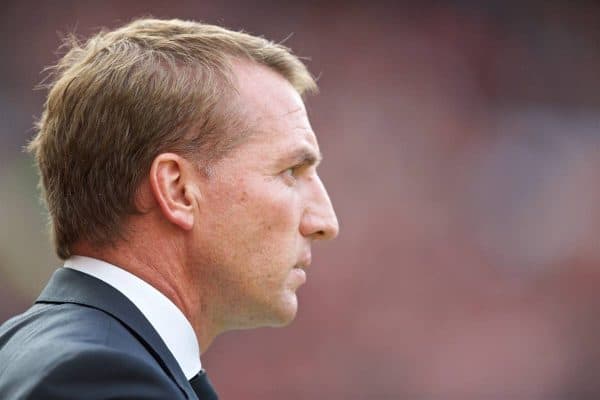 His final full season at the club was diabolical, and this is why his legacy has been tarnished so greatly since 2013/14.
The Northern Irishman's transfer dealings in the summer of 2014 were shocking—his track record in the transfer market was a little uninspiring overall—and endless poor performances saw his side finish sixth in the table.
The 6-1 defeat at Stoke City on the final day of 2014/15 was an embarrassment for all Liverpool supporters, and in hindsight, that was the day in which he should have been sacked.
It was obvious by that point that he had lost the players and lost his spark, and despite a couple of ugly early 1-0 wins last season, there was an inevitability about his dismissal.
The football was dour by that point, the likes of Suarez, Gerrard and Sterling had all left and some fresh ideas were needed in the Anfield hot-seat.
More Respect Deserved
Because Rodgers' final 12 months at Liverpool were so uninspiring, he will always be remembered more for the negatives than the positives.
People always remember how things end, whether that be in glorious triumph or devastating failure.
Had Rodgers won the league title in 2013/14 then left that summer, he would be revered as the Reds' best manager for 25 years. That is the fickle nature of modern football fans for you.
Instead, he is now seen as some sort of comedy figure plying his trade at Celtic, with people more interested in poking fun at him than praising a talented young manager still early in his career.
Celtic losing 7-0 to Barcelona in the Champions League drew howls of laughter in some quarters, yet the impressive 3-3 draw with Man City that followed was met with more of a hushed response. That sums the situation up perfectly.
Some of the abuse that comes his way is Rodgers' own doing—the Being: Liverpool documentary will never be forgotten—but he is a decent man who understood what an honour it was to manage Liverpool Football Club.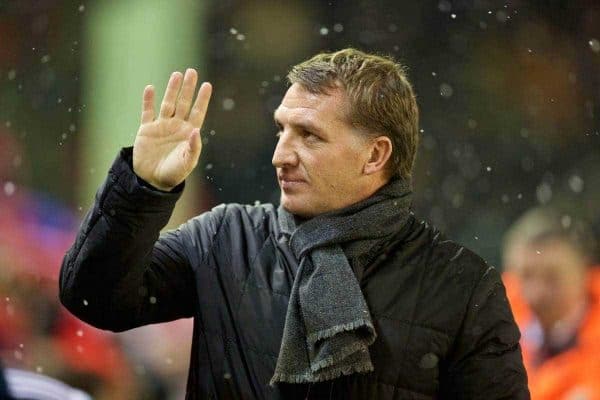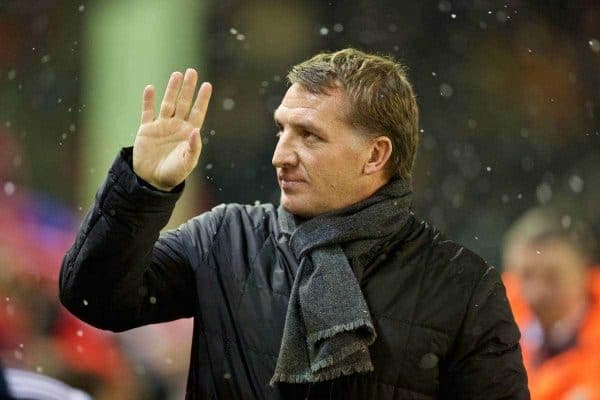 He has not said anything disparaging about the club since leaving, and his playing style is something Bill Shankly and Bob Paisley would have applauded at its best.
The likes of Suarez and Gerrard still have great admiration for Rodgers—an opinion they don't have to voice, now that they have no affiliation with him.
Not for one second should Rodgers be considered a great Liverpool manager, but the way in which he blooded youngsters, displayed tactical nous and got the best out of top-class players was commendable.
He deserves to be criticised hugely for 2014/15, for some of the idiotic quotes and questionable signings, but he also deserves to be remembered affectionately for the many good things he did.