After a trip back to over 100 years ago for last week's classic match feature, this week we only go back three years.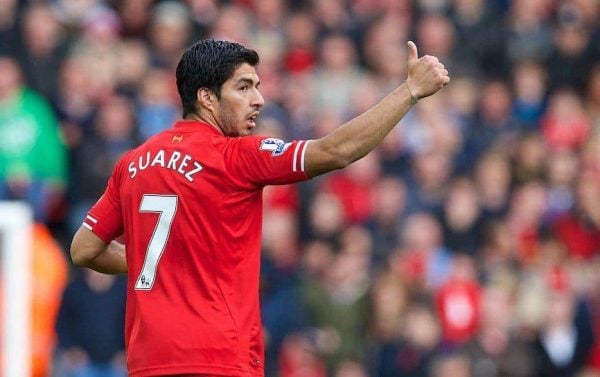 So far our literary time hopping has taken us back to the turn of the 20th century, the 1950s, the glory days of the 70s and 80s and the barren years of the 90s.
We've uncovered lost treasures, celebrated forgotten heroes and revisited old friends, but in doing so we've neglected some of the most magical moments from our recent history.
I'm not going to apologise for wallowing in ancient times. With history as glorious and fascinating as ours, it's rude not to. But Liverpool's is a story for today not just yesterday. After all for good or bad, we make history with every passing moment at Anfield.
That's why I've chosen not to revel in a classic 1968 game against the Baggies, even though it featured a Roger Hunt hat-trick. Instead I'm taking you on short journey back to 2013 to relive a magnificent three from the irrepressible Luis Suarez. Buckle up, we'll be there soon.
Without doubt the story of the 2013-14 season was one Luis Alberto Suarez Diaz. We just couldn't get enough, even though at times he was just too much. As a banner on the Kop testifies, the gap between great genius and insanity is often wafer thin. El Pistolero was the living embodiment of these words on the pitch. However, before a ball had even been kicked, Arsenal would prove themselves the perfect representation of them off it.
Suarez had decided he'd had enough of English football, and more specifically the fleet street posse who follow it. Nevertheless that didn't stop him from baring soul to them in a series of 'heart to heart' interviews, in which he agitated for move away from the Reds and aimed a few disloyal blasts at the club and his manager. All seemed lost and, with no Spanish clubs eager to rid Anfield of its troublesome striker, it seemed his signature was Arsenal's to lose. And lose it they did, in spectacular fashion.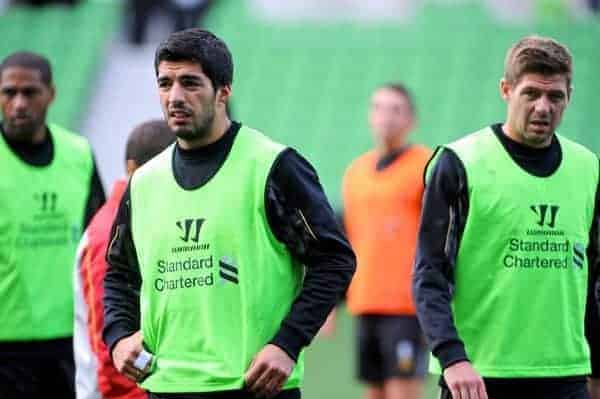 Their bid of £40 million plus a pound (not a penny more) was as hilarious as it was derisory. Clearly someone at the Emirates had been tipped off about the player's buyout clause. The response of the Anfield hierarchy was to suggest that the Arsenal board were on an illegal high. The whole fiasco would turn John W Henry into a Twitter sensation and allow Steven Gerrard to argue that the Gunners didn't respect Luis enough to pay his true value. Soon all was forgiven and Suarez was back in the fold, but there was still the small question of a completely self-inflicted suspension to get out of the way.
As Liverpool lined up against West Brom, the Reds were flying high in the league and had risen to these dizzy heights without the services of their number seven. Luis had missed the first five games of the season, thanks to a 10 game ban for biting Chelsea's Branislav Ivanovic in a 2-2 draw back in April. The Reds had barely missed a step though, taking 10 points from a potential 13, prompting talk of an unlikely title tilt.
Of course none of us really fancied the Reds to turn their great start into the sort of consistent run that had eluded them since Rafa's near miss of 2009. Since then the club had been in almost perpetual trauma. Even Kenny's two cup finals in one season couldn't dissuade the owners from pressing the reset button again, dragging us all the way back to square one. To mount a serious challenge Liverpool would need a prolific goal scorer and so far the only time they'd managed more than one goal in a game, was in a 2-2 draw away to Swansea City.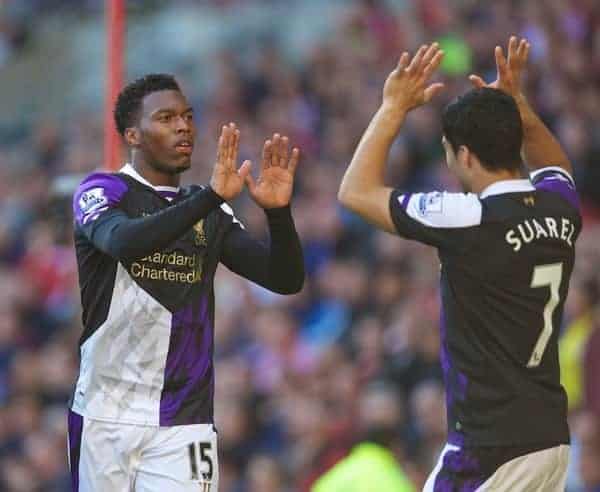 Suarez' return had provided the attacking potency Liverpool craved and his impact was instant. He scored in consecutive 3-1 victories against Sunderland and Crystal Palace, including a sublime effort from a narrow angle at the Stadium of Light. He drew a blank at Newcastle, as the Reds laboured to a 2-2 draw against ten men at St James' Park, but at Anfield on the 26th of October 2013, West Brom would feel the full force of his incredible genius.
The Reds were lying third in the table prior to kick off and would go second if Southampton stumbled. In the opposition dugout was Steve Clarke, who had served as Kenny's number two just a couple of years earlier. Everton reject Victor Anichebe lined up in attack for the Baggies, alongside former Red Nicolas Anelka. All three were destined for a miserable afternoon.
I remember those early parts of the 2013-14 season well. Expectations were at historically low levels. I don't think anyone expected Liverpool to do much. There was the perennial talk about securing top-four, but that always felt like the barest of minimums to me. The Reds just didn't seem built for success. Off the pitch they were just as much a work in progress as they were on it, or so it seemed.
Despite the pregame realism, I remember being in high spirits for this one, the autumn sun was shining and I was looking forward to seeing Suarez paired with Sturridge in attack. There was also the added incentive of a little local needle from the blue half. They too were enjoying an uncharacteristically good start. Bobby Martinez was "the best little Spaniard they knew" and he had guided them into the top four by October. Only two points separated the clubs and some of my blue mates had already started counting chickens, when all they had was eggs.
A horrible trend had set in at Anfield back then. The crowd could get really nervous and unless the team took an early lead, that anxiety would strangle the life out of the atmosphere. Misplaced passes would be met with audible groans and the players would look edgy. With Clarke guiding his charges to a five game unbeaten run prior to the match, this could have been another frustrating affair.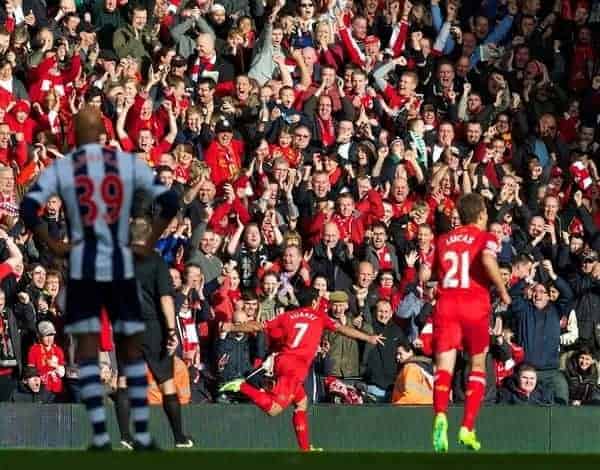 Fortunately though, this was a season in which Liverpool began destroying teams in the opening twenty minutes of games, allowing the mood to soar along with our dreams. This game would prove to be one of the earliest examples of that attacking verve, that would give birth to the Kop anthem 'poetry in motion,'.
Suarez took just 11 minutes to settle the Kop and put the Reds into a deserved lead. I remember him collecting a pass straight out of defence, some 40 yards from goal. He took it in his stride and ran at the West Brom defence. Boots were flying in, but he just ghosted past them, the ball seemingly glued to his foot. Suddenly he's clear, with the 'keeper at his mercy. He shows none and whips the ball into the bottom left hand corner. He's scored a goal and the Kop go wild. We just can't seem to get enough.
Six minutes later he's at it again. Liverpool counter attacked and Luis found himself with the ball about twenty yards from goal. A line of Baggies player stood before him and he squared it to the on rushing Aly Cissokho, who had charged down the left flank. Suarez continued into the box and the left back delivered a great centre, which the number 7 met perfectly with his head, guiding the ball past Myhill and into the net from fully eighteen yards. It was 2-0 and in truth, game over. The Reds defence hadn't quite acquired its reputation for self destruction yet and there was an air of inevitability about the result, with only a quarter of the game gone.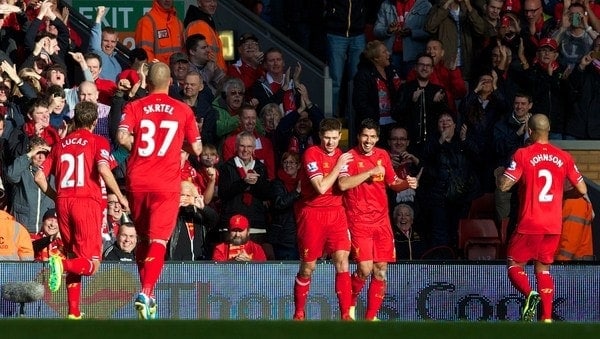 However, we would have to wait until the second half for more of the Uruguayan's magic. With Liverpool attacking the Kop, the game was set up perfectly for a thrashing and the opposition couldn't have relished coming out after half-time. Myhill took the customary applause from the Liverpool supporters as he crossed the half-way line. It would be the only thing he would take from the game.
Just ten minutes after the restart, Sturridge was clattered in front of the lower centenary stand, the ref signalled a free kick and Gerrard stood over the ball. We stood in anticipation, sensing something special. This was perfect territory for the skipper and he whipped in a sublime diagonal cross. Suarez, not the tallest man in the box, leapt head and shoulder above the Baggies defence and headed the ball into the roof of the net. The Kop exploded and his song boomed out once more.
Luis. Magician

— John W. Henry (@John_W_Henry) October 26, 2013
Liverpool were cruising now, but this was a team who rarely kept a clean sheet. So when Cissokho bundled Billy Jones over in the box in the 66th minute, there was little surprise around the ground. It was a pointless intervention from the Frenchman, with the player going wide and plenty of cover in place, which added to the sense of frustration. Still there was an air of controversy about the ruling, with the linesman seeming to overrule the referee.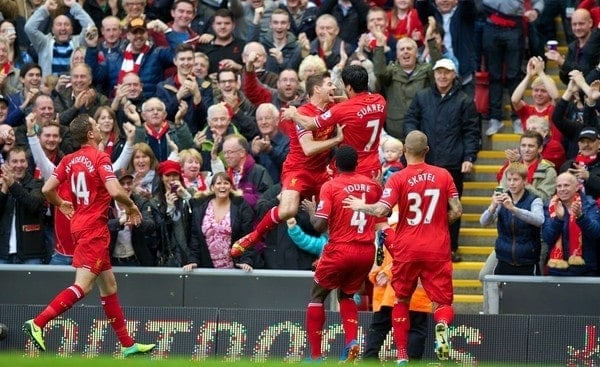 Liverpool should have been four up at this point, with Sturridge smashing the ball off the bar from 20 yards and to have gifted the opposition a foothold, no matter how tenuous was infuriating in the extreme. James Morrison smashed the penalty past Mignolet and their supporters celebrated it like it was a winner. They needn't have bothered though, because Liverpool hadn't finished and Sturridge wouldn't be denied.
With the game heading into the last ten minutes, Sturridge raced towards goal. Although he hadn't scored yet, his performance had been scintillating and he deserved the sublime strike he was about to make.
20 yards out and with a line of defenders in front of him, Daniel spotted Myhill off his line and opted to lob the keeper. Time seemed to stand still as the 'keeper back-pedalled, grasping at thin air. The ball dropped perfectly behind him and the rout was complete. Liverpool were worth 4-1 winners and as we left the ground we had no idea that we were about to embark on the most magical and frustrating ride of our lives.
In his autobiography Alex Ferguson had said Liverpool were eight players away from mounting a serious title challenge. Turns out they actually only needed one, and that player was Luis Suarez. Thanks to a blunder of epic proportions by Arsenal, we got to enjoy him for one more season.
Imagine what would happen if Jurgen Klopp could get his hands on a player of that quality.
Liverpool (3-5-2): Mignolet; Toure, Skrtel, Sakho; Johnson (Kelly), Lucas, Henderson, Gerrard (Allen), Cissokho; Suarez (Alberto), Sturridge.