The media felt Liverpool showed their best and worst traits, but also improved their Premier League title claim, as they sealed a 4-2 victory over Crystal Palace
Liverpool extended their unbeaten run to 11 games as they overcame Alan Pardew's Eagles in a six-goal thriller.
The Reds twice took the lead in a crazy first half through Emre Can and Dejan Lovren, only to be pegged back by two headers from James McArthur, who capitalised on some poor defending.
Joel Matip's first Liverpool goal ensured Klopp's side still took a lead into half-time, and with Palace unable to muster a third leveller in the second period, Roberto Firmino notched a delightful fourth 20 minutes from time to seal victory.
It was a display that showed the positives and negatives of Klopp's side, who produced some devastating attacking play but were again troubled by the same failings at the back.
Here is how the media saw the victory.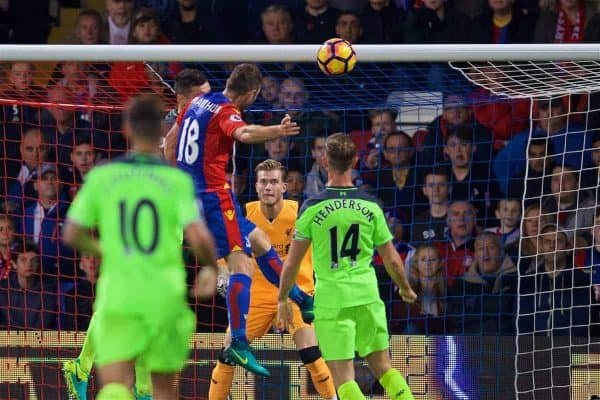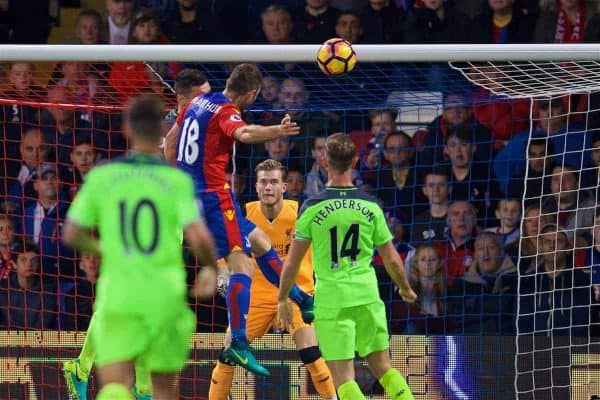 Reporters reflected on an exciting encounter and they felt it showed the good and the ugly of Liverpool, who lived up to their 'entertainers' tag but proved they are serious title contenders.
Summarising the Reds' display, the Telegraph's John White wrote:
"At times, as they span the ball around with dizzying prowess, Liverpool looked frankly unstoppable. Or at least they did until required to do anything approaching defending."
The Mirror's John Cross labelled the Reds "exciting" and feels Klopp's men are genuine title contenders:
"It's fluent, exciting and they have some terrific, top-quality players. Yes, they will let in goals and concede chances but what is football about if it's not entertainment.

"Liverpool are genuine title contenders. Make no mistake about it. And they're also great fun."
The Liverpool Echo's James Pearce summarised:
"On the turf where Liverpool's last title challenge bit the dust, their latest quest for the Holy Grail gathered pace in thrilling fashion.

[…]

"Jurgen Klopp's side swept Crystal Palace aside to fuel talk that they are serious contenders for the big prize this season."
The Mail's Sami Mokbel simply stated:
"Make no mistake, Liverpool are players in this title race. Big players."
And Mail colleague Adam Shergold felt Liverpool showed why they could, but will not, win the title:
"The speed with which they shift the ball, the intelligence of their movement, the creative instinct Klopp has instilled is a delight to watch.

"But contrast that with the shakiness of their defensive play, the groundless panic when under pressure, the softness in duels on the ground and in the air, and you soon see why they won't get over the line in May."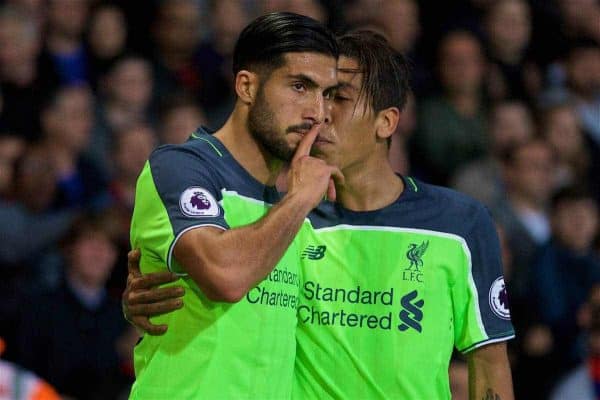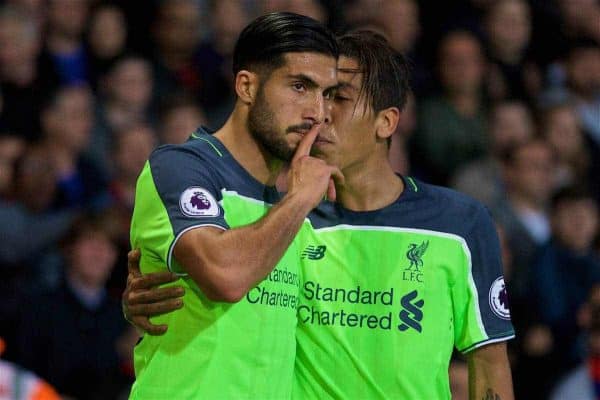 Reporters commented on another mesmerising attacking display from the Reds, who became joint-top scorers in the Premier League with another four-goal haul.
ESPN's Michael Cox was impressed by the interchanging and flexibility of Liverpool's attack:
"Indeed, throughout the game Liverpool were particularly impressive with the way they alternated positions without losing their shape, and the first goal was a perfect example."
The Guardian's Amy Lawrence thinks the Reds have the offensive power to make up for their defensive woes:
"Playing like this, Liverpool can be confident that if the opposition score, they will simply outscore them."
As comparisons between Klopp's attack and the Reds' 2013/14 offence are made, the Liverpool Echo's Kristian Walsh assessed:
"This is a different sort of attack. It is relentless; tiring to watch. It can control games in the final third, keep the ball 40 yards from the opposition goal and offer a moment to make it count, whether that is through inspiration or perspiration."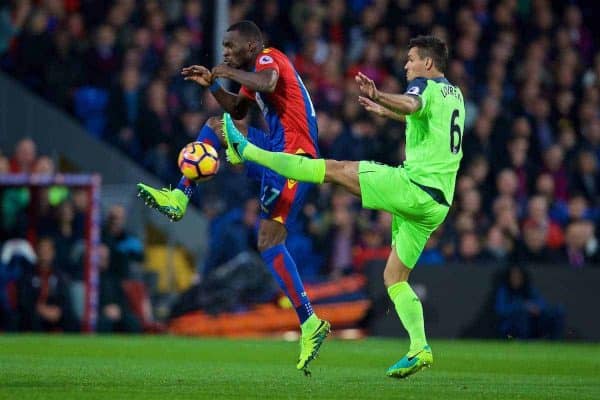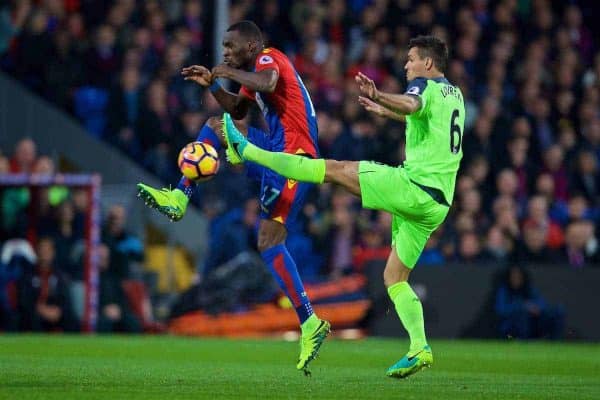 Liverpool's defending was again the main area of concern at Selhurst Park, and reporters bemoaned a lack of improvement while others offered praise for the way Klopp's side saw the game out.
ESPN's David Usher was frustrated by the Reds "vulnerability":
"While the first goal can simply be put down to an uncharacteristic error by the normally dependable Dejan Lovren, the second goal once again highlighted Liverpool's vulnerability on crosses."
Goal's Melissa Reddy drew positives from the Reds still finding route to victory despite events not quite unfolding as ideally wanted:
"His Reds are finding ways to win, even when they lose the ability to dictate a game on their terms."
However, Walsh praised the way the Reds stayed calm and stuck to Klopp's tactics:
"Both times they remained calm; they continued to play their game, they insisted on retaining their pressing game and frantic serenity Klopp has instilled into them.

[…]

"This was a side who composed themselves, found control of the game once more, and kept doing what has been winning them football games."
Usher praised the way Liverpool "regrouped":
:Once again, some of the attacking football was breathtaking, but the way Liverpool regrouped in the second half and ensured there were no further defensive mishaps will have surely pleased Jurgen Klopp.

"For all the criticism they get for their defending, Liverpool have seen out several games this season when they were put under pressure."
But Shergold was among those who felt Liverpool's lack of game management is a concern and something that could dent any potential title hopes:
"Liverpool never truly had control of the outcome here and that is what will worry Klopp going forward. Teams that win titles take a firm grip on matches and don't let go."
Oppositely, Mokbel felt Klopp's side showed a resilience befitting of title challengers:
"Twice they were pegged back by a dogged Crystal Palace—both times they dusted themselves down to re-assert their authority to keep pace with Manchester City and Arsenal at the top of the league. That's true champion material."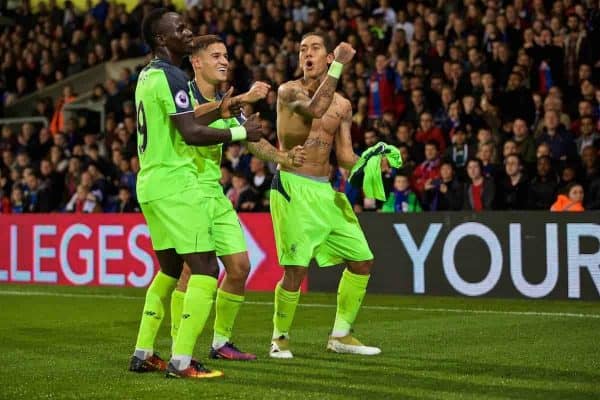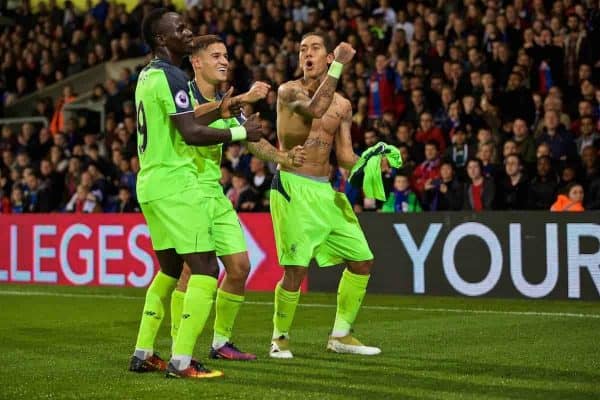 Reporters gave their assessments on which players impressed at Selhurst Park, with plenty of praise for Philippe Coutinho, but also for various other members of Klopp's side.
Reddy felt Coutinho was "on a different planet":
"In a fixture that had almost everything, the one element lacking was a goal for Coutinho, who looked like he was playing on a different planet let alone pitch to everyone else."
Pearce feels Coutinho has "gone up a level" this season:
"The Brazil international was in a class of his own at Selhurst Park. On current form there is no bigger talent operating in the top-flight.

"Coutinho has gone up a level this season. He's playing with a real swagger. He's always been pleasing on the eye but his influence has grown and now he's hitting teams where it hurts."
However, Cross felt Alberto Moreno's display proved why Klopp has preferred James Milner at left-back:
"Fabulous going forward, a real weak link defensively. No wonder Klopp has been using Milner. He's been the best of both worlds. There's major potential with Moreno but his defensive frailties need ironing out."
Pearce praised Lovren's character after going from zero to hero on a testing afternoon:
"Lovren shook his head in disbelief but his response epitomised the belief that Klopp has installed in this squad. Rather than fall to pieces, he went straight down the other and atoned for his blunder."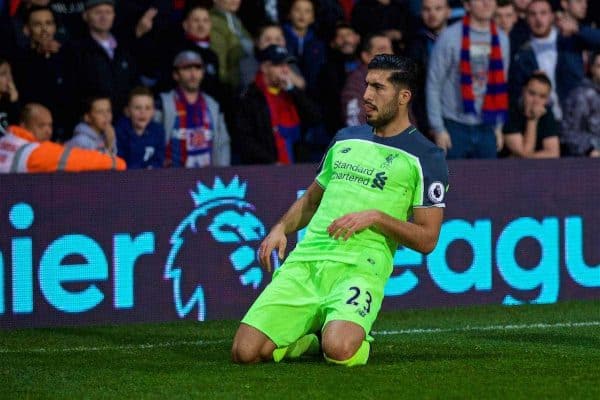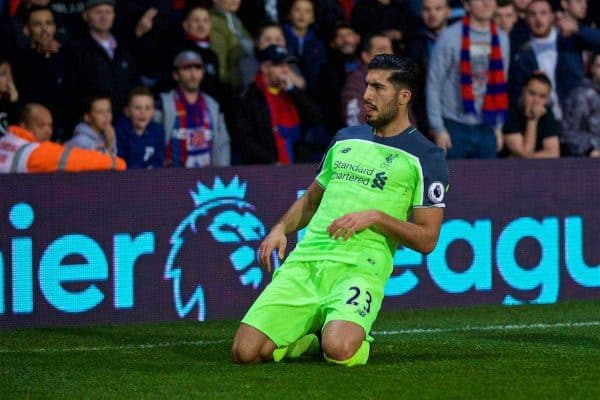 Walsh was among those to praise Can's performance and feels Klopp now has a real midfield dilemma on his hands:
"He grew into the game and helped marshal the midfield. There were mistakes, of course, but on what was a difficult evening, he was the first to take real responsibility.

"That is impressive in this arena from a 22-year-old. Klopp has a real midfield puzzler on his hands."
And finally, Usher singled out Matip for another impressive showing:
"Another impressive showing from a man who has yet to taste defeat as a Liverpool player. Cool in possession, positionally sound and strong in the air, he even managed to get himself a goal. He might prove to be the signing of the season."