Liverpool's trip to take on Southampton will leave them without Adam Lallana, but Emre Can and Georginio Wijnaldum are able to take his place.
Lallana was forced off the field midway through England's 2-2 draw with Spain on Friday night, and is set to miss Saturday's trip to St. Mary's with a minor groin injury.
As a result, Klopp is likely to turn towards Wijnaldum to replace his key No. 20, with the Dutchman joining Can and Jordan Henderson in midfield.
There is an element of unpredictability within this, however, as Can and Wijnaldum have so far played just 94 minutes of competitive football together, with this being the first time both are named in Klopp's starting lineup.
So how will Can and Wijnaldum fare in filling in for Lallana against the Saints on Saturday?
Fortunately, the pair are well-equipped to do so, and should form a strong partnership in Klopp's midfield when given the opportunity.
Adam Lallana's Role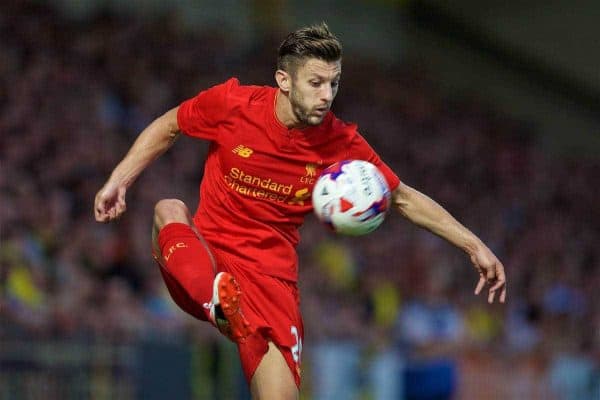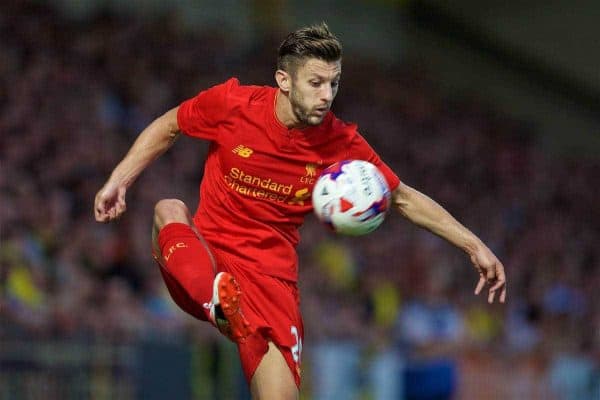 That Lallana came off after just 27 minutes at Wembley came as a major blow to the way Gareth Southgate set his side up, with the stand-in England manager taking inspiration from Klopp.
"It's a great shame as I've really enjoyed working with him," he explained after the game.
"He's an intelligent and talented football who is starting to add goals to his game for England. He was key to how we wanted to play tonight."
While Lallana was fielded in a wider role in the previous 3-0 win over Scotland, Southgate moved the 28-year-old into a central position against La Roja, emulating his role for Liverpool this season.
Klopp's bid to mould Lallana into a No. 8 this season took many by surprise, but has seen his talents as a roving midfielder magnified, making him one of the most in-form players in England.
Primarily—and this was seen at Wembley, too—this comes in his energy, industry and intelligence in adopting Klopp's pressing philosophy; as while Roberto Firmino may be Liverpool's most effective player in defending from the front, Lallana is not far behind.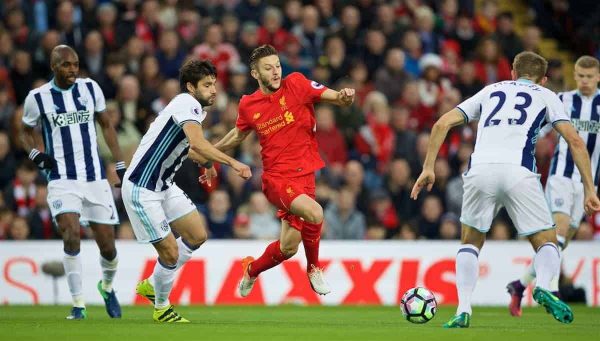 Lallana helps to push the Reds up the field, putting pressure on the opposition and forcing errors or misguided passes, with his ability to then transition into the attacking phase also key.
His improved output in front of goal this season must be commended, too, with Lallana scoring three goals and laying on five assists in 11 games in the Premier League, just one fewer respectively than his record in 30 top-flight appearances in 2014/15.
He is swiftly developing into the perfect midfielder for Klopp's system, but fortunately this has not seen him become a crutch for Liverpool to lean on, with options capable of covering his absence.
Can & Wijnaldum Taking Responsibility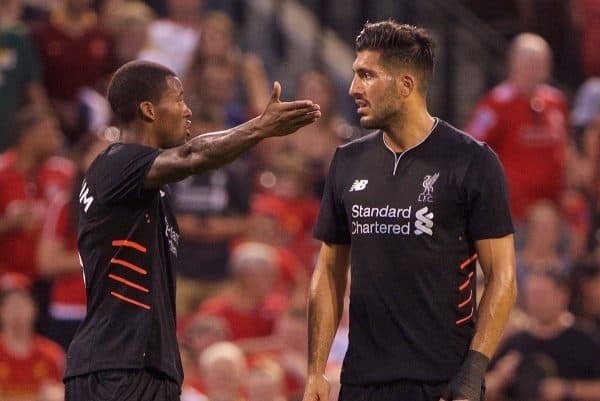 So far this season, Lallana has started alongside either Wijnaldum (six times) or Can (three times) in the box-to-box roles ahead of Henderson, but his absence presents a new opportunity.
The only time Can and Wijnaldum have started together in any capacity was during pre-season, first in the 2-1 defeat to AS Roma at Busch Stadium in St Louis, then in the 4-0 victory over Barcelona at Wembley.
In Missouri this came in a 4-2-3-1 shape, with Can withdrawn at half-time, with their only start together in Klopp's new 4-3-3 system coming against the Catalan outfit, again for 45 minutes.
Otherwise, their only opportunity to grow familiar with each other's game has been on the training field and when one has been substituted on for a second-half appearance, with both largely performing the more defensive role to accommodate Lallana's attacking license.
It is likely that, with Lallana out, Klopp will utilise Can as his more diligent option of the two, and his defensive prowess does make him stand out compared to the No. 20.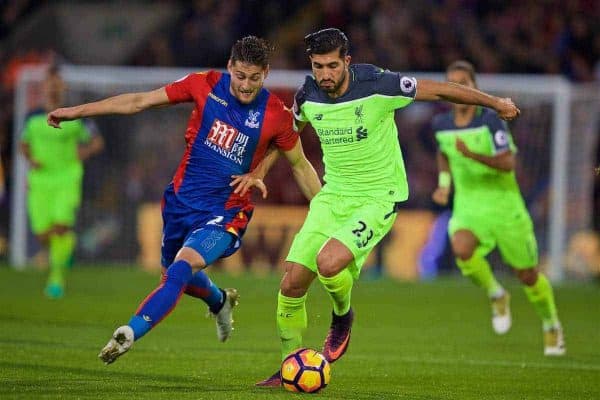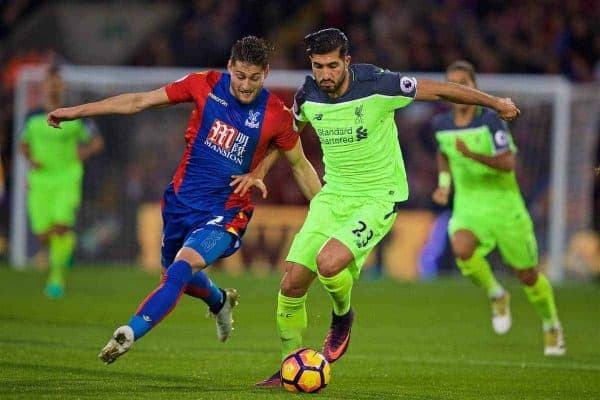 So far this season, Can has averaged two tackles and 1.6 interceptions per 90 league minutes, with a tackle success rate of 74 percent, while he has also averaged 3.4 headers won per 90, with a success rate of 58 percent.
In comparison, Lallana has averaged 2.1 tackles and 0.6 interceptions per 90, with a tackle success rate of 50 percent, while his 0.3 headers won per 90 gives him an aerial success rate of 19 percent.
Meanwhile, with Wijnaldum likely serving as the attacking of the two, Klopp can benefit from fielding a more statistically creative midfielder, with the Dutchman averaging two key passes per 90 and a 86.8 percent passing accuracy.
So far this season, Lallana has averaged 1.5 key passes per 90, and completed 86.1 percent of his attempted passes; he has, however, tallied three more assists than Wijnaldum (two).
Of course, neither comparison factors in the excellent work Lallana does off the ball, both in closing down the opposition or providing supporting runs as Liverpool move into attack.
This is an issue that Klopp will be hoping his new midfield pairing will be capable of solving.
Finding a New Balance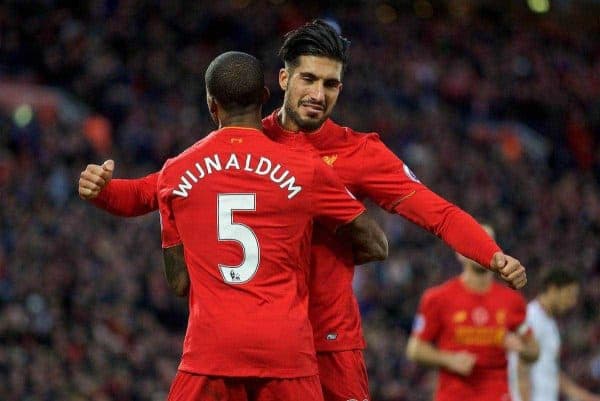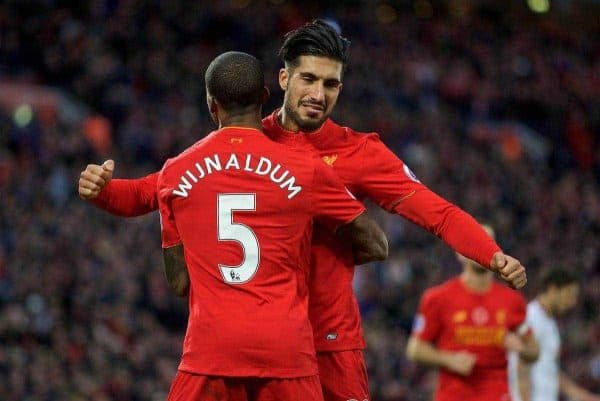 Three months into the season, Can and Wijnaldum are far from strangers: following Can's return from injury in September, they have trained together almost every day, and clearly get on well off the pitch.
It is this chemistry, and the work Klopp's squad have put in on the training ground, that should see them mesh together comfortably on the field along with Henderson.
Recently, Ragnar Klavan highlighted how the "perfect" coaching methods employed by Klopp and his backroom staff of Peter Krawietz, Zeljko Buvac and Pep Lijnders allow players to adjust quickly.
"It makes it a lot easier for everyone to jump into the team no matter which position you are talking about. Sometimes it is effortless the way players slot in here," he attested.
"They can play so well straight away and this is because of how we do things in training."
By now, both Can and Wijnaldum will be accustomed to the way in which Klopp's midfielders are expected to perform, pushing forward and dropping back whenever required.
At St. Mary's on Saturday, it may take time for the duo to adjust, given they have previously both operated as the more reserved box-to-box midfielder.
But it is a testament to the depth within Klopp's squad that a player as in-form and important as Lallana can drop out of contention without dramatically affecting Liverpool's strength.
In Can and Wijnaldum, the Reds have a pair of midfielders more than capable of shining.