Liverpool midfielder Emre Can believes his move into a more offensive midfield role has been a success so far, as he approaches 100 games for the club.
Can endured a tough start to the season following a late return from duty with Germany at the European Championship and an ankle injury picked up in August.
But he has now established himself in Jurgen Klopp's starting lineup again, playing the full 90 minutes in the Reds' last four Premier League games.
This has come in a more advanced position in the midfield, compared to last season's holding role, and has heralded two goals in his last two outings—something he is hoping to continue.
The latter, in Liverpool's 6-1 win over Watford, came as the result of a well-drilled move straight from the training ground.
"The goal I scored against Watford, the header, well two days before the game we'd worked on that move in the training session, and so it was nice to actually score it," he explained.
"I've played a little bit differently to last season—I've been playing offensively, so I think I make the runs into the box more.
"I always want to score more goals—the target is always to score more—so it's nice that I've scored the two goals, but the most important thing was that we won both games.
"My position has changed a little bit, but not too much.
"Last year I played more in the role of holding position and this year I've been playing more in the half-spaces. It's nice I can play both positions.
"Playing in the half-spaces means I can go forward more. I am enjoying it—but I'd enjoy playing in the holding position as well."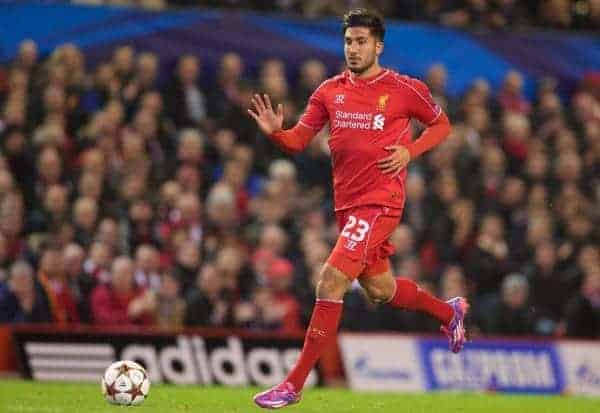 Can's versatility has been one of the key factors behind his longevity at Liverpool so far, first operating in the No. 10 role under Brendan Rodgers, then moving into defence at both right-back and centre-back, and more recently shifting duties under Klopp.
Saturday's clash with Southampton should mark his 100th appearance for Liverpool, despite only joining the club as a 20-year-old in 2014.
Already a key fixture on Merseyside, Can has reflected on his potential milestone, and underlined his commitment to the club, saying he is "very happy" with Liverpool.
"If I think back to when I first came to Melwood and then played my first game, it's nice," he said.
"It's great to play my 100th game for such a big club. It's a big honour for me.
"I am very thankful to everybody here at the club—the fans, the staff, the staff behind the staff, my teammates and the coaches.
"I am very happy here in Liverpool. It is a big club and I am enjoying it playing here.
"I feel I am getting better—and I try to get better. I made a step when I first came here, but I didn't know what would happen.
"Now I am more experienced than back then, but I don't know really what's changed—I'm a little bit older and more experienced."
Klopp's arrival has boosted Can's development further, and after making his way back into the first team in 2016/17, this is set to continue—as, now 22, he still has a long way to go.