Liverpool manager Jurgen Klopp admits teenager Ben Woodburn has to be handled carefully after he became the club's youngest goalscorer.
The academy graduate, at 17 years and 45 days, beat Michael Owen's record by 98 days to write his name into Anfield history books with an emphatic 81st-minute finish in the 2-0 win over Leeds in the EFL Cup quarter-final.
Woodburn had only made his first-team debut in Saturday's victory over Sunderland—and that was barely a minute at the end of the match—but he is highly rated within the club.
The fact he was born in Chester, like Owen, will only lend itself to unrealistic comparisons – something Klopp is keen to avoid so early in his career.
"It's all good. We know what Ben's capable of," said the Reds boss.
"My first job is to help these boys be the best. There's a lot of things to do, especially to keep the public away as long as possible. That's quite a difficult thing to do.
"But we only bring him when we want to use him. That means when he is on the pitch he is absolutely allowed to score goals.
"I am really happy with him, the only problem is I am a little afraid about [the press].
"We know how to handle the situation. I can say whatever I want but if he scores goals it's difficult to stay cool from your side, no problem.
"Nothing what we say here is important enough to help Ben Woodburn or myself."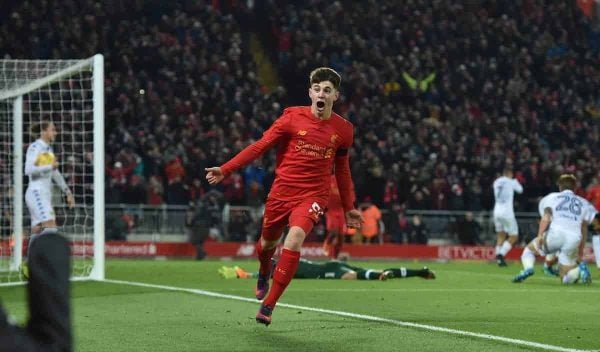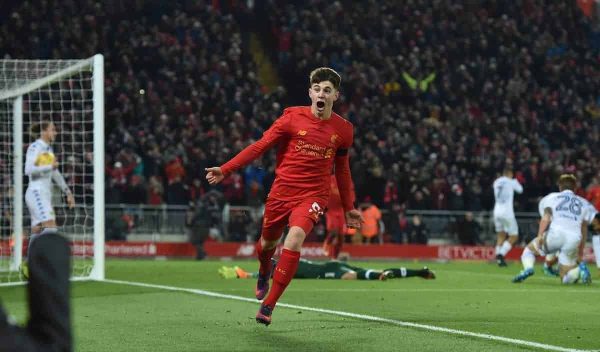 Woodburn's strike, and a second in as many matches for Divock Origi, offered a welcome positive after a difficult few days in which Liverpool lost playmaker Philippe Coutinho for at least five weeks with ankle ligament damage, having already been without Danny Ings and Daniel Sturridge.
"Tonight it was very important that we could have him [Woodburn] on the bench and bring him in the game because of our situation in the offensive department," added Klopp, whose side booked a record 17th League Cup semi-final and their fourth in the last six years, having lost the final to Manchester City last season.
"So it's very important for us today and he scored a goal, that makes it much more enjoyable."
Leeds boss Garry Monk was more than satisfied with his Sky Bet Championship side's performance after they dominated the game for the first hour and created the better chances, hitting the post through Kemar Roofe.
"The team can be proud of what they did tonight," he said.
"With a little bit more composure, we would have scored two or three goals tonight.
"Unfortunately their quality came through at the end and they scored the goals.
"We deserved more, if we carry on like that we can be successful. The ambition now is to have these types of games week in, week out."