Following news of Philippe Coutinho's scan results on Monday, Liverpool fans have been voicing their opinions on the Brazilian's injury layoff.
There has been much doom and gloom surrounding the ankle injury Coutinho picked up against Sunderland on Saturday, particularly after he was stretchered off.
It has now been confirmed that the 24-year-old will miss around six weeks of action, ruling him out until the New Year. He will not require surgery, though, which is positive news.
Coutinho has been exceptional for Liverpool this season, and having to make do without him for an extended period is going to be tough.
Here's how Reds supporters reacted to the news on Twitter.
"Coutinho 'to miss 5-6 weeks' with ankle injury" pic.twitter.com/pGYI367bm5

— The Anfield Wrap (@TheAnfieldWrap) November 28, 2016
Fair play to Phil Coutinho for giving himself December off there. Imagine how boss he'll look mid January when everyone is shattered

— John Gibbons (@johngibbonsblog) November 28, 2016
https://twitter.com/TheAnfieldChat/status/803274697211252737
Coutinho's a massive miss, but it's times like this where we can see if Liverpool can really challenge for the title

— LFC Fans Corner (@LFCFansCorner) November 28, 2016
I'll be honest, 6 weeks out for Coutinho isn't as bad as I initially feared. Missing a busy chunk of action, though, which is a blow.

— Henry Jackson (@HenryJackson87) November 28, 2016
https://twitter.com/joel_archie/status/803272862228353024
Not great news on Phil Coutinho, but I was expecting it to be more season-ending than 2016-ending, so it could be much worse.

— Jack Lusby (@jacklusby_) November 28, 2016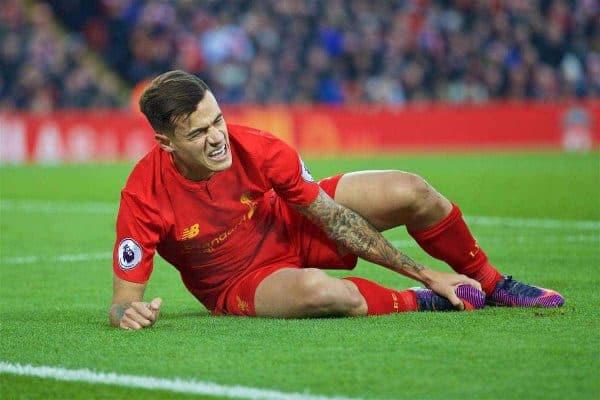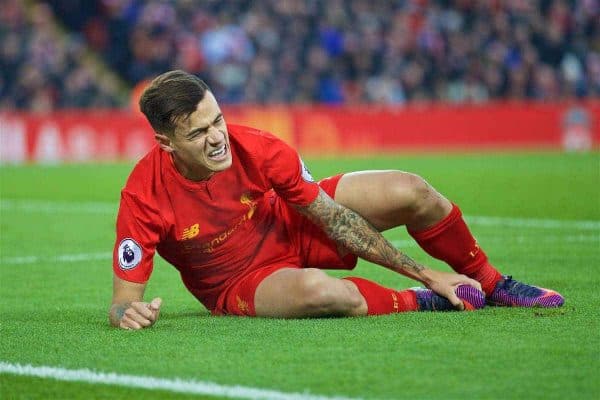 He'll be a big miss in any game obviously but against City especially.

Coutinho loves those games.

— Steven Kelly (@SteKelly198586) November 28, 2016
"Don't even sweat it. We got this" pic.twitter.com/pC08giZFOf

— Joseph Cousins (@JCuzzy1) November 28, 2016
Remember when Rodgers allowed Sterling to go to Jamaica during the season? I'm just going to imagine Coutinho is there now

— Dinesh Kumar (@DHardayal) November 28, 2016
Philippe Coutinho is out for 5-6 weeks. Not ideal, but when it happened it looked like it could have been a lot worse.

— Joe Musker (@JosephMusker) November 28, 2016
Coutinho- Should keep on playing well and get my move to Barca

Inner Coutinho- Get injured and stay at LFC pic.twitter.com/F8JXKee187

— ???? (@Mohit30M) November 28, 2016
Up to six weeks out for the magician @Phil_Coutinho – get yourself right, get another hug off Klopp and come and lead us to the title, yeah? pic.twitter.com/SPMGZqMEjM

— The Redmen TV (@TheRedmenTV) November 28, 2016