It's back to 24th April, 1982, for this week's classic match feature. Put the kettle on, settle down and get ready for an epic encounter at The Dell.
This was a game that would end with the Reds closing in on their 13th league title, after facing a Saints side that boasted a former Liverpool superstar and a future Reds defender.
Kevin Keegan lined up against the man who replaced him at Anfield in 1977, Kenny Dalglish, while a young Mark Wright would appear for Southampton, against the team he would go on to captain almost a decade later.
The Saints also boasted local legend Mick Channon, a player I remember most for his Match of the Day appearances and his unusual pronunciation of Gary Lineker's surname. He would refer to the Leicester and Everton man as Gary Line-acre. Anyway me and my mates found it hilarious.
We were doing him an injustice of course, because Channon served Southampton with distinction for 12 years between 1965 and 1977. He left briefly, before returning in 1979 and played on for the south coast club until 1982. In all he managed 510 appearances for them and scored 185 goals. His trademark celebration would see him whirling his arm around in a wheel like motion and he would get to do that against us seven times in 28 appearances.
For Liverpool it was a season of transition as we moved from one great team to another. We'd said goodbye to arguably the best Reds goalkeeper of my lifetime, Ray Clemence, who had left for Tottenham Hotspur. Poor Clem' would find himself facing his old teammates at Wembley in the March and would end on the losing side, as Liverpool won their second League Cup.
On the score sheet that day were Ian Rush and Ronnie Whelan, two players who had just come into the team and would go on to be the bedrock of the all conquering Liverpool sides of the 80s. Joining them in 1982 were Bruce Grobbelaar, Mark Lawrenson and Craig Johnston.

This was a momentous year in the news, with Irish Republicans sinking ships in a Scottish Lough and Welsh Nationalists planting bombs in Birmingham, England. Maggie Thatcher's son went missing in the Sahara, unemployment hit three million for the first time since the 1930s, Britain handed independence to Canada and went to war with Argentina over a small island in the South Atlantic.
In music the Manchester scene was just getting going, with the famous Hacienda club opening and The Smiths getting together. What did we care anyway, Paul McCartney was number one in April, with a song about piano keys living together in racial harmony on a keyboard played by Stevie Wonder; and anyway our football teams were well better than theirs.
Mind you the previous season had seen Liverpool's league form slump badly, with Paisley's men finishing a dismal 5th. Somehow we had all managed to get through the pain, even though we only had European and League Cups to console us.

There was genuine heartbreak off the field though with the passing of the Godfather of the modern Liverpool, Bill Shankly, who had died of a heart attack in September 1981. I remember I'd gone to school one day, after he died, with a Liverpool scarf on and I'm pretty sure no teacher asked me to take it off.
The 1981-82 season had looked like picking up where the previous one left off. Liverpool were struggling in the league and at Christmas sat in 12th position. Our goalkeeper was starting to look like a liability and had been crowned the "clown prince" by Everton fans.
The new year however brought with it a complete transformation in the club's fortunes. Liverpool would go on a run of games that would see them win 17 out of 19 in all competitions, including wins over Everton and Manchester United, and of course clinching the League Cup in March. By the time they visited The Dell, the Reds had won nine on the spin in the League and were sitting at the top of the table.
In the dugout for Liverpool was the most successful manager in the club's history, Bob Paisley. He would be pitting his whits against Lawrie McMenemy, a Geordie famous for advertising a non-alcoholic beer. Actually that's harsh. He did manage Southampton to a FA Cup final win in 1976, an unsuccessful League Cup final in 1979 and a First Division runners up spot in 1984.
As the game got underway Liverpool, in all yellow, were dominant and Whelan and Rush were combining brilliantly. One move saw the Irish youngster break on the left then, leaving defenders in his wake, he made it to the byline and squared the ball to the waiting Rush. But with the goal at his mercy, the Welshman put the chance wide.
Southampton were no pushovers and almost capitalised on their let off with a great move involving Keegan and Channon. The ball eventually broke to Keith Cassels, but with Grobbelaar looking beaten, the Southampton man put the ball wide of the upright.
The game was end to end now and Liverpool broke again with Sammy Lee on the right. His attempted pass into Dalglish was cleared to the half-way line. Craig Johnston met it with a powerful header and Dalglish flicked it on. Rush's anticipation was almost telepathic and the Saints defence lost him. He was on the ball in an instant and smashed home the opener on the half volley. Less than 15 minutes gone and the Reds looked in complete control.

Rush had been locked in a dual for the golden boot with Keegan all season and this goal put him ahead of the former Liverpool legend, with 28 goals. And he almost made it two after a great flowing move, but Saints keeper Ivan Katalinic saved brilliantly down low from his header.
Liverpool had not capitalised on their dominance and would be made to pay dearly for their missed opportunities. On 36 minutes Channon wheeled away in delight after levelling brilliantly in front of his own supporters. This was the culmination of a glorious move, with Southampton passing the ball through the Liverpool team as if they weren't there. It was the sort of goal you just had to applaud, regardless of who you supported. A goal of the season contender.
Half time came and both teams went in on level terms. With three points for a win, not two, a draw was no longer acceptable. There would be no parking the bus in the second half, for either team. Just nine minutes after the restart Liverpool were back in front.
Craig Johnston won the ball in the middle of the park and delivered a perfectly weighted pass to Whelan, whose pace left his marker for dead. Katalinic rushed from his line and the Liverpool youngster showed great calm and technique, chipping the keeper sublimely. Surely the Reds would go on to seal the points now. Southampton and in particular Keegan had other ideas. It took just two minutes for the Saints to level once more.
Nick Holmes drove into the Liverpool box and a clumsy challenge from veteran Phil Neal gifted Southampton a penalty. Up stepped Keegan. Grobbelaar was yet to perfect the wobbly legs that would win the European Cup in 84 and Keegan sent him the wrong way. The Saints were level and their striker had joined Ian Rush on 28 goals for the season. There was none of the respectful non-celebration we see today either and the former Red was jubilant.
https://www.youtube.com/watch?v=DqKnib-XZgg
With half an hour to go this was getting tense. The away end belted out their teams name, Liverpool! Liverpool! Then Dalglish unleashed a fierce drive from 25 yards, but again the keeper was equal to it. The game was very open now, with both sides not prepared to settle for a point. Another attack, this time from Southampton, saw Channon smash one off the post. This could have gone either way.
Time was running out though and nerves were beginning to set in. Liverpool hit a long ball towards the Saints' corner flag. Rush, in typical fashion, chased it down. He beat the defender with ease and held the ball up brilliantly. There were barely three minutes left and he would have been forgiven for running the clock down. Instead he spun around and broke free of his marker.
Dalglish had seen the opportunity developing and ghosted into the penalty area, where he received the pass from is teammate. Always aware of everything around him, Kenny somehow realised that Whelan was unmarked behind him and to his left. Instead of taking the shot on himself, he pivoted and delivered the perfect ball for the youngster. Ronnie smashed it home in the 88th minute. Game over, three points for Liverpool and their tenth league win in a row.
The Reds would remain unbeaten for the rest of the season, winning three and drawing two of their last five games.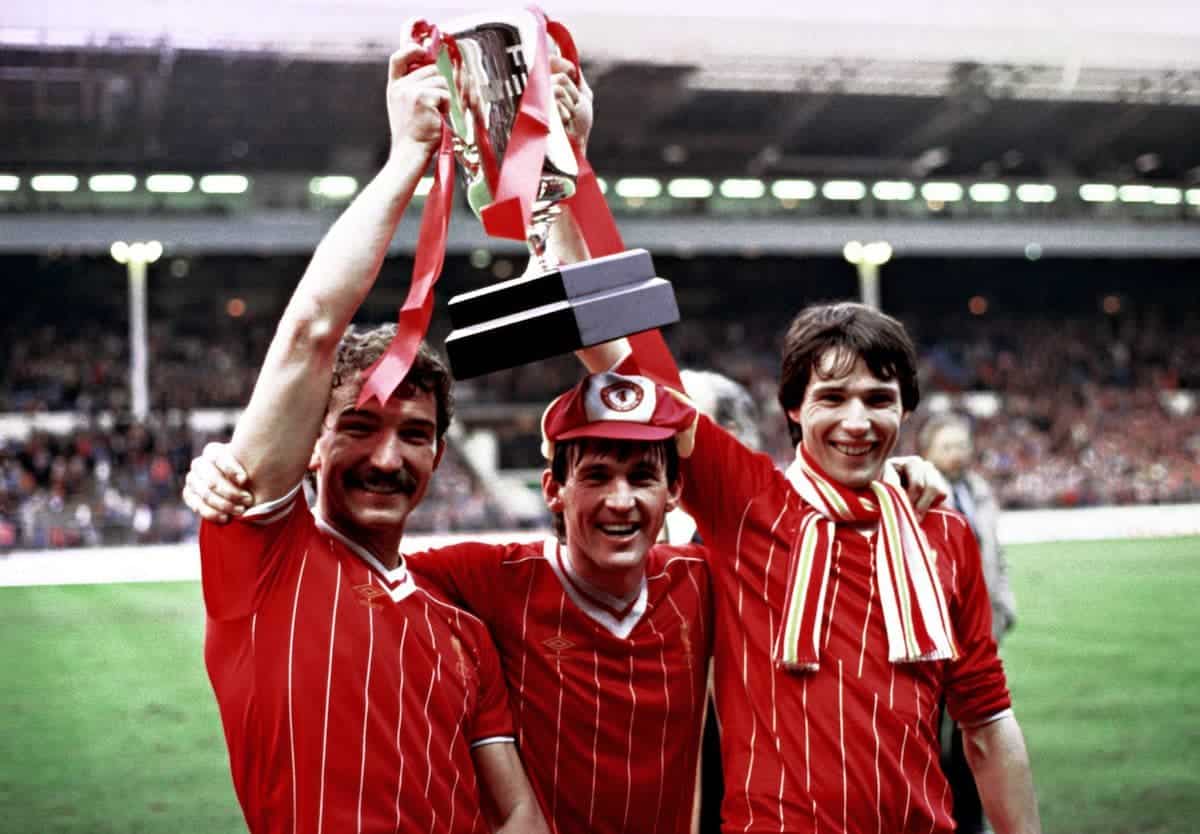 This truly was a season of two halves. After flirting with mediocrity, somehow Paisley masterminded a remarkable run of games that took his side from mid-table at Christmas to the championship in May. In the process Liverpool would blood the spine of a new team that would go on to dominate in a decade of glory, around the fields of Anfield Road.
LFC: Grobbelaar, Neal, Lawrenson, Hansen, Kennedy, Whelan, Thompson, Lee, Johnston, Dalglish, Rush.
Subs: McDermott.