The watching media felt Liverpool proved their title-winning credentials as the Reds hammered Watford 6-1 at Anfield, and were full of praise for yet another breath-taking performance.
Liverpool took full advantage of rivals dropping points this weekend by thrashing the Hornets 6-1 to move to the Premier League summit.
Sadio Mane's brilliant header after 27 minutes started the goal-fest, before a fine strike from Philippe Coutinho and Emre Can's header gave the Reds the commanding lead their mesmerising play deserved.
Jurgen Klopp's side ensured their domination was reflected in the score in the second half, with close-range finishes from Roberto Firmino and Mane making it 5-0, before Daryl Janmaat grabbed a consolation and Gini Wijnaldum completing the scoring with his first Reds goal.
It was another stunning showing from Liverpool, who were devastating going forward and simply too good for Watford, and it was the perfect way to sign off ahead of the final international break of the year.
Here is how the media saw the contest.
Reporters eulogised over a simply breath-taking performance that showed that Klopp's side are not only firmly in the race for the title, but proved that they are genuine contenders to win the big prize.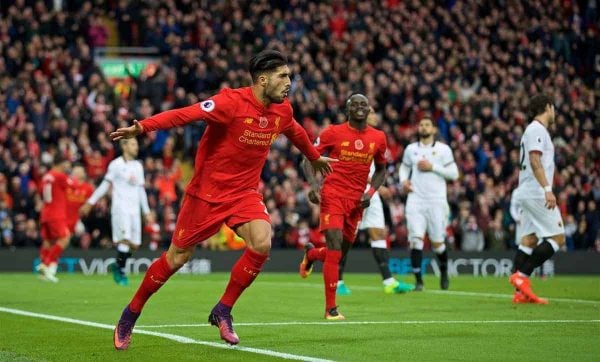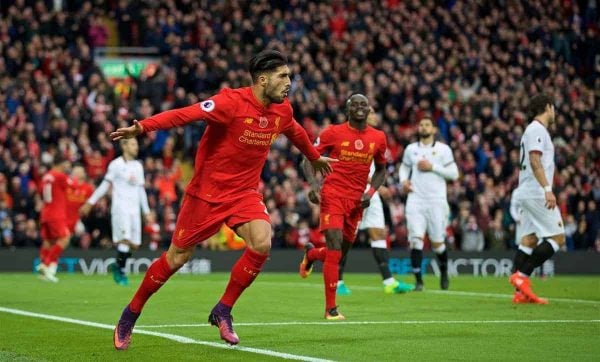 Summarising a magnificent display, the Liverpool Echo's James Pearce wrote:
Here was the fruits of Klopp's labour over the past 13 months. Here was what Liverpool have become with the charismatic German at the helm.

They are a ruthless, relentless force, demolishing opponents with a breathtaking brand of attacking football.
Melissa Reddy for Goal.com penned:
Top scorers, top of the league, and another top authoritative onslaught – Jurgen Klopp's Liverpool head into the international break as the Premier League's pacesetters.

[…]

The doubters have very much morphed into believers.
For Joe.co.uk, Tony Barrett felt Liverpool earning top spot is deserved rewards for a blistering start to the season:
In doing so, Liverpool went to the top of the Premier League, a position that no one can deny is deserved given the testing start to the season they had and the football that they have played in the majority of their games.
The Telegraph's Chris Bascombe feels the Reds are the team for title rivals to fear:
Suddenly, there is a prospect of Liverpool not only being frontrunners, but the side their rivals fear most.
The Mail's Dominic King believes the Reds proved their title credentials:
But on this evidence, Liverpool won't be relinquishing that position any time soon. Their potential – and their credentials – are there for all to see.
Bascombe was among those who feel Liverpool's latest title push is the most genuine of their recent efforts:
The most recent bids that materialised in 2014 and 2009 evolved, a surge in the second half of a season offering hope in spring. In those campaigns they were chasing down superior teams before falling short. There was a sense of surprise more than belief. This feels different. It is different. It is very different.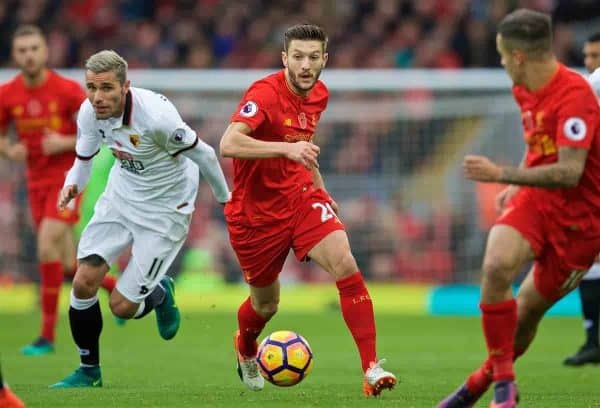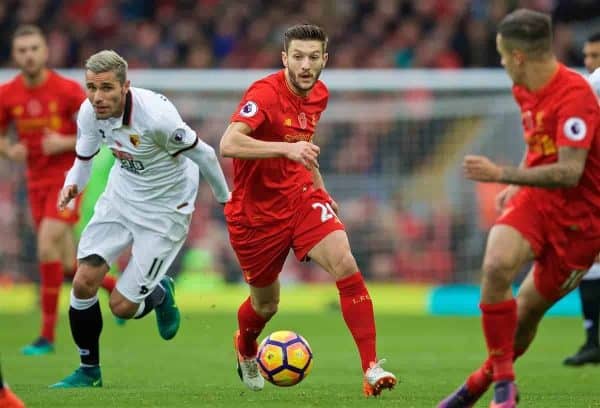 The BBC's Patrick Jennings was among those to praise the way Liverpool dealt with the pressure of the game, knowing a win would take them top:
If there was pressure following the Blues' statement win – they defeated Everton 5-0 on Saturday – Liverpool certainly did not show any signs of suffering from it.

[…]

It was a ruthless performance full of confidence, rhythm and flair.
On a day of overwhelming positive, the only negative for ESPN's David Usher was that we all have to wait a fortnight before we can see the Reds in action again:
The only thing for Kopites to complain about is that they have to wait two weeks to watch their team play again due to another untimely international break.
Showing a confidence similar to Liverpool's, the Mirror's David Maddock discussed how the Reds can open a lead on their rivals:
If they maintain that consistency for a couple of months, then there's a chance Liverpool can open up a bit of a gap over the Christmas period…and that would be an ominous position to be in, given most of their rivals at the top of the table should all still be embroiled in the Champions' League in the New Year.
There was plenty of praise for the spectacular dominance of Liverpool's performance, and in particular the attacking play produced in the emphatic win.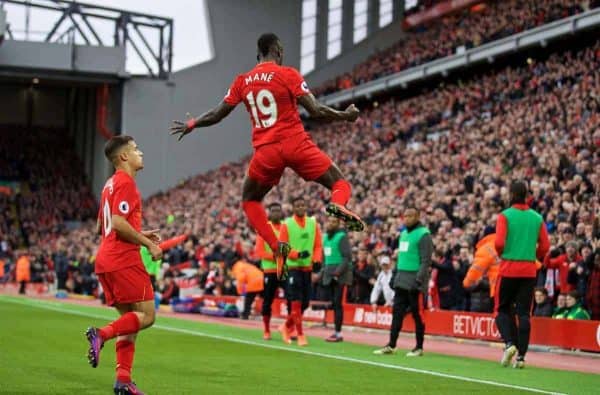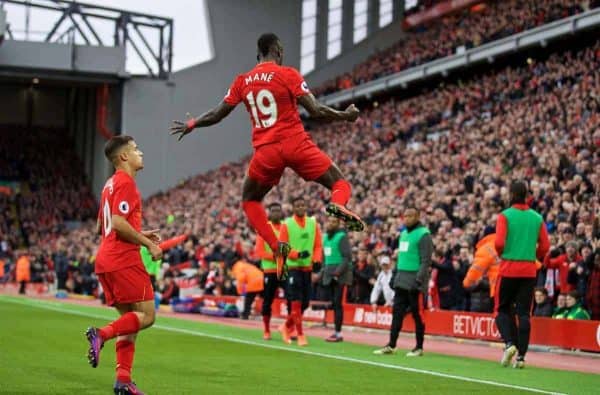 Jennings praised the Reds' intensity and movement:
With the speed of the home side's passing and the slick interchanging of positions in attack, Watford simply could not live with Liverpool. Five different players scored in a ruthless performance full of confidence, rhythm and flair.
Barrett noted the effortless brilliance of Klopp's side:
What made their eighth win in their first eleven games so impressive was not the margin of victory or the variety of goals they scored, it was their recently found ability to turn it on seemingly at will.
The Liverpool Echo's Andy Kelly praised the Reds for the way they are making their lack of European football count:
But the crucial factor is while those around Liverpool have their distractions, desirable as they might be, the Reds are taking advantage.
The Guardian's Andy Hunter focussed on the lethal attacking trio:
Watford were not simply the fifth of six visitors beaten at Anfield this season but the latest team to feel and suffer the punishing effect of the formidable attack constructed by Klopp.

[…]

Once again, the incomparable front trident of Sadio Mané, Philippe Coutinho and Roberto Firmino punctured holes in the opposition backline.
Maddock labelled Liverpool's offensive performance "close to perfect":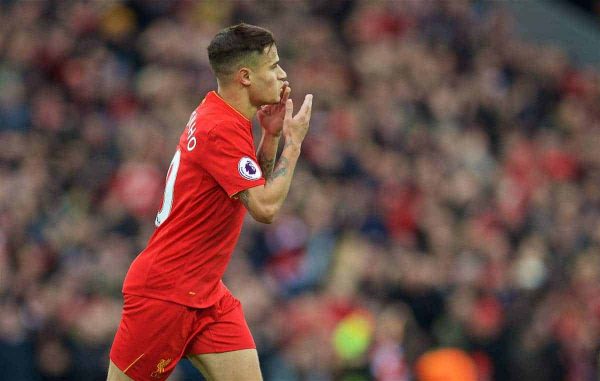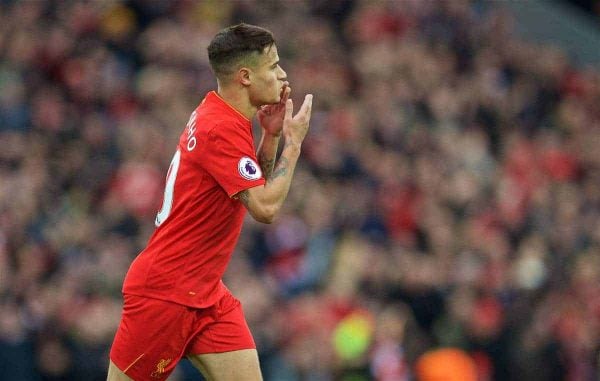 Ominously, Klopp spoke of his side learning and getting better afterwards, yet in terms of their attacking options, fluidity of movement and sheer bewildering passing symphonies, this was close to perfect.
King believes Liverpool's attack is the best in the league currently, and questioned how opposition can possibly defend them:
Is there a better front three in the Premier League at present? No.

[…]

What makes them so difficult to contain is their unpredictability. None of them have a set position, each have a licence to drift into the areas they can cause damage.
Jennings praised Liverpool's movement and relentlessness in pursuit of victory:
Even with his side coasting towards victory Klopp was barking instructions to his players. The message seemed to be: more pressure high up the pitch, more movement off the ball in possession. They were the key attributes in this impressive win.
Pearce praised the Reds' collective work-rate:
From front to back against Watford, they were outstanding. No weak links. Nobody being carried.

This is a team bursting with pace and quality but it's all underpinned by a tireless work ethic.
Reporters gave their thoughts on the key performers at Anfield, with plenty of praise for the brilliant Brazilians, and positively, for Loris Karius: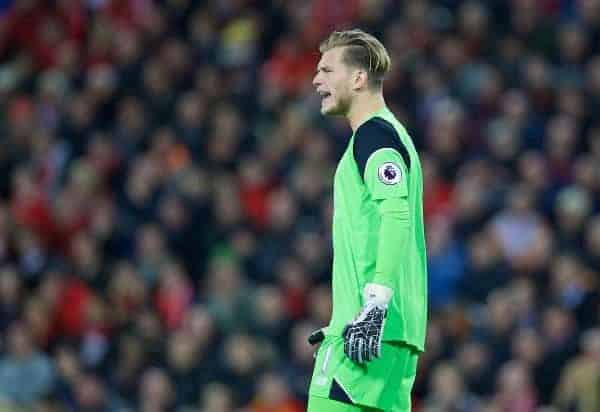 Reddy labelled Coutinho's display "elite":
Once again, Philippe Coutinho demonstrated his elite status, assisting Sadio Mane's opener before adding another stunner to his ever-growing archive.
Maddock feels the Brazilian duo are quite literally in a league of their own currently:
There is a contest going on between Coutinho and Firmino to decide who is the best player in the Premier League right now.

It's a close call, with Coutinho's end product in terms of assists and goals offering an obvious argument, but Firmino's ability to dictate the pace of a game possibly shades it.
Kelly felt Karius showed positive signs of being the goalkeeper Liverpool wanted:
But one of the great positives about this victory was the realisation that Loris Karius could just be what we all want him to be.
Maddock praised Jordan Henderson's understated role as the Reds' "conductor":
While pondering Liverpool's laden attacking menace, spare a brief thought for the contribution of Jordan Henderson, who sits deeper to allow the five in front of him to inter-change at will.

He is top of the passing stats for a reason – and his is like a conductor in this Reds team.
And finally, after an impressive collective display from Klopp's side, Usher paid tribute to Klopp's work in the way he has set-up his side to play:
Picking the team is a relatively straightforward task at the moment, but where Jurgen Klopp is excelling is its preparation. The lack of European football clearly helps but Liverpool look to be fitter and sharper than any team they face these days. He also seems to have all the answers tactically.