Liverpool captain Jordan Henderson says the Reds' 4-3 loss to Bournemouth on Sunday was tough to take, admitting, "there's nothing we can say, really."
After a brilliant 15-game unbeaten run, Liverpool came crashing back down to reality in alarming fashion at Dean Court.
Jurgen Klopp's side led 3-1 with 14 minutes remaining, only to self-destruct and succumb to a defeat of heartbreaking proportions.
After a superb first-half performance, the Reds completely lost their way, and the quality of defending left a lot to be desired.
Henderson couldn't hide his disappointment after the game, on an afternoon that left many doubting Liverpool's title credentials.
"There's nothing we can say, really. [It's a] very disappointing result," Henderson told Liverpoolfc.com.
"I don't feel like we were at 100 per cent throughout the game to be honest but we did well to get back to 3-1 in the lead.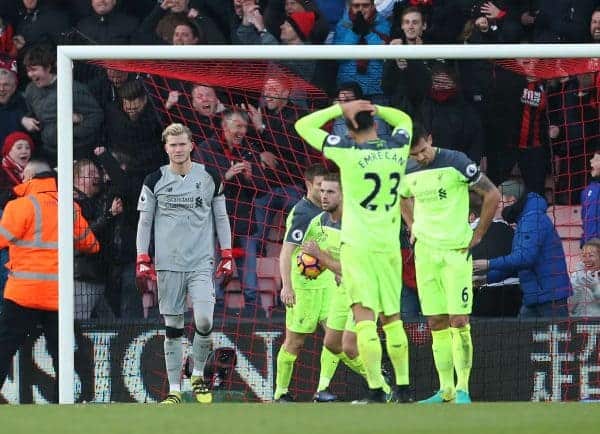 "But [we needed] to keep going and keep fighting, which in the end we didn't do, and they applied pressure in the last 20 minutes and got the goals.
"We were comfortable at times but I still think we could have penetrated a little bit better and there was still a lot of room for improvement after the first half. Second half we wanted to come out and improve.
"Overall, it's just very disappointing."
Unfortunately, displays such as these have become all too regular over the years, with the Merseysiders capable of capitulating like no other team.
Without Joel Matip at the heart of the defence, Liverpool looked brittle, and too many experienced heads failed to come to the fore late on.
Perspective is needed, however, with the Reds still only having lost twice this season.
They remain right in the title mix, and given the competitive nature of the Premier League, their rivals will experience similar results at some point.
If Liverpool want to clinch a first ever Premier League crown this season, though, they cannot afford many more afternoons like Sunday.