Liverpool FC owner John W. Henry has replied to a journalist who claimed that a Chinese takeover of the club was expected to be completed soon.
Ian Abrahams, who is a commentator on TalkSport, had tweeted on Tuesday night, writing:
"Hearing some very interesting news regarding @lfc, hope to have more details shortly
"Regarding the much talked about Liverpool takeover by a Chinese Consortium
"My sources are tellling me tonight, the @lfc takeover is expected to be completed before Christmas & possibly by the end of this week."
But responding on Wednesday afternoon, LFC principal owner John Henry completely mocked these claims, replying: "Good that your sources will be debunked so soon. Usually it takes a long time!"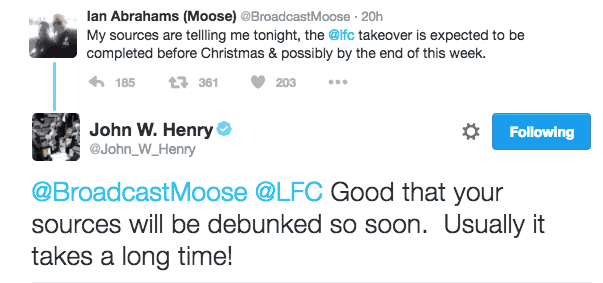 Henry has a history of being pretty sharp on Twitter, having famously tweeted "What do you think they're smoking over there at Emirates?" in response to Arsenal's derisory bid for Luis Suarez in 2013.
Liverpool have been linked with investment from a Chinese consortium in recent weeks, but it looks like Henry has ruled out a takeover any time soon anyway!
FSG have previously said they are open to investment into the club as part of the new Main Stand naming rights, and that seems far more likely than any full takeover.
Well played, John.