Ten years ago, five fanzines existed about Liverpool FC, now there is just one remaining, Red All Over The Land. Sachin Nakrani takes a look at the change in culture as the internet became a fan's go-to for supporter opinion.
Last November I went back in time. It was a Saturday, around 9.45am, and having got into a car with two mates, I headed to St Mary's. Liverpool were playing there, at three o'clock.
The drive from London to the south coast was lovely. It was icy cold but the sky was as blue as the Caribbean sea and that early weekend buzz, the one you can't describe but can feel to your bones, was all around us. It was wonderful, and even after parking up in Southampton and walking for 20 minutes through sudden, solid rain towards the ground, I felt electrified. An away game, on a Saturday, at three o' clock, with mates; it was something I hadn't experienced for years (for a variety of reasons) and it felt great to be back.
Having arrived, my mates Mark and Savva sought out some grub from a nearby burger van. I wasn't keen but something else did catch my eye and make me reach for my wallet. It was someone, actually. A fanzine seller.
He wad stood outside the away entrance and was bellowing a phrase I had heard countless times since I first went to the match but which for a long time had passed through my mind with little effect. Not today, though. Not in this grip of retro-fever.
"Red All Over The Land, Two pounds!"
I wandered over and gave him two pounds. He smiled and passed over one of the A5-sized booklets in his possession. It was slightly damp and a little worn, but that did not matter. On this day of all days, it felt just how it should.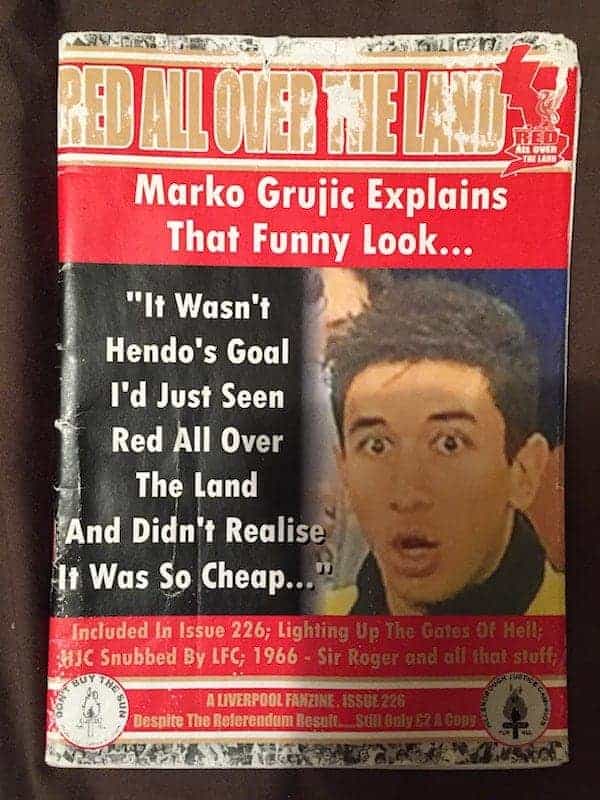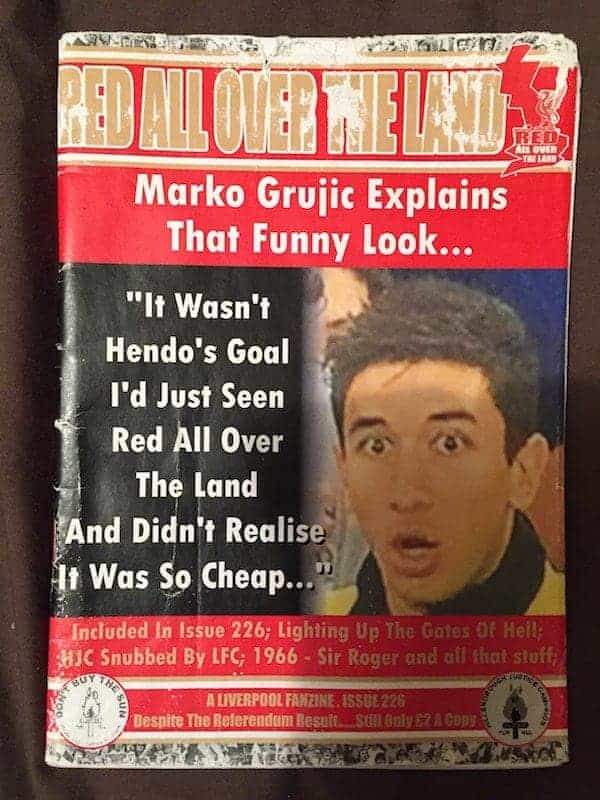 For so long, buying a fanzine was a staple of going to the match. We'd park up outside the ground – be it Anfield or elsewhere – and between leaving the coach/car and entering the pub/stadium, I'd seek out a fanzine. Not every time but most of the time, and being a disloyal so-and-so, I'd switch depending on whichever cover took my fancy that day; one week it would be Red All Over The Land, the next, The Liverpool Way. Or sometimes Through The Wind And The Rain, and for a sustained period in late 2005, The Kop, which called itself a magazine but looked, smelt and behaved like a fanzine.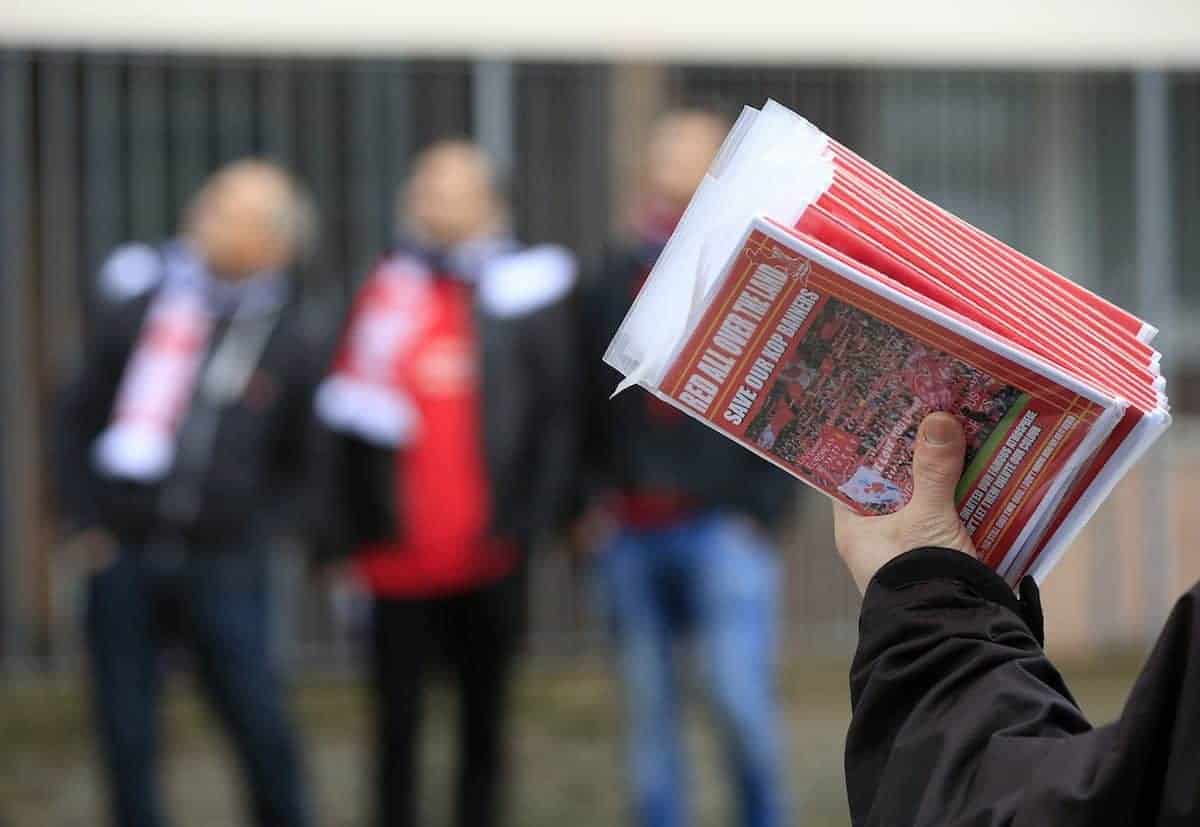 The aim was soon to become a Liverpool fanzine writer and I achieved that in the spring of 2006 when I had a piece printed in RAOTL. It was about England playing at Anfield and how I really didn't care for it. I'll never forget our coach parking up outside Stanley Park on the morning of 25th March – a Saturday – and rushing towards the ground in search of a seller. I found one, handed over my money, and whipped through the pages in search of my article. And there it was, about halfway in. I'd made it. A fantastic moment at the start of a fantastic day: Liverpool won. 3-1. Against Everton.
More articles were written, more fanzines were bought, and the feeling was this would go on forever. But it didn't. I stopped writing and, more importantly, I stopped buying. The issue of RAOTL that I purchased outside St Mary's – Issue 226 – was my first in absolutely ages.
Why? How? What the fuck? For someone who a) works for an established print publication b) bangs on about football traditions, that is pretty shoddy behaviour, and were I looking for excuses I could blame the recession, or Sky Sports, or Roy Hodgson. But the truth is I became a leech, sucking on the internet for my free pound of football-article flesh.
A quick walk around Anfield before kick-off would suggest I'm not the only one who has turned their backs on fanzines. In the last seven years, TTWAR, TLW and The Kop have all ceased to exist. We Are Liverpool, Neil Poole's fine attempt at bolstering Liverpool's fanzine family, has also come and gone in that time. All that is left is RAOTL and its band of sellers headed by founder and editor, John Pearman. The last foot soldiers of a once proud and valued army.
"Fanzine culture is dead"

What happened? Dave Usher, TLW's own founder and editor, is in no doubt: "Fanzine culture is dead. The internet killed it."
Given RAOTL is still going, and other fanzines covering other clubs up and down the country also remain in existence, that assessment may be a little over-dramatic. But if fanzines are not dead, then they've certainly been trodden on by the explosion of online sites that spread supporter-generated articles further, wider and more regularly than is possible by a publication working to the restrictions that come with print.
Indeed by the time a fanzine has been printed and is ready for distribution – whether that be outside the ground or through the post via a subscription – the average supporter has probably digested as much related online content as they can manage, their heads ringing with opinions, stats and facts, and that's even before they have jumped into the swirling pool of madness that is Twitter.
Come matchday, you want to get away from it all and focus on the footie. That's certainly how I've increasingly felt, hence walking away, rather than towards, the nearest man holding a batch of 'zines.
"There were still the loyal hardcore of readers who continued to buy TLW for as long as it was published, but most people get their 'fix' from the internet now," says Usher, who called time on TLW after its 100th edition was published in the summer of 2015, predominantly because of falling sales.
"Why wait four or five weeks for a fanzine to come out when you can read as many fans opinions as you like on the various blogs, websites and social media? There are some fanzines around the country who are still battling on manfully, but they'll all be gone soon I expect.
"It's a natural progression. It's the same with newspapers. There was a time when everybody bought them but now I don't know anybody who still buys one regularly. Nothing stands in the way of progress."
Digital switchover

In that regard we only have ourselves to blame, for there is probably no fanbase that 'does' the internet quite like ours.
For starters there is this site, which has developed into an impressively slick resource for up-to-date news, in-depth analysis, opinion pieces and more – including videos.
Then there is The Anfield Wrap and Anfield Index, both of which have a strong focus on that other modern source of supporter-created/driven content – podcasts. And as they thrive, other sites emerge, like Anfield Bark, created by all-round wonderful Red, Steven Scragg.
Such sites are to be applauded, for it is no bad thing that supporters are given forums to express their views on the club they love, and while my maths on this may not be accurate, I'd suggest that for every poorly written and/or bonkers article there is online, there's also one that is well written, significantly moving or hugely insightful. There'll also be the odd one that is all three and the fact you can read it for free is pretty remarkable.
But, as Dave Usher says, such progress has a destructive quality and I know that all too well as someone who has for the past nine years worked for an organisation in the midst of a transition from print to digital that is leading to the slow and painful death of the former. And it is painful, because even now, in 2016, there is still something wonderful about reading words on paper.
For starters there is the practical advantage of print. You can read it whenever you want without need of expensive device or fear of losing a wifi signal. Reading across pages, with the accompaniment of pictures and/or illustrations, is also always more satisfying than scrolling down a screen.
And you can bend a print publication and slide it into your back pocket while carrying a couple of pints across to your pals. Can you do that with a laptop or a tablet? No you cannot.

With print publications also comes that sense that what you have in your hands is a gathering of like-minded people, with the restriction on space leading to a natural blocking out of the buffoons and blowhards. They can run free on social media and in the comments sections of sites such as TIA, TAW and AI, but not here, not in this crafted collection of opinions, analysis, recollections and reports.
And fanzines, more than magazines and newspapers, feel like a gathering of a gang. The cool kids and the oddballs, brought together by their love of the same team and who are consistently smart, opinionated, knowledgeable and funny. My God are they funny, and that is something which for all its advances, online sites cannot match. When it comes to humour – fanzines do it best.
It's there in the front covers, the cartoons inside and in the writing itself. Like the piece in one edition of RAOTL back in the day that compared Anthony Le Tallec to a lawnmower that had been borrowed by the people living in a street so many times nobody could remember who owned it (Le Tallec went on five loan spells during his seven years at Liverpool). And there have been other piss-takes and illustrations in other editions and other fanzines that have had me sniggering lightly or laughing so hard I thought my rib cage was going to burst.
And that partly explains why RAOTL is still in existence 21 years after John Pearman published the first edition. More than that, it's thriving.
Last fanzine standing
"After a slump a couple of years ago we've picked up again," says John, and that means selling about 1,000 copies of each edition, with the peak having been double that.
John reckons he could get closer to that figure with more sellers (there are currently four) and unlike Dave Usher, refuses to believe that the online explosion – which started with the type of forums that now seem old-hat – means the death of fanzines.
"One of the major reasons for a fanzine in their heyday was because of the issues surrounding the game. That's not changed, the issues have," he says.
"Back then it was things like football fans being treated like second-class citizens, being herded around in a way that would have caused concerns to the animal welfare people. Now fans are concerned about ticket pricing.
"In 1995 we shared views and opinions; in 2016 we're still doing that. If those involved in fanzines 25 years ago made a comeback or sent in stuff to Red All Over The Land, they'd still be worth reading. We're people who love football, love Liverpool, love going to the game – that was the culture when I first started going to football in the 50s and that hasn't changed.
"And if anything, I think blogs will fade away first. How many that were around two or three years ago are around now? Blogs became Twitter and it's all very instant, but in many cases instantly forgettable."
There is some truth in that but it's pretty indisputable that online content is here to stay, and one major advantage it has over fanzines is reach – once in possession of an expensive device and wifi signal, it's possible for millions of people to access a wealth of articles in an instant. Fanzines simply cannot compete on that front, and especially when there are other obstacles in their way.
"TLW had been on sale in the two main WHSmiths in Liverpool since the first issue [in 1999], but one of the shops stopped stocking it because smackheads kept walking in and stealing them to go sell in the local pubs," explains Dave Usher.
"That had an impact, and another problem was Royal Mail and their rising postage costs, especially for overseas subscribers. If you lived in Europe, it was costing £3.50 postage as well as the £2.50 for the fanzine, so understandably a lot of people stopped subscribing.
"I was printing around 600 copies in the end, so it was still making a small profit. But it just wasn't worth the time and effort it took to produce."
While RAOTL's sales have not been effected greatly by smackheads or Royal Mail, there have been other obstacles for John Pearman and his team to contend with, such as the rebuilding of the Main Stand, which "stopped the flow of people traffic walking past where we sell". Last year, John reduced the number of RAOTL editions per season from 13 to 10.

For all fanzines there is also the problem of demographic shift – the loss of regulars who regularly bought a copy allied to an increase of supporters for whom purchasing a funny looking book from a shouty Scouser outside the Kop simply isn't part of the "matchday experience".
"We now have a massive international following for home games and in fairness if they can't speak English then they won't be thinking about reading a fanzine, and that's not being sarcastic towards them," says John Pearman.
"When we first appeared, the makeup of the crowd was totally different – now it's multi-cultural and multi-national. Going to the game has changed beyond recognition."
Dave Usher has turned TLW into a successful fully-online operation and that was an obvious route for Neil Poole to go down when he decided to start up WAL in early 2014. But Neil being Neil – "flaky", as he puts it – he decided to create an old-school paper-and-print fanzine.
It didn't last long – 18 months to be precise – but there are no regrets, and what comes across in Neil's explanation of the ethos of WAL is the essence of most if not all fanzines – a place where fans are free to express their views without censorship or restriction.

"Essentially I asked people to contribute whose stuff I liked and made sure that in any given issue there was a variety of different types of writers and topics," he says.
"All fanzines I know let people write what they want and don't dictate. Fanzines are what they say on the tin and are a platform for normal fans who can string a sentence together to air their views.
"I sold circa 400 copies for each issue, although there was one where I sold less than 200. A lot were sold as subscriptions and people who ordered individual copies online. I sold more like that than in person at the ground. About another 100 subscribed to the digital version. So in all about 500.
"I was making a small profit so had met my original expectations, but it became apparent early in the 15-16 season that I wouldn't be able to go to home games. Standing selling a fanzine for hours is OK if it ends with going to the match. But to stand there and then walk away as the game is starting? Nah. CBA with that."
John Pearman goes as far as saying that putting together and selling RAOTL "makes going to a game a bit more worthwhile" and for him it also serves as an important counter-choice to the matchday programme, which costs £1.50 more than RAOTL and, in John's words, is far more "boring."
At this stage it is worth stressing that not all fanzines are virtuous. A little under two years ago, for instance, it was possible to buy Red Issue outside Old Trafford, an odious rag put together by odious dickheads, and that's got nothing to do with the club they support. I cannot have been the only one to feel utter joy upon hearing the very last edition was coming out in January 2015, a moment made even more glorious by the fact United lost that day, at home, to Southampton.
Overall, however, fanzines should be cherished, and especially those that have and continue to represent Liverpool. For it can be argued that fanzine culture started in the city with the The End in the 1980s and in subsequent years there have come a number of publications that have captured the mood of Scousers, Kopites, and Reds in general, giving those that want one a platform to express their hopes, fears, anger and outright happiness.

It would be hypocritical of me to mourn the decline of fanzines too greatly given my lack of loyalty to them over the years, and when it comes to this debate, the mind goes back to an article Charlie Brooker wrote soon after The Dandy became digital-only in 2012 and scores of people took to social media to express their sadness over its demise as a print publication. As Brooker pointed out, these same people hadn't read a Desperate Dan comic in years, let alone paid to do so.
And it should be remembered that while fanzines are on the slide, in number as well as sales, their spirit lives online. After all, many of the people who write for sites such as this one, TAW and others were once fanzine writers, while Dave Usher and TTWTR editor Steven Kelly are regular contributors to ESPN.
The tradition fanzine may be on the way out, all that glory in pages that yellow over time but never stop feeling and smelling like the old days, but the wit and brains behind them remain. You just need to know where to look.
"What you see fans doing now with websites, blogging, podcasts and YouTube fan channels is borne of the very same culture that fanzines were borne of. Same culture, different presentation," says Neil Poole.
"Fanzines remind me of a comedian who isn't widely popular but has a small cult following and is every other comedian's favourite comedian. Perhaps they'll have the same revival in the future as vinyl, which everyone thought was dead but you can now buy again in my local Sainsbury's at extortionate costs. One day someone might decide fanzines are trendy and they will rise again."
* You can purchase Red All Over The Land – the last surviving Liverpool fanzine – from Anfield on a matchday from sellers outside the Kop, at flagpole corner and opposite the Hillsborough memorial outside the Main Stand