Jurgen Klopp has welcomed Steven Gerrard's return to Liverpool as a youth coach, and vowed to aid his progress into becoming a manager in the future.
Gerrard was unveiled in his new role at the Reds' academy on Friday evening, with the 36-year-old set to begin work alongside Alex Inglethorpe in February.
This serves as positive news for Liverpool, and particularly their youth ranks, able to draw upon his considerable with the club, after 17 years in the first team and 12 years as captain.
Starting from the bottom, Gerrard is aiming to work his way up to management, and hailing his decision to rejoin the club, Klopp said he would do "everything" to help him on his way.
"We had a very good, very long talk together," he revealed on Monday afternoon.
"Probably everybody in this room knows better than I do that he's a wonderful guy.
"It was important to know what Steven wants: he said he wants to be a manager in the future, so that's cool.
"I said, from my side, everything I can do to help him on his way to be the best manager he can be, I'm ready for this, I'd like to do it.
"We spoke about different options, now he's at the academy, it's great for us, for him it's perfect. Being a manager is a job you have to learn."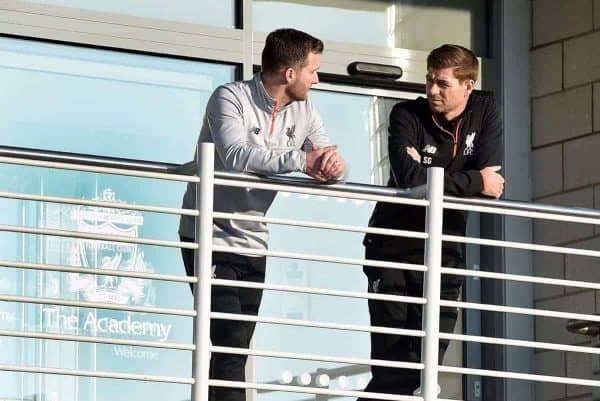 ---
Gerrard is working towards gaining his UEFA 'A' licence for coaching, and will initially take up a wide role throughout the academy, encompassing the U16s squad all the way up to the U23s.
Inglethorpe has explained that Gerrard will eventually lead a group of his own, which will be major benefit to the club.
One of the greatest to ever play for the Reds, Gerrard can serve as the perfect role model for Liverpool's hopeful youth, and Klopp is pleased to be able to welcome him back.
"When a person like Steven Gerrard is ready to make the steps, it's wonderful news for football," he added.
"Combining the playing experience with all the things he learns from now on, it's a bright future. It's brilliant."
Unlike some of his contemporaries, Gerrard is aiming to nurture his abilities as a coach in a low-key setting, which should be considered a sensible choice, rather than diving straight in.
Klopp is clearly convinced Gerrard has the potential to become a manager in the future, but for now he is content to provide him with the best platform to work towards doing so at Liverpool.