Jurgen Klopp cut a frustrated figure after claiming Manchester United's long-ball tactics cost Liverpool three points in a "wild" match.
Unlike October's drab, goalless draw at Anfield, the 50th Premier League meeting of the bitter rivals lived up to the billing in terms of entertainment and energy at Old Trafford.
Liverpool looked set to give the hosts a bloody nose as James Milner fired home a first-half penalty after Paul Pogba, whose Twitter hashtag was advertised around the pitch, handled a corner in the box.
However, the world's most expensive player's blushes were saved by fellow big-name summer acquisition Zlatan Ibrahimovic heading home six minutes from time to secure a 1-1 draw.
Klopp was naturally frustrated to have conceded a late equaliser, which the Liverpool boss believes was borne out of United's direct style that ended up with the ball spending "25 minutes in the air".
"We needed to be brave, we created the spaces we wanted, we scored the goal," Klopp told BBC Sport.
"In the end period of the game when United started playing long balls – (to) Marouane Fellaini and Zlatan Ibrahimovic – after 80 minutes (of) high intense football, it is really hard.
"I hoped we would have a bit of luck, unfortunately not, but all good.
"Tomorrow I can enjoy the result, but tonight only the performance.
"It is so intense. They play long balls, it was a wild game. There was a lot of action in the last few minutes.
"We were here to win the game, which is why we are not 100 per cent satisfied."
Klopp was proud of his players' display given Liverpool were without a number of key men against a United team on a nine-match winning run in all competitions.
The German has now lost just one of his seven meetings with Mourinho, who he clashed with towards the end of the match after an incident involving Roberto Firmino and Ander Herrera.
Both managers downplayed the issue, though, Klopp saying: "We could not have the same opinion in this moment."

---
Liverpool's manager was unwilling to speak about a potential offside in the build-up to United's equaliser or a Wayne Rooney challenge on goalscorer Milner, while Mourinho was coy on the spot-kick conceded by Pogba.
The United manager had few arguments about referee Michael Oliver's overall display, but used the penalty as a chance to make a point of his own.
"I don't know," he said. "I don't know, I didn't watch. But the referee was very close, so probably it is a penalty.
"The problem with the penalties are they are just a criteria – sometimes you give, sometimes you don't – and it is amazing that 21 Premier League matches, plus three in the League Cup, plus one in the FA Cup is 25.
"In 25 matches, we had one penalty – it is something for the Guinness (World Records) – but today was in our box and I didn't watch.
"But I have to believe that was a penalty and I am happy for the referee if it was a penalty because his record for us this season is three matches, three penalties against. So if this time it was a penalty, I am happy for Michael."
Mourinho clammed up when asked if he was claiming bias against his side – "no, no, you use that word, I don't," he said – but his frustration at failing to win was clear.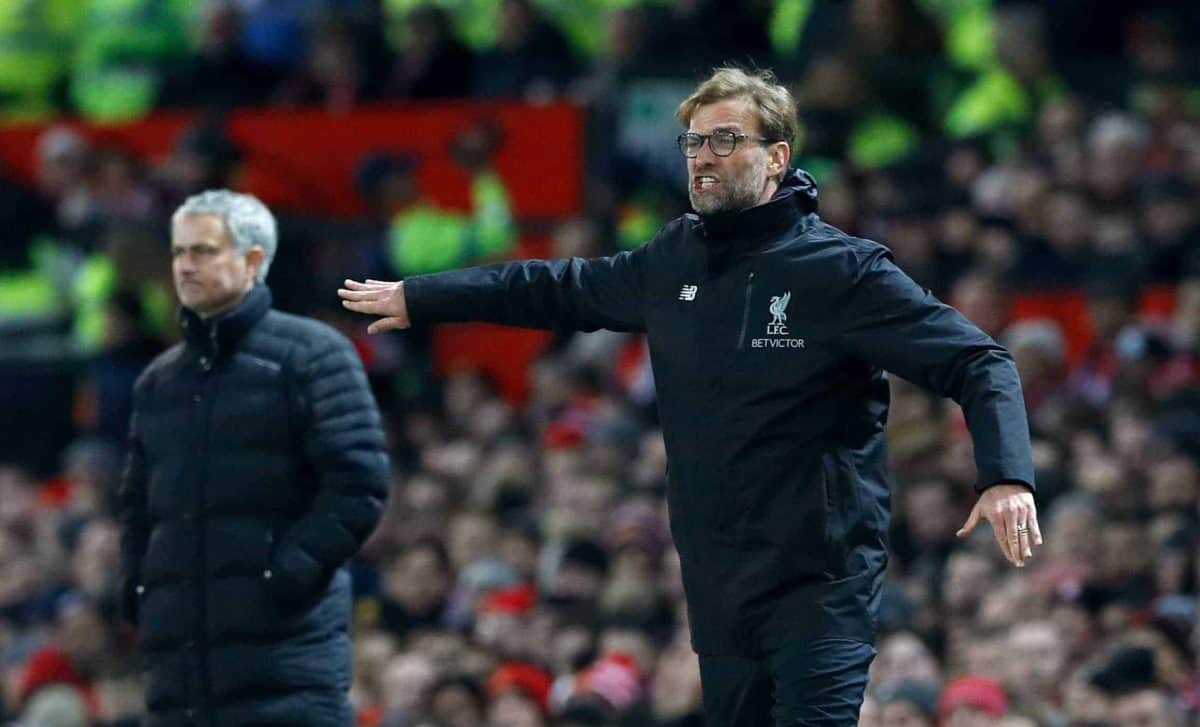 "I think it was a very emotional game," the United boss said. "I believe very entertaining, I believe every player – our players, Liverpool players – are very tired because they gave everything they could until the limits.
"I didn't watch, but it looked like the referee had a good performance, but I think Manchester United can play better than we did.
"And, in spite of it not being my problem, I think Liverpool can play better than they did because I have watched them play many times.
"So I think in terms of quality, the game was below the quality of both teams, but in terms of a proper Premier League match, a proper derby – it had a lot for the people to enjoy."