Alex Inglethorpe, Liverpool's academy director, has lauded the appointment of Steven Gerrard as youth coach, and detailed his new role.
Gerrard will begin his new duty in the club's academy in February, making his long-awaited return to the Reds after leaving to join LA Galaxy back in 2015.
In a move welcomed with positivity by supporters, Gerrard's comeback is set to make a big impact on the club, with the former captain looking to learn from Inglethorpe as he sets his sights on the top.
Beginning at Liverpool's academy in Kirkby, Gerrard will head back to where it all began, but while he will be looking to emulate his former mentor, Steve Heighway, things have changed since then.
Speaking on Gerrard's appointment, Inglethorpe explained the 36-year-old's new role, which will include a broad range of duties—from working with the academy's youngest to those closest to the first team.
"Like any coach, he'll have a schedule he'll work to," Inglethorpe said.
"The idea at the beginning is to come in and complete his 'A' licence.
"He is going to assess various age groups, primarily in the older groups, 15 to 23.
"He'll assess all of that, have a look and get involved in the coaching with various groups, with the intention eventually of having a group himself—having a team to run and all the responsibilities that come with that."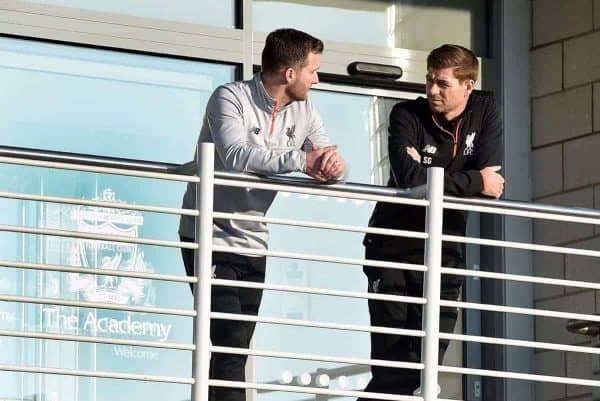 Inglethorpe's insistence that Gerrard will work like any other coach will be one welcomed by the legendary midfielder, who has showcased a much-needed humility on his return.
But given Gerrard's achievements at Liverpool, such as his role in the Champions League final triumph in 2005, Inglethorpe admitted his knowledge will prove invaluable.
"Steven possesses many qualities that you'd want our young players to have access to," he continued.
"Of course he is got a wealth of football knowledge. I know he understands the journey that a player is going through.
"When you're with him and seeing the old photographs and asking questions of what he was like when he was 16, his Youth Cup disappointments, his debut or how he had to survive his first 10, 15, 25 games, there is a clear empathy there for what the young players are going through.
"There within probably lies the making of a very good academy coach.
"If you break the game down into its various forms, from a technical or tactical standpoint he has got an incredible insight into what you need to be successful.
"He has played the game at the highest level, so he'll understand the game and what it looks like, and the demands that are there.
"One of the best qualities he'll have is how he thinks, and if he can impart that to his players—whatever age group he's working with, the determination he showed or how he gave everything to each game—that aspect will make him incredibly successful."
Inglethorpe's assertion that it will be Gerrard's mind that proves most important in his role as coach is a testament to his potential at the academy.
He will certainly need it, working with some of England's finest in Inglethorpe and his staff.