Liverpool host Premier League leaders Chelsea on Tuesday looking to avoid a fourth successive home defeat for only the second time in their history.
Here Press Association Sport looks at some of the issues surrounding the game.
WILL SADIO BE THE SAVIOUR?

Liverpool flew winger Sadio Mane back by private jet on Monday after Senegal's exit from the African Nations Cup and his return cannot come quick enough.
In his absence the Reds have won just once in seven matches, exited two cups and scored only five goals.
Mane is likely to get a place on the bench for use as an impact substitute against Chelsea but Liverpool will hope his international exploits have not been too tiring as they need someone with his pace and spark to reignite their season.
UNWANTED HISTORY TO BE AVOIDED

Liverpool have only once before (in 1923) lost four successive home matches in their 125-year history so the visit of Chelsea could not have come at a worse time as they try to avoid equalling an unwanted record.
However, despite their January slump Klopp's side should take some confidence from the fact they have the best record in the top-six mini league and are the only one of that group yet to lose against any of their Champions League-chasing rivals.
Liverpool's poorest performances have come against weaker teams and Klopp will hope they once again raise their game for the league leaders.
TIME FOR KLOPP'S FIRST TEAM TO PROVE THEIR WORTH

Manager Jurgen Klopp has been roundly criticised for fielding weakened teams of younger players in cup competitions this month but his thinking was understandable considering the visit of Chelsea will be their 10th match in 32 days.
However, it is his first-choice side (admittedly without Mane) which has disappointed the most having lost twice to Southampton in their EFL Cup semi-final and at home to struggling Swansea.
The likes of Daniel Sturridge and Divock Origi have failed to provide adequate back-up during Mane's absence but with only the league to now concentrate on it should be full-strength all the way.
CONTE'S MAGIC TOUCH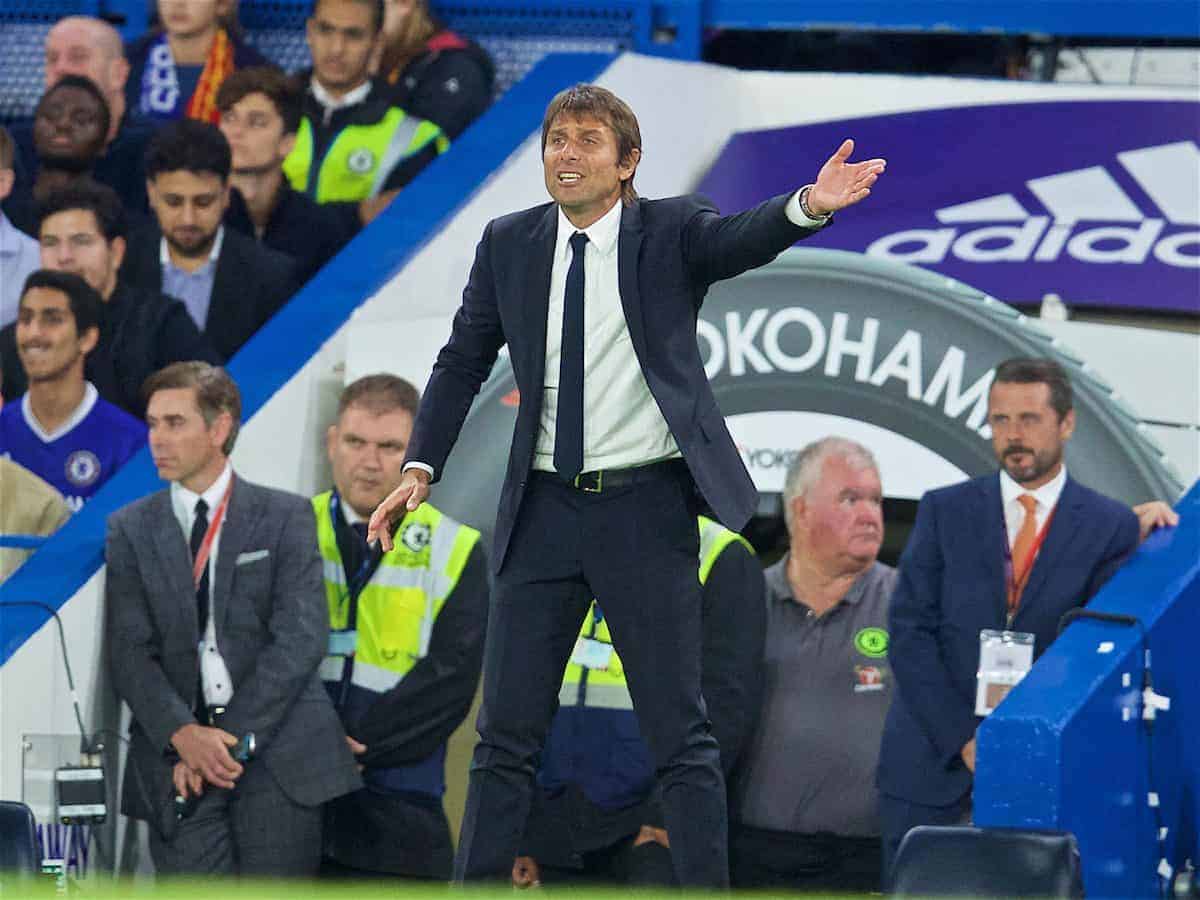 Chelsea head coach Antonio Conte has had no such issues with his first team, fielding effectively the same XI every week and seeing them reel off win after win.
There are arguments to be had about the relative quality of both squads – certainly when it comes down to respective goalscorers – but Conte's to 3-4-3 has been a revelation and no-one has really yet found a way of combating it successfully.
Klopp can probably predict the team he will face tomorrow but his task is to find a way of beating them, as he did back in September.
MOSES MAKING HIS MARK

Victor Moses spent one season on loan at Anfield in 2013-14, was less than impressive and his spell playing in his preferred position as a winger is remembered less-than-fondly by fans.
However, he has been reinvented as a wing-back by Conte and has far exceeded expectations. Liverpool supporters will see a completely different, confident player who has been nurtured by Conte and is benefiting from stability and not being farmed out to other clubs to get game time having had two other loans after his ill-fated stint with the Reds.