Philippe Coutinho has insisted his new contract is his chance to become a Liverpool legend, not an opening to move to another club in the future.
Coutinho signed a new five-year deal with the Reds on Wednesday afternoon, and while it served as an emphatic statement of his and the club's intent, there remained doubts over his conviction.
Coming at a time when Liverpool are struggling on the pitch and links with Barcelona and Paris Saint-Germain remain rife, it could have been seen as a precursor to a big-money move.
But speaking to the Mail this week, Coutinho stressed that it was, in fact, a genuine commitment to Liverpool, as he strives to follow in the footsteps of the club's legends.
"No need to wait. I know. I live this every day, I can smell it. I see the ambition of the club, my team-mates, the manager," he explained.
"I am living it, seeing it. Wait to sign? No. No. Now is the right time.
"I understand what Liverpool means. We can say Dalglish, Rush, Hansen, Souness, Suarez, Gerrard.
"I've been here quite a few years already, it's not like I am new. I understand.
"To have signed a new contract at this club, my goal is to be thought of one day in the same way as these players. They are legends.
"You define the success of a player by his loyalty or his titles. Or both. In order to be part of this group, I have so much to do.
"I want to win titles. Five years is my new contract…it gives me that opportunity."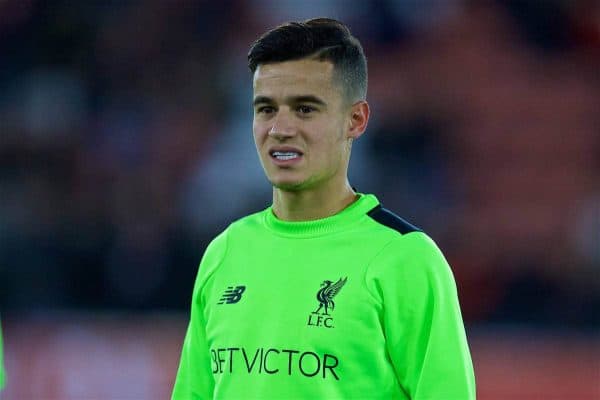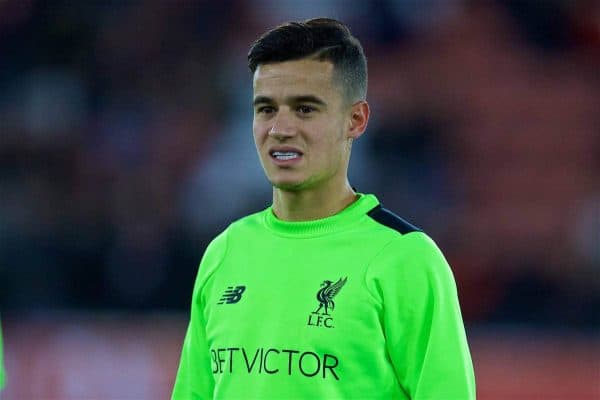 This does still sound familiar, however, particularly given Luis Suarez's contract extension months before he left to join Barcelona in 2014.
But asked whether he was considering a move to La Liga or, like many of his compatriots, the Chinese Super League, the 24-year-old provided a staunch defence of his intention.
"China, no. I am not interested. I don't think about that, not for one moment," he explained.
"My football is here. My heart is here. I don't think about any other club. Not at all.
"I believe in finding somewhere you can express yourself, play without fear, play with everything you have. When you find that place, stay.
"This club, Liverpool, it has a plan. To be back on the top and that's what I believe in. I want to be part of that.
"From the owner, the manager, my team-mates. There is nothing that stops us competing with the big clubs.
"Clubs in England. Clubs in Europe. Yes, clubs like Barcelona. Why not? Why not?"
This should come as a major relief to supporters, with Coutinho seemingly smitten with the Reds, and content with life on Merseyside—where he is now Liverpool's highest earning player.
Having secured a just reward for his talent, Coutinho can now work towards restoring his club to their former glory, and match the efforts of his predecessors.