The media felt Liverpool's League Cup exit to Southampton proved the Reds have now been sussed out, in what could soon become a failed campaign.
Liverpool's hopes of securing a record ninth triumph were brutally ended as the Saints claimed a 1-0 second-leg victory to eliminate Klopp's side.
Shane Long's drilled finish on the counter-attack in stoppage time sealed a Wembley trip for Claude Puel's men, who progressed to the final showdown with a 2-0 aggregate success.
The Reds paid the price for lacking tempo and invention in their play yet again at Anfield, and it's increasingly worrying how lethargic Klopp's team look.
As much as it hurts to admit, Southampton were deserved winners for their performances over the two legs, with Liverpool having failed to meet either occasion with the same intensity as their opponents.
What was shaping into a great season is now on the verge of unravelling completely, and here is what the media made of a thoroughly disappointing night.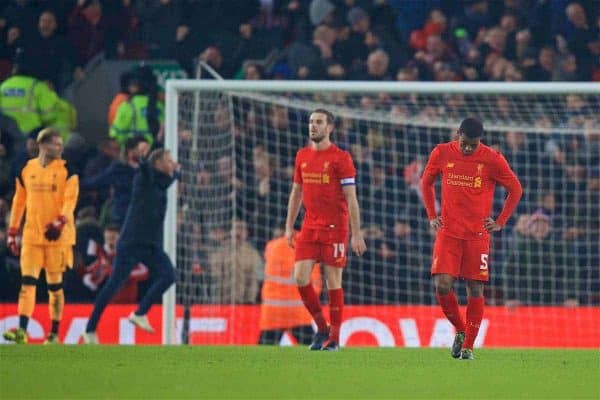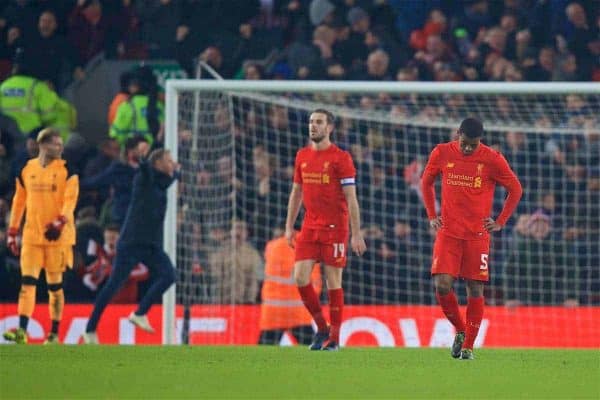 Reporters reflected on another damaging night as hopes of cup success ended like Premier League dreams, with certain journalists feeling what looked an exciting season is in danger of proving a huge disappointment.
ESPN's Mark Ogden assessed the Saints deserved winners first and foremost:
"Southampton out-foxed Klopp's team in both legs, defending magnificently over 180 minutes and rendering Klopp's game-plan impotent."
Writing for JOE.co.uk, Tony Barrett feels the campaign is "now in grave danger of falling apart":
"It would be stretching things somewhat to signal a crisis but with the loss of their best chance of silverware coming on the back of serious damage being done to their title aspirations, it is clear that a season that promised so much is now in grave danger of falling apart at the seams."
The Mail's Ian Ladyman believes immediate improvement is needed before the season ends before it has really begun:
"A six-day stretch in League Cup, FA Cup and Premier League ends with a game here against Chelsea next Tuesday and Klopp's players must find improvement if their pursuit of the best team in the country is not to be effectively over before we have emerged from winter."
In a brutal assessment, the Telegraph's Chris Bascombe says Liverpool will struggle to finish higher than sixth on current form:
"Liverpool look nothing more than a side that will struggle to finish above sixth at the moment."
Richard Jolly, writing for Eurosport, thinks Klopp is in danger of becoming a nearly man:
"Klopp has reached two finals and a further semi-final, but the danger is that he starts to be seen as football's tall, loud, manically gesturing bridesmaid, but never its bride, forever coming close."
The Liverpool Echo's James Pearce feels there are numerous factors behind the Reds' worrying slump:
"Their attacking spark and swagger of the autumn has gone AWOL. Energy levels have dipped.

"A wretched run has clearly dented belief and a lack of activity in the January transfer window has cost the Reds."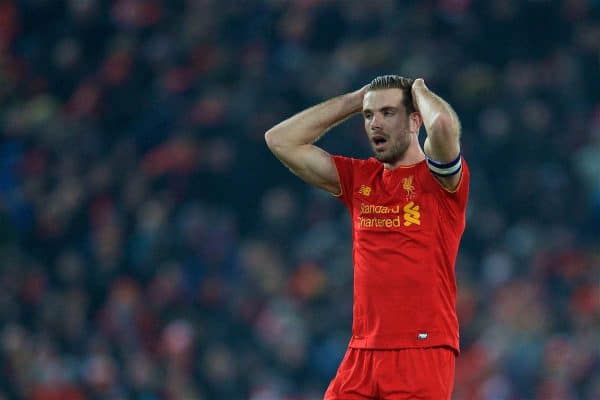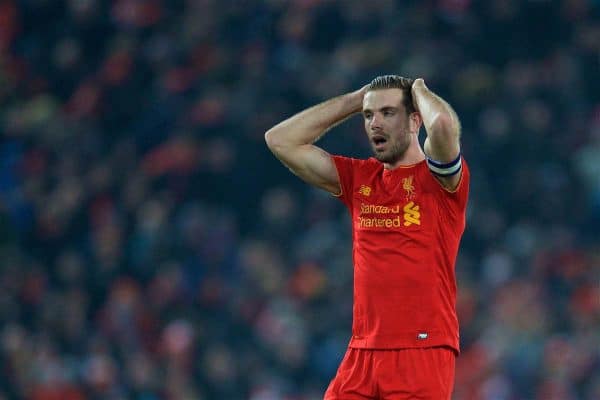 Reporters discussed how Liverpool once again came unstuck by similar tactics deployed by opponents, with certain journalists feeling the Reds have now been sussed out.
The Mirror's David Maddock wrote:
"They looked so devastating earlier in the season, but now sides have worked out if you sit deep and frustrate them, then they become too frantic too early, and that affects both their delivery—pumping too many hopeful crosses into the box—and finishing, because they had so many chances."
Ogden was among those to assess how Klopp needs to find a 'Plan B':
"Perhaps the secret is out with Liverpool. They are too predictable and clearly without an obvious Plan B, but Klopp needs to find one."
Meanwhile, Ladyman feels Liverpool are becoming too easy to play against due to their generosity in gifting chances to opponents:
"But if you can do that—if you can squeeze Liverpool in to almost suffocatingly small areas of space—then you can break and wait for your chances. They will come, too. This Liverpool team will always allow you chances."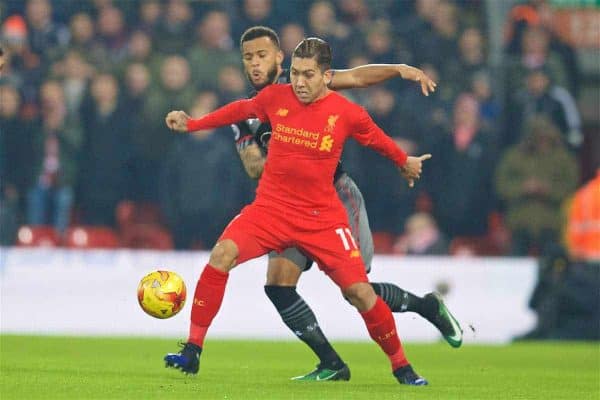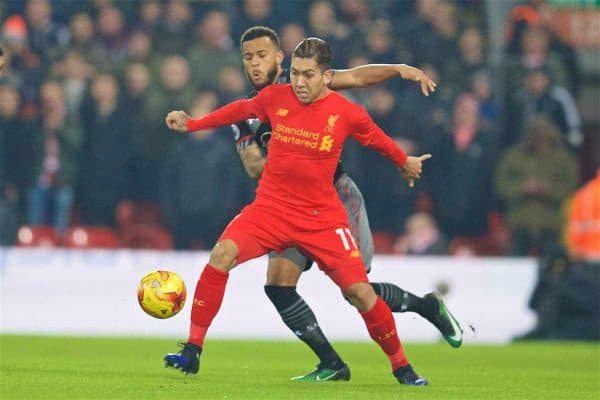 Many of the watching journalists bemoaned Liverpool's lack of attacking creativity, and questioned where the offensive prowess shown prior to the turn of the year has gone.
Summing up Liverpool's attacking struggles, Ladyman wrote:
"Liverpool, for their part, have morphed from a team that always looked likely to score in to one that has forgotten how to."
Jolly felt the Reds showed plenty of effort, but ultimately lacked "incision":
"Thereafter, they exerted pressure without penetration, showing incessant effort but not incision."
Writing for Goal.com, Melissa Reddy felt the Reds lacked killer instinct:
"There were some intelligent passing choices, but Liverpool lacked the 'decisive 10 percent'—as Klopp has previously termed it—to ensure a translation on the scoreboard.

[…]

"There was plenty of effort from the Merseysiders, but the finishing touch had again deserted them."
Bascombe bemoaned the lack of vision and execution for a killer pass from the Reds:
"Oriol Romeu and James Ward-Prowse were similarly effective at forcing Liverpool to locate a killer pass—something not in the repertoire of enough of Jurgen Klopp's side. This has become too much a recurring theme at Anfield.

"Whether it is Manchester United, Plymouth or Swansea, a packed midfield and defence can ensure opposing goalkeepers have too little to occupy them."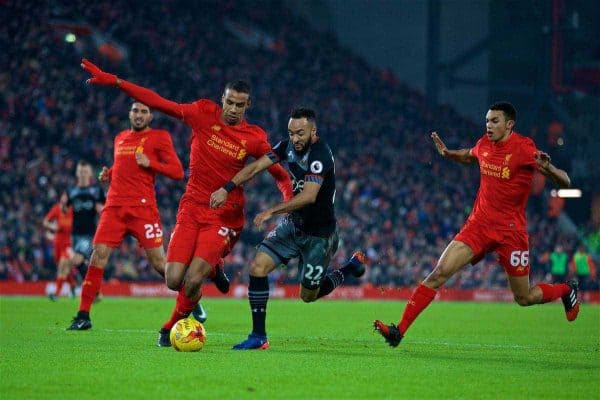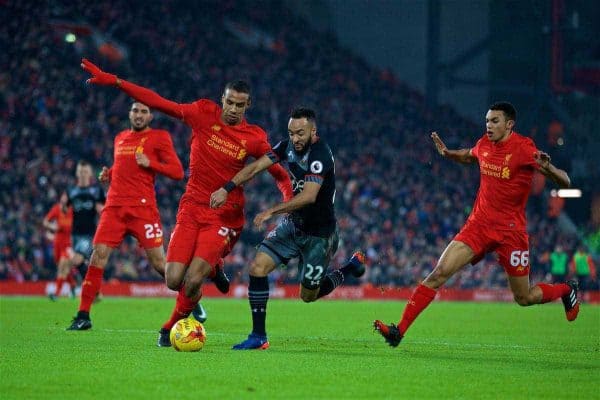 Barrett noted how disjointed Liverpool have become:
"There can no longer be any debate about whether Liverpool have lost their rhythm.

[…]

"With passes going astray and fluency lacking, the hosts were disjointed in a way that would not have been imaginable just a matter of weeks ago."
Ladyman thinks Liverpool's loss of confidence has contributed to their lack ideas in the final third:
"Liverpool's problem is that they have lost the confidence and cohesion of early season. To play the way they do, as thrilling as it can be, needs instinct and imagination to hold sway over thought. That is not the way it is at the moment. Frankly, Liverpool look a little short of ideas."
Bascombe rightly noted the lack of pace in the side currently:
"There is not enough pace in the Liverpool squad and it must be the priority—not just now—but in the future to ensure that is resolved."
Maddock, along with almost every other reporter, once again centred on Sadio Mane's absence:
"They clearly miss Sadio Mane. His pace and strength down the flank is such a weapon, but so too is his trickery in a crowded penalty area.

"He has an ability to mesmerise defenders and create confusion, and how badly Liverpool needed that here against an organised and resilient Saints. How Jurgen Klopp must wish the Africa Cup of Nations is rescheduled."
Jolly feels Mane's absence has had a knock-on impact on other key players:
"But Sadio Mane's importance grows with every game he misses, Roberto Firmino is energetic everywhere but looks a lesser player when used on the right and Philippe Coutinho has regained fitness but not yet recaptured his brilliance."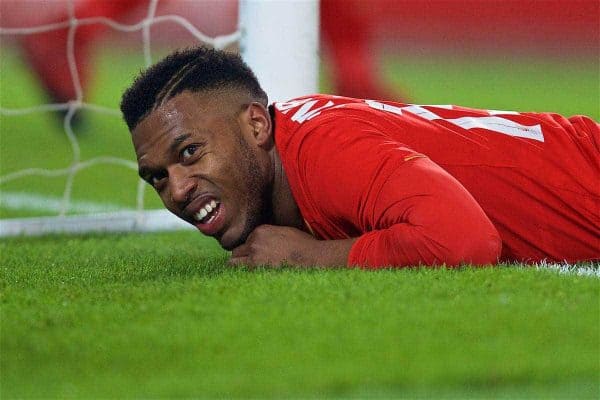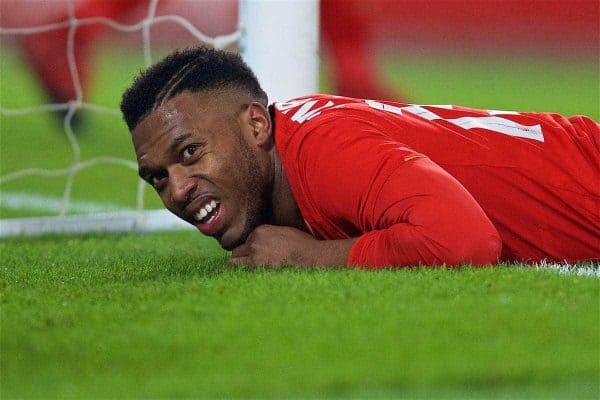 Reporters reflected on a night of underwhelming individual performances at Anfield, with Daniel Sturridge in particular coming in for criticism for another struggling performance.
Ogden thought Sturridge missed another chance to prove his worth:
"But Sturridge has been handed chances to perform against Plymouth (twice) and in the first leg at Southampton in recent weeks and he has failed to take them."
Bascombe feels Sturridge is "a shadow of the player he was":
"The visitors should have been made to pay by Daniel Sturridge, who continues to look a shadow of the player he once was. Twice Sturridge was off target from close range in the second half, but more worryingly he looks like he has lost a yard of pace."
Barrett thinks Sturridge is in an almost "irreversible decline":
"With the few occasions that they were able to penetrate being undermined by Daniel Sturridge's seemingly irreversible decline which makes him a pale imitation of the fleet-footed forward of three years ago."
Meanwhile, Bascombe reserved praise for Loris Karius:
"Many will have questioned the wisdom of playing Karius ahead of Simon Mignolet, but he has looked far more confident when called upon most recently."
Finally, the BBC's Phil McNulty discussed Klopp's performance and felt the boss made errors in partnering Jordan Henderson with Emre Can in midfield, and not playing Georginio Wijnaldum:
"Klopp's decision to play Emre Can and Jordan Henderson together in midfield backfired badly and his decision to leave out Georginio Wijnaldum was questionable."