Liverpool manager Jurgen Klopp remains relaxed about the growing pressure at the top of the table as he is confident his side are destined to get better again.
Since the Reds beat Manchester City on New Year's Eve they have taken two points from a possible six with Sunday's 1-1 draw at Manchester United following a 2-2 draw at Sunderland.
That has allowed leaders Chelsea to open up a seven-point gap and has also seen in-form Tottenham move into second place, albeit only on goal difference.
There is also pressure from below with Arsenal a point behind and United, in sixth, five back.
However, Klopp, boosted by the return to fitness of playmaker Philippe Coutinho, retains belief his team will pick up the pace again—especially when Sadio Mane returns from the African Nations Cup—despite a busy January which sees them travel to Plymouth on Wednesday for an FA Cup replay and also face Southampton next week in the second leg of the EFL Cup semi-final.
"We cannot look at it. I think we are in the region of the table where we have to be," he said.
"In this moment, maybe for us it's a little bit more difficult to play our best because not everybody is available but everybody could see we will fight for it 100 percent.
"There will be a moment when we are the better side—when everybody is back, in shape, healthy, fit and then we will see how the base is then.
"The performance [at Old Trafford] was absolutely more than OK.
"It is not usual that a team did like my team did it in this situation after the game in midweek [losing the first leg 1-0 at Southampton]. I am fine with it and now we have to carry on."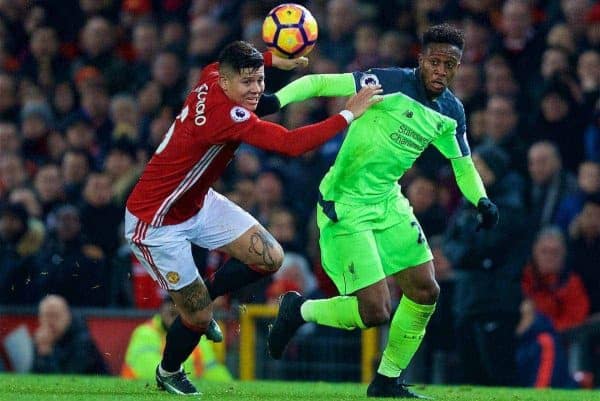 Striker Divock Origi insists the players are neither looking too far ahead nor at the teams around them.
The Belgium striker, who has not scored in seven appearances after a run of a goal a game in five successive matches, said: "I think it's very tight above but you just have to look at it game by game.
"There's still a lot of big games, important games, so we have to stay together and finish well.
"Overall, it was an intense game and of course we wanted to win, so I think we have to analyse the game after to see what was good and what was bad."
Coutinho was given 30 minutes at Old Trafford, having featured for a similar amount of time against Southampton having returned from a near seven-week absence with ankle ligament damage.
He almost made an immediate impact, setting up compatriot Roberto Firmino for a chance which David de Gea saved, and the Brazil international's influence on the side is going to be tested over the next few months.
"You could see straight away when he came on, with a couple of touches he created some really good opportunities," said defender Ragnar Klavan.
"His quality is massive and everybody is delighted he is back on the field and he can help us."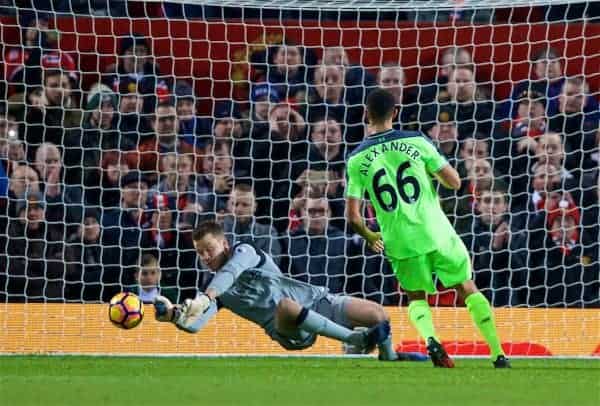 Klavan also had praise for goalkeeper Simon Mignolet, whose performances have improved since returning after Loris Karius was dropped.
The Belgium international produced three good saves at Old Trafford with one from Zlatan Ibrahimovic's low free-kick described by United manager Jose Mourinho as "amazing."
Klavan tended to agree with the Red Devils boss.
"He has been amazing for us," said the centre-back, who is covering for a fit-again Joel Matip who is still awaiting confirmation from FIFA he is eligible to play having refused a Cameroon call-up for the African Nations Cup as he retired from international football in September 2015.
"He is always there for us when needed and he's doing a brilliant job."