Liverpool's pathetic 3-1 to Leicester City on Monday was yet another case of Groundhog Day, with the same old deficiencies rearing their ugly head.
There can absolutely no excuses about the shambles we witnessed at the King Power Stadium.
We cannot blame it on tiredness, key players missing or bad luck, this was just a downright spineless performance against a team battling relegation.
Every time you think Jurgen Klopp's side have turned a corner and taken a step forward, they take two giant ones back, and the current fury being vented in the team's direction is understandable.
As we all try and assess what exactly went wrong against Leicester, it is plain to see that the same weaknesses continue to hamper the Reds.
'5 things we've learned' articles are a staple of modern media, but this was more a case of things we already knew…
Lack of leaders and nastiness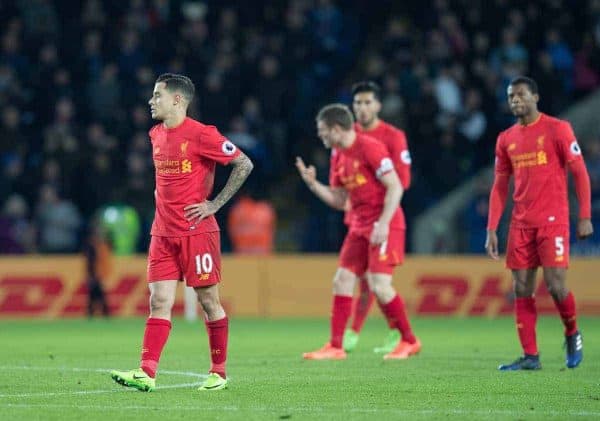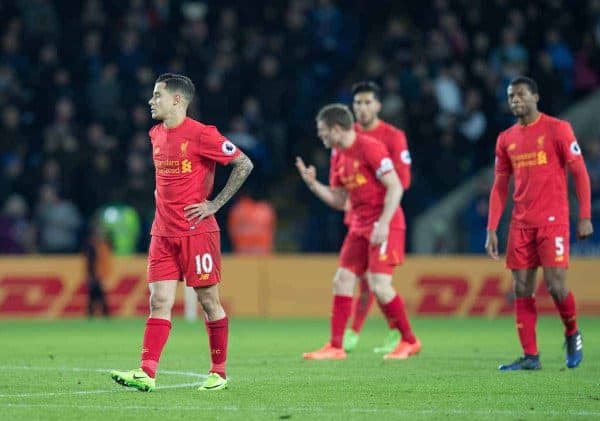 Leicester were always going to raise their game, following the sacking of Claudio Ranieri, but the Liverpool players appeared oblivious to this.
The Foxes made a strong start – Jamie Vardy's hard-but-fair tackle on Sadio Mane within seconds of kick-off summed it up – and the Reds looked powerless to stop their dominance.
There was nobody taking the game by the scruff of the neck – Jordan Henderson once again a loss, but shouldn't be that big a loss – with too many going into their shells.
James Milner, captain on the night, played with no authority whatsoever, and fellow experienced heads such as Joel Matip, Lucas Leiva, Georginio Wijnaldum and Adam Lallana were equally non-existent.
This is a far cry from past Liverpool sides, when you could pick out five or six players who would dig deep, be vocal and steer their team through matches.
Gerard Houllier's treble-winning squad had Sami Hyypia, Stephane Henchoz, Markus Babbel, Gary McAllister, Didi Hamann and Robbie Fowler, among others, while Rafa Benitez's class of 2008/09 had Pepe Reina, Jamie Carragher, Javier Mascherano, Xabi Alonso, Steven Gerrard, Dirk Kuyt and Fernando Torres.
This current squad is a far cry from that, with too many nice players on show.
Poor attitude against weaker teams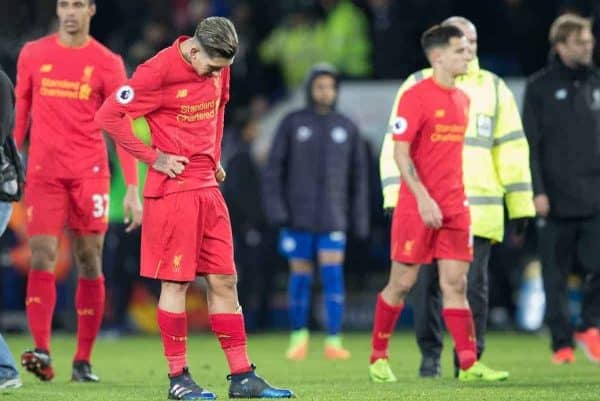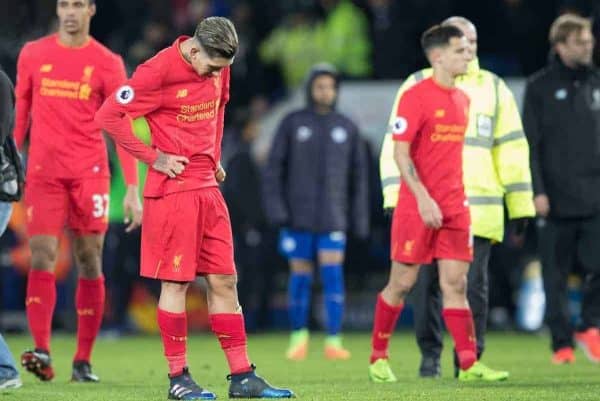 So much has been made of Liverpool's wretched success away to struggling sides this season, and it shows absolutely no sign of going away.
Klopp's men have now lost at Burnley, Bournemouth, Hull City and Leicester, as well as at home to Swansea City, while the 2-2 draw at Sunderland was just as dispiriting.
The attitude of the players must now be questioned against lesser opposition, with a lack of work-rate, hunger and general lethargy on show almost every time.
When it comes to facing fellow top-six rivals, it seems as though the players need no motivation, given their superb record against them under Klopp, but they cannot seem to rise to the occasion when relegation fodder stand before them.
It is happening too much for it to be an anomaly now, and both Klopp and the players need to take a long hard look at themselves. Some of the body language given off by supposed high-profile players against Leicester was unacceptable.
Midfielders are not defenders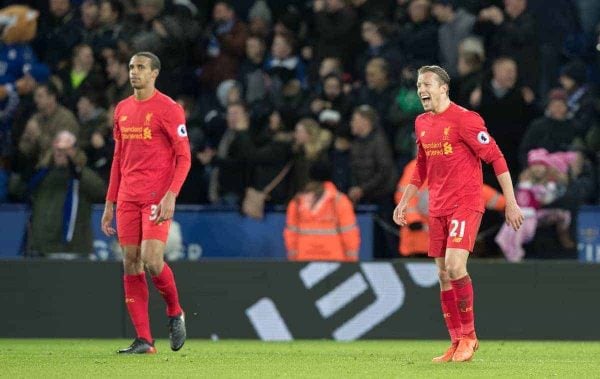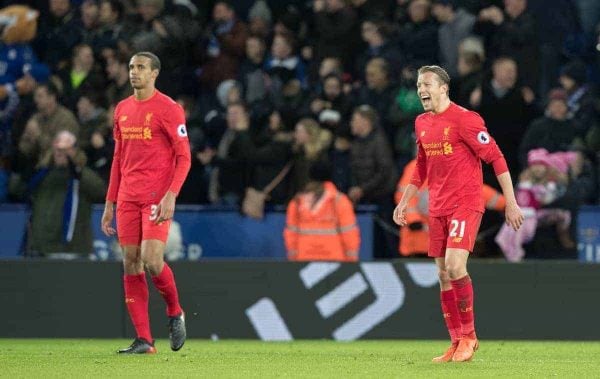 It would be wrong to say many of us weren't purring over the performances of Milner at left-back earlier in the season, but it was always going to be a short-term solution.
The 31-year-old has been a shadow of himself in the last few months, and his ageing legs have looked increasingly heavy through the winter months.
For all his early-season excellence, it does seem bizarre that Klopp didn't invest in a new left-back in the summer, with Milner's shortcomings in the role and Alberto Moreno's constant lapses far from ideal.
Milner is a midfielder, and always has been, and with each game that passes, the more he looks horribly out of position.
The same has to be said of Lucas Leiva, who is far too slow to be playing as a centre-back.
The Brazilian was given a horrendous night by Jamie Vardy on Monday, and while it may have been easy to point the blame in Lucas' direction, Klopp is wrong to be deploying him there.
If you are that slow in an unfamiliar role, disaster is always going to be around the corner. Klopp has to bring in proper defenders in the summer, and stop using players in unfamiliar territory.
Klopp being stubborn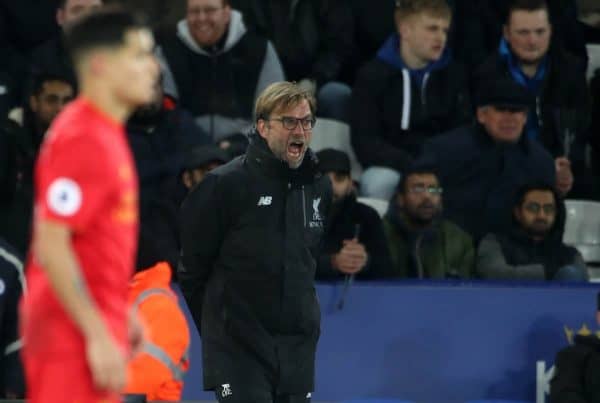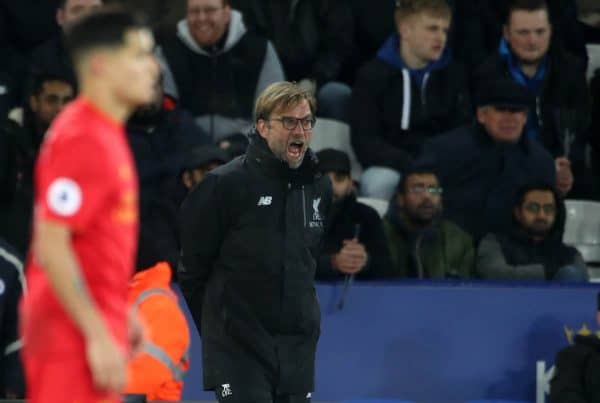 Klopp is a magnificent manager and will go on to do a wonderful job at Anfield, but he is under deserved scrutiny at the moment.
It has a been a very poor 2017 for the Liverpool manager, and his stubbornness to only play one way has hurt his team on too many occasions.
The entire country knows that sticking 10 men behind the ball and playing on the counter-attack is the way to beat the Reds, but Klopp doesn't seem to have addressed it.
Quite what the squad worked on during their training camp in La Manga is a mystery, but it is worrying that they did nothing different against Leicester. Some of the tactics were criminal, with Lucas against Vardy one of the most obvious mismatches in history.
It could be argued that Klopp is being shown up tactically, but his main weakness is showing too much faith in his system and his players.
He has total belief that his methods will work, but when they don't during a game, there is no alternative. Opponents are lapping it up.
Major reinforcements are needed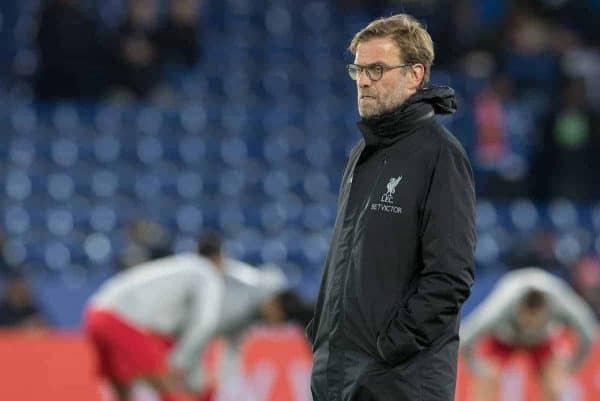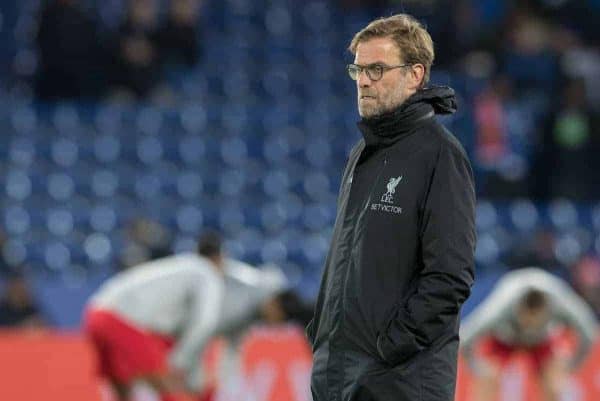 Perhaps some of us kidded ourselves when we looked at Liverpool's squad back in August, with the depth seemingly more impressive than in recent years.
As the campaign has progressed, however, it has become abundantly clear that this is still not a set of players remotely capable of winning the Premier League.
If Klopp's first-choice starting lineup was fit every week, they would have a chance, but as soon as a few players are missing, the back-up options are not good enough.
For all his huge potential, 17-year-old Ben Woodburn should not be being brought on to try and rescue a point in a Premier League game, and Trent Alexander-Arnold is not yet a reliable second-choice right-back.
This summer is going to be pivotal, as it always seems to be at Anfield, and Klopp must bring in six or seven high-quality names, and dispose of some of the deadwood.
Signing Matip, Wijnaldum and Mane was excellent business last summer, but Liverpool must reach a stage when they have two excellent options in every position, rather than only signing top players as regulars.
How are we in a situation where Lucas comes in when Matip or Dejan Lovren are out? How is Mane is only speedy option in wide areas?
A new goalkeeper, left-back, centre-back, central midfielder, wide forward and out-and-out striker all have to arrive before the start of the next season, in order to avoid Groundhog Day all over again.