Liverpool's excellent performance in Saturday evening's 2-0 victory over Tottenham Hotspur clearly left a mark on Mauricio Pochettino's side.
A brace from Sadio Mane was enough to seal the victory for the Reds, though with Spurs goalkeeper Hugo Lloris making seven saves at Anfield, it could certainly have been more.
In a performance reminiscent of the first half of the season, Jurgen Klopp's side looked to be getting back to top form, and remain unbeaten against the Premier League's top six.
Improving on their 1-1 draw at White Hart Lane back in August, the Reds overwhelmed Spurs on Merseyside.
And speaking after the game, a host of Pochettino's players took the time to praise their opponents, after they dominated proceedings.
"They were much more aggressive than us and started much better than us," Mousa Dembele said.
"At the end we can ask as many questions as we want but they were more aggressive and wanted to win more than us.
"Everybody could see that they were on top of us and in every battle they were more aggressive than us."
Christian Eriksen took a similar stance to Dembele, saying Spurs "didn't come out properly."
"We know it's tough at Anfield but we could have done much better," the Dane explained.
"They played like we normally play but today, there was really only one team on the pitch."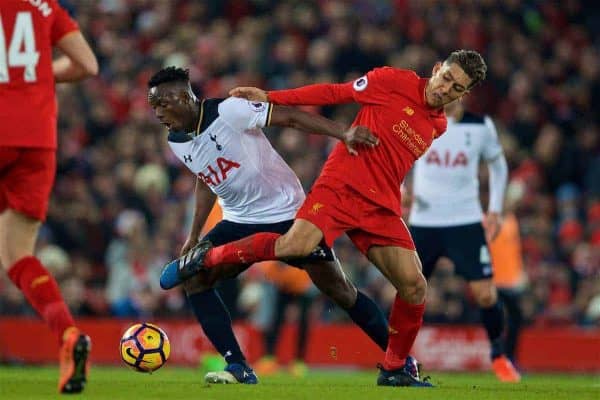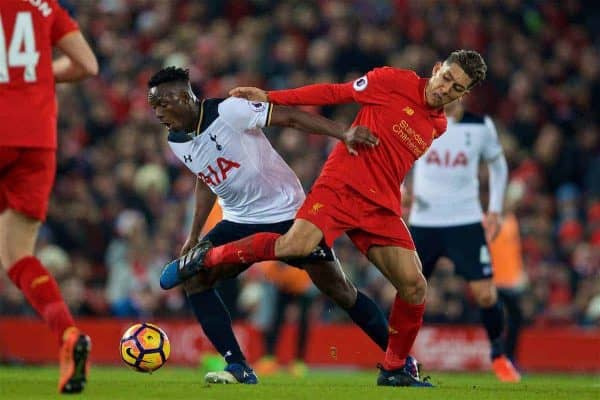 Referee Anthony Taylor booked five Spurs players on the night, as frustration set in for Pochettino's side, with Toby Alderweireld among those cautioned.
But this was not the aggression the away side needed on the night, with Alderweireld mirroring Dembele's words.
"Normally aggression and desire are our strengths so it's difficult to see why that happened today," the Belgian said.
"And if we don't bring that level the same as the opponent or even better then it's difficult."
One of the standout performances of Liverpool's victory was from Georginio Wijnaldum, and Hugo Lloris highlighted the midfield battle as central to the result.
"We had a lack of aggression and struggled to put intensity into our performance," he added.
"It was the opposite for Liverpool, they played high-intensity in the first half and we lost a lot of balls in the middle of the pitch.
"We lost the battle in the middle of the pitch and that's difficult against a top team like Liverpool."
This is not the first time Spurs players have come out and applauded the way the Reds have played this season, with Danny Rose saying playing against Mane in August was one of his "hardest games in the last few years."