Jordan Henderson, Georginio Wijnaldum and Adam Lallana provided the midfield balance Liverpool needed to secure a 2-0 win over Tottenham.
After a run of just one win in 10 games in 2017, the Reds got back to top form with an excellent victory at home to one of their rivals for a top-four finish.
Two goals in three first-half minutes from Sadio Mane were enough to seal the three points for Jurgen Klopp's side, though with the Senegalese in inspired form, it could have been more.
But after the game, while Klopp acknowledged that he had "no problem" praising his No. 19 for a match-winning display, he reserved praise for a host of "good individual performances," including his midfield.
Henderson, Wijnaldum and Lallana were restored as the German's midfield trio on Saturday evening, and they gave the Reds the platform to push for a morale-boosting win.
At Anfield, they once again proved why they're Liverpool's best unit in the middle of the park.
Henderson, Wijnaldum & Lallana

On Saturday, Klopp came closest to naming his strongest starting lineup for many, many weeks, with only Dejan Lovren's absence restricting the German from fielding a first-choice side.
Due to injury to Joel Matip and Philippe Coutinho, and Sadio Mane's departure to the Africa Cup of Nations, Klopp's hands had been tied since November.
But with improving fitness and Mane's return, he has found himself blessed with a near full complement of talent during a crucial period of the season for Liverpool.
This includes the ability to restore the midfield trio that has helped fuel the Reds' best results this season so far, with Lallana moving back into his box-to-box role on Mane's return.
Before the weekend's clash with Spurs, Henderson, Wijnaldum and Lallana had not started together in midfield since the 4-1 win at home to Stoke City on December 27, kept apart for six Premier League games.
While his team selection was enforced by Mane's absence, it is difficult to see why Klopp did not search for a solution beyond moving Lallana into attack, given his impact in midfield.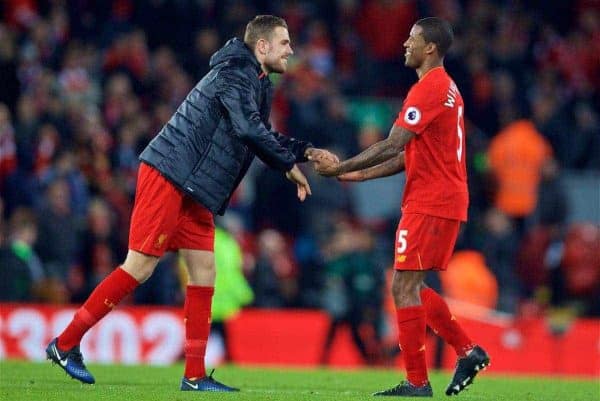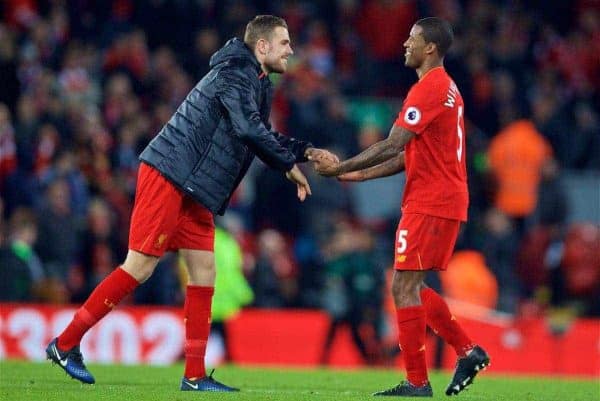 After the victory over Spurs, Henderson, Wijnaldum and Lallana have started 12 games together in midfield for the Reds, winning nine, drawing two and losing just once, scoring 30 goals and conceding 11.
Without the trio deployed in the middle of the park, Liverpool have won five, drawn five and lost three in 13 games, scoring 22 and conceding 14.
Therefore, with them, the Reds average 2.42 points, 2.5 goals scored and 0.92 goals conceded per game, and 1.54 points, 1.69 goals scored and 1.1 goals conceded without them.
At the weekend, it was clear why their presence has inspired such an excellent run of results, with Klopp striking a fine balance in his midfield setup, as the trio complement each other perfectly.
With Henderson, Wijnaldum and Lallana in midfield:

Won 9
Drawn 2
Lost 1
Scored 30
Conceded 11

Without:

Won 5
Drawn 5
Lost 3
Scored 22
Conceded 14
Liverpool's Midfield vs. Spurs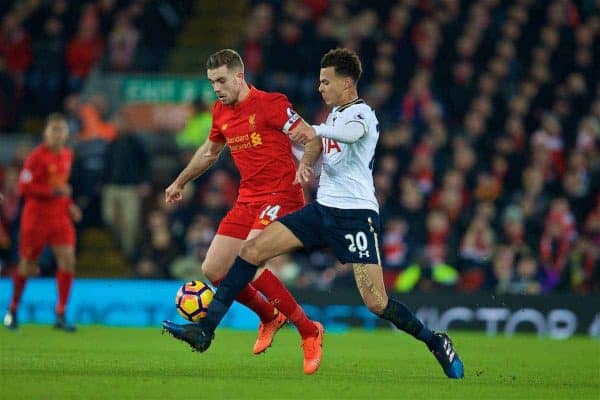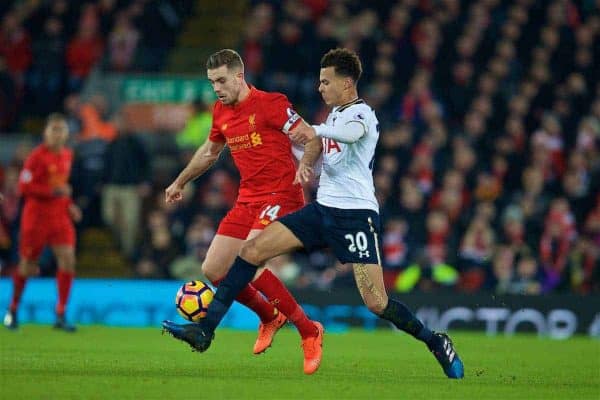 Lining up against a comparative unit of Mousa Dembele, Victor Wanyama and, further ahead, Dele Alli, Liverpool's midfield three faced up to one of the Premier League's most impressive systems.
With Wanyama serving as Mauricio Pochettino's destroyer, Dembele breaking the lines with his unique brand of untouchable quality and Alli providing much-needed attacking support, Spurs are built on an impressive foundation.
But on Saturday, all three proved non-existent, and that is due to the impressive performances of Klopp's setup.
Henderson, deployed in his regular No. 6 role, was given more time to dictate play due to the energy and vibrancy of Wijnaldum and Lallana as Liverpool's box-to-box options.
The more progressive duo's incessant work rate ensured neither Wanyama or Dembele were allowed enough time on the ball, making seven successful tackles between them.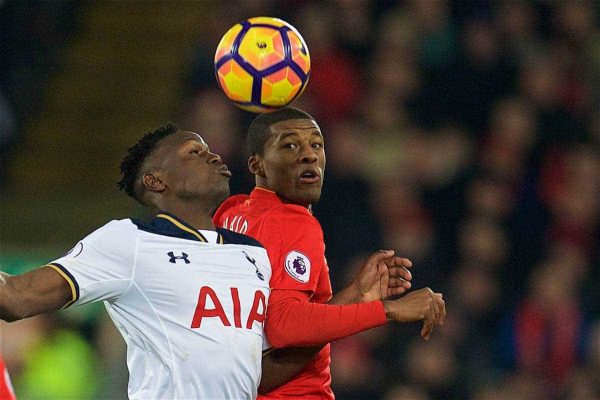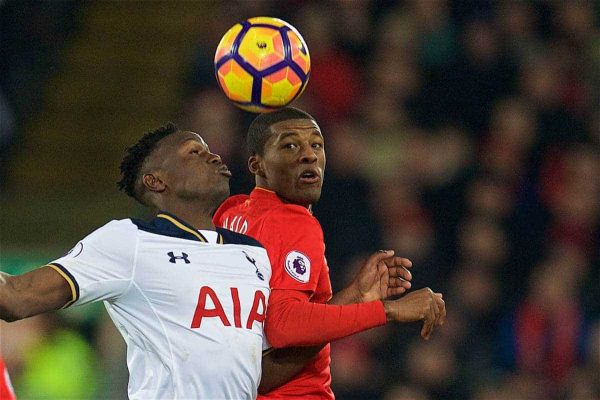 And moving into attack, Wijnaldum's speed and incision gave the Reds their catalyst.
The No. 5 played with his head up, constantly looking for a quick, forward pass, such as with his assist for Mane's opener.
With Lallana winning the ball off a sleeping Wanyama near the centre circle, Wijnaldum combined with Roberto Firmino before playing a perfect 30-yard through ball for Mane to race onto and finish.
It was a moment of decisive brilliance from the Dutchman, aided by the quick thinking of his midfield colleague, and it was this type of play that underpinned Liverpool's afternoon.
Wijnaldum averaged the highest passing accuracy (88.9%) of any player on the night, as well as making the second-most tackles (four), keeping things tidy and prompting Liverpool's overwhelming attack.
This was a performance that Klopp will have come to expect from Wijnaldum, but against Spurs he stepped his influence up a gear, and alongside Henderson and Lallana, he looks the ideal fit.
Klopp's First-Choice Trio?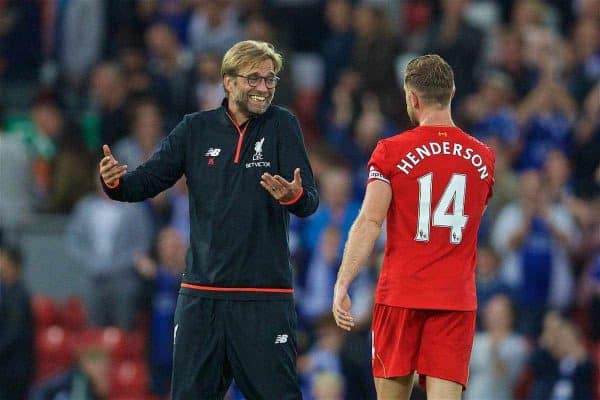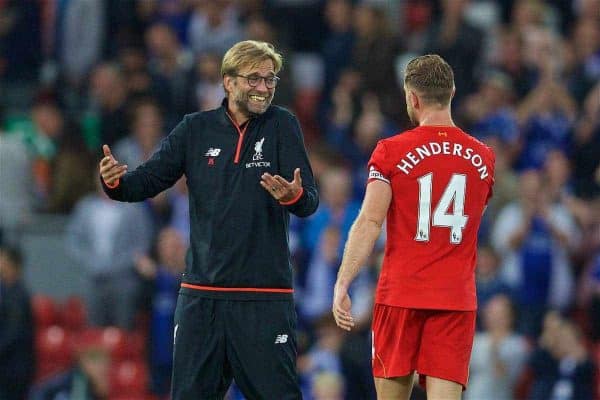 Liverpool have a 15-day break before their next outing, with 13 more games to play before the end of the campaign.
This takes in a variety of challenges, and will no doubt call upon Klopp's tactical acumen to ensure the Reds finish the season in the best form possible, targeting the top four.
As Saturday's comprehensive win at home to Spurs proved, Henderson, Wijnaldum and Lallana should be the German's first-choice midfield trio for the rest of the season.
There have been suggestions that, against sides opting for a more defensive system, they don't provide Klopp with the fluency needed to break down robust units.
But they started together in the 4-1 victory over Leicester and the 5-1 win over Hull in September, and triumphs over Middlesbrough, Everton and Stoke in December.
In each, they showed the quality required to break down well-organised defences, largely through sheer attacking might (Leicester, Hull, Middlesbrough and Stoke).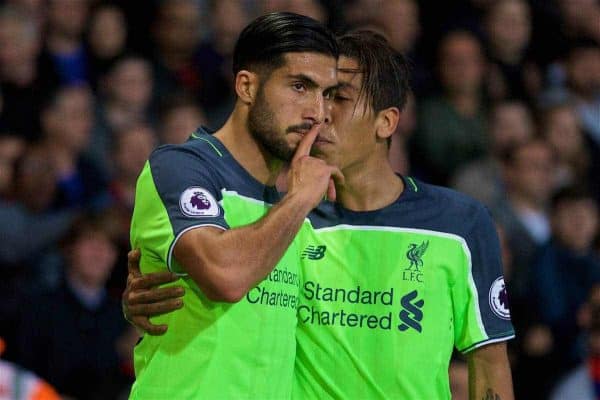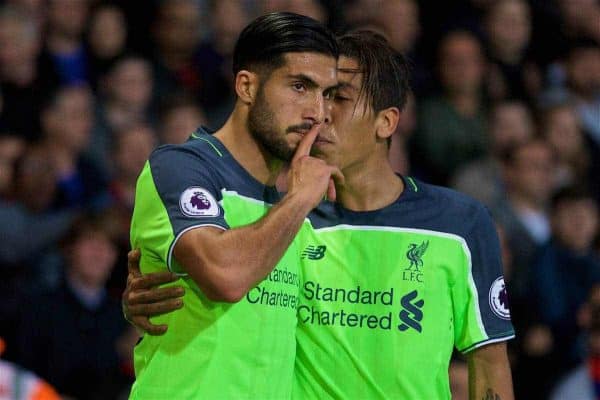 The introduction of Emre Can, in place of Lallana, in the late victory over Everton does highlight the virtues of Klopp's compatriot, and there are occasions where the 23-year-old is required.
Can is a more physical presence in midfield, and recent criticism seemingly overlooks how impressive he was against the likes of Crystal Palace, Watford and Sunderland this season.
But there is no substitute for the balance that Henderson, Wijnaldum and Lallana have found as a trio.
And Klopp would be wise to retain his midfield unit whenever possible between now and May.