We speak to former Liverpool Under-23s coach Michael Beale, now assistant manager at Brazilian side Sao Paulo FC, to find out how he's settling into his new role.
After four successful years at Liverpool, Beale made the bold decision to take up a role at Sao Paulo as assistant to new manager and legendary Brazilian hero, Rogerio Ceni – the man who lifted the Club World Cup against Liverpool in 2005.
Leaving Liverpool was not an easy decision, but as Beale explained to This Is Anfield, it was an opportunity he had to take.
In this, the first of a two-part interview, we speak about the changes in culture from England to Brazil, settling in and learning a new language, career ambitions, and moving in down the road from Denilson!
How are you settling in and enjoying the job?
It's been a month and out of that month we've spent three weeks in Florida for preseason. Either side of that three weeks I have spent about a week in Sao Paulo, I feel comfortable within the city and the people are really calm and happy people.
https://www.youtube.com/watch?v=XBlqKxct3Ds
Travelling around, I have never used Uber so much. I never used it at home, I was always driving but here Uber is so cheap compared to taxis back home.
I am really settled and have been very happy on the training pitch. Of course, you need to see how you adjust to working with Brazilian players along with the second language, [but] I love football so working with Brazilian players has been a pleasure.
I feel like I have really settled and the season starts this Sunday, and it can't come quick enough.
I have been blown away by the amount of support the fans have given. I've been recognised a few times in the city and stopped to have photos with people. They have been very polite and not intrusive.
To be honest I am sure that would be completely the same in Liverpool. I read this week Joe Gomez's words about moving and why he loves living in Liverpool. I echo the same thoughts as him, as a Londoner too.
I've been very happy with the way people have accepted me here. To keep it that way I am sure we need to make sure we win some games!
You must be looking forward to that first game then?
It's a strange situation. We are playing away to a team called Audax, who lost in the final of this state championship last year to Santos, they are a very good team and have a very unique style with a very eccentric coach. But the president of the club is the former player, Vampeta, who played for Brazil and they moved the game to a bigger stadium because its Rogerio's first game and they put the price of the tickets really high.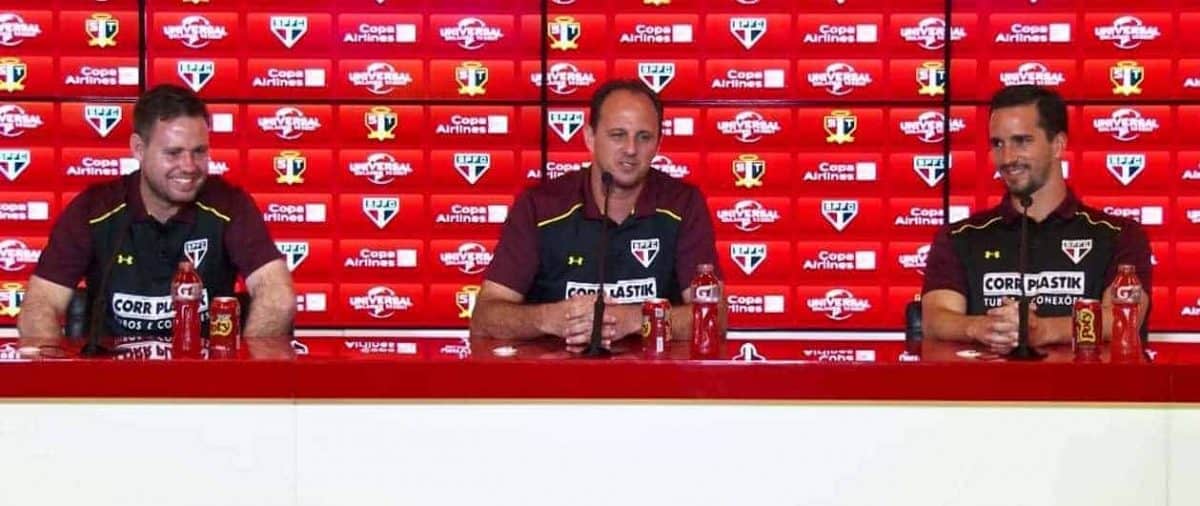 As of two/three days ago, the Sao Paulo fans are boycotting the game, I think rightly so because the other club are trying to make a cash cow off the back of Rogerio's and Sao Paulo so they have boycotted the game and the crowd seems to be very small.
In reaction to this for our first home game next weekend, Sao Paulo have reduced the ticket price to a fifth of the price that Audax are asking for this game. So its a bit tit for tat but its refreshing in some ways that the club and the supporters here in Brazil are demanding and making sure the price of the tickets are right, obviously back home it is quite a topical subject also.
You mentioned the people being friendly, do you see any other similarities between Liverpool and Sao Paulo as cities?
I think obviously both sets of fans are passionate, both sets of fans have been fans of clubs that have been extremely successful in the past and had some extremely good players. You only have to look at the players that have played for Sao Paulo over the years to realise they are a wonderful football club.
In terms of the two cities, they couldn't be more different, this is such a huge, vast city with a lot of high rise flats and apartment buildings, which I have sort of forgot what that was like moving away from London to Liverpool and living out in areas such as Aughton and Formby, that was completely different.
But I am actually going to settle outside the city in a housing complex with my wife and children. It's very nice and the house I'm currently in negotiations over is close to Denilson's – the ex Brazil player, famous for his step overs and now a commentator here. The house is in the same little part he lives in so that will be interesting. It will be quite strange if I invited him over for a game of one v one – I'm not sure I would win that one!
How's the language coming along? Did you start lessons when you were still in the UK?
I started lessons in Liverpool and I must say my tutor Ian Constable was outstanding. It's a small world really, I was looking for a tutor and I had from December 11th till December 24th to take lessons and the only full-time tutor I could find in Portuguese in the North West was Ian – his family are from Sao Paulo and he is Brazilian himself.

I spent probably 18 to 20 hours with him before. Since then I've not had chance to take lessons or study on my own but every day the people around me are speaking Portuguese. I would also like to say thank you to the Uber drivers of Sao Paulo because they are the ones who I speak my terrible Portuguese with each day, in hope of improving.
I haven't had many problems on the training pitch, as you can imagine when you're shouting out broken words of "press", "stop", "turn", "one two", "two v one", these words are very easy. It's much more difficult when you are in the city trying to have a conversation with people.
The cultural differences on the training pitch, are there any other differences you have noticed in terms of maybe the media, the way the players apply themselves, anything else culturally different?
The media has greater access to the players and to the training sessions than they do in England. So at least two or three days a week the media can come in and watch our training. As the players come off the pitch the media can speak to them.
Also what I found interesting is the media and TV over here get to talk to the players as they walk off the pitch at half time, which is very unique.
The media has a greater insight/access. There is a good and bad side to that, I think if it's managed well it's excellent. But if not managed well or teams are going through difficulty then it can cause some problems.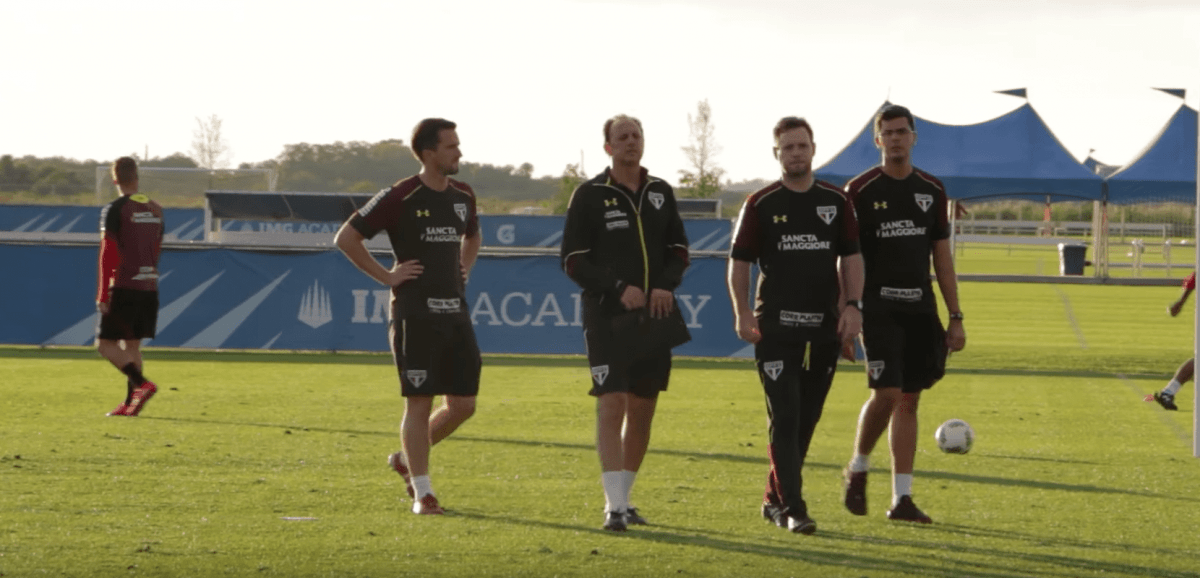 The players have been fantastic and are working at the same level as players in England, in terms of hard work and intensity every day, which I was very surprised with because I was wondering whether the heat might make things a little calmer and with less intensity, but how players have trained here has been outstanding every day. It's the thing that has made me the happiest about being out here.
In terms of the players they are all technically very good as you can imagine. It's a very young squad, 14 players out of the 27 we have are out of the academy, which is fantastic because the academy in Sao Paulo is known for producing players. As of this week we sold a player for £15 million to Ajax, a young winger, David Neres, who is an exciting player for the future. It's a club that keeps producing fantastic young players.
In terms of meal times, all the English players always have their phones out, after they have scoffed their food down, they want to be up and away. Everyone here is a bit more happy being together and its a bit more social, phones are not so obvious at meal times. They aren't on the table and people are sort of happy relaxing and taking the day a lot more calmer. Time isn't a rush in Brazil, people are calmer about their day.
Do you think Sao Paulo's focus on youth players was a key reason they looked to appoint you?
I think that the big reason I am here is that me and Rogerio see football in the same way; we want to play football that its exciting and attacking and we love to see young players coming through.
Obviously he was a young player that came though this club many years ago and went on to be one of the biggest idols of the club.

We look at the academy in Cortia and it's a fantastic facility and you see how good these young players are and of course we want to build a stronger bridge. We don't want these young players leaving Sao Paulo until they have achieved at the club, we think this is very important that these players are given an opportunity to play in the big team and fulfil their dreams just like Rogerio did.
There is a very famous saying by Sir Matt Busby, "if you want football to find the fruits then grow your own" because youth development is gold and I really believe in that.
The club have heavily invested in a brilliant academy facility which is about 20km outside the city. It's important that you see at least 50 percent of the squad, slightly more at the minute, from that academy facility and footballers that are good enough to play for one of the powerhouse facilities of Europe after they have played for Sao Paulo, thats fantastic. But I think that the players should do well for Sao Paulo first because they get given the opportunity to make that move.
How are you finding the step up from being a development coach to looking at the results, and it being more results orientated?
Yeah, I think the pressure is always there. It's not always visible and you always talk about the long term when dealing with young players. Whenever I have spoken to you in the past I have always spoken about the long term, with the first team you know you have to win in the short term or there isn't a long term, but I think my job day in and day out hasn't changed.
I am still the same way that I was with the players back in Liverpool. We train similarly and our training sessions are very similar because me and Rogerio have the same idea in terms of how to develop players and develop a playing style. I don't feel a real big difference at the minute.
I am sure if you ask me in a month's time I will feel one or two things but think its down to processes. If you train well and you are clear in your messages and develop the individual to be the best he can be and make him happy in training and life, that in turn will start to reap benefits on the pitch.
One of the things I wanted to do was test the work I did with young players but in a senior environment. Just because I honestly believe that the difference between a 19-year-old in the U23s and a 24-year-old in the first-team is very little. They are both people and both want to be developed and pushed on in their careers.
It's like a CPD for anyone – in the workplace in a bank or any business – it's the same for a footballer, I think everyone wants to feel important and to feel like they are being developed. I have tried to be exactly the same as I was in Liverpool and at the moment it seems to be a good decision and working quite well.
On a personal level, would you like to end up working back in England as a manager? As a first team coach. Any ideas on a longer term view?
It's very interesting because seven weeks ago I saw myself staying at Liverpool for another five or six years.

Things come along out of the blue don't they. I just felt I needed another experience, obviously the experience of working in London at a big club like Chelsea and then coming to an unbelievable club like Liverpool, it took my breath away.
When I think over the last four and a half years, I am still love sick with Liverpool that it didn't go any further but this opportunity came along and its an unbelievable one to be the first English coach to work here. I just felt I needed an experience outside of England to grow.
I have worked with a lot of European players, among of the best players in England over a number of years. I had seen players make the first team and I had worked with first team players but I needed an experience outside to challenge myself because I suppose the age I am as a coach 36, I am almost like a youth coach.
Like a youth player being 17 and senior being 27/28, coaches don't really start until they are mid-fifties, late forties-mid fifties for being at their highest level.
Like the players that I worked with, I felt I needed something that was going to develop me and I certainly feel I am doing that working with a first team in a new country, new language. Where that takes me in the future I don't know. Whether I decide to stay in youth development or go to the first team, I don't know. I just felt it wasn't the time to drop down to League 1, League 2.
It was either I was going to stay at Liverpool and continue to work with Alex [Ingelthorpe] and Pepijn [Lijnders] and the the guys to really push us forward, or an opportunity like this came along and I just felt it was important for me to learn a second language and a new culture.
I have two small children that are two and four and this was probably the only time I could take such a big change. My children will get to learn a second language and they are not so attached to school and friends because they are so young. It was a decision I had to make in the space of three or four days and obviously such a huge one.
* Read part two of this interview, focussing on life at Liverpool, here.