Jurgen Klopp showed a tactical naivety as his Liverpool side fell to a miserable 3-1 defeat at Leicester City on Monday night.
Heading to the King Power Stadium for their latest outing in a top-four challenging campaign, the Reds needed to ensure victory over the relegation candidates to continue their push at the top.
What unfolded in the East Midlands, however, threatens to undermine Liverpool's season overall, with two goals from Jamie Vardy and another from Danny Drinkwater sealing the home side's victory.
It was a familiar night for supporters, and none less so than Jamie Carragher, watching on from the Sky Sports studios as part of their coverage for Monday Night Football.
Speaking after the game, Carragher struck upon a salient criticism of the Reds' performance, saying "Liverpool always play the same way."
Another systematic failure against a lesser side, this defeat once again pointed towards Klopp's tactical negligence, with the German setting Liverpool up for a fall against the Foxes.
Overlooking the Foxes' Threat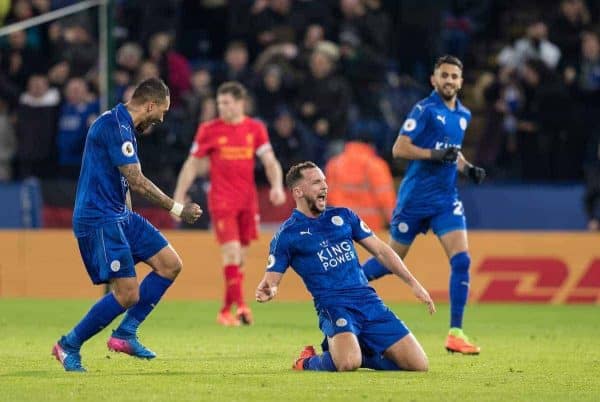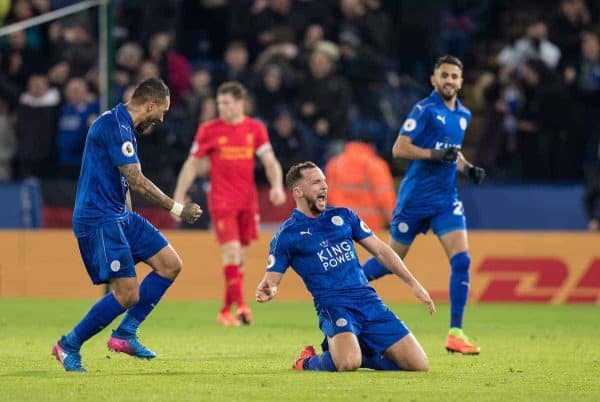 Liverpool arrived at the King Power amid a confused atmosphere, with a pathetic Paddy Power-funded hearse patrolling the ground in the buildup, mourning the "death of football" following Claudio Ranieri's dismissal.
Whether Leicester's decision to part ways with one of their most successful managers in history was warranted or not should not have been a concern for the Reds—only the Foxes' reaction.
As is often the case, there was the very real threat of Leicester bouncing back following Ranieri's exit, and with assistant manager Craig Shakespeare in the dugout, he set about to prompt just that.
The caretaker boss restored the 4-4-2 system that fuelled their title triumph in 2015/16, with the return of Shinji Okazaki to a starting role alongside Vardy a pivotal decision.
Rumoured to have been instrumental in Ranieri's demise, there was always the likelihood that Vardy would be revitalised on Monday night, and the England international was certainly the key threat.
Just as during Liverpool's 2-0 loss at the same stadium just over a year previous, Vardy was given the freedom to run at the Reds' defence, with Lucas Leiva the target at the back.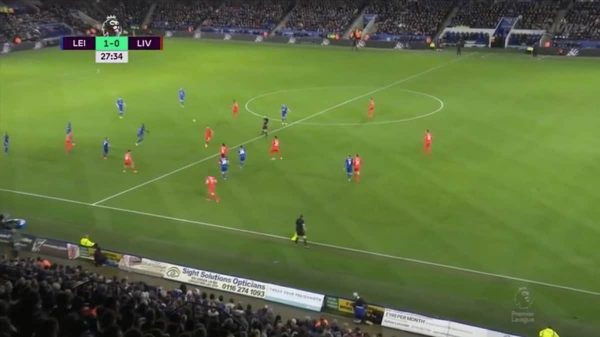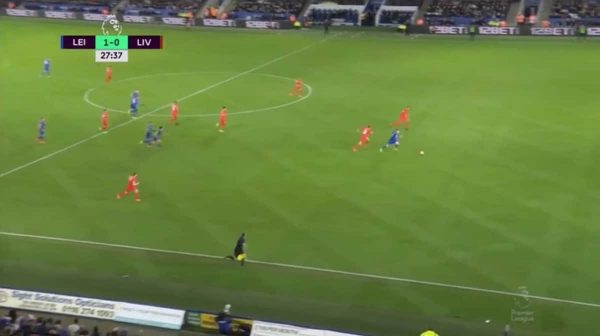 "Lucas Leiva isn't a centre back. He shouldn't be playing there and I felt happy for him when he came off," Carragher assessed. "It's like me playing at right wing. Jamie Vardy exposed him."
With Liverpool employing a high defensive line, Lucas was regularly caught out, with the Brazilian's lack of pace giving him little chance to thwart the inspired Vardy.
This was a much different battle to that which he so excelled at in the Reds' previous outing, the 2-0 win over Tottenham, with Lucas' sly physicality clearly more effective against Harry Kane.
And the 30-year-old was not aided by a lack of sufficient cover from the midfield, or his fellow defenders, with both James Milner and Emre Can struggling to balance their duties.
Ultimately, Liverpool were second to every ball throughout the first half, and going into the interval at 2-0 down, they needed some inspiration from their manager to hope for a fightback.
Second-Half Desperation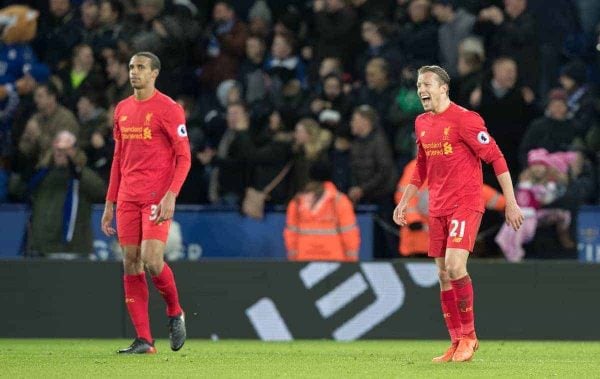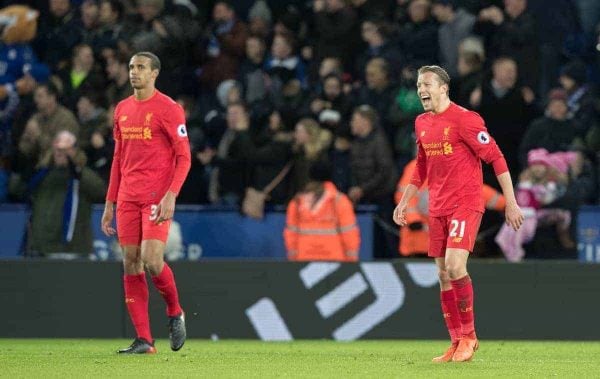 With the Reds trailing, Klopp opted for a popular tactical switch in moving to a three-man defence, rejigging his setup into a loose 3-4-2-1, now pitting three centre-backs up against Vardy.
Lucas moved to the central role in the back three, flanked by Can on the left and Joel Matip on the right, with the sight of Liverpool's No. 23 back at centre-back an echo of Brendan Rodgers' reign.
Can's shifting role, moving from No. 6 to centre-back, seemed to acknowledge the German's inefficiency in his initial duties in the middle of park in the first half.
Unfortunately, it was Leicester who struck first after the interval, with Vardy adding his second following a brilliant cross from Christian Fuchs from the left—as Leicester exploited another deficiency in the Reds' defence.
The progressive roles that Can and Matip took up did allow Liverpool more impetus moving into the final third, however, and it was the former who set up the Reds' consolation effort.
Driving forward from the left, Can shifted the ball around before laying it into the path of Philippe Coutinho, whose first touch gave him the perfect platform to drill low beyond Kasper Schmeichel.
But soon after, Liverpool's system changed again, with Klopp returning to the 4-3-3 setup that Leicester so easily quelled in the first half—but now up against a more rigid defence.
With Alberto Moreno sent on at left-back, Milner was moved into the box-to-box role in midfield, and Klopp's lineup at full-time at the King Power resembled a confused mess: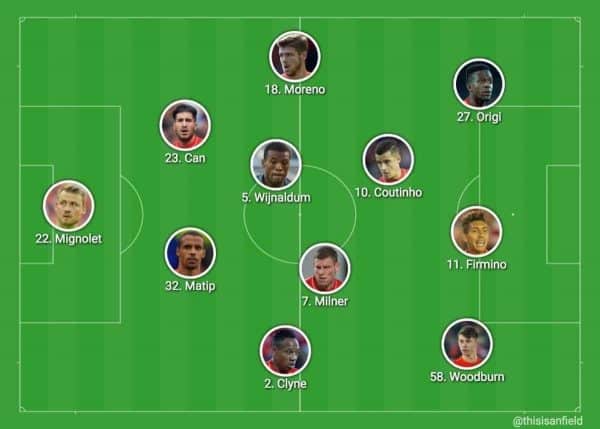 This left few players in their correct roles, or even vague positions, with the desperation to find a breakthrough clear—Klopp having lost a grasp on the contest.
Speaking after the game, the 49-year-old the decision to alter his tactics, saying: "We changed the system…and that made it a little bit better, but it was clear Leicester defended now."
Klopp went on to lament Liverpool's final ball in the second half—but was the failure to break down a side who had lost 14 of their previous 25 games in the league really the players' fault, or his?
Attributing Blame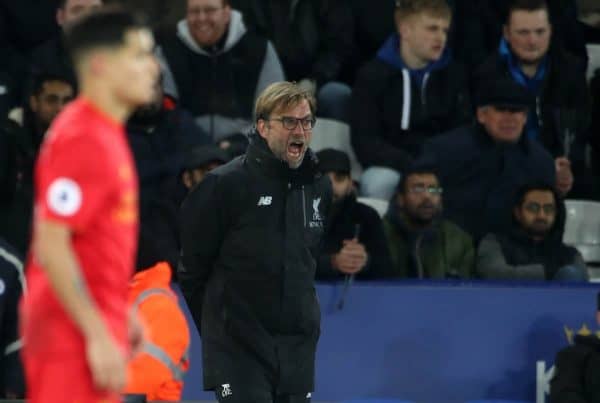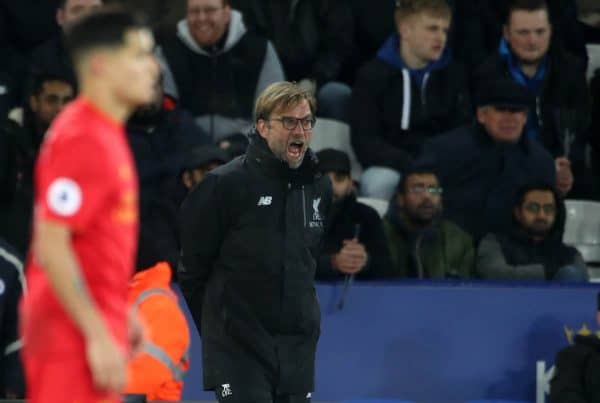 Continuing his post-match analysis, Klopp bemoaned a lack of organisation at the back, after a 16-day break that saw the Reds embark on a mid-season training camp in La Manga.
"Fifteen or 16 days to prepare is not perfect, because of the rhythm," he said, "but for defending you don't need rhythm, you need organisation."
This should have been put into place during Liverpool's spell without a game, with the decision to field a high defensive line, including one of the club's slowest players against one of the Premier League's fastest, bemusing.
The blame for this should fall at the feet of the manager and his backroom staff: had no one watched Leicester last season? Or at their best this season, such as against Man City in December?
Why play such a high defensive line? And why play Lucas when it was blatantly obvious Vardy and Leicester would target him?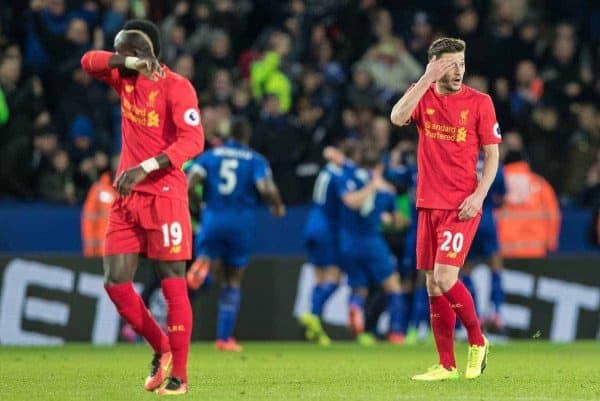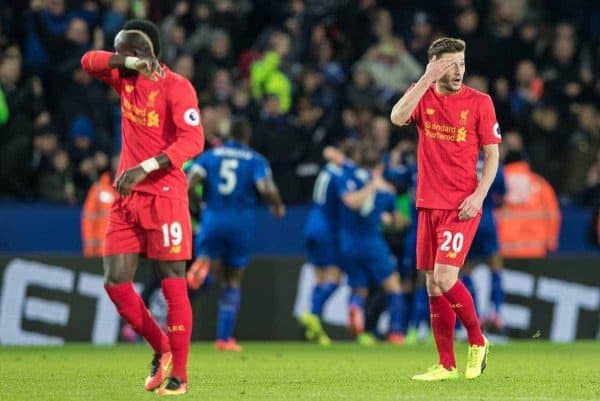 Why, exactly, was Ragnar Klavan signed?
"He will bring us really good qualities with his defensive intelligence and ability on the ball and he is a left-footed player so will give us extra balance," said Klopp upon his signing. Now we have a converted midfielder getting in in place of him.
Klopp was slightly restricted by the absence of Dejan Lovren and Jordan Henderson through injury, and both would surely have started at the King Power, but the manager made big mistakes nonetheless.
That these are the same mistakes repeated, as Carragher surmised during his analysis, is galling.
After a performance such as this defeat to Leicester, calls for a squad overhaul may be warranted—as there is certainly considerable deadwood remaining in Klopp's ranks.
But ultimately, Klopp's failure to adequately prepare for the trip to Leicester, despite having 16 days to do so, is a ludicrous oversight, and the blame should be attributed as such.