Liverpool produced one of the worst performances of the season and they were punished for it as Leicester ran out as comfortable winners at the King Power Stadium.
Leicester City 3-1 Liverpool
Premier League, King Power Stadium
February 27, 2017
Goals: Vardy 27′ & 60′, Drinkwater 38′, Coutinho 68′
---
Following the shock sacking of Claudio Raneiri, Liverpool went into the game as favourites to come away with all three points against a team without a goal, let alone a win, in 2017 so far.
Jordan Henderson was absent though as the captain picked up a foot injury in training which meant Emre Can came into the starting XI.
Lucas retained his place at centre-back as Dejan Lovren remains injured but Daniel Sturridge was not in the squad through illness, meaning Divock Origi and Ben Woodburn were Liverpool's only attacking options.
It wasn't the start Liverpool had hoped for though and Leicester ran wild in the opening half an hour, taking advantage of some poor defending from Jurgen Klopp's side.
Jamie Vardy opened the scoring before Danny Drinkwater fired in a sensational strike from outside the Liverpool box to put Leicester in the lead going into the half-time break.
There was relatively little change in Liverpool's performance in the second half and it was Vardy who grabbed the third goal with half an hour still left to play.
Philippe Coutinho grabbed a consolation goal for the Reds shortly after Origi was introduced to the frame but Woodburn's introduction late on was not enough to inspire a comeback.
Here's how fans reacted to the disappointing 3-1 defeat on social media throughout the game.
Some fans weren't happy to see Emre Can in the starting XI but others were predicting a big performance from the midfielder…
Hoping for a massive performance from Emre Can today to silence his critics.

— CB (@MainManFirmino) February 27, 2017
"Hopefully Can will return to his form this time last year and prove everyone wrong. Hopefully." – Bradley Wells on Facebook.
https://twitter.com/StudgeIsMyMate/status/836223398229524484
There was frustration as it was clear Liverpool's lengthy break had not helped their defending on set-pieces…
"Well there's one thing we surely didn't learn at la manga and that's defending set pieces… how can Huth have that much space…"
– Mohammed Bouali on the forums.
Liverpool & trying to defend set-pieces ?

— Spion Kop (@TheKopHQ) February 27, 2017
And at half-time fans were extremely disappointed by a poor opening 45 minutes…
"This is bordering on slapstick now…"
– Eskimo on the forums.
I love Klopp, but can't get my head around our tactics tonight and Lucas still playing for LFC

— Andy Wales ?? (@AndyArmchair) February 27, 2017
Are we missing Henderson? Don't know, but I tell you what we are missing – a left back at left back and a centre half at centre half. #LFC

— Dan Roach (@DanielRoachLFC) February 27, 2017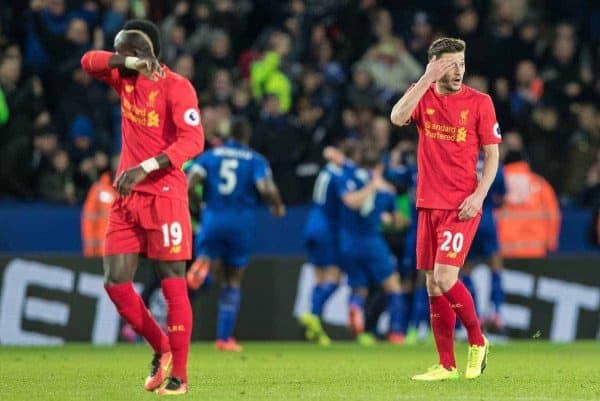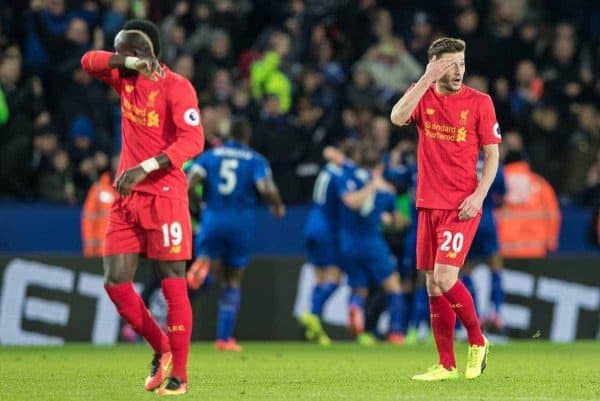 In the end, Liverpool failed to mount a comeback and fans were furious at full-time following another disappointing display…
"There goes the top 4." – Shaun on the forums.
Klopp has been too kind and trusting with LFC's squad.

Tonight proves he can't piss about trying to improve average players anymore.

BUY.

— Empire of the Kop (@empireofthekop) February 27, 2017
Unacceptable on so many levels. Jekyll and Hyde performances have ruined yet another season. Mentality of players clearly lacking.

— kop in full voice (@LFC_Bantz) February 27, 2017
"Squad depth is so poor. Please play Stewart over Can, he is horrendous. Lucas is being scapegoated by playing him at centre back, I feel sorry for him. Can't wait for us to now go beat Arsenal at the weekend." – John Knowles on Facebook.
Hate to say this, but this feels very Hodgson/late Rodgers.

— Tom McMahon (@tomjpmac) February 27, 2017
Did we just ride around on bikes in La Manga or did we practice anything? You know… Like corners ??? #LFC

— Chris Williams (@Chris78Williams) February 27, 2017
"Only one team looked like relegation fodder an it wernt Leicester" – Paul Mccabe on Facebook.
2 wins in 13 is absolutely dreadful: and it should bring a stark realisation that a lot of this squad is beyond fixing and needs replaced

— Alex Barilaro (@Alex_Barra12) February 27, 2017
Literally no excuses tonight. Had 2 weeks off to work on things but have been horrific. For the 1st time all season, I'm fearful about top 4

— Henry Jackson (@HenryJackson87) February 27, 2017
"Absolutely shocking. No attitude, no spine, no top 4 this year. The season is dead." – Stefan Pandele on the forums.
I didn't know you could get this jetlagged coming back from La Manga

— Barry Guest (@barry_guest) February 27, 2017
https://twitter.com/Liddellpool/status/836333514152939522
Never mind, we'll beat Arsenal and half the team will be doing interviews about how we've turned the corner. Absolutely sick of this shit.

— The Liverpool Way ??? (@theliverpoolway) February 27, 2017
Still want that great servant Lucas on your team??? Accept mediocrity and that's what you'll get.

— J Connors (@Joe_Connors81) February 27, 2017
Everyone in football knew Leicester would have a right go tonight. Everyone except Liverpool it seems.

— Tony Barrett (@TonyBarrett) February 27, 2017
Let us know your thoughts on the game in the comments section.