A woeful Liverpool performance resulted in a defeat to a managerless Leicester side as Klopp's struggles against bottom teams continue.
Leicester City 3-1 Liverpool
Premier League, King Power Stadium
February 27, 2017
Goals: Vardy 28, 60′, Drinkwater 39′; Coutinho 68′
Simon Mignolet – 6
Made a good save from Shinji Okazaki within the first 10 minutes, and was called into action again in the first half, saving easily as Jamie Vardy fluffed a good chance.
The next two occasions he was called into action were to pick the ball out of the back of the net. First Vardy finished past him one-on-one as he was hung out to dry by his defence before he watched a Danny Drinkwater shot fly by him.
Giving him the benefit of the doubt on the second goal, he seemed to be unsighted as his team-mates stood in his eye-line, but not in the way of the shot.
Kept his concentration as Christian Fuchs tried to beat him with a long-range free kick in injury time, and watched the ball sail just over the bar.
Nathaniel Clyne – 5
Looked better in attack and picked his passes more carefully than the aimless crossing seen from both full-backs in recent months.
In defence he often had to cover across behind or even in front of the centre backs and had to head a dangerous ball out for a corner in the first half.
Joel Matip – 5
Good forward run early on as he instigated Liverpool's first good move of the game, almost getting on the end of it as he continued his run into the box.
Was regularly called upon to take the ball into the centre of the park as the opposition gave him space, and as a result he was probably his side's best midfielder on the night!
Lucas Leiva – 3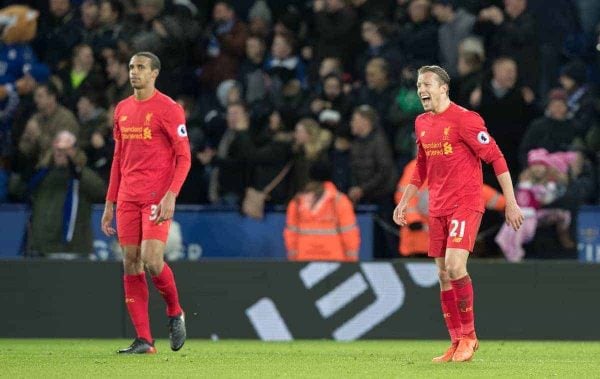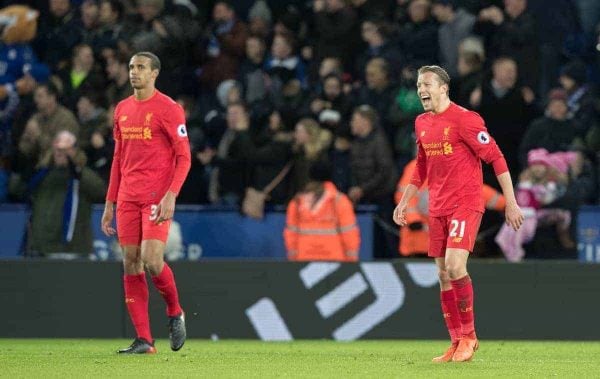 Was always going to struggle if left exposed against Vardy, and this is exactly what happened. A sloppy passage in midfield resulted in a lost ball, leaving Lucas high up the pitch and fighting a losing battle as the Leicester striker breezed past him.
Seems harsh to give him such a low mark as pitting him against Vardy was always going to be a mismatch, and is part of the reason his manager also gets a low mark (see below).
Headed wide later in the game, and was substituted shortly after.
James Milner – 4
Unlike Clyne, Milner was still resorting to aimless crossing — epitomised by one first-half effort which sailed over everyone's heads.
Moved to midfield in the second half after the introduction of Moreno at left-back, and the attacking impetus offered by his replacement might have him worried for his starting place.
Emre Can – 6
Came closest to scoring for Liverpool in the first half, as his effort from outside the area forced a good save from Kasper Schmeichel.
Moved deeper in the second half to take up a position on the left of a back three, and was partly at fault for the third goal as he couldn't get in front of Vardy to win the header.
Was one of Liverpool's better players on the night, though, and a surge forward from the back and a neat lay-off to Coutinho resulted in the Reds' goal.
Had a claim for a penalty when he was clattered by Ndidi in the box, but tracked back to tackle aggressively but cleanly shortly after.
Adam Lallana – 4
Looked lost in between midfield and attack — a place where he's excelled on occasions under Klopp — and was devoid of ideas.
Was also partly culpable for Leicester's third goal as he didn't get anywhere near to closing down Fuchs whose cross was headed in by Vardy.
Had a shot of his own shortly after, but like most of Liverpool's efforts it was from outside the area and posed little threat.
Was taken off just after an hour, and will be disappointed with his first game since signing a new contract.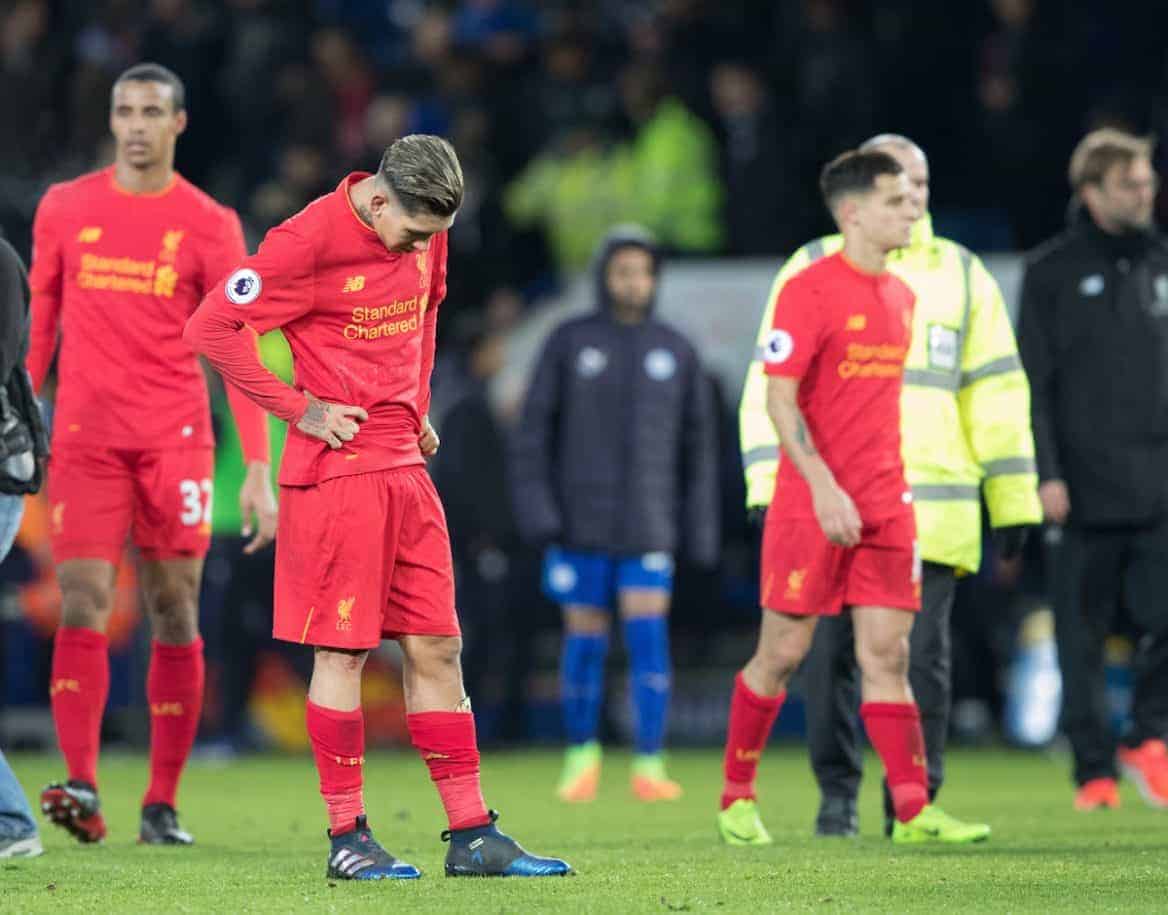 The Dutchman has been one of Liverpool's steadier performers, even during their difficult January run, but he struggled to get into the game tonight.
Lost the ball in midfield in the passage of play which led to the opening goal, and couldn't impact the game in attack or defence.
Sadio Mane – 6
Took a snide challenge from Vardy in the opening minutes. Made little of it and didn't let it affect his game.
Was a willing runner against the odds throughout, but couldn't quite make anything happen despite a few positive moments in the attacking third.
Roberto Firmino – 4
His touch was off, and he should probably have been taken off.
Finished the game having had no shots on goal.
Philippe Coutinho – 6 – Man of the Match

Neat and tidy with his build-up play, but often ran into trouble when dribbling in the final third.
Tested Schmeichel with a shot from distance at the start of the second half, but it was easy for the keeper in the end.
Scored with a good finish from the edge of the area after being teed up by Can. All he had to do was knock it past the Leicester keeper, and he did so expertly.
Substitutes
Alberto Moreno (on for Mane 66′) – 6
Looked more of a threat than Milner from left wing-back, and looked more comfortable tracking back when needed.
Showed his pace to prevent Demarai Gray from advancing on Mignolet, covering back well between the centre backs.
Divock Origi (on for Lallana 66′) – 5
Should have added extra firepower to the attack, leading the line in front of Firmino, but could only muster one decent effort cutting in from the left which Schmeichel pushed wide even though it was going wide.
Ben Woodburn (on for Lucas 84′) – N/A
Manager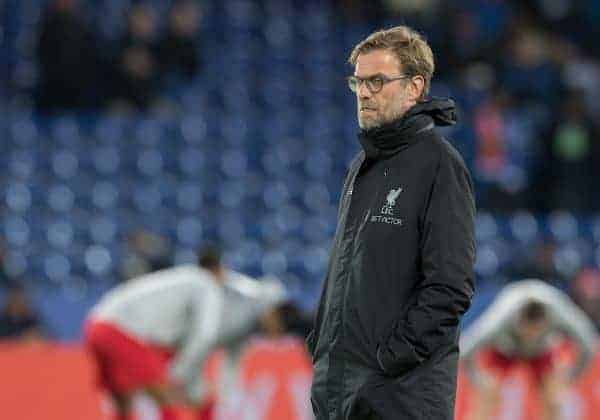 Jurgen Klopp – 3
Set up his team to suit Leicester's strengths, and the opposition played to them in the first half to open the scoring through Vardy.
Asking Lucas to do a job against the striker's pace was tough on the Brazilian, and he was outpaced a couple times.
Vardy even commented after the game that they played to certain weaknesses in the opposition, and Klopp's selection sprung no surprises in this regard.
The manager switched to a back three to try to recover in the second period, but instead of coming back into the game they went on to concede a third.
He reverted to a back four when he took Lucas off later on but the damage had already been done.