Liverpool's 1-1 draw with Chelsea may not have lived up to the expectations of past encounters but it signified progress under Jurgen Klopp.
Since Klopp joined in October 2015, Liverpool have reached three cup semi-finals, become the Premier League's highest-scoring team and produced some of the most scintillating football in England.
However, there is a growing sense that January has derailed Liverpool's entire season.
Liverpool were knocked out of the FA Cup in the fourth round by Wolves on Saturday, just days after surrendering a semi-final League Cup defeat against Southampton at Anfield.
The two cup exits contributed to a three-game succession of defeats at home—the first time Liverpool have held such a disappointing record since 2012.
After appearing to be in the title chase going into the new year and in prime position to pick up at least two pieces of silverware at the end of the season, there is a growing sense of wasted anticipation around Merseyside.
But it is not the feeling which should centre at the end of the season, as when looked at in perspective, Liverpool's season so far has been hugely successful.

The Reds may have wasted an opportunity to lift silverware and it was certainly a blow to go crashing out of the League Cup just seven months after losing the Europa League final.
But both of those achievements should be seen as an extension of the hard work Liverpool have put into improving their league position since Klopp's arrival.
Aside from an impressive 2013/14 season under Brendan Rodgers, Liverpool have barely challenged for a Champions League spot since 2009.
They are no longer seen as direct title challengers in the Premier League and it has been a while since Liverpool have been able to compete in the transfer market on the same financial scale as other top clubs in England.
Lack of European football has severely dented that, so when Liverpool set out to compete in the 2016/17 campaign, the ultimate goal was to ensure they finished in the top four.
Tuesday's clash against Chelsea was considered a turning point in the Premier League season—a win for Liverpool would put them back on track and a win for Chelsea would surely consolidate their position as league leaders.
In the end, a point for Liverpool was a promising step towards their ultimate goal—which is to achieve European qualification for the following season.
Early success this season created a sense of expectation which was unexpected.

Klopp has had just one summer to make his mark on a squad which hugely underperformed but an impressive start to the season raised expectations from some fans who started to see the possibility of silverware as a necessity.
There were a number of surplus players which he needed to be offloaded in the summer and there were several areas of the starting lineup which needed addressing.
Klopp brought in Joel Matip to shore up the defence, as well as bringing in Loris Karius, who he hopes will become a formidable long-term goalkeeper.
Georginio Wijnaldum adds experience in midfield and Sadio Mane has been a revelation in attack.
As well as some shrewd additions, he has moulded Roberto Firmino, Adam Lallana and James Milner into starring roles within the first team in new positions.
Those changes were just a few of the tweaks Klopp has made since moving to Liverpool but they made such an immediate impact that Liverpool found themselves challenging for silverware and for a title which was not expected to be within reach.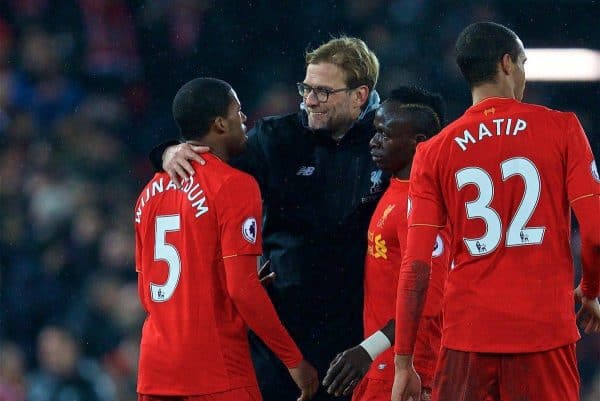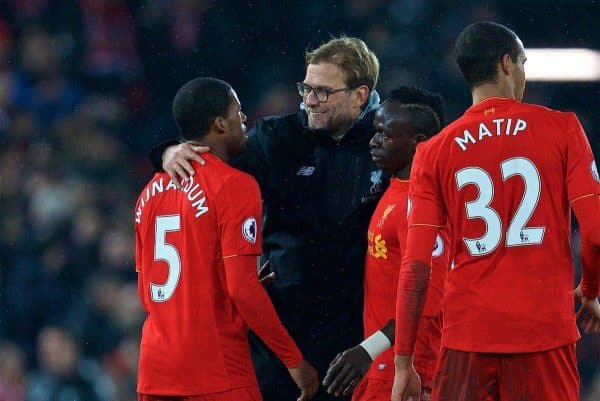 At present, Liverpool sit in fourth place, just one point off Tottenham and Arsenal.
They have not lost a game to any team in the top seven—picking up impressive victories against Everton, Man City, Arsenal and Chelsea as well as encouraging draws against Man United and Spurs on the road.
They are the highest-scoring team in the Premier League and if they had picked up victories against Bournemouth, Swansea, Sunderland and West Ham as expected, Liverpool would be one point ahead of Chelsea at the top of the table.
While those dropped points will be hugely disappointing, it is also encouraging to see Liverpool are in a good enough position to relinquish 11 points to bottom-of-the-table teams and still be in a European spot at the end of January.
Granted, inconsistencies and an inability to beat the lower-tier sides will serve a heavy price for Liverpool should they continue to do so, but there are signs of improvement under Klopp which should not be ignored.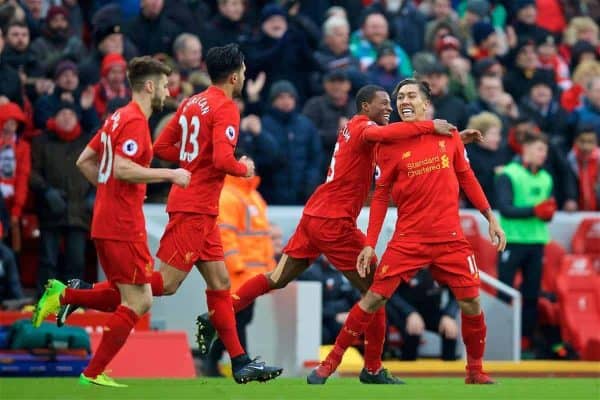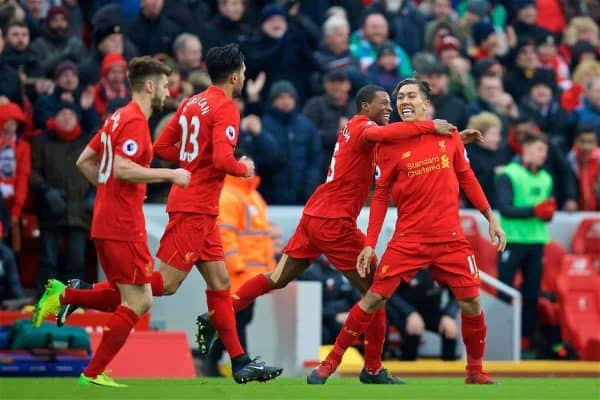 Instead of defining Liverpool's season by lost silverware or wasted opportunities, the Reds should be judged on whether they achieve their goals—which at the start of 2016-17 campaign, was to achieve European qualification and bring quality into the squad.
Klopp has improved the starting lineup and while there are certainly areas that still need urgent attention, it took him four summer transfer windows to build a side at Borussia Dortmund who were capable of competing among the best in Europe.
It took him 34 months to deliver the first piece of silverware and Dortmund were facing much less competition in the Bundesliga as Liverpool are in the Premier League.
He has been at Anfield for just a fraction of that time and he has only just started to put the jigsaw pieces together.
Liverpool are a team in transition and they have undertaken a long-term plan.
Their season has not been a failure thus far and if they continue to compete for a European spot, they can celebrate progression and a huge step towards success at the end of the campaign.