With Philippe Coutinho, Roberto Firmino, Adam Lallana and Sadio Mane all back, Liverpool are on course to seal a top-four finish in the Premier League.
In all the misery that followed Liverpool's disappointing performance at Hull City, one notable fact slipped under the radar: the quartet of Coutinho, Firmino, Lallana and Mane were all on the pitch for 83 minutes, which is the longest time they've played together in a league match this season.
Liverpool's current fab four had performed brilliantly over the opening three months of the season, prior to the international break in November, and so the hope was that when they were finally reunited after a three-month gap that the Reds would extricate themselves from their funk.
That clearly wasn't the case at the KCOM Stadium, but the team looked close to its vibrant best against Spurs, particularly in the first half.
Just how good have Liverpool been this season when these four key players have all been on the pitch though? The headline figures are that Klopp's team have averaged 2.25 points per game in matches when they've played together (won eight, drawn three, lost one) and just 1.69 (won six, drawn four and lost three) when one or more of the quartet has not played.
As that's the difference between an 85- and 64-point season, I thought some further investigation was required.
Shots
I'll start with a look at the shot difference figures. With the key foursome together on the pitch, Liverpool have had 146 shots and allowed 48, meaning that the Reds have had 13.6 shots more than their opponents on average every 90 minutes.
If we compare this figure to the rest of the Premier League for the last six seasons (so from August 2011 onwards), we can see just how impressive this is:


As you can see, this season's Liverpool would top this table anyway, but with their favoured attacking quartet on the pitch together they take their shot dominance to insane levels.
It's important to remember that all teams will have spells in the season where they overachieve their average, and this group have only played together for just over a quarter of the available minutes, but their impact on the team's potency cannot be underestimated.
Bear in mind that there are 120 team seasons in this study, and Liverpool have still been in the top 10 of them even when one of their fearsome foursome has been absent (and as an aside, it's never been more than one of them missing in any league game so far this season).
Shots on target
It's a similar story with shots-on-target difference too, though the stats for the team overall are a shade less impressive: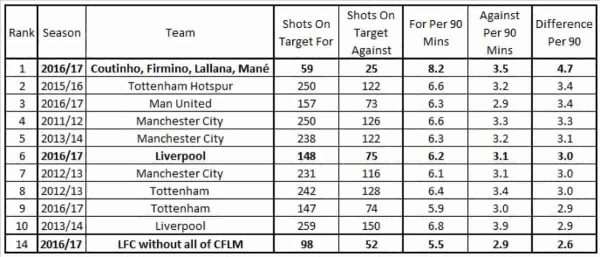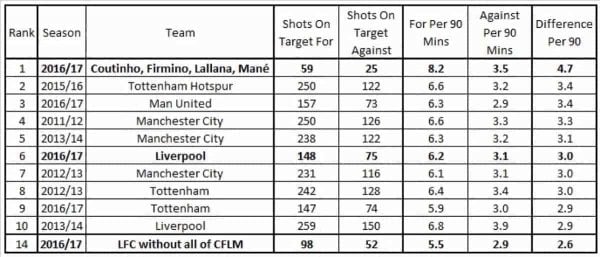 Klopp's attacking players of choice have provided a fantastic level of shots-on-target dominance when they have all played together, though it must again be noted that the team's overall performance for the season is still impressive too, and demonstrates what a good side the Reds are overall.
Liverpool have had 66 percent of the total shots on target in their matches this season, which is the average figure that Premier League champions have managed in recent years. The Reds won't be winning the title this season, but their underlying shot stats are still hugely encouraging.
Chance creation
We've seen that Liverpool have dominated the shot count, but what about the quality of their opportunities?
Opta classify the best chances as 'clear-cut' ("a situation where a player should reasonably be expected to score usually in a one-on-one scenario or from very close range"), and here is how the 'CFLM'-powered Reds have done on this front: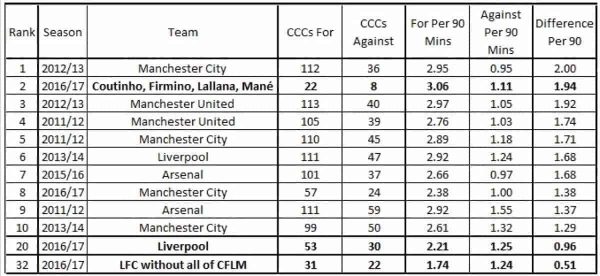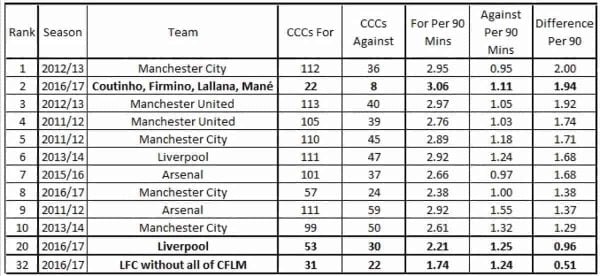 Don't get me wrong here, the figures for the time spent without all of Liverpool's key attackers on the field are hardly a disaster this season, and are still an improvement on the last two campaigns; the difference was 0.4 per game last season, and Rodgers' Reds had a dead-even split of 50 clear-cut chances for and 50 against in 2014/15.
But whereas Jurgen's boys have dominated the conventional shot counts throughout this season, it's apparent from these figures that for them to generate an elite level of top-quality chances requires the combined talents of Phil, Bobby, Adam and Sadio.
It's worth highlighting that Liverpool's tally of 53 clear-cut chances betters the whole of 2014/15, and is only six short of the total from last season, so Klopp has clearly pepped up the Reds' attack this season.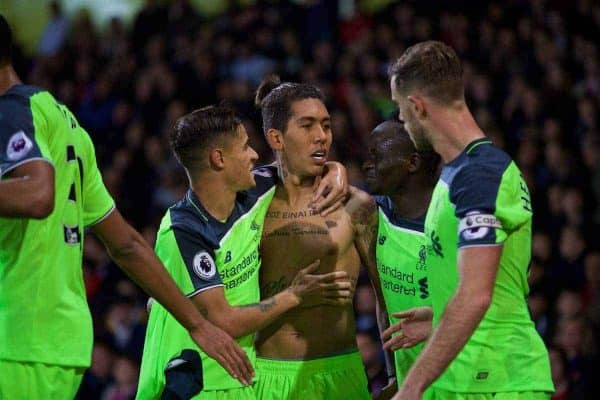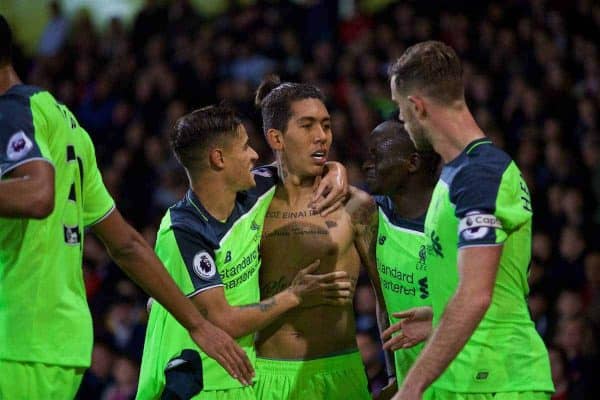 Liverpool's key quartet may have run riot against the likes of Hull and Watford at Anfield, but they have also faced up against Arsenal, United and Tottenham (twice) too, so to have put such figures on the board is testament to their effectiveness and importance to the team.
With Coutinho getting closer to full fitness, Mane back and reintegrated to the team following the AFCON, and Firmino and Lallana able to rest more now that Liverpool are down to one match per week, I believe the fab four can regain their early season form and power Klopp's team to a deserved top-four finish.