Liverpool's season has unravelled in worrying fashion since the turn of the year, but it's not too late to save 2016/17 as a meaningful campaign. Jurgen Klopp has work to do to turn the Reds around, and here we identify five key points he must address quickly.
There comes a time in every season when supporters get the chance to free the shackles of thinking about progression, continuity or the long-term nature of football as an ongoing sport, and indulge themselves instead in the fury and frustration of a handful of results pointing to the need to go back to the drawing board. Players, coaches, hell even the owners themselves: all are variously, and tenuously, to blame in one way or another.
For newly promoted sides, the sheen of ascencion and the bemoaning of lack of summer expenditure usually starts around three games into the campaign. For Arsenal, it's every February or March. Liverpool have far less consistency in this regard; sometimes it's as early as November or as late as April but for 2016/17 it has coincided with the changing of the calendar.
Results haven't just dipped, but fallen off a cliff. Playing style is not just lacking something, it's almost non-identifiable. And, depending on your point of view, either worst of all or easiest to allow finger-pointing, the club didn't spend in the January transfer market to help stop the rot.
But the campaign isn't over, and all is not lost as yet.
Jurgen Klopp has so often talked about the "base" that the team put in place in the early days of the Premier League, and from now until May the Reds need to exploit that strong start. The coach isn't immune to poor decisions and being stumped from time to time, but it is he who must make the necessary alterations to save Liverpool's season.
Form for a reason
The Reds have had a settled side for most of the season because they haven't had a huge volume of games until mid-December…but when that pattern was broken up by cups and replays, the boss didn't alter his team accordingly. It was still, largely, the same 12 or 13 players featuring, and while it's admirable to have such belief, when individuals lost form, there should have been opportunities for others.
Let places be won…and lost. Form cuts both ways and there has to be an incentive to stay in the team, or even for outsiders to win a spot. Simon Mignolet and Loris Karius have swapped turns when form has affected one or the other, but in midfield or attack it has been less prevalent that a shirt is there to be won.

Where is the incentive for Ragnar Klavan to put in an excellent performance if Joel Matip and Dejan Lovren, mistakes and misjudgements and all, will be back in regardless? Why would Daniel Sturridge put the extra effort in and alter his own game, if he'll be back on the bench no matter what he does or how many shooting chances he generates?
It's great to have a first XI, but it's far, far more important to have 15 or 16 players who can all be part of the XI without the overall level dropping. Right now, the Reds don't have that, and it isn't necessarily because the next four or five in line aren't good enough, but because they aren't getting enough minutes to find rhythm and even when they show form, are still left out again.
A manager will always have favourites, fair enough, but if Emre Can, Gini Wijnaldum, Divock Origi or Alberto Moreno play well and impact on the team, keep them there…until they in turn drop, and the opportunity opens up again for someone else.
Don't expect squad players to put out the fires the first XI create, if their only reward is a return to the bench.
Systemic approach
There's no particularly straight-forward or easy way to do it, but Liverpool's midfield and attack have to rediscover self-confidence. It's not just about controlling and passing the ball, but far more importantly, their movement and the areas in which they attempt to influence the game.
Early in the season the Reds scored from all angles, and the reason for that: constant runs in behind opposition defence, constant rotation of positions and a high tempo of passing. Whether the centre-forward, the wide forwards or surging runs from deeper midfielders, there was always a red shirt stretching play behind the opposition defence and numbers in the box.

Right now, none of that is happening.
It's a fear factor: once a player leaves his station in midfield to run in behind the defence, a gap opens up which could be exploited by a counter-attack. String three or four defeats together and the team can't afford another, which means the players play safer, which means those runs aren't made…and chances aren't created.
Goals aren't scored.
Against Chelsea, in a moment of desperation, need or fury, or a combination of all three, Klopp finally got his midfielders to make runs in behind the defence in the second half. The result: a clipped ball found one runner, the cut-back across the six-yard box found another. Goal.
Liverpool must find the confidence and determination to do that again, from all areas, even at the expense of isolating one or two players in defensive zones—because at present, there are defensive worries and an inability to create.
Dross or rivals?
Six tough games lie ahead for Liverpool: Spurs, Leicester, Arsenal, Burnley, Man City, Everton. 18 points at stake, and as ridiculous as it sounds, the only side from that group to beat the Reds in the first half of the campaign was the Clarets.
Against the biggest sides, Liverpool have no other way to go toe-to-toe with experience, quality and ability but to play at full intensity, with a hard press, lots of aggression and looking to keep teams on the back foot. If Liverpool don't beat any of the big three, they can expect to be a minimum of three or four points outside the top four at the end of the run, depending on how they fare against the Foxes, Burnley and in the derby.
The big positive: Klopp's record vs. top six since joining Liverpool. But what about his own levels of animation? Aside from against Chelsea, he has been much more low-key in recent months. Burn-out for the manager? Helplessness? Simply a feeling of control? Either way, perhaps he needs to kick-start the intensity in the team himself.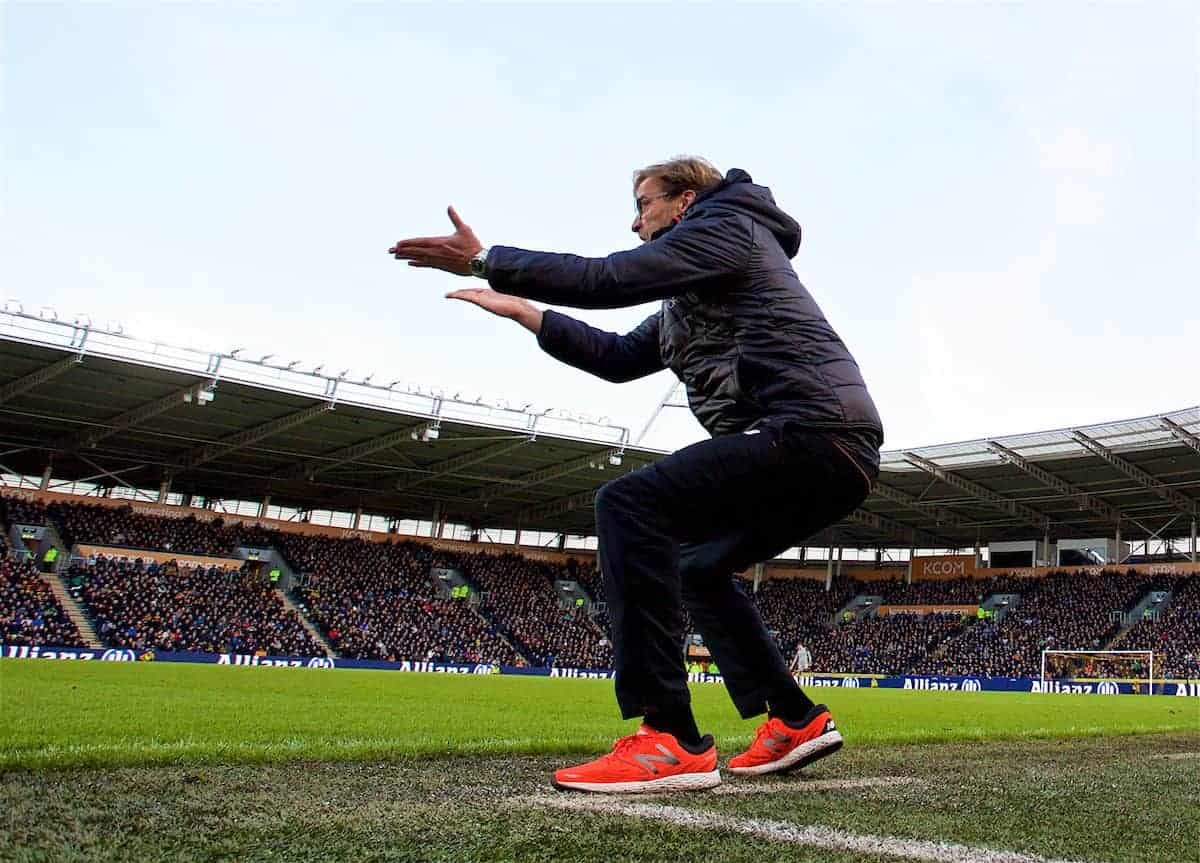 There's another side to the top-four argument though: The run-in.
After this big six-game stretch, the last eight games are against teams ranked eighth and below, with West Bromwich Albion the best (or at least, highest in the table) team. That's 24 points to play for, and if Liverpool work their way back to consistency by that point, to being able to beat teams they are clearly better than, then even sitting five points off the top four heading into April isn't going to be the end of the world.
It's how Arsenal recover from their February/March slump, after all—by systematically beating the dross of the league, racking up the "easy" points and doing enough to recover half a dozen or more on the teams above, finish third or fourth "within touch" of leaders they were never ever going to catch, and ready to set themselves up for another fall come the following February.
Problem for Liverpool: the lesser teams have continually frustrated the Reds attack this season, and Klopp simply has to find a cure. Which brings us to…
Front line
…the strikers. It's crunch time, and big decisions have to be made and stuck to now; it's a hard sell, but pick one from Divock Origi and Sturridge and relentlessly give them chances—that's starts and being first off the bench—between now and May. Tell them to prove their worth, with goals and impact, and that they'll stay a key part of the side.

We all know strikers are different; they love to be loved, want to be wanted. Make them important, and once the confidence flows, even Iain Dowie or Iwan Roberts could look like Luis Suarez for a few weeks at a time.
Just imagine what someone with the potential of Origi, or the goal record of Sturridge, might be able to achieve?
It's a gamble which to pick, but the potential longevity, versatility and power of the Belgian seems to indicate it would be him.
Future
This season can't only be about making the top four. As we said at the top, whether fans like to accept it or not, football is a constant, ongoing process lasting decades with some teams and a hundred years of progression for others.
In Liverpool's specific terms, the six-year deal Klopp has should be looked at as a period to win a stream of trophies, not to bin off everything the moment things get tough. Even so, it should be abundantly clear to the boss and many others besides that some players, some ideas, some approaches simply don't work, or at least don't work well enough.

Integrity and loyalty should be aspired to, as well as constant improvements on the training pitch, but Klopp also has to accept there are limitations at top end of football—which he does, not going overboard after a single defeat in isolation—and acknowledge that some in the squad still fall short of required levels.
Now to May is a proving ground, not just for Sturridge and Mignolet but for every player who has made mistakes in effort, application or technical aspects of the game on a regular basis.
Liverpool can't be afraid to wield the axe when it's merited…but neither can they afford to do so in hurried, pointless fashion, such as after an astonishingly bad month in 2017 so far. Learn the lessons, bounce back and improve even more, and there's still much to take from 16/17 heading forward.