Liverpool could have further competition for summer target Julian Brandt, with Bayern Munich claimed to be in talks with the Bayer Leverkusen winger.
Brandt has emerged as one of Jurgen Klopp's priority targets for the summer, with the German eager to add quality and depth to his attacking ranks.
The 20-year-old is enjoying an excellent campaign with Leverkusen, despite their struggles in the Bundesliga and the recent dismissal of manager Roger Schmidt.
And this has clearly not gone unnoticed, as after reports that Real Madrid were also scouting the youngster, German publication SPORTBILD have relayed Bayern's supposed interest.
Crucially, this is said to be for a move ahead of the 2018/19 campaign, when a release clause in Brandt's contract would become active.
"The Bavarians' conversations with Julian Brandt over a move in the summer of 2018 are far advanced," they claim.
"The young Bayer Leverkusen star would then leave for £10.9 million due to a release clause.
"Nevertheless, the goal of Bayer's executives remains to extend Brandt's contract prematurely."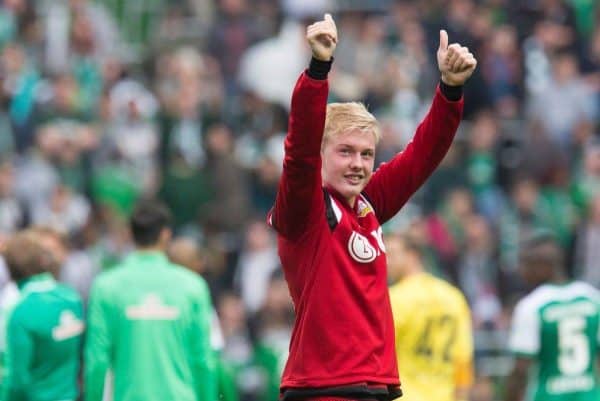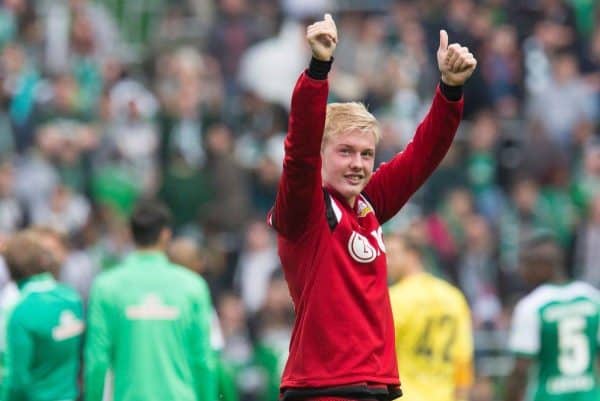 Brandt has already turned down Bayern once previously, when he made the move to Leverkusen from Wolfsburg at the beginning of 2014.
And as such it would be no surprise for their interest to be revived.
But whether these claims are credible, however, is up for debate, particularly given the information came from SPORTBILD, rather than BILD itself.
That this move would be for 2018, rather than the upcoming summer transfer window, makes this all the more questionable, too, with Leverkusen likely to be without European football next season.
Speaking earlier in March, Brandt suggested he would be interested in leaving the Bundesliga in the future, saying "I don't think it's a bad thing to try and find your feet abroad."
And having insisted in January that he "would not be scared to dismiss Bayern for a second time," there is no guarantee that the lure of the Bundesliga giants would sway the winger.
Liverpool will no doubt face a tough fight to convince Brandt to make the move to Merseyside, but this most recent speculation seems to be just that.