We've all bemoaned the amount of soft goals Liverpool concede and the amount of individual errors in recent times is staggering – so is this just a LFC problem? Andrew Beasley crunches the stats, with some interesting findings.
Unless the attacking team conjures up a goal of breathtaking beauty, skill and incisiveness, the vast majority of goals that are conceded are due to at least one error on the part of the defending team. Someone fails to track a runner, or loses their man on a set piece, or perhaps the goalkeeper lets a soft shot trickle through his outstretched hand.
You know the sort of thing I mean, and you only have to be on 'Liverpool Twitter' during a match to see people assigning blame for every goal that the Reds let in.
Tracking how many errors one player or team makes would be hard enough, let alone doing so across the whole Premier League, but we can use Opta's defensive error stat to compare teams and see how Liverpool measure up.
It's not perfect, as it only reflects mistakes made on the ball (so more like passing directly to an opponent rather than losing an opponent's run, for instance), but it can give us an indication. For the Reds, it's an ugly record.
The below graph shows how many defensive errors teams that have been in the Premier League for the last five seasons have made each year and in total: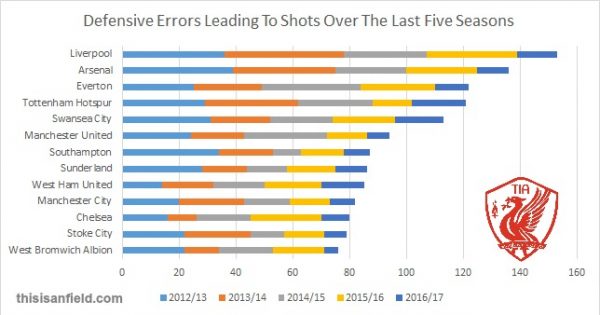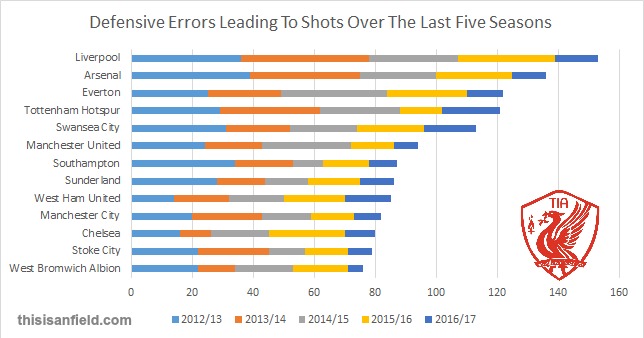 Whether Brendan Rodgers or Jurgen Klopp has been in charge, Liverpool have been the worst team in the Premier League for committing errors over the past five seasons, and in each completed campaign they have been in the top three (and top twice) for making the most mistakes which have led to opposition shots.
It doesn't appear a simple issue to eradicate either; the Reds have made 37 defensive errors in the league since Klopp took charge, yet remarkably the German's Dortmund side made only 34 in total across his final three seasons at the club.
It's almost as if being error-prone is part of the fabric of the club these days.
Take Loris Karius, for instance. He only made two errors leading to goals across his final three seasons with Mainz 05, but then proceeded to make one in back-to-back league games against Bournemouth and West Ham – which resulted in him being dropped for Simon Mignolet.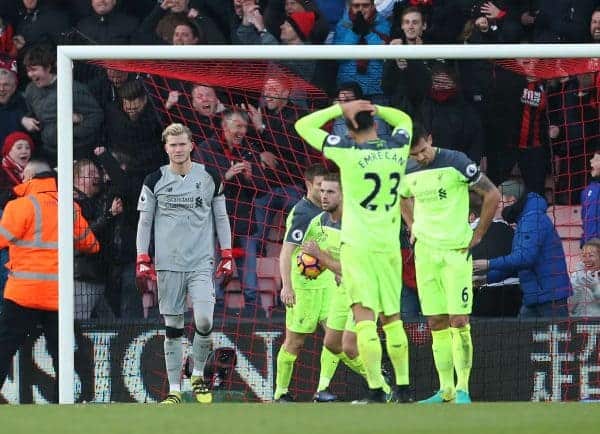 Or Gini Wijnaldum, who hadn't made an error leading to a goal in nearly four years with PSV, Newcastle and Liverpool, yet he inexplicably passed to Marc Albrighton at Leicester and five seconds later the hosts had taken a lead which they looked in little danger of relinquishing from that point onwards.
In fairness, a team's style of play has a massive influence on how they perform error-wise. Liverpool don't have the strongest squad in the division, so they wouldn't be the top scorers this season or the second top in total over the past five seasons (with 345 goals to Man City's 370) if they didn't take a few risks.
Hull have only made 25 errors in total in their three seasons in the Premier League whereas the Reds made 32 last year alone, but that doesn't necessarily mean that they have a better goalkeeper or set of defenders than Liverpool do, but rather that they are far less likely to play it out from the back or pile forward in numbers in search of goals.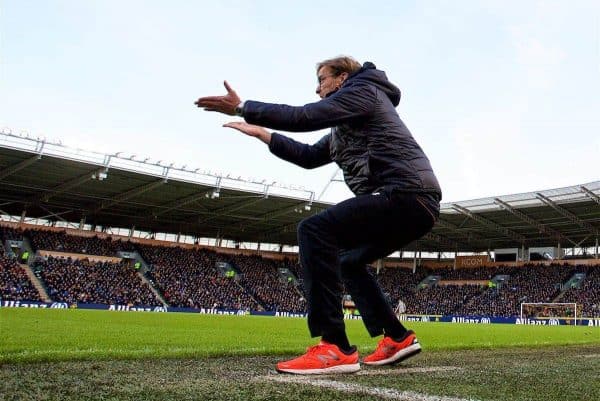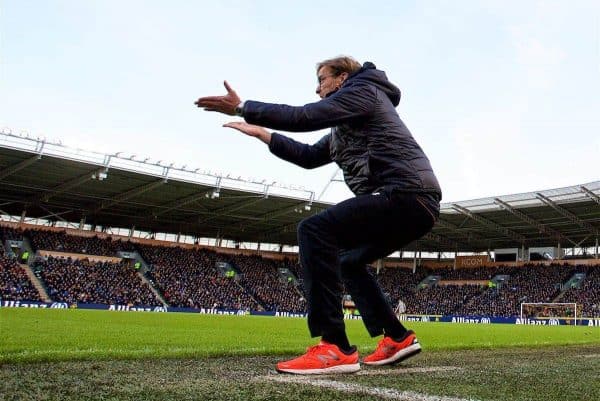 The net result though is that 6.6% of opposition shots against the Reds have been down to their own mistakes, which is the second highest proportion in the division (behind Spurs on 7.6%), and over double the league average of 3.2%, compared to Hull's league-best figure of 1.3%.
The defensive errors have been incredibly costly for Liverpool too though, as the following table which details the ones which lead to opposition goals will attest.



You can see that all five of the Reds' league defeats this season have featured them gift wrapping a goal for the opposition, and in each case it has been a key goal too; the opening goal against Burnley, Hull and Leicester, and the winning goal in high-scoring matches with Bournemouth and Swansea.
Not that this issue is unique to Liverpool, as all teams in the league make defensive errors (though Hull City – yep, them again – are the only team who haven't had one led to a goal yet), but they are certainly one of the teams who have been most affected.
Excluding the above eight matches would leave them with a record of played nineteen, won thirteen, drawn six and lost none, and the Reds are the only side in the division who are yet to lose a match where they haven't committed an Opta-defined error which led to a goal for the opposition.
Perhaps Liverpool have been particularly unlucky this season, as 57% of the fourteen errors they have made have lead to goals, against a league average over the last five years of 35%, and only seven times from 2012/13 onwards has a team seen a higher proportion of their errors converted by the opposition.

Having a goalkeeper who can bail your team out always helps though; both Liverpool and Man United made 29 errors in 2014/15, yet whilst the Reds conceded nine goals from those mistakes, their Salford-based counterparts only let in three.
Liverpool's next opponents have seen a similar benefit this season. Burnley have made only one error fewer than Klopp's team, but have conceded six fewer goals from those mistakes.
As the Reds have provoked the fourth most opposition errors this season (15), perhaps this Sunday we'll see a costly Burnley mistake which benefits Liverpool and makes up for the second game of the season.
Here's hoping for that, and also that Klopp can eradicate so many costly mistakes before the start of 2017/18.