Despite positives throughout Sunday's thrilling 1-1 draw at Man City, missed chances again proved to be the difference between three points and one.
That was the best game this season, wasn't it?
Admittedly, there is sure to be a Liverpool bias here—Barcelona's 6-1 win over Paris Saint-Germain and City's 5-3 victory over Monaco weren't too shabby—but it was as enthralling as the Premier League gets.
Jurgen Klopp and Pep Guardiola showcased their attack-minded brilliance, with both sides performing with intensity and quality throughout.
There have been few fairer draws to have taken place this season, but there was still a nagging feeling that Liverpool should have taken all three points at the Etihad.
Unfortunately, not for the first time this season, a lack of clinical finishing in front of goal proved to be their downfall.
Costly Misses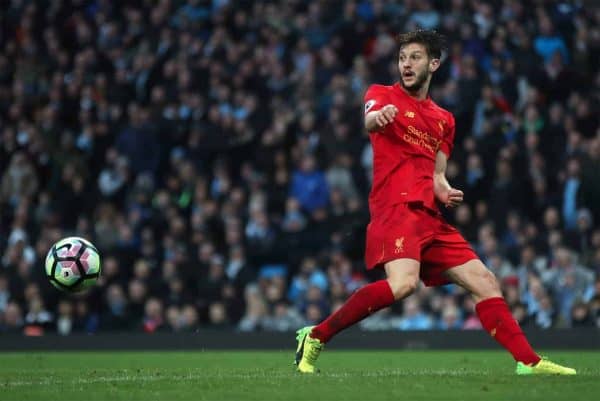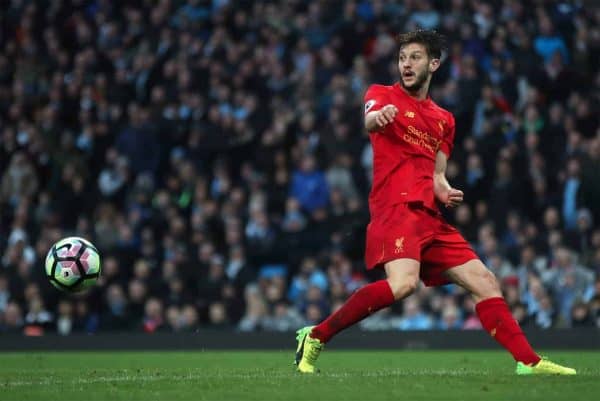 When James Milner converted his 51st-minute penalty with his usual robotic brilliance, the Reds looked to be on their way to yet another fantastic victory over a top-four rival.
With City suddenly piling people forward and adopting more of a gung-ho approach, as well as looking shattered, the space was there for Liverpool to exploit.
They did so on multiple occasions, with some devastating passing moves opening up City at will, but that final finish just wasn't there.
Roberto Firmino was sent clean through, but couldn't squeeze his effort past Willy Caballero, and the Brazilian also shot wide in erratic fashion shortly after.
A goal to make it 2-0 would have put the game to bed, but as we have seen away to the likes of Tottenham and Man United already this season, they just couldn't show enough ruthlessness to find it, and had to settle for a draw.
Then, of course, there was Adam Lallana's horrific miss at 1-1. While it does fall into the "could've happened to anyone" category, chances that glorious, in such important games, have to be converted.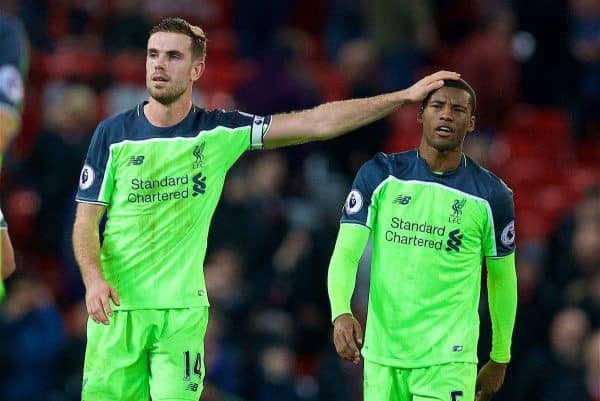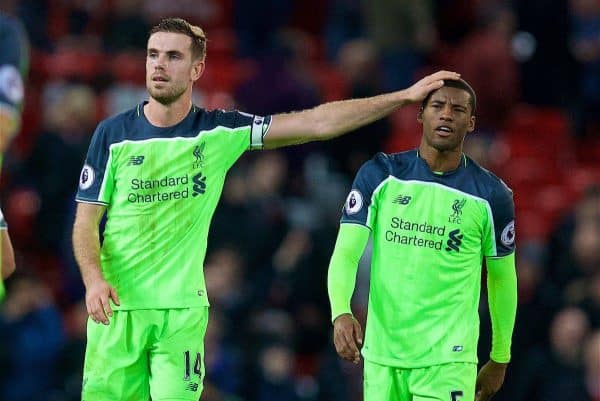 Georginio Wijnaldum had a huge chance to win it late in the day at Old Trafford, Firmino's header was tame in the dying seconds at home to Chelsea and big chances came and went in the 0-0 draw at Southampton back in November.
These are just a few examples of Liverpool's profligacy with the goal gaping, but there are many more that have proved fatal in the Reds' 2016/17 title challenge.
There is so much to love about this Liverpool side under Klopp, but with Daniel Sturridge out injured and likely to leave in the summer, there won't be one genuinely top-class finisher at the club soon.
No Witch-Hunt Against Firmino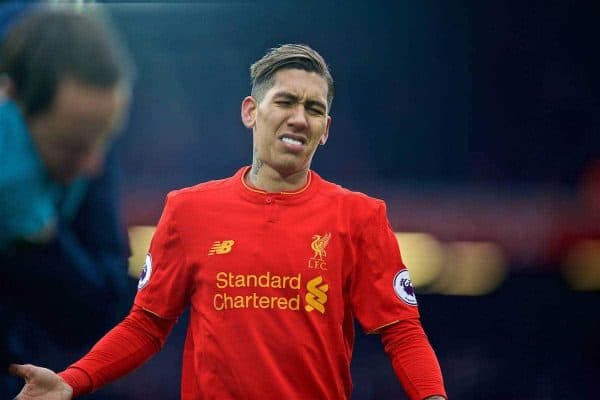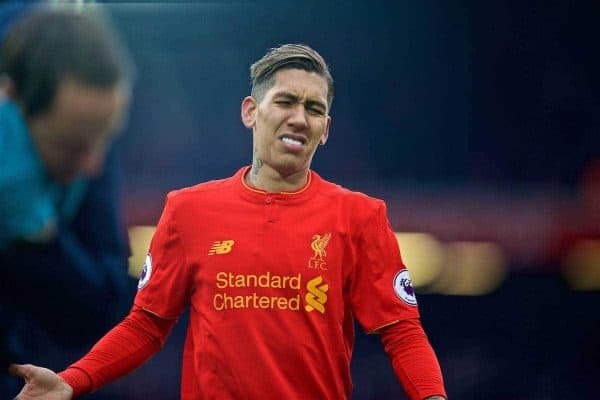 Many are starting to point the finger of blame in Firmino's direction when it comes to this issue, but it is a problem hampering the entire squad.
The Brazilian isn't the world's best finisher, but he still also brings many great attributes to this team.
He returned to the side from injury for Sunday's game, having only trained on Saturday, and considering he was not at his sharpest physically, he put in an excellent shift.
The 25-year-old's much-lauded off-ball brilliance was there for all to see, and he led the line well in terms of keeping hold of the ball and bringing others into play.
It has been an excellent season in general for Firmino, who had to battle through the winter months without numerous key players around him, but he cannot be the man called upon to fire home 25 or 30 goals a season.
His quality in front of goal will never reach a level where he is that prolific, but that doesn't mean he won't be a pivotal figure moving forward.
Klopp knows all too well what an important figure he is, but it is now a case of finding someone different in style, who may be more suited to certain occasions.
Lack of a Superstar Finisher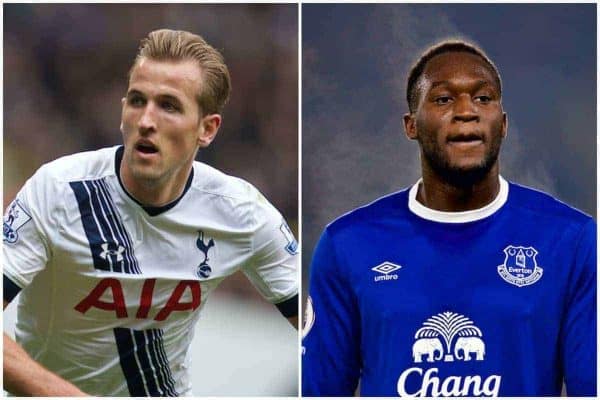 When fit, Sturridge has been the man to ensure chances are taken in sublime fashion, but those days now look numbered, unfortunately.
There are times during tight games and below-par performances that will call for someone to produce a finish out of nothing—those players are invaluable.
Look at Zlatan Ibrahimovic for Man United this season. The Swede does nowhere near as much off the ball as Firmino, but where would his side be without him? He single-handedly won United the League Cup final against Southampton, with two chances bringing two goals.
Robin van Persie was equally vital the last time they won the Premier League, and Jamie Vardy managed to freakishly do the same for Leicester City last season.
Diego Costa has been similar for soon-to-be-champions Chelsea, poaching a number of priceless winners during the campaign, and Harry Kane and Romelu Lukaku have been just as vital to Tottenham and Everton.
Then there's Alexis Sanchez, who may not be as lethal as some out-and-out strikers, but whose brilliance in the final third has ensured Arsenal aren't languishing in mid-table.
Liverpool have always had this player, whether it be Roger Hunt in the 1960s, Ian Rush and John Aldridge during the glory days or Robbie Fowler, Michael Owen, Fernando Torres, Luis Suarez and Sturridge in the Premier League years.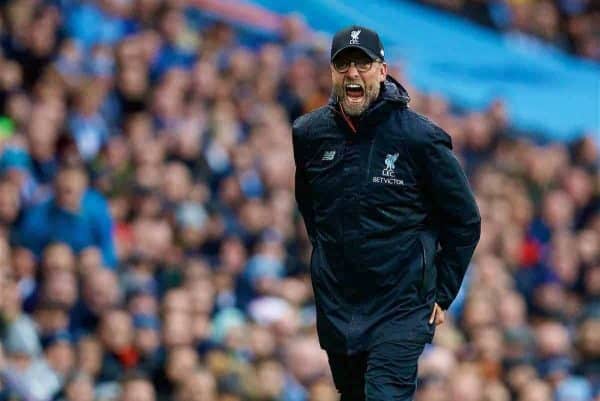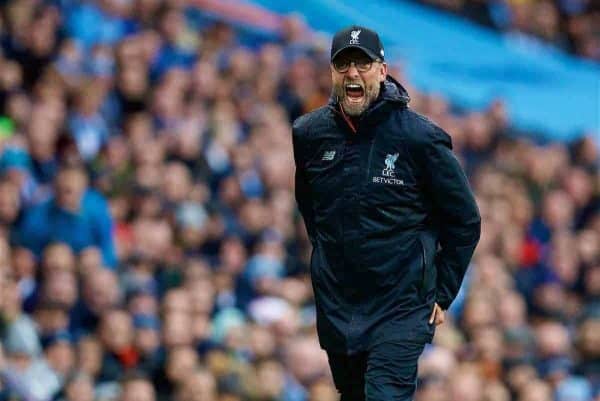 Until now, that is.
We are witnessing the Reds' rivals often play poorly and find themselves rescued by a ruthless one-man band, and it is essential that Klopp has this kind of player at his disposal by the start of next season.
Whether that will happen, and who that player turns out to be, remains to be seen, but the Liverpool manager must surely be aware of the situation.
Fitting this new, clinical striker into the team may not be easy, with the likes of Firmino, Lallana, Philippe Coutinho and Sadio Mane all key players, but it is a selection headache the Liverpool manager needs.
The Reds' title challenge petered out because of terrible performances against weaker sides, including failing to put those games to bed, but big misses in high-profile matches have also been costly.
A striker of Sturridge's calibre in front of goal is required—someone who earns ugly wins, scores with their only chance of the game and who has rival supporters tearing their hair out.
Each of their rivals has one of those in their ranks—and now it's Liverpool's turn.