With the atmosphere at Anfield diminishing in recent years, journalists and supporters have provided their view on how to improve Liverpool's home.
On a great day, there is no better sound than the Kop in full flow, but as the years go by and the Reds continue to struggle for success, these are becoming fewer and fewer.
Liverpool added over 8,500 new seats with the expansion of Anfield's Main Stand over the summer, but there remains a distinct lack of atmosphere between the stadium's four corners.
So how can the club and its supporters work to improve the spirit of Anfield, and recapture the glory days of the past?
We spoke to a host of supporters and journalists, both local and further afield, for their take on how to rejuvenate L4.
The Liverpool Echo's James Pearce
"I actually thought the atmosphere was much improved earlier in the season. It's dropped off in the last couple of months but that's been largely down to results.
"More tickets available at a decent price for young adults would help."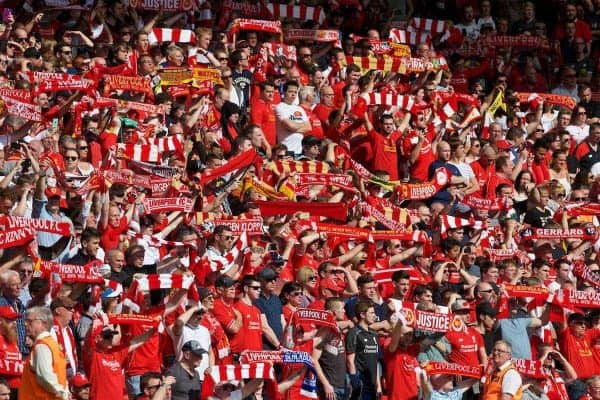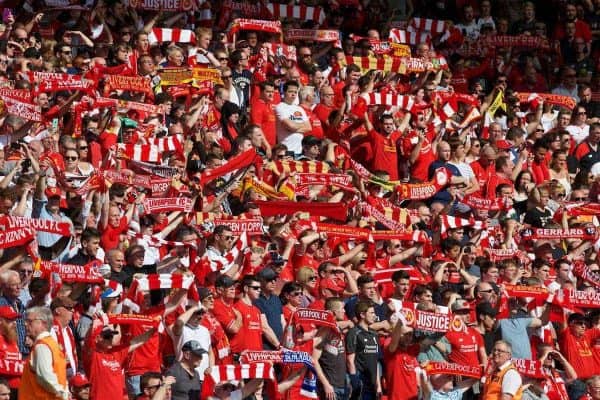 BT Sport presenter Matt Smith
"Make it bigger, expand the Anfield Road End—you have to change with the times—but remember it's still, and always will be, Anfield, the home of Liverpool FC.
"I hope and trust the TV cameras and commentators will be talking about YNWA and the unique noise of Anfield in another 100 years."
The Redmen TV's Paul Machin
"For me, I'd like to see a section of the Kop that is pay on the door. At the minute there are too many people who go in the Kop and sit in silence (or worse, moan all game).
"It would be nice to get a core of people in there who are absolutely desperate to be there, the genuine fanatics.
"If you're prepared to queue for 3 hours just to get your space, I imagine you're the type of person who wouldn't have a problem singing your heart out for 90 mins.
"Obviously there's more to it than that, but it could be a good start."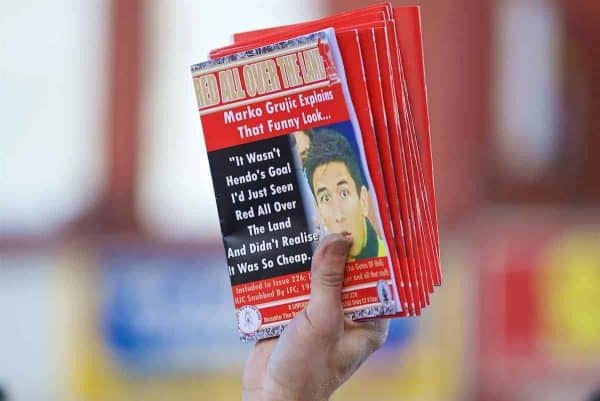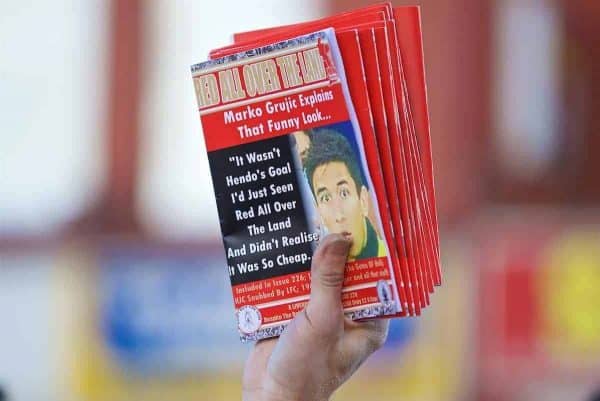 Red All Over The Land editor John Pearman
"We don't need a pitchside announcer screaming into a microphone, we should be having genuine Liverpool anthems being played over the speakers and I don't mean some sort of disco versions either.
"Once inside the stadium Anfield should be a hostile place—and that's not a violent place—and when the visitors tread on our turf they should be made feel a tad uncomfortable.
"Quick solution—get more locals in."
The Anfield Wrap's Gareth Roberts
"The Kop has rightly been a source of pride down the years but if the songs, flags and banners are going to survive the club needs to encourage and nurture the terrace culture that created them.
"That culture needs young, passionate fans in the ground, it needs accessible prices and it needs an area where likeminded people can congregate and sing, shout and create colour. At the moment we haven't got that.
"The Kop can bring an A game to a match when it counts but that isn't enough—it needs an active area, a singing section and, ideally, a safe standing section. Rail seating.
"At the moment we have unsafe standing. Everyone who goes regularly can show you their bruises if you ask nicely."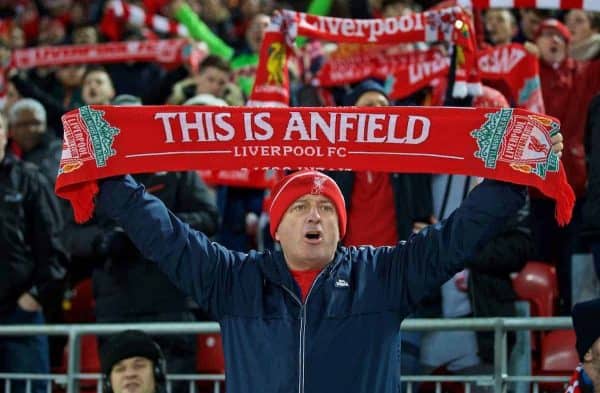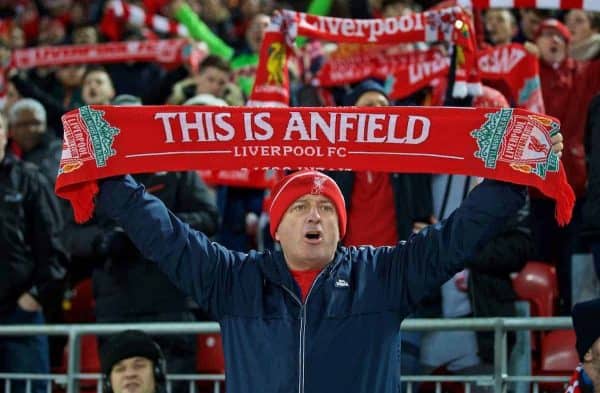 Liverpool FC programme writer Chris McLoughlin
"Without wishing to state the obvious, if everybody who went to Anfield a) knew the songs, and b) actually sang them, this eternal debate about the worsening atmosphere would be over. But let's not pretend it's a new thing.
"Check out the YouTube videos of Liverpool vs. Inter Milan (1965) and Liverpool vs. St Etienne (1977) and you'll quickly realise that Anfield has never been really about a sustained wall of noise for 90 minutes, more an explosion of decibel levels for periods of games when the Redmen have been doing the business.
"Even so, a bit more effort from every matchgoer would make all the difference."
Anfield Index's Gags Tandon
"You always have to look for the next generation of support at any club and we're reliant on supporters to bring their children and hope they pick up their habits.
"Which is fine, but we need to ensure there are other ways because not everyone can afford to bring a family to Anfield. It's not cheap.
"I think youth brings more enthusiasm and energy—maybe that will be a small step to helping the atmosphere."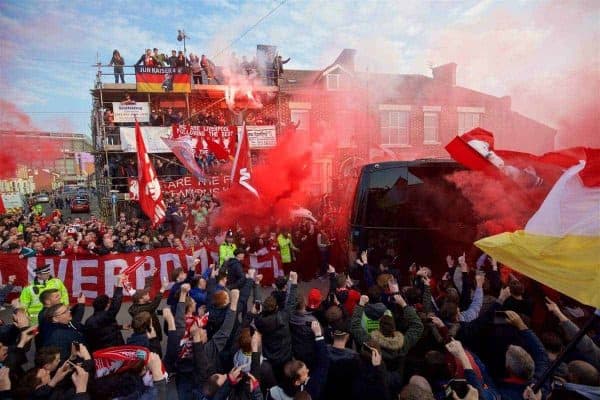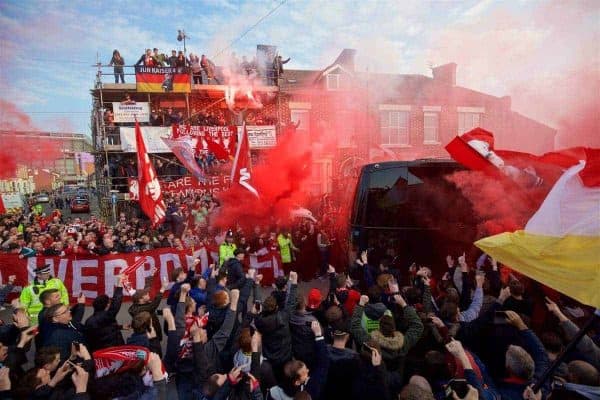 Matchday photographer Dave Rawcliffe
"A lot of people think safe standing, i.e. rail seats, are the answer, but unless fans can move around and join their mates that won't solve anything.
"Getting more youngsters into the ground would help also. We need more kids to get into the habit of going to the match regularly."
Kop season-ticket holder Jeff Goulding
"Find a way to get people in the ground early and encourage friends and groups to sit together.
"Make football affordable to younger supporters with discounts for groups of supporters purchasing tickets together.
"Being at the match with a large group of your mates is the best way to follow your club and it creates a sense of togetherness that can only enhance the atmosphere."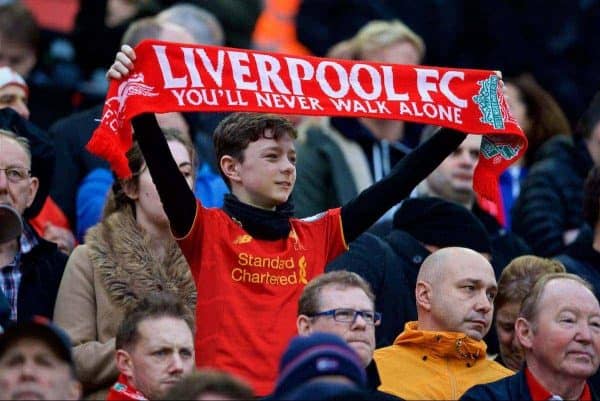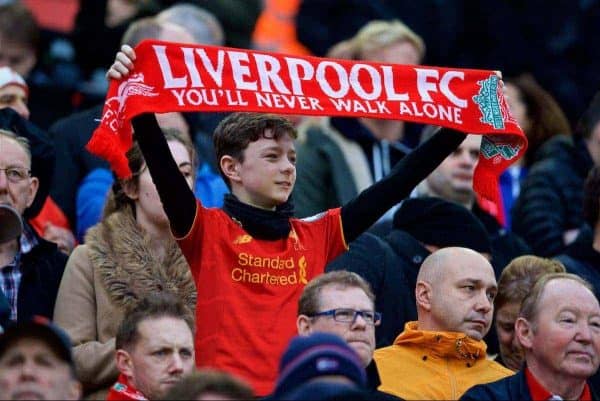 Anfield HQ's Oliver Bond
"One thing I've noticed about certain away games is a lot of young adults (18-25) tend to go.
"I remember last year, Middlesbrough, the concourse was packed full of youngsters singing and bouncing and it was the same during the game in the stands.
"I do think more should be being done by Liverpool to get these age groups together and into the ground."
Irish supporter Daniel O'Sullivan
"I think the introduction of safe-standing zones like in Celtic's home ground would do so much for atmosphere—there is nothing worse than being told to sit down during a tense match.
"Also if you're coming to visit for the first or 50th time I think every fan should make an effort to at least know the most popular chants/songs."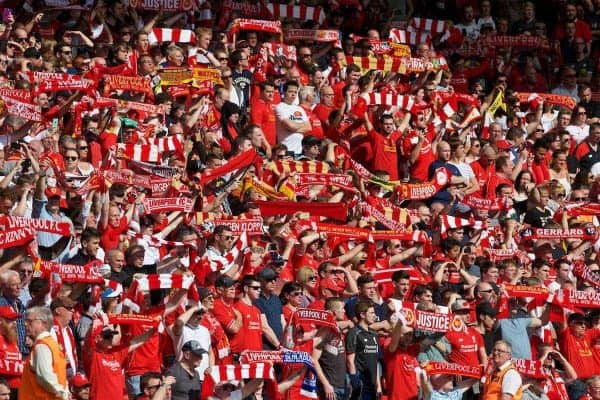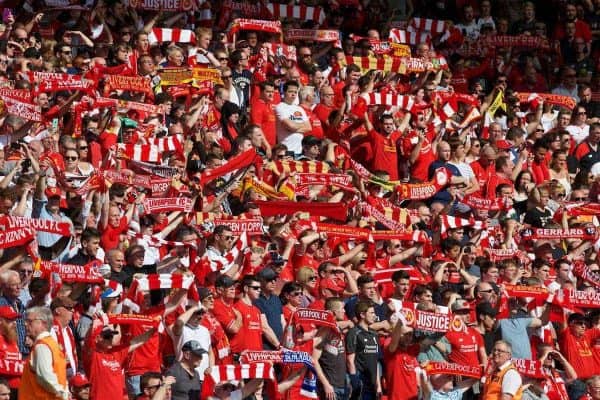 Philippines journalist Rick Olivares
"I think the club should identify pockets in the crowd of those who like to sing and cheer. Make sure they are positioned closer to other similar groups so the chanting and singing would be stronger.
"I think that the club and key supporters should also try to venture to the Centenary Stand to get the first-timers to sing as well.
"I won't think it would hurt to give them a booklet of the songs and cheers with their history and words so that would also help them."
* All responses from our My LFC Matchday series, which you can read in full here.