Liverpool have adopted a back-three formation to see them through to a top-four finish come May, but do they have the personnel to play it?
It appears that Jurgen Klopp's latest solution for coping without star player Sadio Mane is to add an extra defender to the back line.
In his press conference prior to the Stoke game the manager hinted that a change was on the cards, suggesting that his players need to forget that they "have to play like Liverpool."
"I feel confidence in this moment because I know about football and I know what is possible," said Klopp.
"The only thing we have to forget, if you want, is that we are Liverpool and have to play like Liverpool."
It echoes comments in previous weeks where he's emphasised defending and the idea of 'winning ugly'.
"The lineup we will choose is to make them as strong, as compact and as ugly to play as possible," he said prior to the Bournemouth game.
"We should think about how we can defend, not how dominant we can be. Maybe we can surprise one of the other teams with good organisation, good defending, good counter-attacks. Why not?"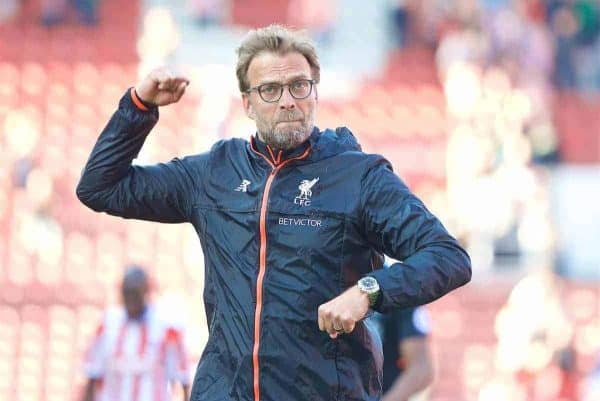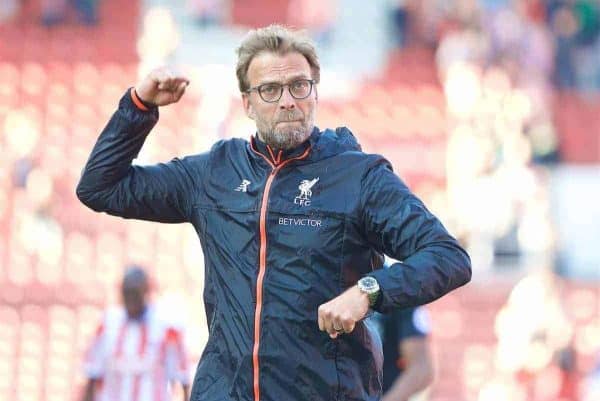 There's a common theme of defending stubbornly, winning at all costs, and abandoning a preconceived idea of how Liverpool should play in Klopp's words of late, and these words have manifested themselves in a new formation.
When Philippe Coutinho fell ill at half-time against Bournemouth, the manager opted to bring on an extra defender rather than an attacker when he finally withdrew him in the second half.
Joel Matip entered the fray forcing a change of formation to a back three. It's a system Liverpool have worked on in training, but one which has rarely been used in games.
It made appearances towards the end of January in the latter stages of games against Southampton and Wolves, before rearing its head again in recent weeks.
It now looks like it could be a permanent solution when it comes to coping without Mane, and could be the go-to formation for the rest of the season.
If it is here until May, who from the available personnel are the best fit for it? And how should the midfield and attack be organised ahead of the back three?
An Ideal Back Three…Almost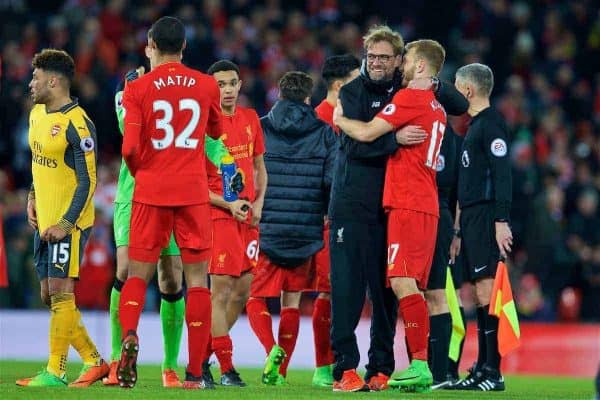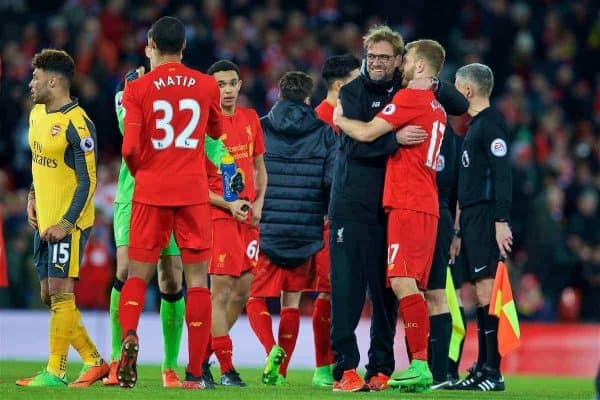 The back three almost picks itself. Left-footed Ragnar Klavan automatically takes the left-sided berth.
Having played the odd game at left-back during his spells with Augsburg and AZ Alkmaar, he's familiar with operating in wider positions.
A lack of pace can hinder the Estonian when he's exposed one-on-one with a winger out wide—as was the case when Xherdan Shaqiri breezed past him in the buildup to Stoke's goal on Saturday—but this is where he needs help from a good left wing-back.
Otherwise he should be ideal for this position, and could become Liverpool's version of Jan Vertonghen from the Spurs back three, even if he's not quite at the same level as the Belgian.
In the centre of the three Matip is the ideal player to step into midfield from the back, and at times become an auxiliary defensive midfielder or roaming sweeper.
The right side is more of a problem. Joe Gomez would be ideal in the position but it's become apparent that Klopp doesn't think he's ready yet.
The other option is Dejan Lovren, who struggles defending in wide positions as much as his predecessor Martin Skrtel did.
His error leading to Marko Arnautovic's chance against Stoke was evidence of this—but if Chelsea can turn Gary Cahill into a title-winning defender in a back three, then there's hope that Lovren can at least do a job for Liverpool.
Winging it at Wing-Back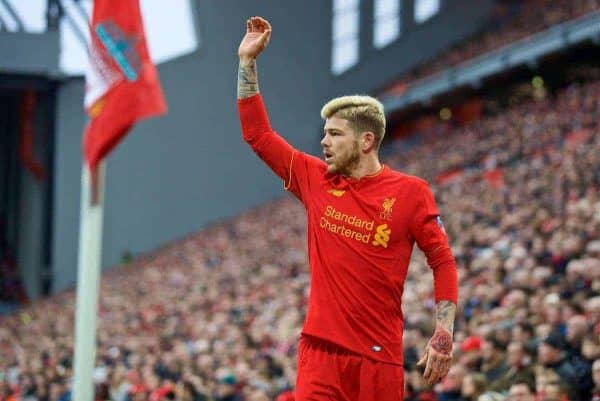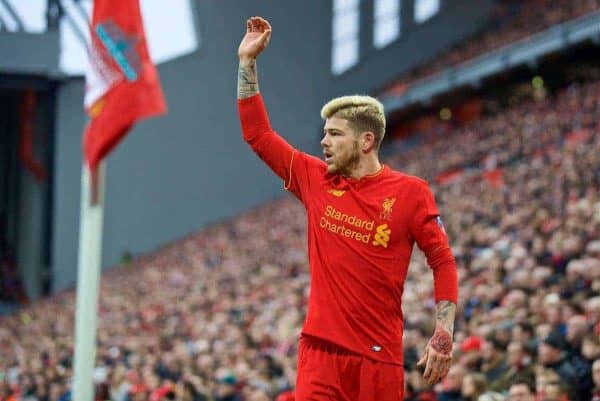 The aforementioned lack of pace down the left is only aggravated by the presence of James Milner, who played this position in the second half against Stoke.
Nathaniel Clyne began the game there, but he struggled too. Clyne should then be a shoo-in for the right-sided position, however, with Trent Alexander-Arnold his backup.
If only Liverpool had a quick, attack minded, left-footed player who could motor up and down the left, bursting forward when needed and using his pace to cover others in defence…
Indeed, Alberto Moreno should be the ideal player for the position, but for some reason it appears that Klopp still doesn't fancy him, despite him suiting this formation.
Getting the Best Players on the Pitch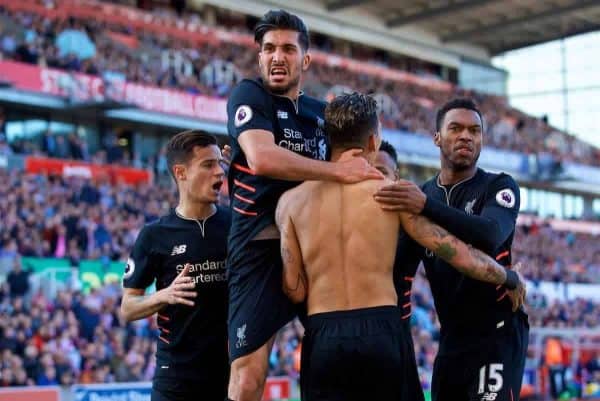 This leaves five more spots for creative players, midfielders and attackers. It would make sense from here to simply pick the five best players available and work them into the formation.
Luckily, the best of the five remaining players can fit into it perfectly.
Emre Can should continue in front of the defence due to his impressive recent form, and one of Liverpool's most consistent players this season, Georginio Wijnaldum, should line up alongside and just ahead of the German in a staggered midfield.
The creative skills of Coutinho should make up the midfield three on the left, not too far from where he's been playing in the 4-3-3 but slightly deeper and more central.
This leaves Roberto Firmino, who's undroppable when fit, and one of Daniel Sturridge or Divock Origi to lead the line.
Firmino could drop deeper to link up with Coutinho and Wijnaldum while the other striker occupies the opposition back line, as Sturridge did so well in the buildup to Coutinho's equaliser at the Britannia.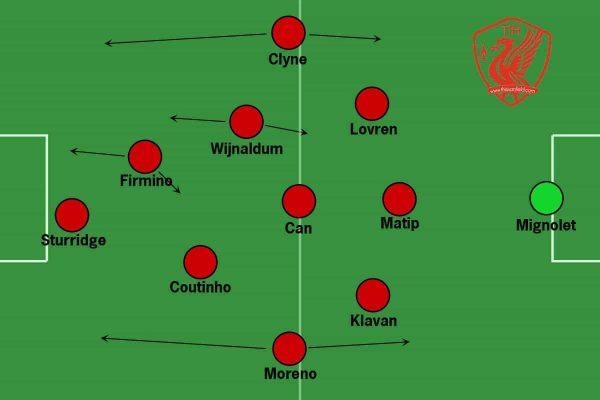 From the bench, Lucas could drop into either Can or Matip's position, Alexander-Arnold and Ben Woodburn could get more game time in the positions they started in at Stoke, and Marko Grujic could be tested in a number of midfield roles.
Whichever one of Origi and Sturridge is originally left out could provide extra firepower later in games, while Harry Wilson could be used as a wildcard—especially if things become comfortable towards the final few games.
Meanwhile, Adam Lallana's return later in the month will be more than useful.
This is a good formation to hone, and having it as an option will serve the side well in the future.
Though adopting it ahead of an important top-four battle might not seem ideal, it has to be better than the alternative which would be going on a miserable run similar to the one experienced in January.
Klopp's trying something different, and it brought Liverpool's first away win of 2017.
Who's to say it won't bring Champions League football for the 2017/18 season?