Some of the NFL's biggest names including Washington Redskins' quarterback Kirk Cousins, Miami Dolphins wide receiver Jarvis Landry and Hall-of-Fame quarterback Kurt Warner were in Liverpool on Tuesday as part of the NFL UK Live Tour.
Jarvis Landry, a big soccer fan himself, along with Kirk Cousins and Kurt Warner visited the Liverpool FC training ground to meet up with Liverpool stars Philippe Coutinho and Georginio Wijnaldum after receiving a lesson in 'Scouse' from the infamous Kop Kids.
After visiting Melwood the trio headed to The Beatles Museum to learn more about the birthplace of the most famous band of all time and even to dress up as The Beatles themselves.
Landry said: "This is my first time in Liverpool and I love it. It's a beautiful, historic city and the Liverpool FC facilities at Melwood were first-class! As a soccer fan myself it was great to meet Coutinho and Wijnaldum and put our skills to the test in some fun challenges."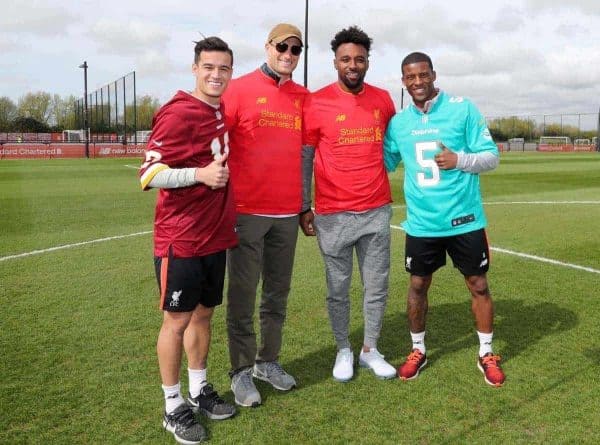 Kirk Cousins added "To visit The Beatles Museum really was a magical experience. We hear so much about The Beatles over in the US but to be able to visit their birthplace and learn more about it is an absolute honor. Plus, it was hilarious to see Jarvis and Kurt try to dress up as John Lennon and Paul McCartney!".
Fans will join Kirk Cousins, Kurt Warner and Jarvis Landry, as well as Sky Sports NFL presenter Neil Reynolds and renowned Sports Illustrated journalist Peter King tonight at the Floral Pavilion for an evening of live Q&A with insider information and game insights plus their chance to interact with other NFL fans.
This will be the first NFL UK Live tour where a decision has been made to charge a small £7 fee with all proceeds (except a £1 booking fee) going to the Youth Sport Trust to help grow American football in the UK.
Speaking on the partnership with Youth Sport Trust, Alistair Kirkwood, Managing Director of NFL UK, added "we are very pleased to be able to contribute what will total well over £10,000 to Youth Sport Trust to help grow American football in the UK".
Tickets for the two NFL games at Twickenham go on sale April 27. Register your interest in buying tickets by midnight on April 17 at www.ticketmaster.co.uk/nfl