Jurgen Klopp has welcomed the improving form and fitness of Divock Origi and Daniel Sturridge as he prepares for life without the injured Sadio Mane.
Mane is currently sidelined with a knee problem, picked up during Saturday's Merseyside derby win at Anfield.
And though the extent of his injury is still "not 100 percent clear," Liverpool will certainly be without the winger for Wednesday's clash with Bournemouth and Saturday's trip to Stoke.
This has left Klopp to find a solution within his forward line, and he was presented with a timely potential candidate in training on Monday afternoon.
"Daniel [Sturridge] is in team training since yesterday, so on a good way," he told reporters on Tuesday.
"Especially in our situation, it's a very good option to have him back.
"No decisions now, yesterday was not a lot in training.
"Today he will be part of training, he can probably be in the squad—we have to see."
Sturridge has been missing since mid-February, initially with illness and then a hip injury, and has been in and out of Klopp's squad throughout the season so far.
But his return is a welcome boost for the Reds, as they push on without Mane and target the top four.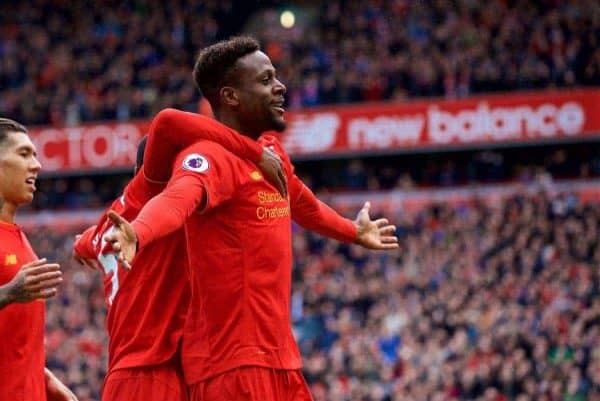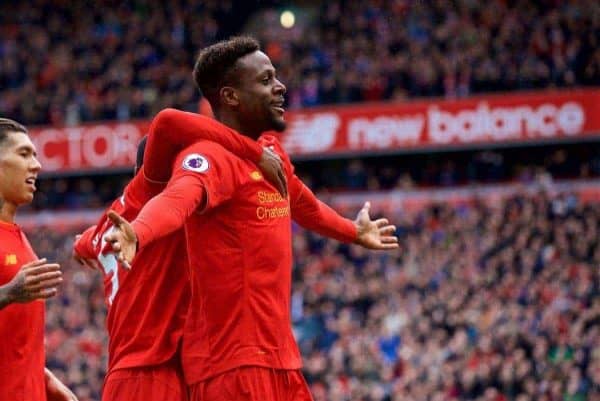 Sturridge will be vying for a starting spot with Origi, who came off the bench to take Mane's place to score Liverpool's third goal of the 3-1 derby victory at the weekend.
Origi has been in confident form in interviews of late, and Klopp has hailed the young Belgian as he regains sharpness.
"That's good, eh? Happy to hear [he feels fit]. Of course it's good to have Divock now," he continued.
"It's how it is, the season is long and you need all the players. Sometimes the players are in good shape and can't be in the starting lineup.
"Yes it's good to have him, and a very, very important option for us now.
"Even now Daniel is back, I said it yesterday it's actually a perfect moment coming back to team training.
"A lot of good news also, now we have to use these boys and they have to perform.
"They get all the support from my side they can get, then we have to fight Bournemouth."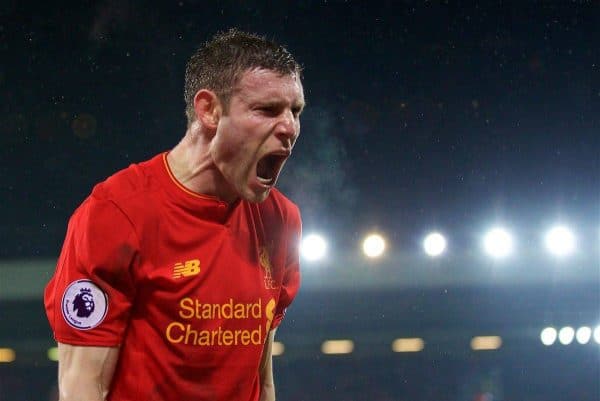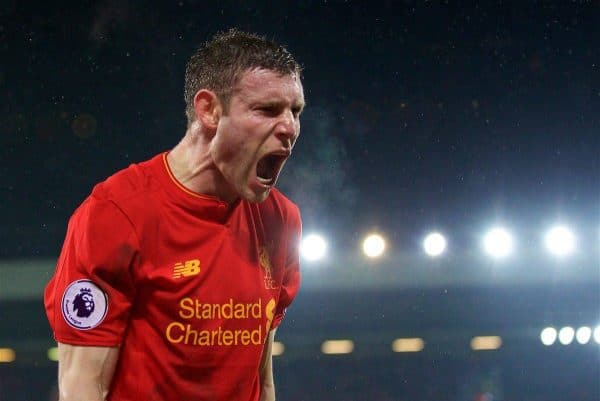 It is likely that Origi will start alongside Philippe Coutinho and Roberto Firmino on Wednesday night, with Sturridge taking his place on the substitutes' bench.
Klopp also suggested that he could opt to change formation, with James Milner a possibility to move into attack.
"We have the opportunity to change the system again, one session to do this," he added.
"Not sure we can line up the same as the last game, similar not exactly the same.
"We can bring young boys in, experience up front and on the wing, Milly could play an offensive position.
"But ask me do we miss Sadio, miss Adam, miss Hendo—yes, but not this game."
Origi scored in December's 4-3 loss away to Bournemouth in December, but will be desperate to finish on the winning side this time out, as he looks to prove his worth to Klopp.