It is a year to the day since Liverpool's epic 4-3 win over Borussia Dortmund, given us a timely reminder of how formidable the Reds can be in Europe.
As European nights go, Anfield hasn't hosted many more memorable matches than on the night of April 14, 2016.
Forget about the fact that Liverpool ended up falling short in the Europa League in depressingly spineless fashion against Sevilla—that evening on Merseyside was incredible, regardless.
Only the unforgettable clashes with Saint-Etienne, Olympiakos and Chelsea can lay claim to producing better atmospheres inside Anfield, as Jurgen Klopp's side produced the most remarkable of turnarounds.
To come back from 3-1 down with just a quarter of the game remaining, against a team of Dortmund's calibre, was little short of a footballing miracle.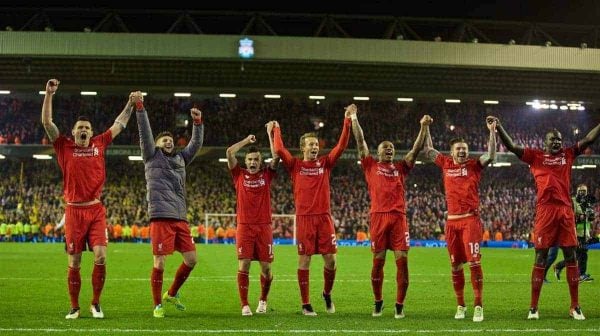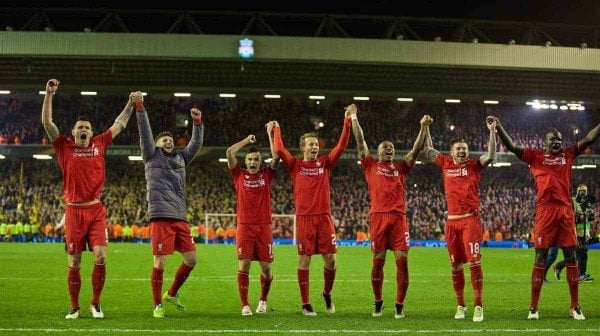 Dejan Lovren will forever divide opinion, but he will always have that last-gasp header, and that intense, possessed celebration that followed.
That night reminded us just what Liverpool are capable of in European competition, and was the latest chapter in the club's long-running love affair with it.
European Giants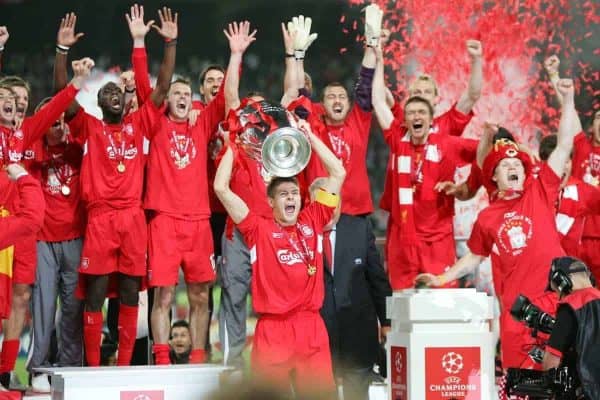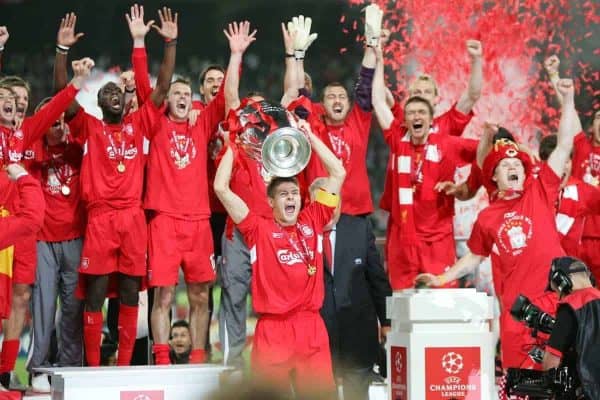 What that spectacular night a year ago showed was that when it comes to Europe, very few are worthy of dining at the same table as Liverpool when they put their mind to it.
Something takes over the Reds when they partake in knockout football—the FA Cup and League Cup record are a testament to that, as well as European competition—and they become a nightmare for any opponent.
The wonderful teams of the 1970s and 1980s that won four European Cups between them looked unbeatable for a time, and while the 1990s was a decade to forget, the start of a new century bought glory to a new generation.
Gerard Houllier's Liverpool won the 2001 UEFA Cup, seeing off Roma and Barcelona along the way, as well as Alaves in a typically dramatic final.
The Champions League years then arrived, and while Houllier couldn't quite crack it—that 4-2 defeat to Bayer Leverkusen in 2002 will forever haunt the Frenchman—the arrival of Rafa Benitez signalled a superb run in the competition.
His triumphant 2005 side really was nothing special, but they somehow saw off Juventus, Chelsea and AC Milan to seal glory. That summed up how Liverpool can find new gears in Europe.
Juventus and Chelsea won their domestic leagues that season, while Milan had a side made up of all-time greats; it was almost impossible to fathom, when you consider Djimi Traore's opposite number in Istanbul was Paolo Maldini.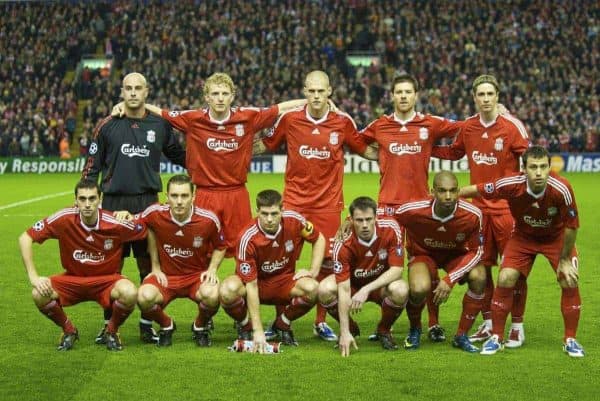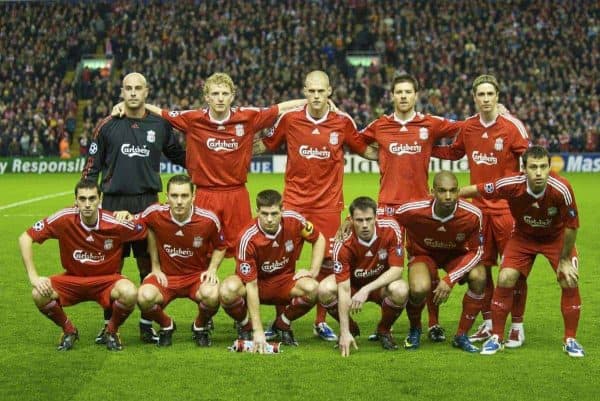 Even Benitez's superior later teams, which had a sprinkling of world-class talent, often punched above its weight and got the better of far more star-studded sides time and time again.
Barcelona, Chelsea (again), Inter Milan, Arsenal and Real Madrid were all dispatched of during different campaigns, as Liverpool reached three semi-finals in four seasons.
In the league, we know all about Liverpool's shortcomings, but forgetting the dreadful 2014/15 campaign under Brendan Rodgers, they are such a force in Europe.
The Anfield atmosphere is clearly an enormous reason for this—next season bodes well, with the new Main Stand in place—with some teams simply incapable of dealing with the noise and passion that surrounds them.
Perhaps the legend that surrounds Liverpool in Europe also affects some opponents, with so much written and spoken about their pedigree.
Whatever it is, the Reds belong in Europe, and with Champions League football beckoning next season, we should be extremely excited.
The Next Great European Adventure?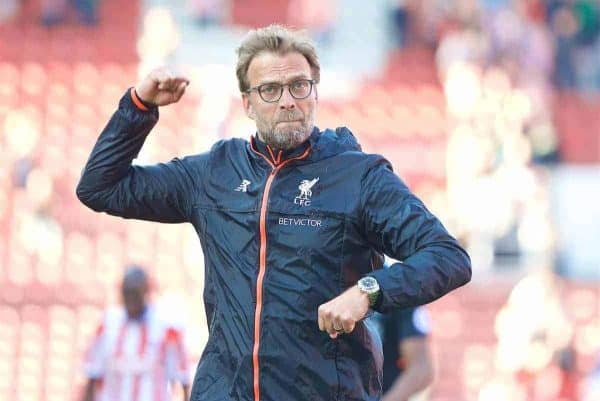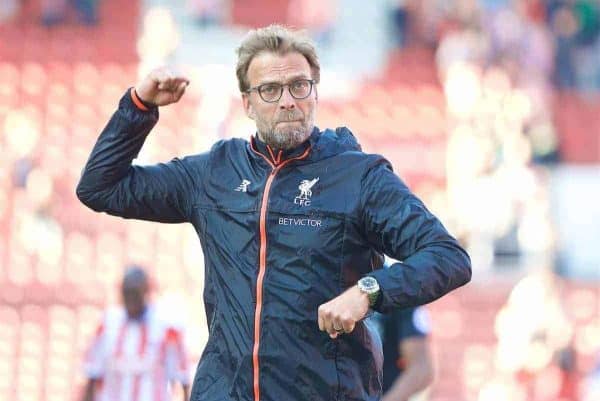 Bar a downturn of biblical proportion, Klopp's Reds will be playing in Europe next season, but the continent's premier competition is where they have to be plying their trade.
Finishing in the top four is of paramount importance, in terms of attracting top players and improving the all-round image of the club, and missing out now would be an almighty kick in the gut.
The thought of Klopp's Liverpool playing in the Champions League should fill supporters with excitement, and we had a taster last season of the 49-year-old's brilliance in Europe.
He also reached the 2013 Champions League final with Dortmund, with only a formidable Bayern Munich side halting their progress in the final at Wembley.
This current Liverpool side feels tailor-made to thrive in two-legged contests, against teams more likely to play a similarly expansive style.
The parked buses mainly come in the group stages, which shouldn't be an issue overcoming, and when it comes to the knockout stages, nobody would want to face this team.
They have the ability to humble any side, especially at home.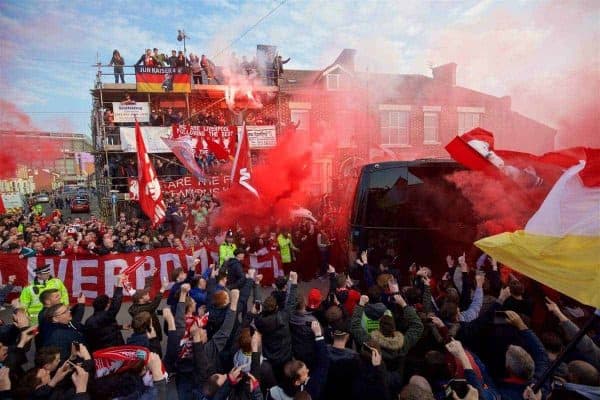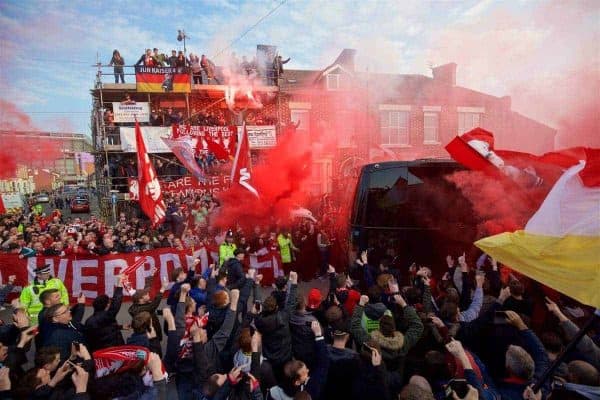 Yes, there are deficiencies–Klopp will hopefully iron them out in the summer—but they will immediately go into the tournament as a dark horse with 'dangerous' written all over them.
The magical night against Dortmund was wonderful, but it was an all-too-rare match of that ilk in Liverpool's recent history.
It is criminal that we have not been able to witness great European nights every season, without sounding too expectant, but under Klopp, they will return.
There will be unbearably tense occasions in the coming years, with heartache mixed in with the joy, but prepare yourself for the next part of Liverpool's remarkable European tale.
If Champions League football isn't achieved this season, it will be sooner rather than later.
Three more points at West Brom on Sunday afternoon would be another huge step in the right direction.